Holidays in Caleta de Fuste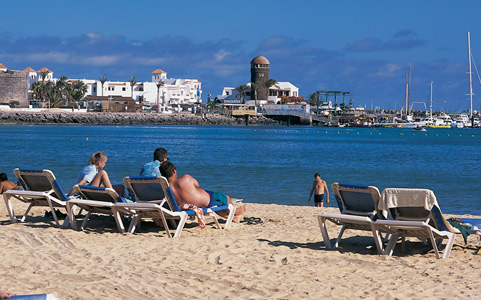 Infant = under 2 and child = 2-11 years old
Ages of children at date of travel
Age Child 1 : Age Child 2 :
Age Child 3 : Age Child 4 :
Age Child 5 :
Number of Infants
Need another room?
Infant = under 2 and child = 2-11 years old
Ages of children at date of travel
Age Child 1 : Age Child 4 :
Age Child 2 : Age Child 5 :
Age Child 3 :
Number of Infants
Caleta de Fuste Holidays: Purpose built and geared for pleasure and relaxation, Caleta de Fuste is still relatively new on the tourist trail. The resort is only about 20 years old and, whilst there is infrastructure, it is yet low key and all very laid back and is really quite typical of Fuerteventura's holiday resorts.
Located almost halfway down the east coast of this lesser known Canary Island, the beaches are safe and the waters clean and clear as glass. Caleta (meaning "cove" in Spanish) has been created around a natural cove where the shore shelves gently. Fuerteventura holidays here, and also in the resort of Corralejo, are child friendly and the beaches are great for families where swathes of sand (although largely imported) are super soft and fine underfoot.
An 18th century watchtower or "castillo" is a pretty landmark in the resort. Casual, informal and restful, Caleta de Fuste is not a hotspot for discos or wild nightlife, rather the resort caters more to family style entertainment with romantic restaurants and cosy bars. Perfect for those who enjoy dining out, there are lovely local eateries in Caleta and plenty of international establishments serving fine fare. You'll be spoiled for choice.
There are no flights to Caleta de Fuste, but there are direct links from Ireland into Fuerteventura airport on a regular basis. ClickandGo.com has a good selection of properties in Corralejo too, so for the best Fuerteventura hotels check it out today!

Clickandgo Properties in Caleta de Fuste

Our Properties in Caleta de Fuste

Nearest Airport
ClickandGo says
Barcelo Castillo Beach Resort
Read more about Barcelo Castillo Beach Resort
Fuerteventura

When location is a priority, Barcelo Castillo Beach Resort could top the charts! Virtually skirting…

Barcelo Fuerteventura Thalasso Spa.
Read more about Barcelo Fuerteventura Thalasso Spa.
Fuerteventura

This magnificent hotel is beautifully nestled in the district of Antigua, just by Caleta de Fuste…

Broncemar Beach
Read more about Broncemar Beach
Fuerteventura

The happy holiday atmosphere in Broncemar Beach is palpable due to the friendly staff and wide…

Elba Carlota Beach
Read more about Elba Carlota Beach
Fuerteventura

A member of the prestigious 'Elba Hoteles' and enjoying a lovely location just opposite…

Elba Palace Golf & Vital Hotel
Read more about Elba Palace Golf & Vital Hotel
Fuerteventura

True to its name, Elba Palace Golf & Vital Hotel is naturally on a golf course! In fact, positioned…

Elba Sara Beach & Golf Resort
Read more about Elba Sara Beach & Golf Resort
Fuerteventura

A beautifully designed property, Elba Sara Beach & Golf Resort creates a wonderful impression due…

Sheraton Fuerteventura Beach & Spa Resort
Read more about Sheraton Fuerteventura Beach & Spa Resort
Fuerteventura

This luxurious hotel is located in front of a golden sandy beach. In the area, guests will find a…

Suite Hotel Castillo de Elba
Read more about Suite Hotel Castillo de Elba
Fuerteventura

The renowned Elba group has an established reputation for good quality accommodation and Suite…

Suite Hotel Elba Castillo San Jorge & Antigua
Read more about Suite Hotel Elba Castillo San Jorge & Antigua
Fuerteventura

An imposing edifice (with a dramatic title!), perched dramatically on a cliff face, Suite Hotel…

Villas Castillo Premium
Read more about Villas Castillo Premium
Fuerteventura

This luxury holiday village is located in Fuerteventura, in the Canary Islands, where guests can…

Villas V.I.P.
Read more about Villas V.I.P.
Fuerteventura

Situated just a few minutes from the lovely beach, this complex consisting of several villas is…