Babymoon in Madeira
A little while back, my expectant wife and I decided to take a "babymoon" holiday. For those of you not in the know, a babymoon is essentially the opposite of a honeymoon – it's the last holiday an expectant couple takes before the arrival of their first bundle of joy.
Why Madeira?
It was February, so we were looking for a little bit of sunshine, but didn't want to take a long-haul flight. We were considering the Canaries but in the end, decided on a holiday in Madeira for a number of reasons. Firstly, it was closer. Only by about 45 minutes, but when 50% of the travelling party is pregnant every second counts! Also, neither of us had been there previously and we were eager to sample somewhere new. However, the main reason we opted for a holiday in Madeira was that we had heard such enthusiastic reviews about the island and its lush scenery.
More than just an old-fashioned sponge cake
We had heard that as a holiday destination, Madeira attracted an older clientele. Now while TV3 won't be commissioning "Madeira Uncovered" anytime soon, neither is the island the retirement home many would have you believe.
We witnessed a good mix of young families and couples as well as the more mature holidaymakers. In fact (name drop alert) I was recently speaking with a current member of the Irish rugby team who had just spent a week on the island with his rather hot girlfriend. There is also an active surfing scene in Madeira with several popular spots around the island attracting younger holiday-makers (see www.wannasurf.com).
Where to stay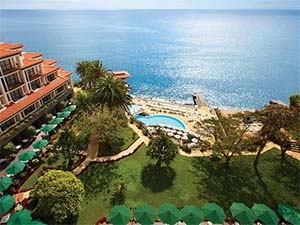 There's a huge choice of hotels in Funchal, from the basic to the luxurious. As this was most likely going to be the last grown-up holiday we'd be taking for several years, we decided to splurge and stay in the 5-star Cliff Bay Hotel, although we did hold back a little and opted for a first floor car-park view instead of the more expensive sea view room.
The Cliff Bay has everything you'd expect from a five-star hotel – a selection of bars and cafes, indoor and outdoor pools, gym, health spa, helpful staff, etc. It also boasts the Michelin star Il Gallo d'Oro restaurant. During our stay, we took afternoon tea in the hotel gardens with a violin accompaniment – all terribly civilised.
As the name suggests, the hotel is on top of a cliff, so there is an uphill walk from the city centre to the hotel, although taxis and public buses are readily available. It's about 2½ km so allow around 30 minutes if you're walking. To compensate for the uphill walk, the hotel has wonderful views of the Atlantic Ocean, Funchal city and bay, and the visiting cruise liners coming and going.
As an aside, I felt slightly sorry for the cruise ship day-trippers, as there was no way they could get to fully appreciate all Madeira has to offer in their limited time ashore.
Other popular hotels in Funchal include the Residencial Monumental (2 star),  the Hotel Baia Azul (4 star) and the Melia Madeira Mare Resort & Spa (5 star).
A quick geography lesson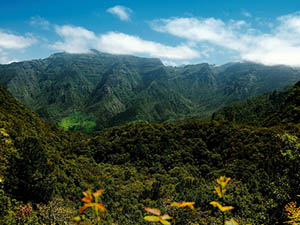 Madeira has a population of 267,785 with 111,890 of those living in the capital, Funchal, a vibrant, compact city. The island is 57km long and 22km wide (that's 35 x 14 miles in old money) and lies 520km off the coast of Morocco. Area-wise, think slightly less than Co. Louth (now stop thinking about Co. Louth). It is part of a volcanic archipelago and is quite mountainous, with a high point of 1,862m, that's over 1 and ¾ times the height of Carrauntoohil.
Temperatures range from an average low of 19.1°C in January and February to an average high of 25.7°C in September (thank you Wikipedia) meaning that Madeira really is a year-round holiday destination. We were there in February and were in t-shirts most of the day when at sea level. Note however that when you travel inland and start to ascend, the temperature drops noticeably (particularly in the shaded forests) and fleeces or light jackets would be recommended.
That's the end of the geography lesson, but there will be a test at the end.
So what's Madeira like?
The best word to describe Madeira is "lush". Its climate and rich volcanic soil mean that the island truly is a perennial garden of tropical flowers, verdant forests and trees dripping with ripe fruit. The one drawback for the early Portuguese settlers was that the terrain was steep – very steep! Being a volcano, as soon as you go a couple of hundred metres inland everything starts going up rapidly. The industrious settlers overcame this by carving terraces into the mountainsides giving the Madeiran landscape one of its most unique features. Today, bridges, tunnels, switchbacks and cable-cars criss-cross the terrain while many of the terraces lie in disuse.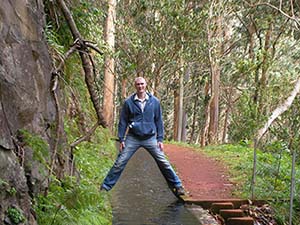 The main population centres are situated around the coastline. This is also where most of the wealth can be found, generated predominantly by the island's tourist industry. However, if you want to get a taste of the real Madeira, travel inwards and upwards where you'll find small village communities and farmers cultivating near vertical plots of land.  The locals here will be less likely to speak English, but you won't pay tourist prices for a coffee and a sandwich.
Another feature of the Madeiran landscape are the levadas – narrow canals used for irrigation. Many of these levadas now double as well maintained hiking treks. Some of the more difficult ones take you along precipitous ledges, across streams and under waterfalls. Being semi-pregnant, we opted for a medium grade trek (precipitous ledges but with guide ropes, streams but with stepping stones and waterfalls but only little ones).
What's there to do?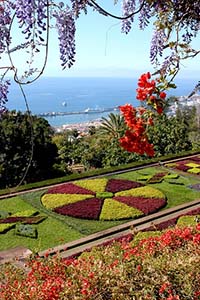 To get our bearings we took a half day guided jeep tour of the island. Lucking another couple who had booked failed to show, otherwise the jeep would definitely have been a bit crowded. Our guide was a local and was able to give us a good insight into life on the island and how it had changed over the last thirty years. He also took the liberty of showing off and scaring the bejaysus out of us by speeding up and down tiny, ridiculously steep roadways and lanes with millimetres of clearance on either side.
Highlights of Funchal (particularly for those of a horticultural inclination) include the spectacular Tropical Gardens and the Botanical Gardens, both located overlooking the city and accessible by cable car.
The not spectacular but really interesting Madeira Story Centre in Funchal is also well worth a visit and will bring you up to speed on your Madeiran history.
Another highlight of Madeira is the food. As the island is blessed with a twelve-month growing season, its restaurants have an abundant supply of fresh, locally grown fruit and vegetables. Also, as you'd expect, top quality seafood is readily available, one local delicacy being the ugly but delicious scabbard fish (Espada). Another local dish well worth trying is the espetada – skewered chunks of beef grilled over smouldering wood chips.
There's no shortage of restaurants serving fresh local produce, so definitely indulge while you have the opportunity, and if you want to see Madeira's bounty in all its glory, pay a visit to Funchal's food market (Mercado dos Lavradores). Here you can pick up a bag of freshly picked passion fruit and see what a scabbard fish looks like before it reaches your plate, although be warned – I have a feeling we were charged the special tourist prices!
Outside of Funchal
Being a tad on the diminutive side, Madeira is easily navigable, and a couple of hours driving will see you from coast to coast. The island is dotted with picturesque towns and villages easily accessible from Funchal and well worth investigating. Of note are: Calheta, where you'll find the island's only sandy beach, albeit fake, with sand imported from Morocco; Caniçal, home to the Madeira Whale Museum, although check the opening hours – it was closed for some reason when we tried to visit; and São Vicente where you'll find the island's Volcanism Centre.
On a side note, if you are considering driving around Madeira, be prepared for some very steep conditions. Despite the best advice of our jeep-driving tour guide (including to stay off the brakes on the way down or you won't have any left by the time you reach the bottom) we still managed to cut out three times on inclines, on one occasion rolling backwards around a hairpin bend!
Anything else?
Ronaldo! Cristiano Ronaldo (Real Madrid superstar, former FIFA world player of the year and all round pretty boy) is perhaps Madeira's most famous export (along with Blandy's wine). His image adorns t-shirts, towels and mugs and across the island. His former Madeiran team, Sporting CP, still plays in Portugal's top league, so if you get your timing right (and you're bothered) you could catch a game against the likes of Benfica or Porto.
OK, wrap it up
So in summary, Madeira is a great year-round holiday destination and is not just for the golden oldies.
With lush landscape, spectacular vistas, surfing, hiking and a great choice of bars and restaurants serving locally produced food, it's unlikely you'll be bored (or hungry) during your stay.
There are weekly flights to Madeira from Dublin and package deals (flights, hotel and transfers) are available from Click&Go. So, if you're looking for some sunshine and want an alternative to well-trekked likes of Lanzarote and Tenerife, then Madeira is well worth checking out.
Some useful links if you're thinking of a holiday in Madeira
---