The Best Hot Spots for Winter Sun Holidays
If you're planning some winter sun holidays, our advice is, as always, book as soon as possible.
This year in particular early booking is advised because of recent events in Tunisia and Egypt. Each year thousands of Europeans normally flock to these destinations for their fix of winter sun. This year, however, because of recent events, they will most likely choose somewhere else. The most popular alternative will probably be Lanzarote in the Canary Islands, resulting in hotels and apartments there being at a premium and filling up quickly. Other winter sun destinations will also probably experience increased demand.
So, what are the options and what can you expect when you get there? The most popular destinations for winter sun holidays include the Canaries, the Caribbean, Florida, Mexico and the UAE.
The following table shows the average temperatures, the average number of hours of sunshine each day and the average number of days with rain for each month from October to February: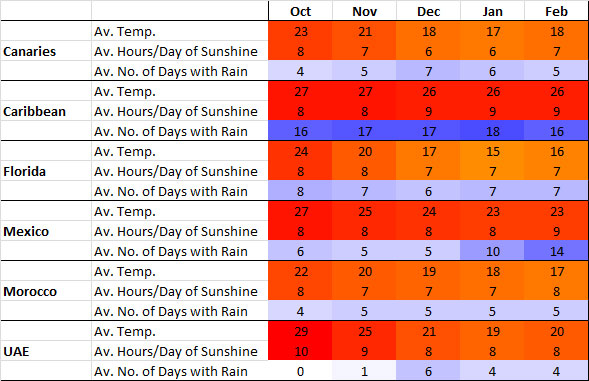 If you're not necessarily looking for winter sunshine, but just want to escape the winter cold and drizzle, you have a range of options closer to home. Also, because these destinations are in low season you should be able to bag yourself a cheap holiday.
These options include the Algarve and the Costa del Sol. As you can see, you won't be guaranteed Lanzarote style sunshine in these destinations, but you can be pretty sure the weather will be better than at home:

And just by way of comparison, here's what you can expect in Dublin for the same period:

So there you have it! Whether it's winter sun or winter warmth you're after, there's something for everyone. For a full range of winter sun holiday packages, check us out at ClickandGo.com
---