Barcelona is one of the largest cities Europe and is  renowned the world over as must see destination.
 A beautiful city located right on the Mediterranean, with warm weather pretty much year round, it offers plenty to do, interesting places to visit and beautiful architecture. Having been there recently, here are my suggestions for things to do in Barcelona.
Hit the shops in Barcelona
Places to go shopping are plentiful in Barcelona. Las Ramblas, the main shopping street, is definitely worth a visit. Make sure you take plenty of cash to splurge in the wide selection of shops you'll find here. It'll be impossible not to see something you you like. Another place I would highly recommend is a book shop called Libreria Sant Jordi. It's tiny with books stacked everywhere, but such an inviting place. I bought The Little Prince in Spanish, and when I asked for it, the man working there knew exactly where it was, even though it didn't look like there was any kind of order to the books. What a fantastic place to explore!
Head to the Beach
Barcelona is also known for its wonderful sandy beach. It's possible to swim up until October (if you don't expect a temperature of 25 degrees!) When I was there, it was too windy to take a dip in the sea, but I'll definitely go back, if only to jump into the ice cold water! However, sitting in the sand, with a cool drink and a good book, is a nice way to pass the time, even on a blustery day.
Barcelona attractions you don't want to miss
What really impressed me in Barcelona was the Park Guell. The first thing that was new to me were the escalators in the streets. So when we headed to the park, we took an outdoor escalator. You could walk up the steps as well, but there are way too many! The Park Guell is free, if you just want to walk around it. There are some areas you have to pay to access, but I was happy to sip my Lemon Fanta, sitting on a bench in the sun, enjoying the stunning view over Barcelona. The park was designed by the architect Gaudi, and there are many parts of the city where you can see his impressive work, so don't forget to take your camera with you everywhere.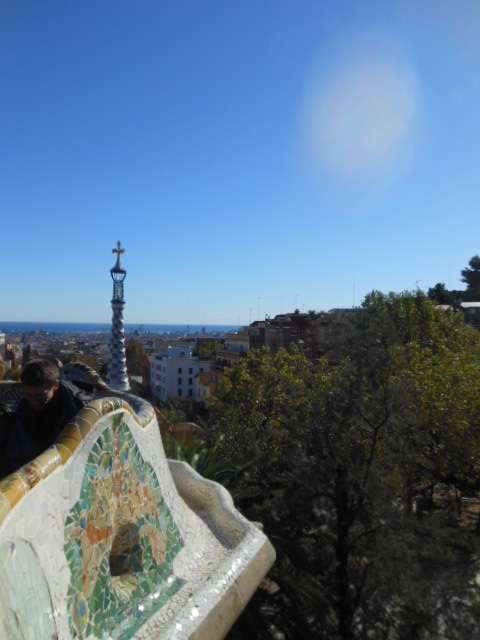 Another must-see building in this beautiful city is La Sagrada Familia – the cathedral of Barcelona. You see it on tons of  postcards, but it's not the same as going there and seeing it for yourself. The day I went was probably not the best day to go, as the queue to get in stretched right around the building. But I was amazed just standing outside and looking up as it's a colossal building. I had to step right back to take my pictures. The exterior is beautiful, but you'll find a panoramic view of its stunning interior here. If you have the chance, make sure you go and see.
Have you ever heard of the Magic Fountain of Montjuic? I had heard of it and I've even seen it, but I had never seen the actual light show with music. Unfortunately, I went there on the last night of my trip and it wasn't on! I wish I'd done my research beforehand. If you walk up the steps behind the fountain, you'll reach the enormous Olympic Stadium.  I walked around it in the rain (yes, sometimes it rains in Barcelona), but it wasn't all bad – I really enjoyed the sensation of walking barefoot in the wet.
Eating Out in Barcelona (literally)
If you're on a health kick, make sure you go to La Boqueria, which is located on a street just off Las Ramblas. From juicy apples, to watermelons and peaches, you can buy any fruit you desire for a very reasonable price. They sell other local delicacies here, from seafood to chocolate, but I found the fresh fruit and juices to be absolutely mouth-watering!
If this sounds tempting, I'll now reveal where to have the best breakfast in Barcelona. Firstly, visit La Boqueria to pick up some delicious fruit, then head to the nearest supermarket to get freshly baked bread rolls and some drinks. Pack your things into a bag, set your alarm for 4 a.m. and get some sleep. When your alarm goes off, wake up with a smile and get ready to climb the hill of Montjuic. It may seem like a long trek, but believe me, it's worth it.
The castle perched at the top of the hill is still closed to visitors at this time of the morning, but if you walk around it, you'll find the perfect spot to sit down and enjoy your picnic. Looking out over the water, you'll notice the blue sky changing colour as the sun rises, the horizon slowly turning to a beautiful shade of red. Enjoy, take some pictures, and relax – the spectacular view is something you'll never forget.
How to get there
There are daily Aer Lingus flights to Barcelona from Dublin throughout the year with additional seasonal flights from Cork. For great package deals including flights and accommodation, check out ClickandGo's Barcelona city breaks.
Where I went in Barcelona

Click here to see a full size version of this map in a new tab.