Winner of MSC's Number 1 Irish Cruise Agent for the Second Time!

When Paul Hackett, our CEO, decided to start selling cruise holidays from Ireland in April 2014, little did he know how successful it would be. Fast forward, and for the second year in a row, ClickandGo.com has received the prestigious award of "Best FIT Producer" for MSC Cruises!
Paul was over the moon to accept the award on Tuesday at the "All Stars of the Sea" event which celebrates and rewards MSC's top performing travel agent partners from across the globe.
"Winning the 'Best FIT Producer' award means that we are MSC's top producing account in Ireland for fully inclusive tours for individuals. We started selling cruises in April 2014 and are delighted to win the best producing account in Ireland for the second year running in such a short period of time.
It's great to see that all the hard work that the team at ClickandGo.com has put in has paid off. Our cruise team has grown from just 2 agents to 5, in the last 18 months", he said.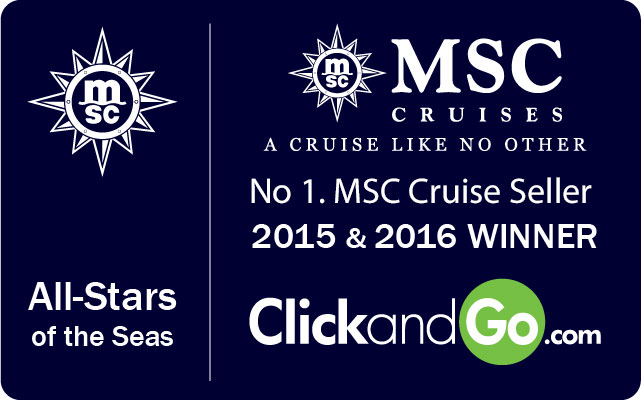 The three-day event, staged each year by the Switzerland-based global cruise line – number one in Europe, South America, and South Africa – welcomed more than 1,800 travel agents and members of the media in what is now a highlight of the MSC Cruises calendar.
Travel agents, networks and tour operators representing the more than 150 countries from which the Company sources its guests, were welcomed on board the MSC Cruises Magnifica ship before she set sail for a mini-cruise to the iconic ports of Marseille, Genoa, and Barcelona.
ClickandGo.com has an extensive cruise programme to offer with MSC Cruises. Probably cheaper than you think, cruise holidays offer great value, great choice and great destinations. Whether you're chasing the Northern Lights, city hopping around the Mediterranean or Caribbean or want to experience luxury on the high seas, we have something for everyone. Check out our cruise deals page for the latest special offers.
To book or find out more, contact our cruise holiday specialists at cruise@clickandgo.com
---