Top Resorts in Costa del Sol

Costa del Sol is a top destination for families, couples and over 50's looking for a much-needed sun escape. With so many picturesque resorts and idyllic villages, it can be hard to know where to go. Here are the top resorts in Costa del Sol that you can book with Click&Go and rest assured, we can vouch they are the best!
Benalmadena
Benalmadena is a popular family-friendly resort located along the stunning, azure Mediterranean coast. There are plenty of attractions for kids including the Sea Life Aquarium, waterparks and Europe's largest butterfly park! Don't miss the "Garden of Eagles," an Eagle show high up in the mountains and Tivoli Show, an amusement park. There is also a spectacular fairy-tale castle that the kids will love called Castillo Monumento Colomares. Spend plenty of time down by the marina and soak in the relaxed atmosphere and fascinating mix of Arabic/Gaudi architecture.
Torremolinos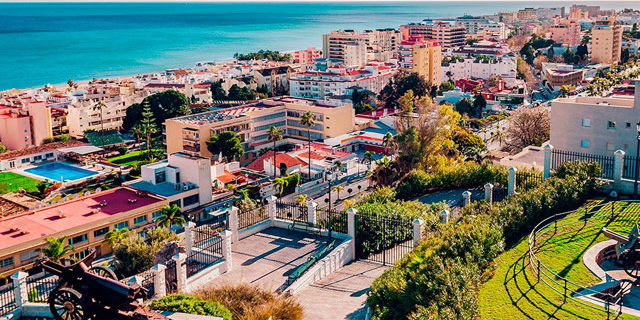 A bustling beach resort not for the faint-hearted, holidays to Torremolinos make for a fun, vibrant getaway suitable for young adults. Home to major beaches such as El Bajondillo and La Carihuela, there are plenty of water activities to try your hand at and there is no shortage of sunbeds to relax on and chill out with your friends. El Calvario is a lovely area to visit for a more laid-back, traditional atmosphere away from the hustle and bustle of the centre.
Fuengirola
A popular resort for families, couples and over 50's, holidays to Fuengirola are best known for golden beaches and everlasting memories. The promenade is one of the largest in Spain reaching almost 8km long. It's a wonderful destination for sun, sea and tapas (and Spanish wines of course). Visit the Plaza de Toros of Fuengirola, which holds all types of equestrian shows featuring magnificent Andalusian horses. And the archaeological site of Finca del Secretario and Sohail Castle are other sights definitely worth visiting!
If you're looking for glitz and glamour, head to Marbella, Costa del Sol's most expensive resort. The flashy marina that stretches from Marbella to Puerto Banús isn't called "The Golden Mile" for no reason! There are plenty more options for holiday-goers but these are our top resorts we recommend you visit. For prices and more holiday ideas, visit our Costa del Sol offers page.
---