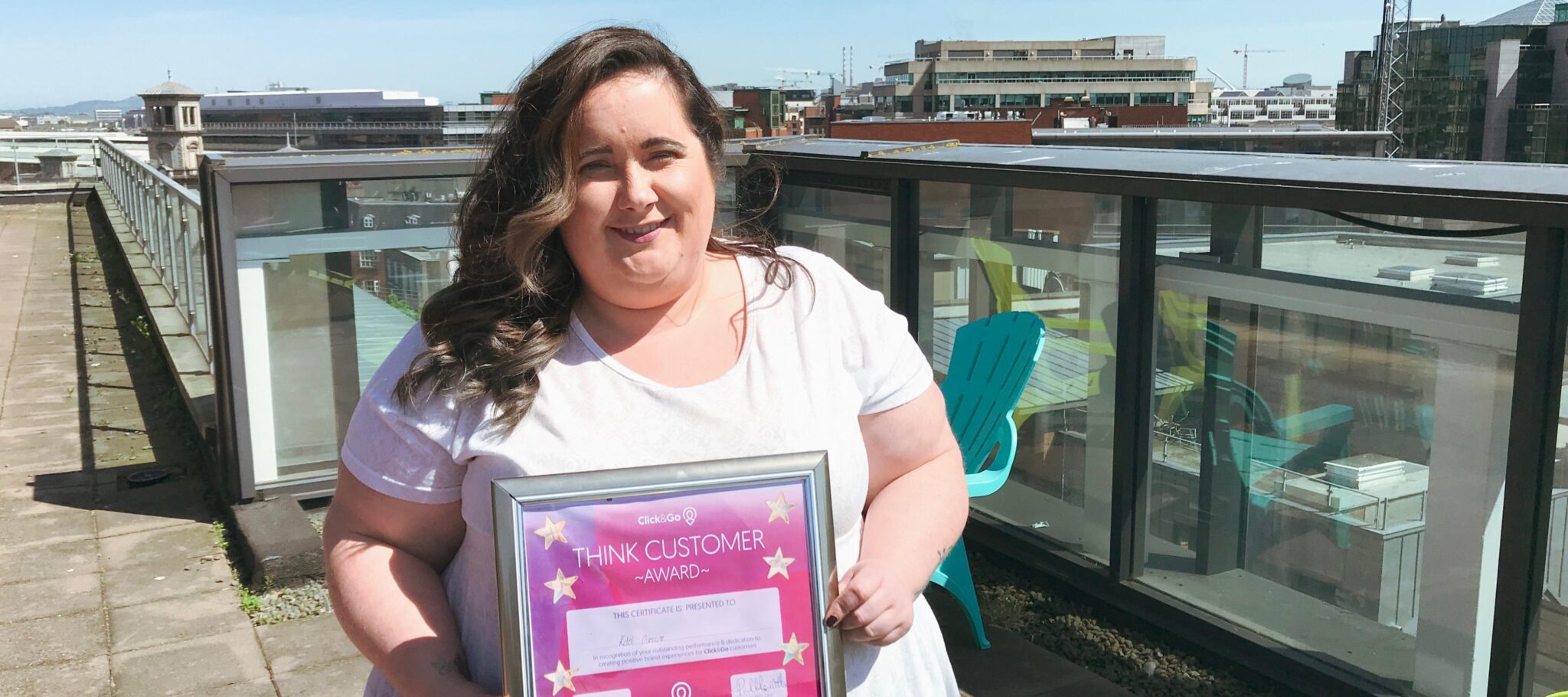 April's Think Customer Award
We can't believe that summer is almost here and we've been through 4 Think Customer Awards. April's winner is from our Holiday Support team and she received 3 glowing nominations from the total of 15 nominations across 11 Clickies.
April's Think Customer Award Winner
From the same team as our first Think Customer Award Winner, April's winner singlehandedly deals with everything cruise related, post-booking. Our Think Customer Award Winner for April is Edel Guerrine, our Cruise Administrator on our Holiday Support Team.
Edel, while still in shock about her win, said:
"To win the "Think Customer" award is so humbling, we have a great team of people here in Click&Go who are all so dedicated and amazing at their jobs, for them to nominate me to win the award this month I was just so shocked. I still cannot believe it.

I really appreciate everyone who chose me,  I feel like I won an Oscar!"
After the ceremony, Paul said…
"Edel is another very worthy recipient of the Think Customer Awards. Every day in all she does, Edel personifies our brand values of Forward Thinking, Happy, Responsible and Human, she does this so naturally it's clearly part of her work ethic and part of her DNA. I love her "can do, no-nonsense" attitude, her colleagues are very fond of her and our customers get to experience the personality of Click&Go. Thank you Edel and well done, this is so well deserved."
The nominations Edel received show how she lives and breathes our values of human, happy, responsible and forward-thinking through her fantastic work ethic and relationship with her colleagues. Two quotes that really stood out were:
"Every day she shows our brand values and nothing is a problem for her. She is such a team player and always happy. During Hurricane Irma, she stayed in the office 'til midnight to ensure one of our customers received their new flight tickets. Nothing is ever a problem for her and she doesn't get stressed."
"Edel is just a great team member and all round great asset to the Click&Go team.  She is constantly looking at ways to improve the system and process for cruise bookings. She takes time when customers call her, she explains the cruise package and answers questions. She remains on top of things and is the first person to take Holiday Support calls when lines are busy regardless of what she is working on. Edel is always happy and helpful and very approachable. In the office, she is the first to remember your birthday, to ask how you are feeling and is just caring."
Congratulations, Edel!
---