Everything you need to know for your family's camping holiday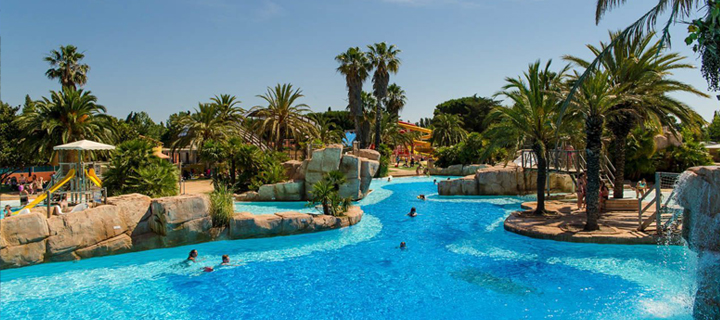 Looking to mix up your family's sun holiday this summer? Why not try a camping holiday? No, not the tent-in-a-field kind. Rather a fully-equipped mobile home and fantastic facilities – some Clickies have said it's even better than a self-catering resort holiday!
So, what do you need to know about camping holidays?
What are the camping holiday destinations?
There are campsites dotted across Europe, but we mainly offer camping holidays in Spain and France.
The campsites we offer in France include:
Clary's Plage
Les Genets
Séquoia Parc
Sylvamar
La Siréne
L'Hippocamp
The campsites we offer in Spain include:
Castell Mongrí
Cypsela
Vilanova Park
Playa Montrig
What exactly is camping accommodation like?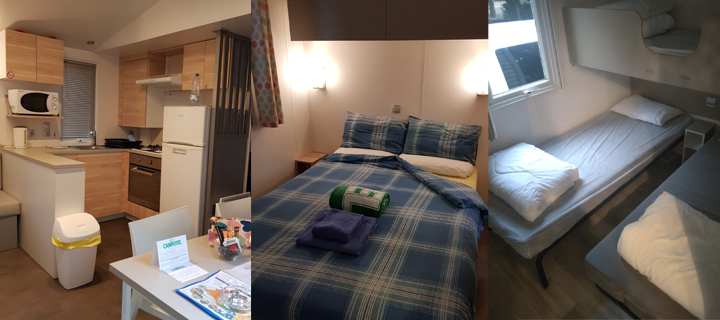 Stephen from our Product Team and Alan from our Sales Team both gush about how fantastic camping accommodation is versus a standard self-catering apartment.
You can choose from a 2-bed mobile home or a 3-bed mobile home which sleep 6 or 7 people respectively. Each mobile home contains:
Four burner hob
Microwave
Kettle and toaster
Full-sized fridge-freezer
Utensils, cookware, kitchenware
Air Conditioning
Pull out bed in living area
Duvets & cover and pillows & cases
Gas BBQ
Wooden decking with gate and outdoor furniture
Not only that, each mobile home comes with a welcome pack that includes tea, coffee, sugar, milk, toilet roll and a shopping bag!
Need a high chair, cot or a stroller? No worries, you can rent them all for €30 or individually for €12 for the duration of the holiday.
Don't want to sacrifice valuable suitcase space to things like towels? No worries, you can rent them too!
For €55 a family of 3 can hire: 3 large bath towels, 3 hand towels, 2 tea towels, 2 fitted sheets and 3 beach towels.
For €70 a family of 4 can hire: 4 large bath towels, 4 hand towels, 2 tea towels, 3 fitted sheets and 4 beach towels.
Will there be other Irish families at the campsite?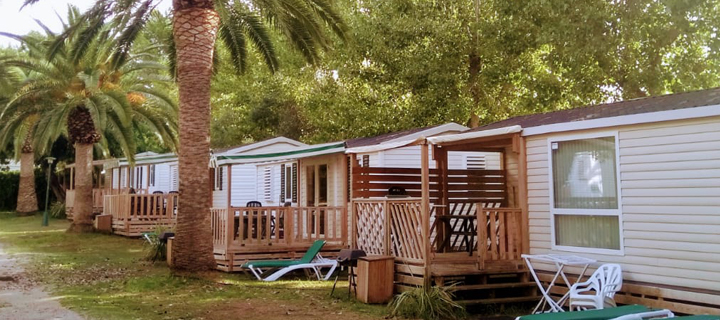 We work in partnership with KelAir Campotel to provide our camping holidays so all the KelAir mobile homes are located in a cluster so you're sure to meet other Irish families and your kids will become friends with other kids.
Do I not need a car for a camping holiday?
Traditionally, families would go on the ferry and drive but we've selected campsites that you can easily get to with an airport transfer. Or, if you prefer the freedom a car can offer on a camping holiday this can be arranged too. The campsites have so much in them and so many facilities that you don't need to leave the grounds and, if you do, many have buses or shuttle buses to bring you to the nearest town. 
There's plenty of restaurants on the campsite and all mobile homes are equipped with a kitchen and a BBQ. You can stock up in the supermarket and relax at home without having to plan your dining around children's bedtimes.
What facilities are there for kids?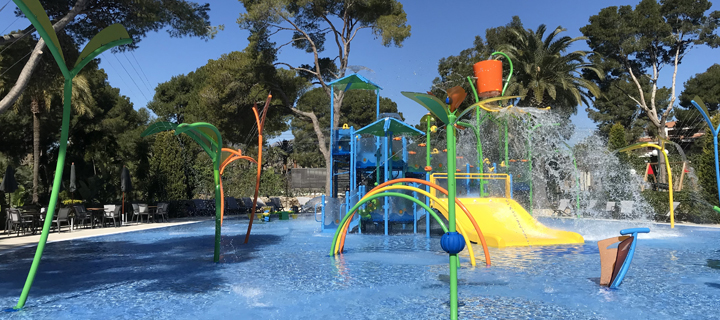 Between the swimming pools, splash play areas, playgrounds and sports facilities, there's plenty to keep kids entertained. The unique thing about a camping holiday is that kids will make friends with kids in neighbouring mobile homes and will be happy to splash together in the pool for the day.
In most campsites, there is either a KelAir Club Buzzy Bee kids club or the campsite's own kids club where each day is different with activities like nature trails, face painting, talent shows, fancy dress parties and arts and crafts.
Where should we go?
The first thing you have to decide is whether you want to go to France or Spain. We have holidays to 6 campsites in France and 4 in Spain, but instead of going through all of them, here are the top 5 campsites that our customers have booked.
Séquoia Parc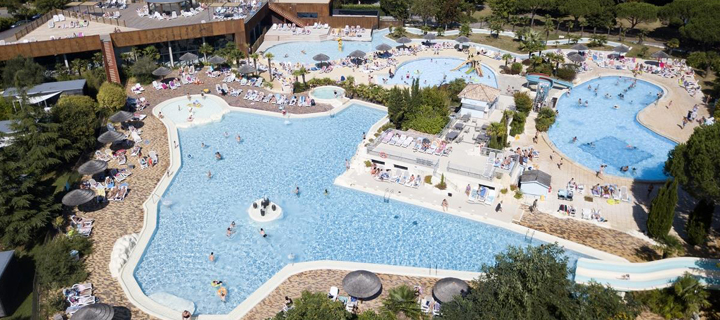 Séquoia Parc is in Marennes in the South West of France and is 62km from La Rochelle. It enjoys the fabulous Mediterranean climate and there's so much for families here that it would be hard for you to come home without a smile on your face.
What facilities are there for kids? Ther is a children's playground, heated kid's pool, a lazy river, waterslides, water jets and fountains, pool table, multi-sports pitch, football and basketball. Your kids can also enjoy the complementary kids club – Club Buzzy Bee!
What other facilities are there? There is a fantastic wellness and fitness centre filled with jacuzzis, saunas, hammam and relaxing treatments. There are big screens at the bar so you don't miss any important sporting events, plenty of food options (including a takeaway wood fire pizza!) and entertainment for the whole family. You'll also find a supermarket, laundrette and a resident Campotel courier on-site.
Sylvamar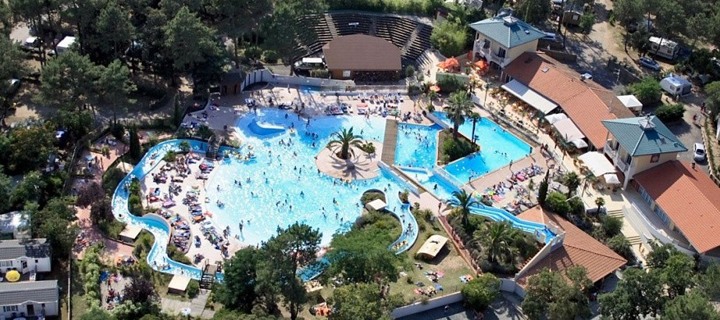 The Sylvamar campsite is in Labenne Océan, 25km from Biarritz. It's near the town so you only have a short stroll to the strip if you want more restaurant choices or just a night away from the campsite. Or if you want a day at the beach, it's a short 20min walk away.
What facilities are there for kids? There are heated pools, triple slides, covered aquatic games area, paddling pool, lazy river, playground, games room, kids club, table tennis and a wide variety of sports from basketball to archery! In 2019, there'll be 2 brand new waterslides to try!
What other facilities are there? There are endless food options with a bar, restaurant, snack bar, pizzeria, takeaway, creperie, mini market and bakery all on-site. There's also a fully equipped spa with fantastic treatments to really help you unwind.
La Siréne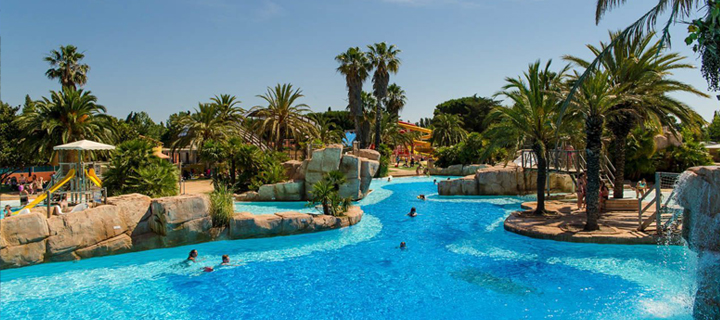 La Siréne is in Argelés sur Mer in the Languedoc region of France and only 20km from Perpignan. It's very popular with Irish holidaymakers! It's a larger and lively resort that places a big emphasis on its entertainment, bringing in two West End shows a year. The beach is a short 10min walk away and the town is less than 4km with a shuttle train running to it in the summer. You can also use all the facilities at its sister campsite, L'Hippocampe across the road, which would be a bit quieter, especially for smaller kids. 
What facilities are there for kids? There's a huge pool complex with 3 water slides, a multi-track toboggan, paddling pools, water games and mini waterslides, water fountains, playground, giant trampoline, crazy golf, archery, fencing and lots of other sports facilities! If that's not enough, there's also the campsite's kids and teen club.
What other facilities are there? This has even more food offerings with 2 bars, 2 restaurants, takeaway, pizzeria, creperie, bakery, ice cream parlour, a supermarket and a bakery. There's also a laundrette, hairdresser, entertainment team and an adult-only covered pool for a little bit of escapism.
Vilanova Park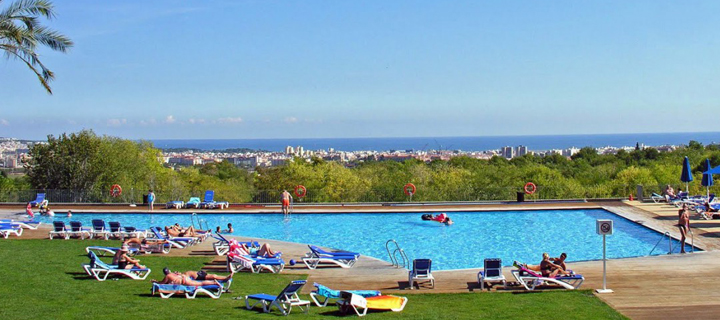 Vilanova Park is located along the Costa Dorada. It's 40km from Barcelona or a 35min drive. It's in the town of Vilanova I la Geltrú, which has a very local and less touristy feel to it. There's a bus service that stops outside the campsite to both Vilanova town and Barcelona.
What facilities are there for kids? There are 3 pools, 2 toddle pools, waterslides, playground, games room, plenty of sports activities and the campsite's own kids club.
What other facilities are there? There's a bar, restaurant, takeaway, entertainment in the high season, supermarket, gym, laundrette and a fantastic spa for relaxation.
Playa Montroig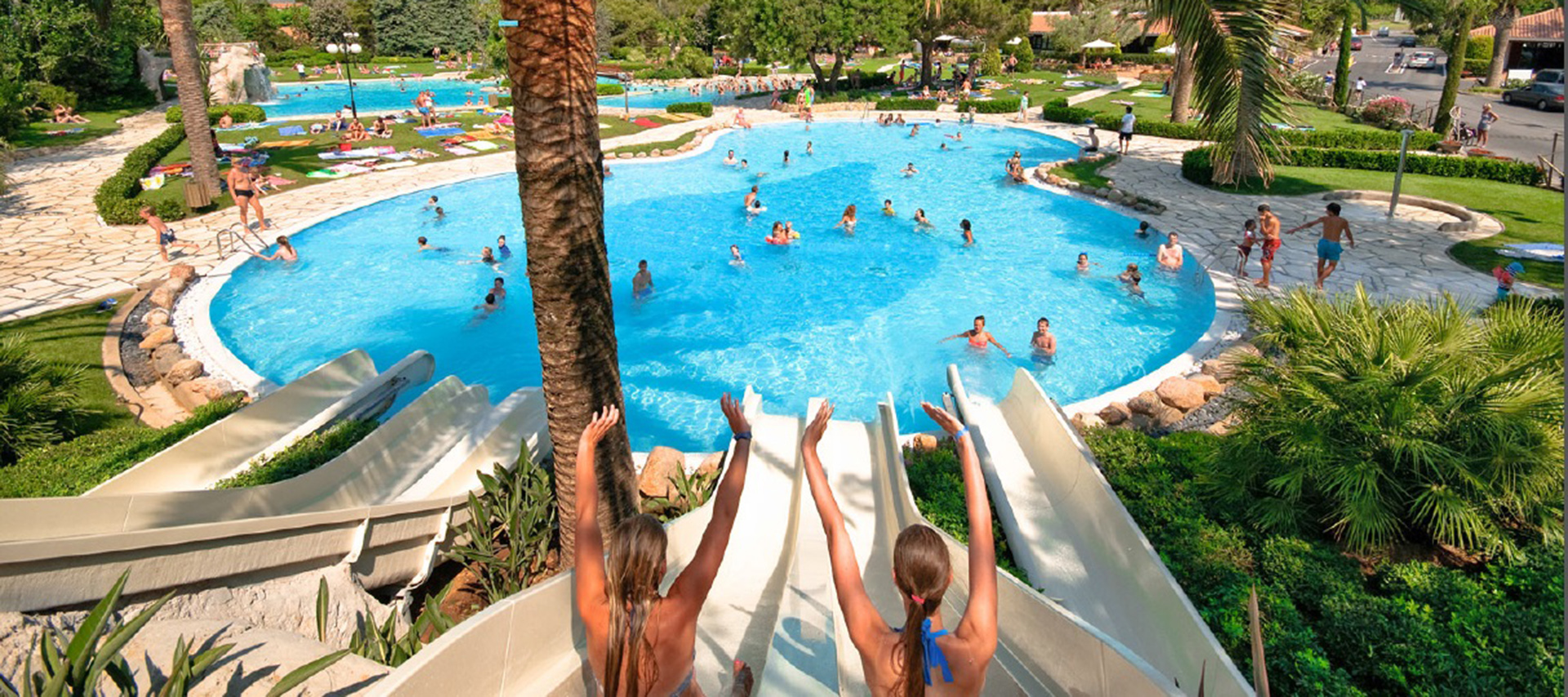 Playa Montroig is located 10km from Cambrils along the Costa Dorada. Cambrils is beside Salou so if you fancy a day out you can visit Salou and its famous theme park, PortAventura World. This is a fantastic campsite and one of our team's favourites! The beach is only a 10min walk and there are about 6-7 restaurants within 500m of the campsite.
What facilities are there for kids? There are multiple swimming pools, waterslides, waterfalls, splash playground, 4 playgrounds, mini golf, games room, endless sports facilities, the campsite's own kids club and entertainment.
What other facilities are there? There are 2 restaurants, takeaway, 4 bars, disco, wine cellar, supermarket, bakery, fishmonger, hair & beauty salon, spa and wellness centre and your on-site Campotel courier.
So, which campsite will you and your family be visiting this summer? If you book before the 2nd of March for stays in May & June (arrival up to 21st of June) you can get exclusive discounts off your accommodation!
Click&Go Travel Podcast on Camping
---