Halkidiki is Greece's best-kept secret and is a hidden gem of blissful sun and sea. A holiday here offers an impeccable variety of amazing outdoor activities, stunning hotels, and immaculate beaches (which are said to be some of the best on the Med!). A direct flight to Thessaloniki and a short transfer will bring you to this amazing corner of the world and offer an unforgettable holiday.
Halkidiki is known as the "hand of Greece" because of its three peninsulas. This trident shape presents these three distinct peninsulas, Kassandra, Sithonia and Athos that stick out into the Aegean Sea.
Kassandra is the most developed of the three with a buzzing social scene.
Sithonia is a bit quieter but equally as stunning.
Athos is a secluded monastic community and is extremely difficult to access.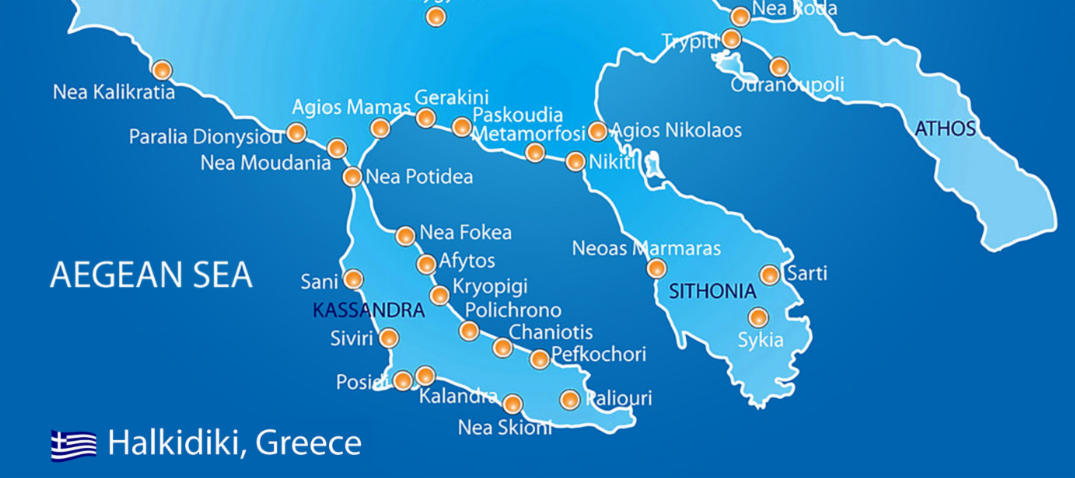 So, if you are looking to unwind, the expansive pine forests and crystal clear water are the perfect environment to do just that.
Here are some of the top reasons why you should add the Halkidiki peninsula in Northern Greece to your list of must-visit destinations.
The Beaches
Without a doubt, Halkidiki's 550km of coastlines boast some of the absolute best beaches in Greece. There are over 70 blue-flagged beaches here and they are simply spectacular. Kassandra's are often within resorts but Sithonia offers wilder and less touristy beach options that feature hidden coves perfect for camping. One of the most beautiful beaches in Sithonia is Kavourotripes where the fine sand is bordered by a stretch of pine trees.
The Water Sports
Kassandra is the place to try some exciting sports, including water skiing, diving, surfing, flyboarding, and sailing. So, if you are looking for some thrilling action, there is plenty on offer to peak anyone's interest.
The Hiking and Exploring
While the beaches are impressive and plenty of hours could be enjoyed lounging under an umbrella, the beaches back right up to some remote wilderness. This offers plenty of opportunities to explore Halkidiki's verdant landscape has 12 protected areas with pine trees and rugged mountains that stretch for miles.
Sightseeing tours are available to see some of the more untouched corners of the peninsulas and reveal secluded mountain villages, including Agios Mamas Laguna. Sithonia is particularly picturesque and plenty of hiking trails are accessible. Plus, there is a beautifully quaint village called Parthenonas on the slope of Mount Itamos that is absolutely worth exploring.
If you prefer exploring the region via mountain bike, that's also an option. One of the best places to do so is on Mount Holomondas. You can check out this Halkidiki biking guide here.
A boat ride to see the Mount Athos Monastery
On the most easterly peninsula of Athos, sits its namesake monastery. Athos is the only monastic state in Europe and access to it is extremely limited. The monastery only allows male pilgrims which involves a complex visa and permit application process. Women are not allowed to enter whatsoever. Therefore, in order to see the monasteries, your best bet is by boat. Tours often leave from Ouranopoli which is located in a strategic position near the monastic centre.

While there are some spectacular monasteries on the western side of the peninsula, there are also monasteries on the far eastern side. Most tours limit themselves to just the western side. However, some traverse the perimeter of the entire peninsula to see all 8 of the incredible monasteries.
Petralona's Cave
Fancy marvelling at 700,000-year-old stalagmites? You can do just that at the Cave of Petralona. It's located in the western part of Mount Katsika which is north of the peninsula of Kassandra. The cave was accidentally discovered at the end of the 1950s. In 1960, the remains of a 700,000 year old female skeleton were found. These are thought to be one of the earliest human remains ever found in Europe. Plus, Mount Katsika offers great hiking and incredible views, including of Mount Olympus across the Thermaic Gulf.
Aristotle Park
In Stageira, on the very eastern part of Halkidiki, there is Aristotle Park. Here, there is a large imposing statue of the famous philosopher, Aristotle. Halkidiki is the birthplace of this great intellect of Western Civilization and this park was built in homage to him.
The Town of Thessaloniki
The town of Thessaloniki is a must-visit and is located under two hours from Halkidiki. This city, the gateway to Northern Greece, has a laid-back vibe and offers amazing sightseeing and shopping. There are several Byzantine monuments including the White Tower of Thessaloniki and impressively constructed churches including the Agios Dimitrios. Also, the nightlife offered is amazing, the cultural scene is class, and the food is unreal.
The rich gastronomical heritage
Northern Greece is legendary for its amazing food. Their long history of culinary heritage continues to thrive and the food bursts with local produce. Sprinkled with authentic, traditional tavernas, you'll instantly feel at home in Halkidiki from the local dishes to warm welcomes. Not only that, but it's fantastic value with a typical Greek dinner for 2 only costing around €20-€30.
Overall, Halkidiki has so much to offer. It's a refreshing and unique option to consider for your next getaway. Are you convinced that Halkidiki is worth a visit?