Places You Need to Visit if You're a Game of Thrones Fan
The last watch has arrived. 8 seasons later, the iconic Game of Thrones has come to an end. From its epic battles to its complex characters and fiery dragons, it had us hooked since 2011. If you're still not emotionally ready to say goodbye to the fantastical Seven Kingdoms of Westeros, why not visit some of the top filming locations?
Over the last 8 seasons, it has been filmed in some amazing locations, plenty of which are in Northern Ireland in both stunning outdoor locations and within the Titanic Studios in Belfast. But, there are a plethora of scenes filmed off the island across Iceland, Malta, Croatia, Scotland, Morocco, and Spain. Delve into the amazing scenes which Game of Thrones have made famous with this list below.
(Please note: although we cannot offer travel via dragon, Click&Go has plenty of flight deals to suffice).
ICELAND
Iceland premiered in Season 2 of Game of Thrones. Since then, adoring fans have flocked to the North Atlantic island to marvel at the natural wonders that abound.
North of the Wall: Vatnajökull National Park, Iceland
Vatnajökull holds the title of Europe's largest glacier that does not sit within the Arctic. This glacier and the surrounding area in the southeast of Iceland was established as a national park in 2008 and it reigns as one of Iceland's premier camping locations. Here, there is a huge variety of landscapes. From uninhabited highlands to raging rivers, glaciers and a range of geothermal activity, this park has it all. On average, this national park is about a 4-hour drive from Reykjavik, which sits in the southwest of Iceland on the coast.
The glacier ice was the ideal place to film scenes illustrating conditions 'North of the Wall' where the White Walkers lurk and Wildings live out their lives.
Jon And Ygritte's Love Nest: Grjótagjá Cave, Iceland
Near Lake Mývatn in Northern Iceland sits a lava cave that houses a thermal spring whose waters are heated by volcanic activity within the earth. This is Grjótagjá. It is a serene location within one of the most amazing natural landscapes in Iceland awash with amazing flora and fauna. The Lake Mývatn area is along the Diamond Circle route in the north of Iceland and the lake and cave sit about 6 hours from Reykjavik by car.
This cave has always been a popular site for bathers including enemies and lovers Jon Snow and Ygritte who get together in Season 3, Episode 5.
North Of Westeros: Thingvellir, Iceland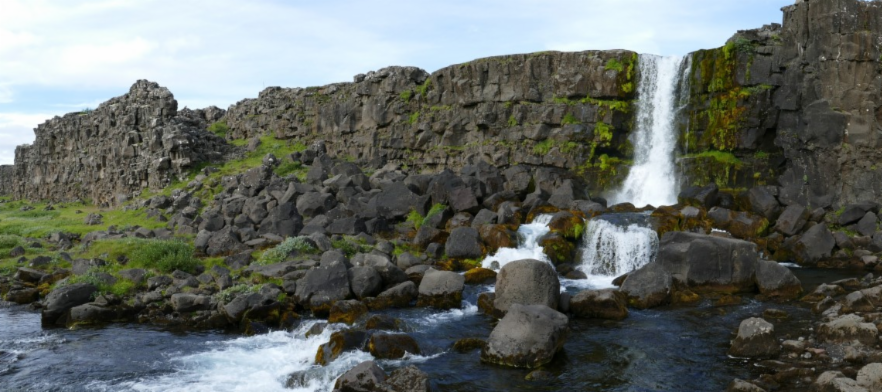 In southwestern Iceland sits Þingvellir National Park. It is only about 40 km northeast of the capital of Reykjavik, meaning it's under an hour to drive. It is a beautiful environment, offering doses of history, culture, and stunning views. The park lies in a rift valley along the top of the Mid-Atlantic Ridge which separates the North American and Eurasian tectonic plates. Plus, it's home to the largest natural lake in Iceland.
This beautiful location is where scenes depicting areas north of the continent of Westeros are shot for the show.
MALTA
Malta is a small gem floating in the Mediterranean 60 miles south of Sicily. The island boasts incredible historical sites and some of the most amazing natural harbours in the world. It's no wonder Game of Thrones sought out locations here for filming!
Gate to King's Landing: Mdina, Malta
The Gate to King's Landing is represented by the entrance to one of Europe's most well-preserved fortified cities: Mdina, Malta. This walled city served as the capital of Malta from the time of antiquity to the medieval period.
Specifically, this gate makes its first appearance in Season 1, Episode 3 after Bran's fall. Plus, not far from here sits Mesquita Square which was the setting of other important Season 1 scenes, including those that lead up to Ned's demise. This square also shows the entrance to Little Finger's brothel!
Daenery's and Drogos' Wedding: Azure Window, Island of Gozo, Malta
In Season 1, Daenery's and Drogos' wedding was also at the Azure Window on the Island of Gozo, Malta. This Dothraki event celebrated the union of Khal Drogo and Daenerys Targaryen in the fictional location of Pentos. Unfortunately, this amazing natural wonder crumbled into the sea in 2017 after succumbing to the elements after inclement weather.
However, the Island of Gozo still has so much to offer. It is utterly charming and although it is the smaller sibling of Malta, it brings to the table its own unique character. The environment has been liked to Connemara but with more sunshine, perfect for the outdoor lovers and adventurous types seeking a nice relaxing holiday in a location that also boasts amazing beaches.
Red Keep: San Anton Palace and Fort St. Angelo, Malta
Just east of Mdina towards Valletta is the San Anton Palace that was used to depict exterior shots of the Red Keep. It featured most frequently in Season 1. This is where the President of Malta resides and is located in an incredibly posh area of Malta. The gardens of this amazing place are fantastic, bringing a sense of tranquility with a flurry of exotic flowers and calming fountains. You may recall one of the most memorable scenes when Joffrey and Sansa go out to the balcony and see Ned, Sansa father's head on a spike.
Fort St. Angelo is another location that was used to represent Red Keep. Specifically, it was used as the location of the Red Keep Dungeon where Ned was held in advance of his death. Plus, if you remember Arya chasing a cat during her sword training all the way back in Season 1, then that was this location.
CROATIA
Croatia is an oasis which offers a high standard across the board, from accommodation to attractions and dining. The regions are famous for their stunning coastlines. Simply, it's an unforgettably beautiful country and used for some of the most critical scenes in Game of Thrones.
King's Landing and Meereen: Split, Croatia
Split is located in the Dalmatian Riviera of Croatia, a narrow belt on the eastern shore along the Adriatic. It's one of the most important filming locations for Game of Thrones as it was used in combination with Dubrovnik to depict King's Landing.
Plus, it is home to Diocletian's Palace, an ancient Roman palace built in the 3rd Century that is a must-visit on a holiday to Split. The basement of this real-life palace is used to depict the underground passageways of Meereen, a former slave city in Game of Thrones. This place is also where Daenerys trained her dragons and where her throne room was as ruler of Meereen after conquering it in Season 4. Plus, a Game of Thrones museum just opened up minutes away from Diocletian's Palace. The museum has over 100 exhibits featuring costumes and other set items including the full armour of the King's Guards. This museum can be found in Split at Bosanska Street 9 and open between 9AM and 10PM daily.
Not far, Kliss Fortress in Split (above) also features as a filming location representative of Meereen in Season 4.
King's Landing: Dubrovnik, Croatia
For any and all Game of Thrones fans, Dubrovnik is an absolute must-see. This is because it's the main depiction of King's Landing, the capital of the Seven Kingdoms. While the gate to King's Landing is in Malta, Croatia holds everything else about the city. There are countless sites to see surrounding the show in Dubrovnik.
The Old Town depicts the City Walls and narrow streets that fans have come to associate with that of King's Landing. Plus, Pile Harbour is used to represent the Harbour of King's Landing. Also, the Jesuit Staircase is in Dubrovnik is representative of the steps of the Great Sept of Baelor and where Cercei walked away in shame in Season 5.

Moreover, Minceta Tower (above) in Dubrovnik is also the entrance to the House Of The Undying, the headquarters of the Warlocks of Qarth.
SCOTLAND
Scotland, the most northerly of the UK countries is a conglomeration of amazing wilderness and vibrant cultural cities. Although only one location was used in Game of Thrones, it sure is an iconic one.
Winterfell: Doune Castle, Stirling, Scotland
Whether you are a Monty Python fan, Outlander fan, or Game of Thrones fan, this castle is the place for you because it features in every single one of these famous productions. Quite simply, if you're a fan of them all, you could hit three birds with one stone with a visit to Doune Castle.
Doune Castle is a 14th Century courtyard castle which sits a little over an hour away from Edinburgh and about 45 minutes from Glasgow via car. It is used for various external shots of Winterfell and was the location of a large feast for Robert Baratheon.
MOROCCO
Moroccan holidays offer exciting and exotic sights, sounds, and smells. The landscape effortlessly slips between sea, desert dunes, and the height of the Atlas mountains. Agadir is within Click&Go's repertoire and is the place for a spot of sunbathing and de-stressing.
Astapor: Essaouira, Morocco
On the west of Morocco sits the city of Essaouira which featured in the third season of Game of Thrones. This lovely city is representative of Astapor, Slaver's Bay. It's here that Daenerys purchased an army's worth of male warriors to bolster her forces, releasing them after their duties were fulfilled and sacking the city. Most of the scenes were on the beautiful blue-boat filled waterfront of Essaouira, a city about 3 hours north of Agadir.
Yunkai And Pentos: Ait Benhaddou, Morocco
Ait Benhaddou is an incredibly beautiful and famous fortified city with a castle. This is where scenes of the Games of Thrones cities of Yunkai and Pentos were shot. Also, it may look familiar because it has featured in Gladiator, The Mummy and Lawrence of Arabia, coming to be coined the 'Hollywood of Morocco'. This city is almost a 5-hour drive from Agadir. However, considering it falls on the route out to the Sahara Desert, there are plenty of tours that stop in this quaint little town.
SPAIN
Spain offers everything you could ever want in a holiday. Don't believe us? Well, it provided enough intrigue to be the setting of various Game of Thrones locations because it's simply so stunning.
Royal Palace Of Dorne: Real Alcázar Palace, Seville, Spain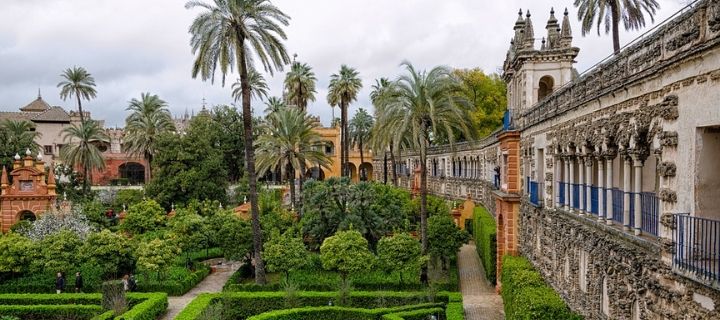 Seville is a city in southern Spain in the Andalusia region popular with those looking for some warmth and a dose of culture. One of the highlights is the Real Alcázar Palace, a royal palace in Seville, built for a Christian king. This is the official residence of the royal family in Seville and a UNESCO world heritage site. It registers as the oldest royal palace in Europe that is still in use. It is also adjoined to the Seville Cathedral, another must-see in this Spanish city.
In seasons 5 and 6 of Game of Thrones, the palace was used to show the Water Gardens of Dorne, the southernmost kingdom that is ruled by Doran Martell.
Long Bridge Of Volantis: The Roman Bridge, Cordoba, Spain
Just under a 2 hour drive northeast of Seville sits the city of Cordoba. Here, there is a famous Roman bridge which featured in Season 5 of Game of Thrones as the Long Bridge of Volantis. It was enhanced by CGI to be used in the show.
Danzak's Pit: Plaza De Toros De Osuna, Spain
East of Seville sits the town of Osuna, in the Seville province of Spain. It is a renaissance town featured in Season 5 of the show. Here, in an impressive plaza which actually hosted bull fights, the dance of the dragons occurred in the show. This is the most famous of the fighting pits of Meereen as Daenerys went on her conquering spree.
As you can see, Game of Thrones has traversed many places to bring to life its story in some of the most magical and alluring locations in the world. If you fancy a visit to any of them…
---