The Ultimate Guide to Cyprus
Tucked in the Eastern Mediterranean, Cyprus is a gem of a place to spend a holiday. Cyprus, officially recognised by the international community as the Republic of Cyprus, is located to the south of Turkey, floating between Syria, Lebanon, Israel, Egypt, and Greece. Northern Cyprus is a de facto state under the guise of Turkey and the Turkish Republic of Northern Cyprus is a self-declared name.
So, if you are at all interested in immaculate and beautiful beaches with a buzzing nightlife, the birthplace of the Greek goddess Aphrodite, or more unofficially, where halloumi cheese comes from, then look no further than this guide. This is a perfect introduction to the fascinating island of Cyprus which is filled to the brim with myth and history, booming as a safe and popular holiday destination.
Click&Go offer holidays to Paphos and Limassol, with flights and accommodation available to and within each. Flights, operated by Ryanair, are available direct from Dublin and Belfast. It's about a 5-hour flight and a very quick transfer to the centre of Paphos. If you prefer Limassol, the transfer is over 2 hours from Paphos airport.
PAPHOS
If you are looking for upmarket resorts and an array of high-quality dining, night-life, and a laid-back chill vibe to make your next holiday incredibly relaxing, look no further than Paphos, Cyprus. This amazing European city was chosen as a European Capital of Culture in 2017 and it's no surprise why. Plus, the entire town, due to its historical significance, is considered a UNESCO World Heritage Site.
Overall, Paphos has everything you might need to enjoy a getaway. But it's noteworthy to mention that this perfect little town is best suited for couples and not as suitable for a family getaway.
Pro Tip: If you are looking to see the entire town in all its glory, Click&Go sales aficionado, Will recommends the Hop On/Hop Off bus tour for both Paphos and Limassol.
What to Do and See in Paphos
Paphos Castle
Just beyond Paphos marina sits Paphos Castle. Part of its base sits within the sea next to a wave breaker. This Byzantine structure was built with the initial purpose to protect the Kato Paphos Harbour. It stands as a physical remnant to those who have controlled this area of the world, from the Byzantine era to the Venetian and Ottoman.
From the roof, you'll have sweeping harbour and bay views and it's only a €2.50 per person pay-in. The castle, because of its importance, is often used as the backdrop for many major events including the Aphrodite festival which takes place in September.
Kato Paphos Archaeological Park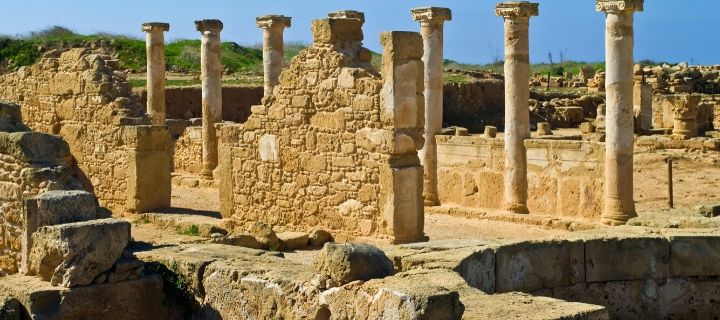 The Paphos Archeological Park is a conglomeration of ancient Greek and Roman ruins. The park is still undergoing excavation, but its sites are miraculous. The ruins date from prehistoric times all the way through the Middle Ages and most are incredibly well-preserved.
The most notable ruins are the 4 Roman Villas – the Houses of Aion, Theseus, Orpheus, and Dionysos. These come complete with immaculate mosaic floors and provide insight into the lives of some of the earliest Cyprian inhabitants.
Tombs of the Kings
The Tomb of the Kings is a large ancient necropolis with, you guessed it, an array of tombs. It sits just north of Paphos – only about 2 km away. Also, it costs €2.50 to enter.
Essentially, it's a complex underground monument which dates all the way back to the 4th century B.C. Although its name alludes to the resting place for royalty, it was actually used as a place to bury high non-royal officials. The work of the ancient people who carved these grand tombs is something worth seeing.
Aphrodite's Rock- Petra tou Romiou
Just south of Paphos Harbour is Aphrodite's rock. We all know the ancient goddess of love and beauty, Aphrodite. This place is fabled to be the physical birthplace of Aphrodite as she was formed out of the sea foam. The natural beauty and mythological importance combine to make this a stunning tourist attraction.
Plus, some say that swimming around this sea stack will bring good luck and restore youth. Whether or not that is true, the cool waters make for a lovely spot to swim and relax.
Coral Bay
A twenty-minute drive north of Paphos will drop you in the beautiful Coral Bay area. It is with a doubt one of the most stunning golden sand beaches on the island of Cyprus. This crescent-shaped ocean bay offers plenty of tourist amenities including an array of water sport options, clear and shallow swimming waters, and plenty of loungers to enjoy the Cyprus sun. There's also a multitude of food joints and shops within walking distance. All in all, this is a beautiful location worth a visit.
If you fancy staying in Coral Bay, Click&Go even offers amazing accommodation here with unparalleled rates, including the 4* Ascos Coral Bay which is detailed more finely later on.
Excursion to the Troodos Mountains
The Troodos Mountain Range in central Cyprus offers a perfect option for a day-long excursion. The best option is a car rental to drive along the well-planned mountain roads and enjoy the changing scenery. It's a fantastic way to see proper Cypriot villages and there are various UNESCO-grade painted churches from the Byzantine era complete with incredible murals to see along your travels.
Plus, the shimmering Mediterranean Sea will be visible in the distance. The entire island is visible with a drive or hike within these mountains. Be sure to come prepared though. The correct gear is advised and to stick to the roads and trails, and insect repellent is useful (watch out for snakes in summer!). If you decide to go in the winter, skiing is a fantastic option.
Aphrodite Hills Golf Course
Between Paphos and Limassol is the Aphrodite Hills Golf Course. This is an award-winning golf course that opened in 2002. This National Cyprus Golf Course was designed by world-renowned golf course architect and designer Cabell Robinson.
It is one of the best golf courses in the Mediterranean, so, if you are a golf fan, a tee time at this course is sure to impress. Plus, the view of the sea over the manicured fairways is unparalleled.
Where to Stay in Paphos
5* Amavi Hotel
To put it simply… this hotel has it all. The Amavi is a stunning 5* that just recently opened in late 2018. It's purpose-built for couples only and is half board with lunch and dinner (with drinks included with dinner) provided. It sits right off a Blue Flag certified beach and has prime sunset views over the harbour. It provides a tranquil environment where holiday-goers can escape and completely relax. Click&Go offers unrivalled prices to stay in this hotel and the value delivered is second-to-none.
4* Ascos Coral Beach
As aforementioned, the 4* Ascos Coral Bay is an absolutely stunning hotel with immaculate views. It's a half board accommodation that sits very close to Paphos. This attractive hotel is only a 5 minutes walk to the centre of Coral Bay and within immediate vicinity of the beach. It offers everything you may need to have a holiday full of relaxation. It has a 24-hour lobby, a cosy cafe, 2 bars, and 3 restaurants. The rooms are all tastefully designed and all have balconies. There is an impressive swimming pool and plenty of sun loungers to soak up the sun.
3* Tasmaria Aparthotel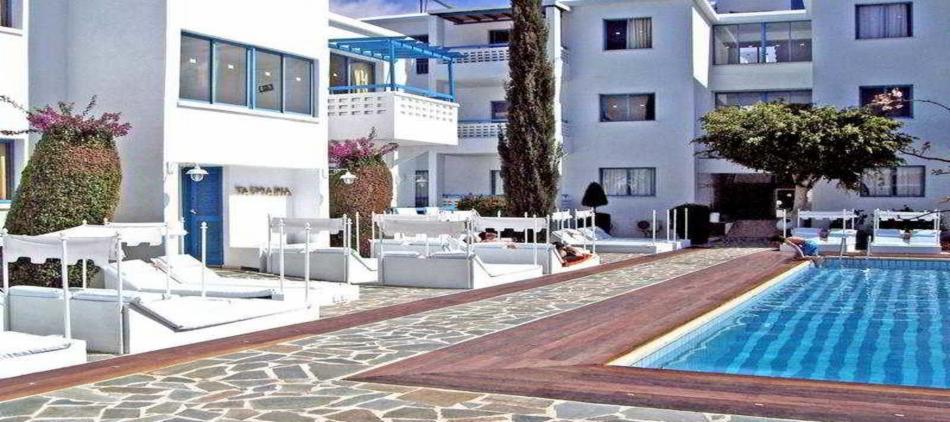 This quaint 3* hotel is located in a peaceful area of Paphos, away from the touristy harbour. It's very close to the nearest beach and for the price, offers just about anything you might desire. There are plenty of restaurants, bars, and other nightspots within walking distance of the property. Plus, it is extremely close to one of the top tourist attractions in Paphos, the Tomb of the Kings. Each unit is well-designed and equipped with modern comforts. Also, there is a pool with a snack bar and plenty of sun loungers and parasols to allow you to bask and relax in the sun.
LIMASSOL
The other location which Click&Go currently has on offer is that of Limassol, the second largest city on the island of Cyprus. It's one of the premier holiday resorts on the island of Cyprus, located on the sunny southern shores of Cyprus. It effortlessly combines a delightful and beautiful location with the buzz of a commercial city and harbour town. There is so much to love here. From the charm of this quaint little town to the endless sunshine and perfect sandy beaches, you will fall in love with Limassol.
Plus, this region is well-known for its famous wine, Commandaria. This wine has been produced in this region for a millennia, holding the record for the oldest continually-produced wine in the world. King Richard I of England was such a fan of this wine that he declared it the "wine of kings and the king of wines"
What to Do and See in Limassol
Ancient Kingdom of Kourion
Just outside the city of Limassol sits the ancient city of Kourion, or Curium in Latin. This was an important city-state that dates back to the 12th century B.C. The amphitheatre here is especially amazing and worth a wander around to take in all the impressive architecture.
Kolossi Castle
Sitting 14 km west of the city of Limassol is Kolossi Castle. It was an especially important place during the Middle Ages and is thought to have been built in the early 1200's. However, the castle that stands today was the one rebuilt in the mid-1400's. It was integral in the production of sugar which was a vital export for the island of Cyprus.
Sunbathe on Lady's Mile
Lady's Mile beach is debatably the most well-known of Limassol's beaches. It's the longest beach in Cyprus. The northern part of the beach is rocky, the central is darker grey in colour, and the southern part blends into a golden colour. Both this beach and Dhassoudi beach, another popular Limassol beach, have plenty of sun loungers and parasols to accommodate all visitors.
Enjoy lounging in the sun along these lovely beaches, or shelter under shady shacks or in street side cafes while you sip on cool drinks. There are also other options to eat some tasty food in al fresco tavernas and restaurants. Plus, if you stay into the evening, locals bars and pubs come alive.
Where to Stay in Limassol
4* Elias Beach Hotel
After a direct flight to Paphos and a 2-hour transfer to the resort of Limassol, you will have arrived in a little slice of heaven. Click&Go offers various accommodation options in Limassol, including at the 4* Elias Beach hotel. This hotel is on a half board basis and located in the Amathus area of Limassol. It fulfils every desire a guest may have, including the offer of great value.
It's located directly on a Blue Flag grade sandy beach and rather close to the centre of Limassol. The hotel is stylish, elegant, and serene. Plus, most rooms have a direct sea view. Also, the hotel has restaurants, including a tasty Japanese restaurant, and bars where guests can unwind with a drink in hand.
LARNACA
In the southeast of Cyprus sits the lovely town of Larnaca. While Click&Go does not offer accommodation here, it is absolutely worth a day trip as it's under a 2-hour drive from Paphos and a 45-minute drive from Limassol. Once there, indulge in some great sight-seeing with the below.
Ayios Lazaros (The Church of Saint Lazarus)
Just north of Larnaca sits a late 9th-century church. This is an Orthodox Church which is built over the tomb of Saint Lazarus, a prominent figure in the Gospel of John in the Bible. This church is a prime example of Byzantine craftsmanship on the island of Cyprus.
Larnaca Salt Lake & Hala Sultan Tekke
The Larnaca Salt Lake is a group of 4 distinct lakes, Aliki, Orphani, Soros and Spiro. These combine to create one of the most distinc and important wetland areas on the island of Cyprus. Here, you can catch glimpses of over 85 species of birds, including the beautiful flamingo.
Also, on the west bank of the Salt Lake sits Hala Sultan Tekke, a Muslim shrine. It's the 4th most important holy place of worship in Islam because it is believed that the paternal aunt of the prophet Mohammad died here. It's an incredibly tranquil and beautiful place.
NICOSIA
Nicosia is a remarkable city that is just at the border of Northern Cyprus. it is a city with a border going straight through it and in order to access the northern side, you will need your passport to enter into the Turkish Republic of Northern Cyprus. The town is easily accessible via a day trip from any of the southern cities you are likely to stay in.
Plus, the north is not as commercialized as the south due to its isolation after the 1974 Turkish invasion and the drawing of the border, so there is plenty of culture to experience and scenery to take in. You will even get to see old Venetian walls in Nicosia, considered to be an example of a perfect Renaissance city.
Cyprus Museum
The Cyprus Museum is the top must-visit when in Nicosia. It houses an incredible collection of artefacts from the Byzantine and Neolithic ages and allows visitors to learn more about the history of Cyprus's civilisation. Delve into the history of this amazing island as you meander the collection of relics.
So, if we haven't convinced you enough that Cyprus should be on your bucket list, take a listen to the podcast below or…
---