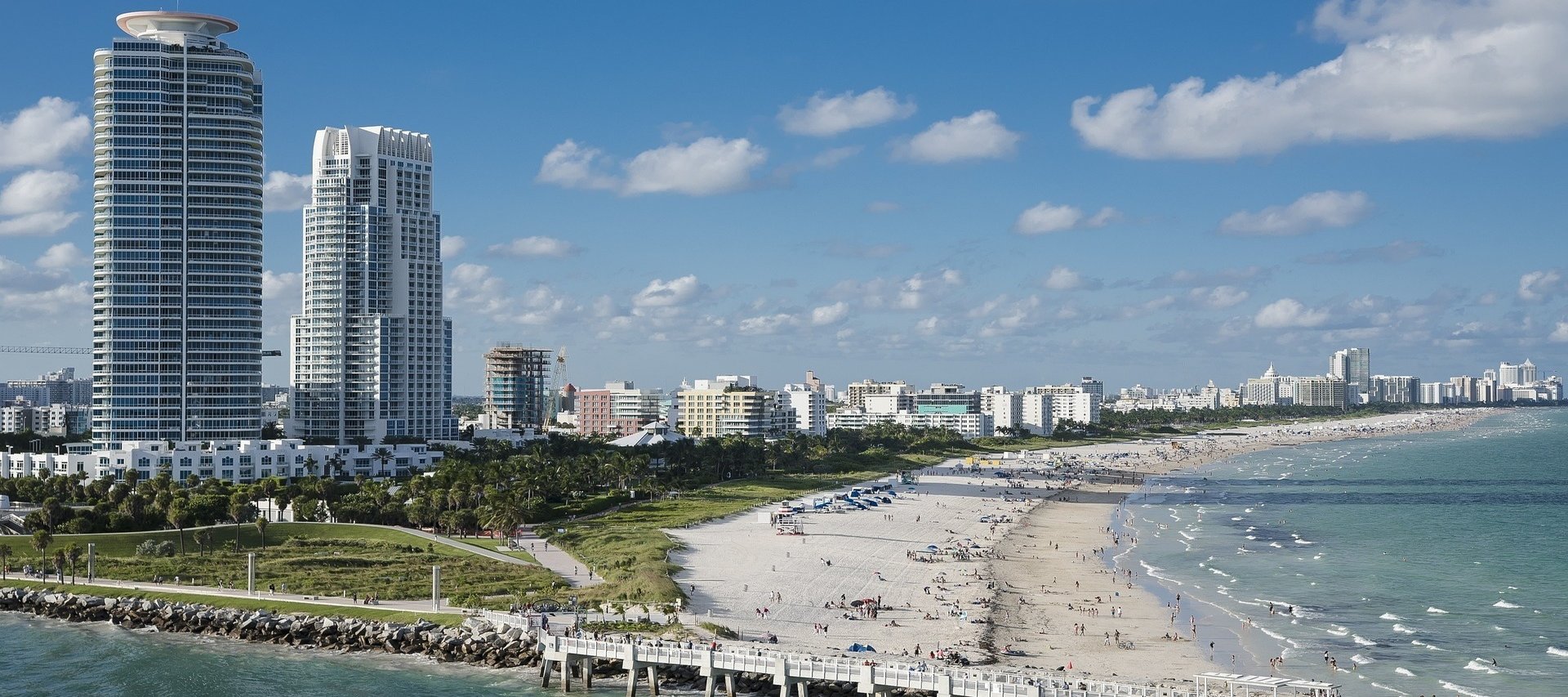 The Best Hotels in Miami
Miami is a vibrant city on Florida's sunny southern coast which attracts more than 16 million tourists each year. Whether you're visiting just to spend time in the Magic City or as a stop along your cruise holiday, finding the right accommodation is essential.
Staying somewhere that meets your unique needs is an important part of having a relaxing, stress-free holiday. From large families and travel groups to intimate couples getaways, these versatile hotels have got it all.
Royal Palm South Beach
This elegant, art deco hotel is centrally located in South Beach, just north of Ocean Drive. Right on the water, the Royal Palm hosts stunning sea views as well as its own private beachfront access. The hotel's fitness centre is open 24 hours, and there are 2 pools as well as personal cabanas. With a jam-packed events schedule, guests can enjoy everything from Yoga and Zumba to the Sunday Pool Party.
The Royal Palm's 393 guest rooms are especially spacious, ranging from 275 – 1,550 sq. ft. Large windows overlook blue sky, sparkling sea, and impressive city buildings. When it comes to dining, you won't have to go far with room service available to every room.
Other delicious dining opportunities include a fresh juice or espresso at the artistic Compass Rose Bar, daily homestyle breakfast at the Florida Cookery, and al fresco dining in the newly refurbished Grove Restaurant. While out in South Beach, be sure to check out Byblos, the Royal Palm's upscale Mediterranean restaurant in the heart of Miami.
Dream Hotel South Beach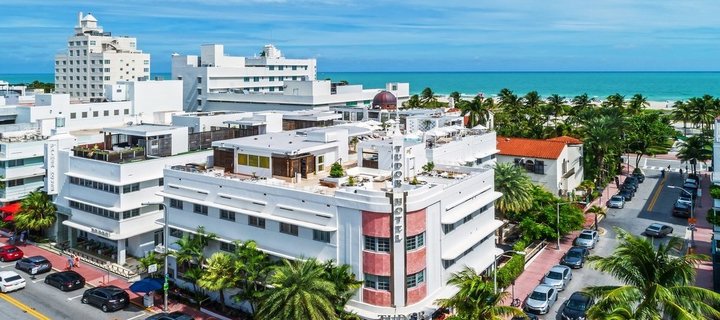 Dream Hotel South Beach on Collins Avenue promises to fulfil all your holiday dreams. With the serene Shala Spa and heated rooftop pool, you can relax in a truly tranquil environment.
You can also enjoy breakfast, lunch, and dinner at the onsite Naked Taco restaurant, featuring a scrumptious array of traditional Mexican food. For something more casual, grab a drink, lunch, or a snack at the rooftop pool. Overall, the Dream Hotel South Beach is ideally located walking distance to all the major attractions in Miami Beach.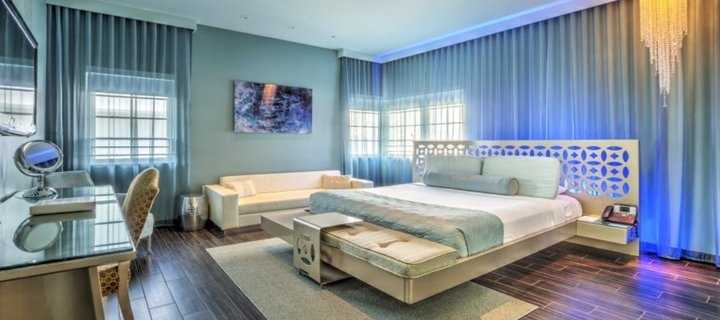 The Dream Hotel South Beach features 107 guest rooms with some pretty impressive amenities. Each room has an oversized LCD TV, high-speed WiFi Internet access, and iPhone docking systems. For comfort, you can enjoy 380+ thread count Egyptian cotton duvets and sheets, waffle knit spa robes, and luxurious Etro bath products. Personal belongings will always be secure with in-room safes, and fully-stocked private bars will be entirely at your disposal.
Delano South Beach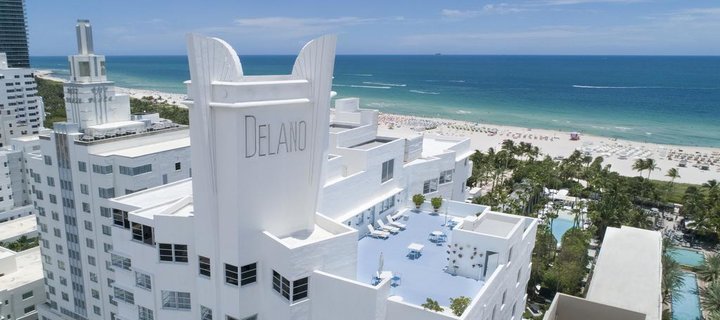 This luxury boutique hotel is truly one of a kind. Popular among the likes of Jennifer Lopez, Madonna, and Prince in the 1990's, the Delano remains one of Miami's most interesting and trendy hotels. It's all white-design gives it a sleek, minimalist style, but the amenities are far from minimal.
The Ciel Spa is an exclusive 3,500 square foot facility on the rooftop of the Delano offering traditional and unique treatments for your utmost relaxation. The 24-hour fitness centre offers one on one sessions with trainers or yoga instructors. There is no shortage of sensational restaurants onsite, including the Umi Sushi & Sake Bar and the Delano Sunday Brunch which draws people from all over the city. Then, at the end of the day, head to the Rose Bar for creative craft cocktails.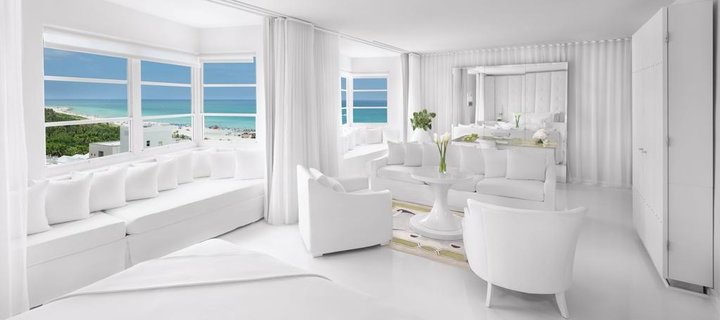 These sparkling clean white rooms feature fantastic ocean views as the Delano is centrally situated on Collins Avenue across from the seafront. You'll feel as though you're truly in the lap of luxury with stunning marble bathrooms, 300-count sheets, and quality Ciel Spa bath products. You can choose from a variety of room options, some with city views, some with ocean views, and even huge suites to suit your wildest imaginings!
W South Beach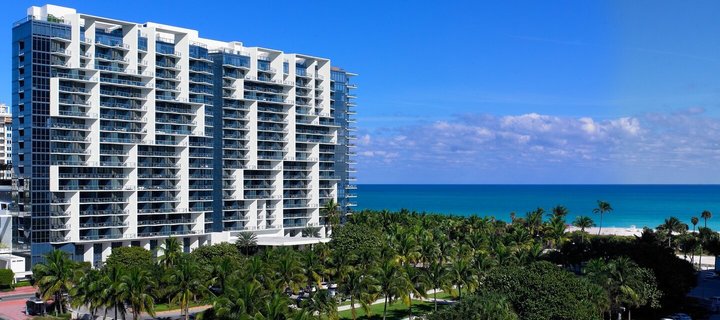 The W South Beach is certainly a hotspot in Miami Beach, with eclectic decor, museum-quality art galleries, and its very own nightclub! Like the others on our list, the W is located on Collins Avenue right in the centre of the action!
With its own private beach access and a heated pool, there are plenty of places to lounge out in the sun. When it comes to dining, you can take your pick between Mr. Chow, a celebration of Asian cuisine, or more casual bites and drinks at Our Living Room Bar, Irma's, and WET poolside Bar & Grille. For an outdoorsy afternoon, rent one of their courtesy bikes and cycle down Ocean Drive.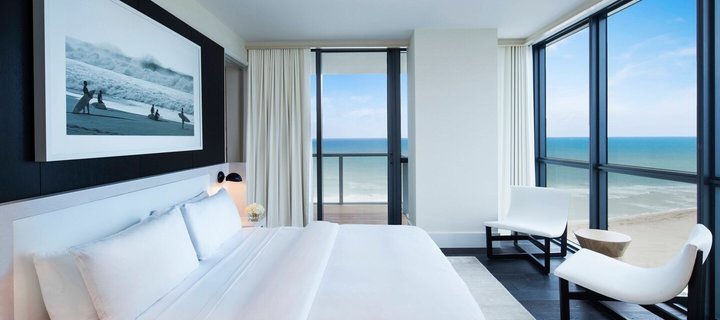 These elegant rooms feature soaring high ceilings and private balconies overlooking the turquoise waters of Miami Beach. White ceramic tiled bathrooms contribute to the room's overall sleek finish. You can enjoy high-speed internet access as well as an astonishing two flat-screen, high definition televisions in your suite.
JW Marriott Marquis Miami
For something different, check out the JW Marriott Marquis Miami right in the heart of the city centre. If you'd prefer to stay in downtown Miami rather than the South Beach area, we recommend the Marriot Marquis. This hotel features sweeping city views, 24-hour room service, and the choice of continental or full American breakfast.
Other dining options include the Mediterranean Boulud Sud Miami, the international flavours of Met Cafe & Bar, and Intermezzo for your morning coffee. Treat yourself to a massage or pedicure at the Enliven Spa & Salon, or hit up the 24-hour fitness centre, Met2Fitness, to keep up your exercise schedule.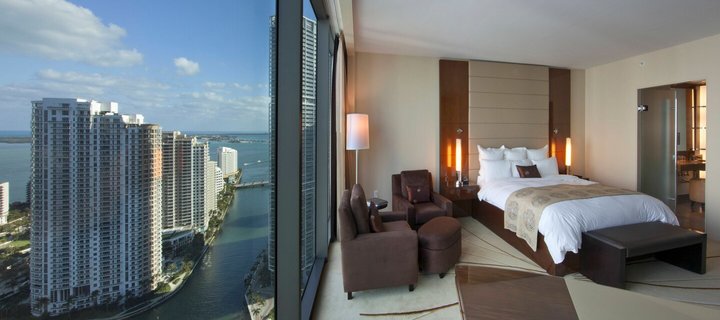 The JW Marriott Marquis Miami features 313 contemporary guest rooms with only the finest, most modern amenities. For the utmost comfort, the bedding includes ultra-soft down duvets and cotton linens. Each room also contains 132-cm flat-screen, high definition televisions and personal technology connectivity panels.
You can take advantage of spacious desks, high-speed wifi internet access, and in-room espresso machines if you have any work to do while on holiday. All guest rooms come with separate bathtubs and showers as well as modern televisions embedded in the bathroom mirrors! The JW Marriot Marquis will have you relaxing in style, taking in the breathtaking views of Biscayne Bay and bright city lights at night.
With so many options for high-quality accommodation, there's no time like to present to start planning your once-in-a-lifetime holiday to Miami!
---