Your Guide to Montenegro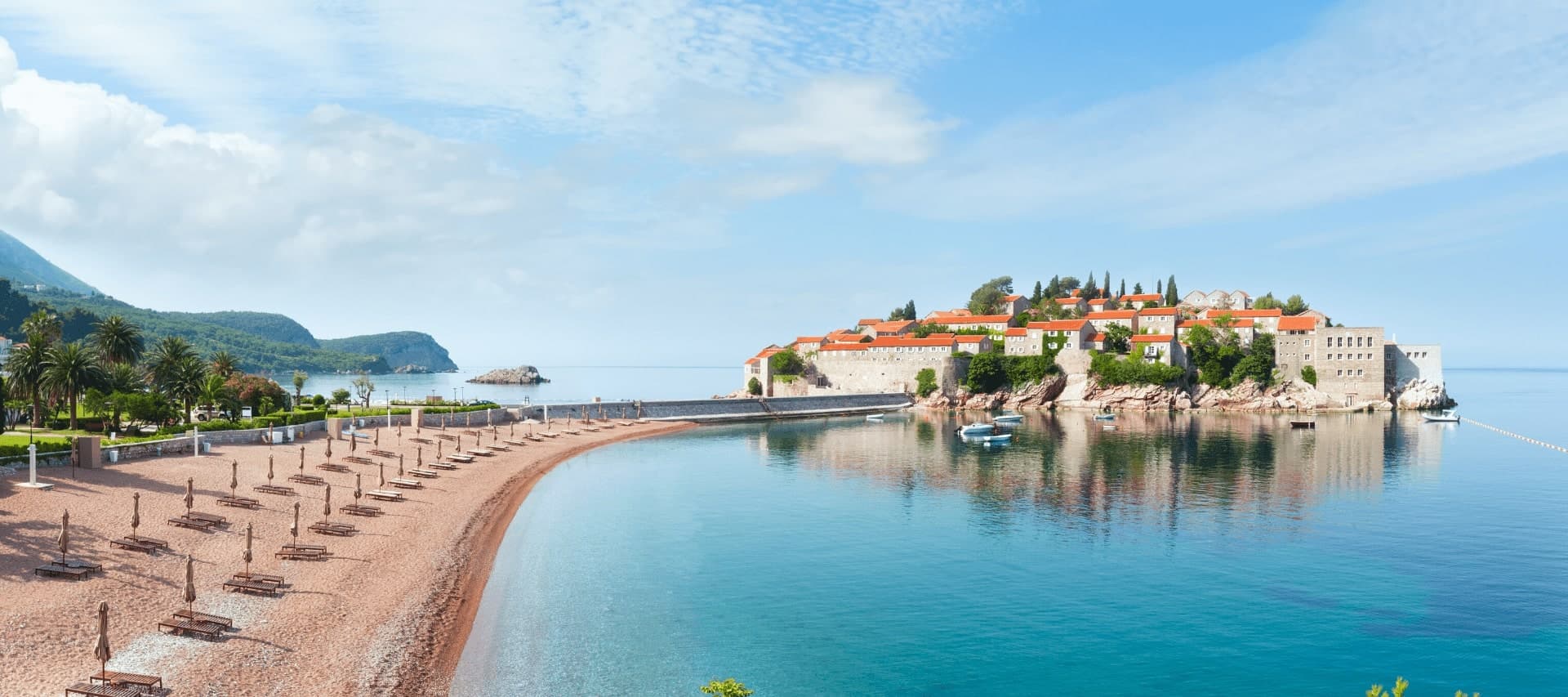 Montenegro is a destination that's just starting to gain popularity. It has breathtaking natural beauty, gorgeous bays and beaches and unbeatable value. Bordered by Croatia, Bosnia & Herzegovina, Albania and Serbia, it's a hidden gem along the Adriatic coastline.
If you want to chill out and have a relaxing sun holiday, the Budva Riviera is dotted with inlets made for soaking up the sun. If you want to explore the country, Kotor Bay is lined with charming towns and the perfect base to immerse yourself in everything Montenegro has to offer.
Kotor Bay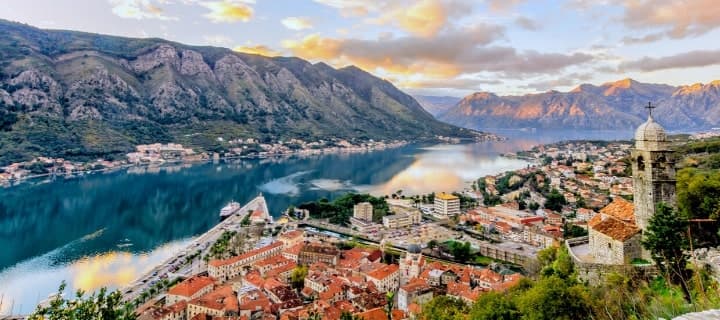 If you've seen a photo of Montenegro, chances are it was Kotor Bay. Often called the "southernmost fjord", Kotor Bay is a partially submerged river valley – though we think it easily rivals the rugged beauty of the Norwegian fjords.
Kotor Bay is dotted with quaint red-roofed towns that feel like they were plucked straight out of a fairytale. A visit to Kotor Bay is perfect for those who like to an adventure — whether that's exploring the towns, hiking the mountains surrounding the bay or just relaxing and enjoying the stunning views. We recommend hiring a car to really experience all this Bay has to offer and even to visit the Budva Riviera for a day out at the beach.
Where to Stay in Kotor Bay
We offer accommodation around the Bay in towns like Kotor, Perast, Dobrota and Prcanj. Our top pick is the 3* Admiral Hotel in Perast, which is only 12km from Kotor.
3* Admiral Hotel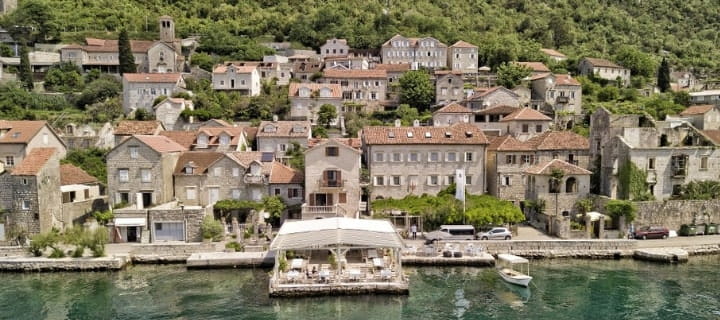 Perast is often regarded as one of the prettiest towns along Kotor Bay thanks to its impressive 17 grand palaces. You'll feel like you've stepped into a mini Venice. Its most famous attraction is the island, 'Our Lady of the Rock'.
The Admiral Hotel is a fantastic base for your visit to Kotor Bay with its panoramic views of the bay. The hotel is actually an 18th Century Baroque mansion! Its rooms are comfortable with everything you need from a flat-screen tv to free WiFi. You can get each day off to the right start by enjoying your breakfast on the fabulous waterfront terrace.
If you want to explore, the hotel offers bicycle and car rentals. Just steps away from the hotel, you can also hop on the ferryboat to the islands of St. George and Our Lady of the Rock.
Budva & Bečići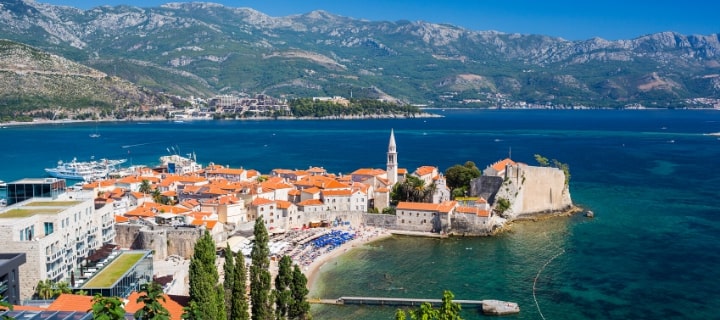 Budva and Bečići combined make for the ideal sun holiday. At the heart of the Budva Riviera is the town of Budva. It has everything from its historic walled old town (pictured above) to its vibrant nightlife where all the open-air bars and cafes come to life as the sun sets. A 20-minute walk will bring you to Bečići, a town which is all about one thing and one thing only: relaxation. Bečići has a beautiful 2km stretch of beach — 100m wide in parts — that's made for slowing down and enjoying the sunshine.
Where to Stay in Budva & Bečići
We offer a range of 4* and 5* hotels and apartments across Budva and Bečići. To truly get into the sun holiday spirit of relaxation, we recommend staying in Bečići where you can spend your days lazing on the beach and if you crave some buzzing nightlife you can make the short journey to the neighbouring Budva.
4* Spa Resort Bečići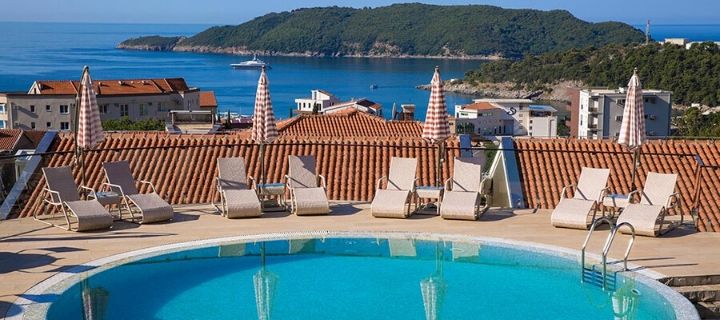 The 4* Spa Resort Bečići is one of our staff picks because of its fantastic facilities and location. Its one bed, two bed and studio apartments are modern, spacious and comfortable — a great place to return to after a tough day at the beach.
If you need some additional pampering on holidays, it has its own wellness centre where you indulge in massages, body wraps or a session in the sauna. If you want a break from the beach, it also has its own swimming pools where you can lounge only a few steps away from your apartment.
Sveti Stefan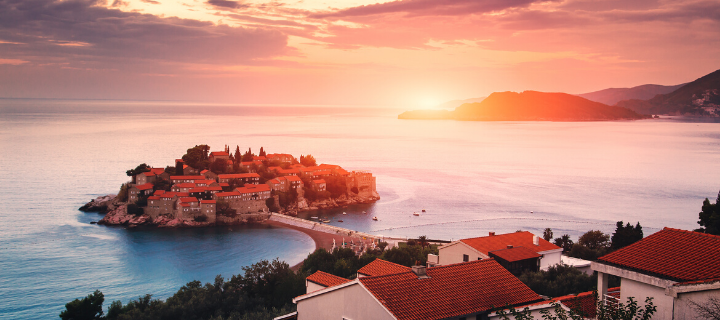 Sveti Stefan is an islet steeped in glamour. The island (pictured above) is now an exclusive, super luxury 5* Aman resort to the stars with the likes of Victoria Beckham and Novak Djokovic staying there.
Outside the islet, you can have a taste of the glamour without the price tag. The town itself is laid-back, making it the ideal place to escape the humdrum of everyday life and truly unwind. It's the ideal couples getaway.
Where to Stay in Sveti Stefan
If ultra-luxury, ultra-exclusive 5* Aman resort is out of your budget, we have some great options at a much more reasonable price. Facing the iconic islet, we have 2 5* hotels and some quality apartments for you to choose from. Our top pick is a hotel sitting pretty on the beachfront…
5* California Hotel
The 5* Hotel California is the best choice for those who want to indulge in some luxury. It's a small beachfront hotel that "excels in pampering its guests". Not only will you get a real 5* experience, but you'll also get your own private slice of the beach. Hotel California has its own private beach just for its guests where umbrellas, towels and sunbeds come free of charge.
Its apartments and twin/double rooms offer guests magnificent views of the glistening Adriatic Sea or the imposing mountains. The hotel's restaurant has a fantastic selection of international and regional dishes as well as local wines. It all tastes even better when sitting on their terrace taking in the scenery and iconic Sveti Stefan islet.
Petrovac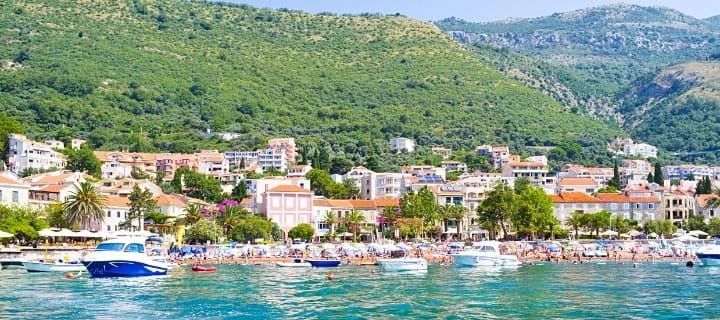 Petrovac is a great choice if you're planning a holiday to Montenegro with your family. It's extremely popular for family-friendly holidays. It's centred around a lovely sheltered bay with golden sands and glistening blue waters. It has all the beach activities you'd expect on a sun holiday, ensuring there are lots of keep kids, and the big-kids-at-heart, entertained.
Its tree-lined promenade is peppered with cafes, restaurants, bars and shops — choice is something you won't be short of! It's super safe so kids can roam around, and parents can be at ease.
Where to Stay in Petrovac
As Petrovac is well-known as a family-friendly destination, the choice of accommodation is superb. As the beach is the beating heart of Petrovac, our staff pick hotel is right on Petrovac's promenade.
4* Riva Hotel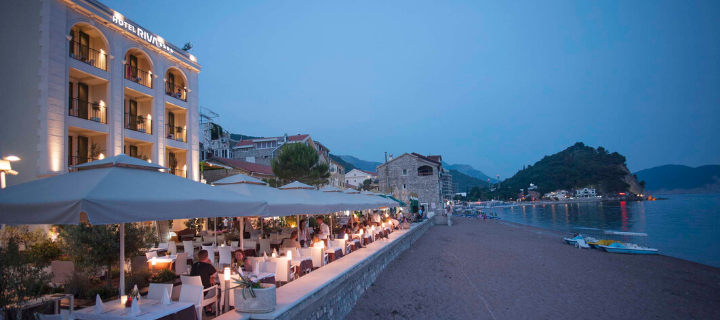 The 4* Riva Hotel is a superb place to stay, whether you're a family, a couple or on holidays with friends. It's stylish, comfortable and, most importantly, right on the beach.
It has 32 double rooms and 2 apartments. All accommodation has WiFi, a balcony and all the amenities you could ask for. Its restaurant, Riva, is the only restaurant in the centre of Petrovac beach. The hotel gets rave reviews for its friendly staff and great breakfast — two key ingredients for a relaxing sun holiday!
Have we convinced you to visit Montenegro this year?
---