The Best Family-Friendly Hotels in the Algarve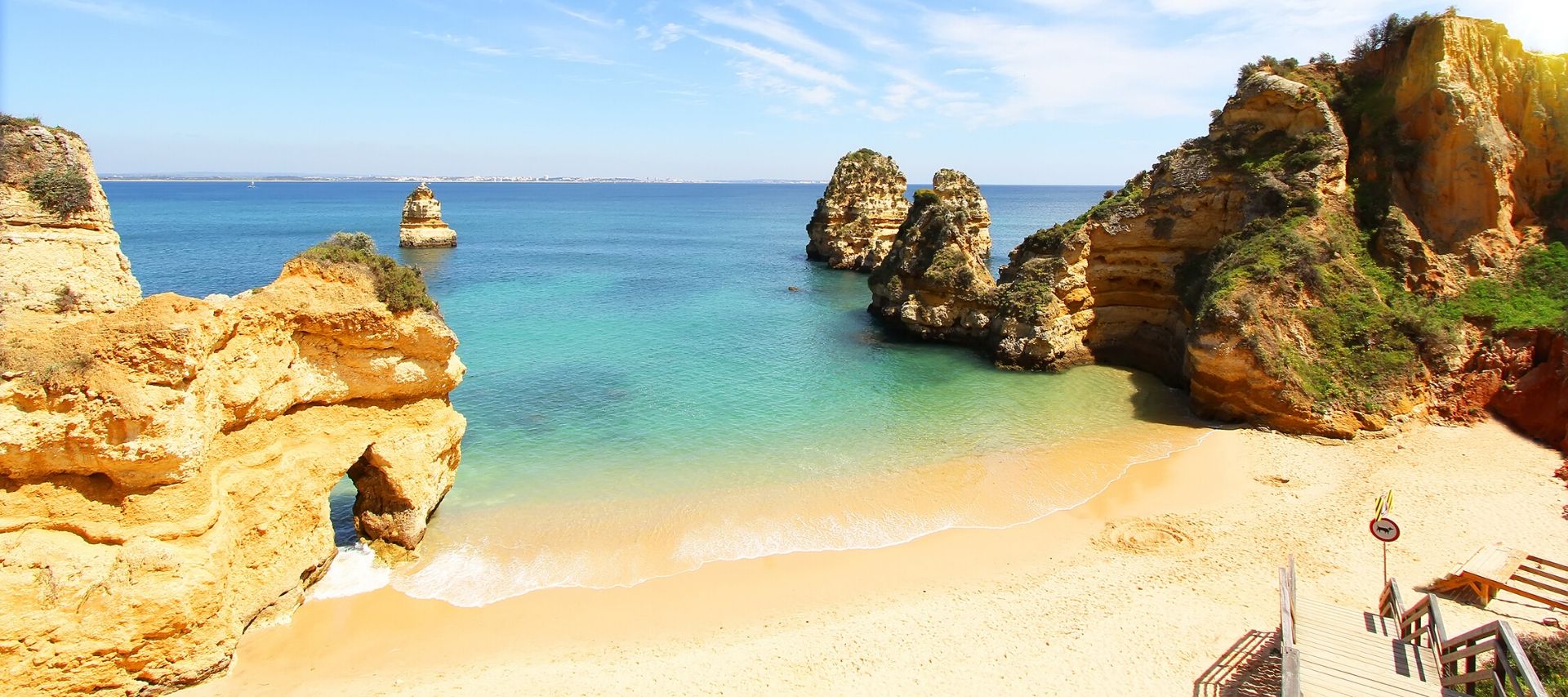 With Mediterranean temperatures, a short flight and a large selection of budget-friendly hotels to choose from, the Algarve is the perfect destination for your family holiday. Popular with Irish holidaymakers for decades, there are many unspoiled beaches, harbour towns, historic villages and fresh delicacies to visit. So, we've rounded up the best selection of family-friendly accommodation in the Algarve, where families are guaranteed to have a fantastic time.
Alfagar Aparthotel, Albufeira
The first choice is the lively resort of Albufeira. The largest resort town in the Algarve, which has a great family vibe whilst brimming with plenty of family activities. Excursions include Zoomarine, (the family-friendly theme and water park), dolphin watching tours, go-karting and horse riding for starters.
The Alfagar Aparthotel is a stunning 4* hotel in a prestigious location, overlooking the beach. It's situated around 3km from the bustling centre of Albufeira. The hotel has its own private access to Santa Eulalia Beach. It has a 4.5 rating on TripAdvisor, earning the Certificate of Excellence. Suitable for larger families, the hotel caters up to 2 adults and 4 children sharing.
If you fancy a dip, the hotel offers 6 pool areas and an onsite waterpark. Day activities for the kiddies include 2 large playgrounds and a kids club. Adults can soak up the sunshine and chill out at the onsite bar and restaurants. Stunning floral gardens landscape the property throughout. A daily shuttle bus service provides transfers to and from the hotel to central Albufeira.
Estrela do Vau, Praia do Vau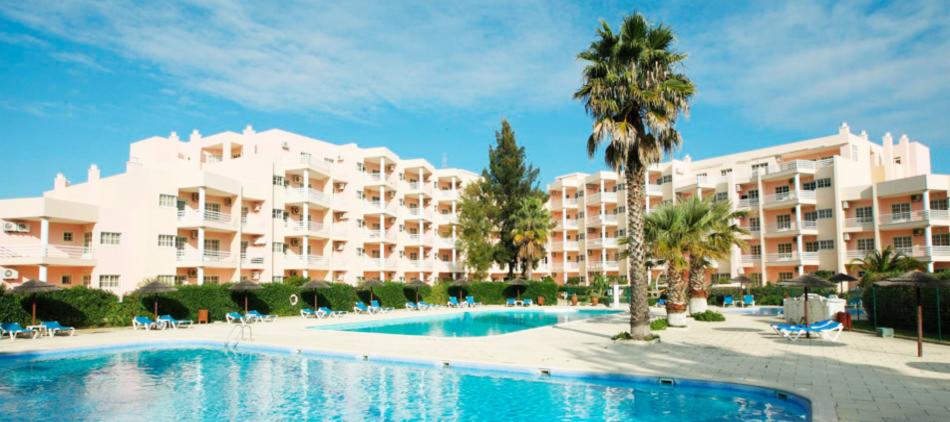 Praia do Vau enjoys what is possibly one of the best beaches in all the Algarve – a big boast indeed in a country where superb sandy beaches are the norm.
The Estrela do Vau is Click&Go's top-selling family property. The fabulous 4* self-catered apartments are located just 600m from the gorgeous beach of Praia do Vau. It's particularly suitable if searching for a relaxing and friendly ambience, but, not too far from the lively centre.
The popular property features 2 swimming pools, sun terraces, poolside bar, restaurant, mini-market, tennis courts, and wellness centre with gym. In high season (June to August), there is a fantastic kid's club and occasional evening entertainment is on offer for adults. All apartments have air-conditioning, are bright and spacious, and offer one and two-bed options depending on your family size.
Rocha Brava Apartments, Carvoeiro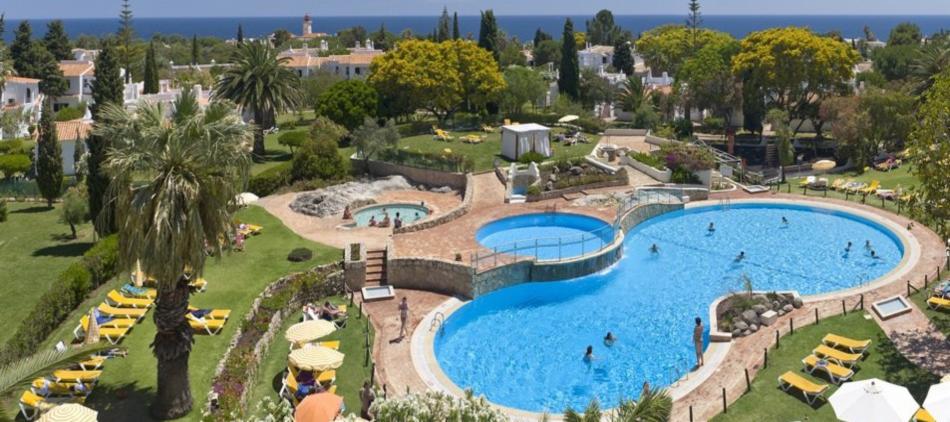 Carvoeiro is a stunningly picturesque town which offers families relaxation and peace. It's a favourite resort among the Click&Go team. Firstly, it feels like a traditional Portuguese town but has all the amenities for a fantastic holiday. Stunning cliff tops surround Carvoeiro, perfect for scenic strolls and outstanding views. Lastly, the golden beaches are the ideal playground for all.
The Rocha Brava complex is a gorgeous landscaped property overlooking a spectacular clifftop setting. Soak up the serenity of the fantastic beauty and wellness centre, which offer an extensive list of treatments and massages. Active visitors have great choices, including three swimming pools, a mini-golf course and tennis courts. The nearest beach is 1km away. So, why not breathe in the fresh air and catch the free shuttle bus to the beach?
Club Alvorferias, Alvor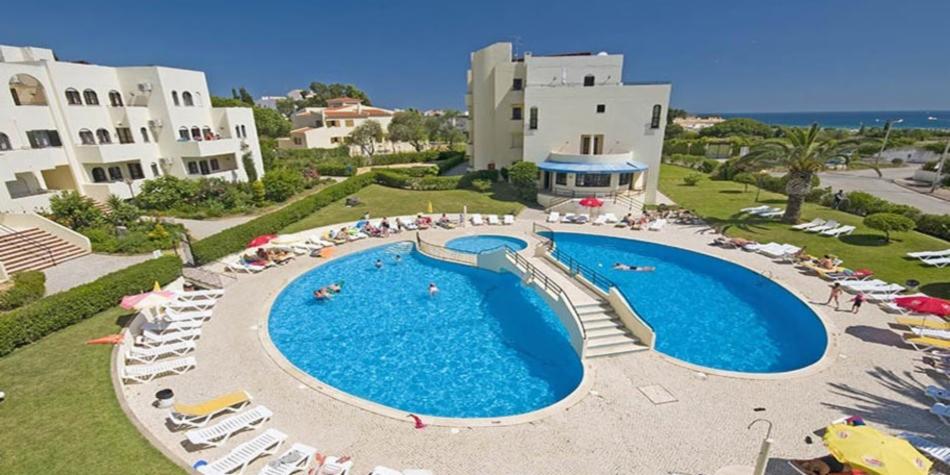 Located on the Western coast of the Algarve, is the quieter Alvor region. This is where families flock to escape the hustle and bustle and gain some R&R together. Alvor has flourished in recent years, from the small traditional fishing village feel to a more relaxed Portuguese resort. Sitting at the edge of the Atlantic, it overlooks a lagoon and a wonderful stretch of sandy beach.
Conveniently located 1.4km from the beach and 800 metres from Alvor town, visitors will find the popular and laid-back, Club Alvorferias. The complex divides into two sections. On one side, visitors will find an energetic atmosphere, people enjoying the large pool and the kids club. The other section is more relaxed and has a calmer vibe, where adults can unwind. Each section has its own pool area.
Amenities include a supermarket, games room, 2 tennis courts, football court, beach volley court, and a running circuit. Commercial areas with shops, boutiques, bars and restaurants can be found within the vicinity. What's even better, this accommodation is the perfect stay, that doesn't break the family's piggy bank. Alvorferias provides a mini club for children, a play area and adult entertainment in high season.
Parque Mourabel, Oasis Village, Vilamoura.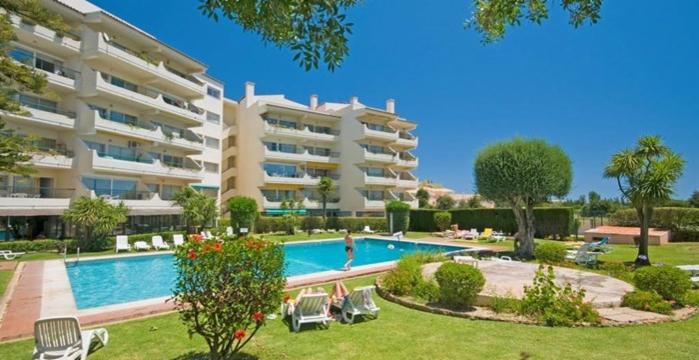 Vilamoura, known for its prestigious golf courses, has a lot to offer for family holidays. Families can make a beeline to Vilamoura Marina. A true oasis with a beautiful beachfront, and undeniably the best marina in the Algarve. Daily activities include boat tours, water-parks, historic towns visits, and of course, a game of golf.
The modern, self-catered Parque Mourabel apartments are situated in a peaceful setting in Vilamoura. Contemporary, spacious 1 and 2-bed apartments are fully equipped. Guests can make full use of the three pool areas and tennis court complexes on site. It offers families numerous amenities, including access to the kids club, an onsite bar and restaurant and babysitting services.
Now you know all about these top family-friendly properties, where will your family be heading to on your next holiday in the Algarve?
---