The Best Hotels for Groups in Malta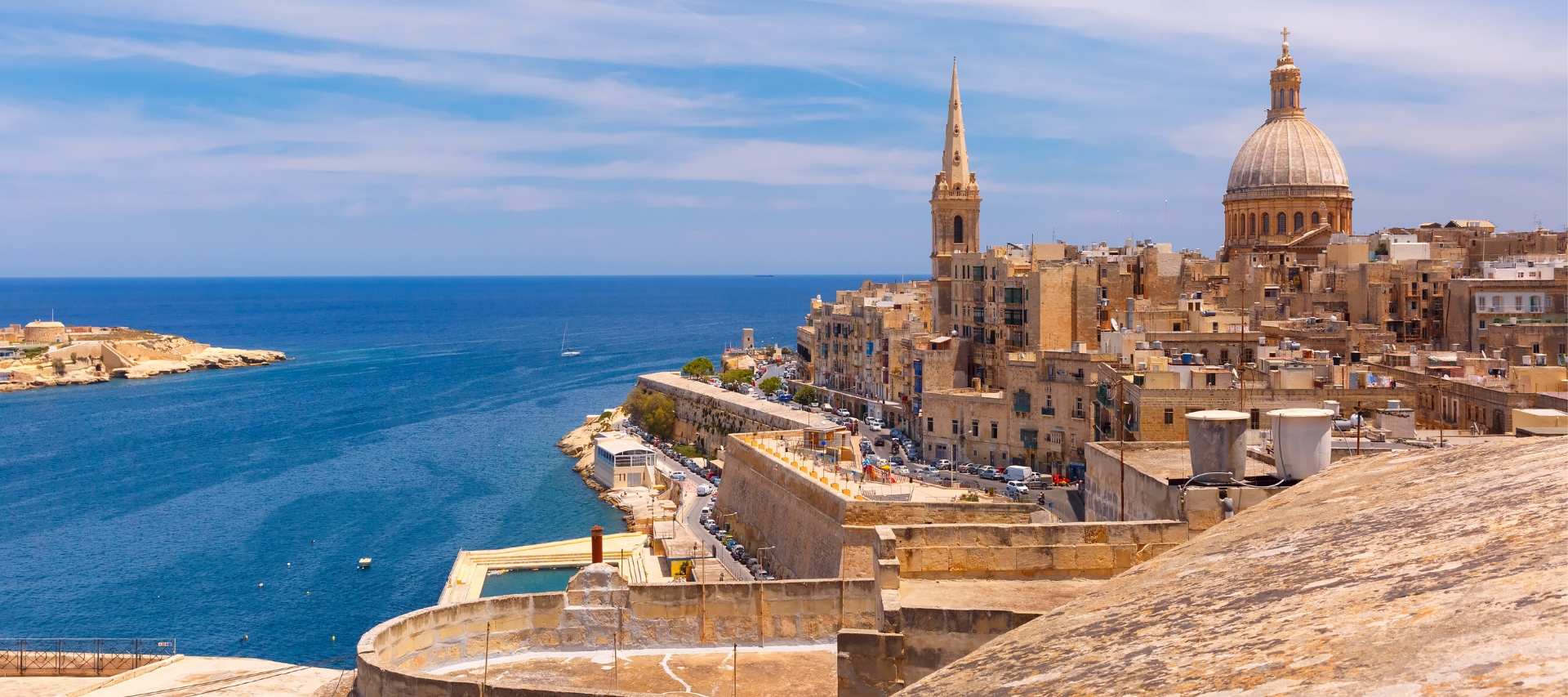 Picturesque Malta is comprised of the islands Malta, Gozo, and Comino, and offers an excellent destination to explore with friends. From its stunning beaches to the enchanting historical city of Valletta, its no wonder Malta is such a popular spot for groups to check out.
Malta also has one of Europe's warmest climates, making for a nice sunny escape practically all-year-round. If you're hoping to visit this gorgeous country with your friends, read on to learn all about the top places to stay!
White Dolphin Holiday Complex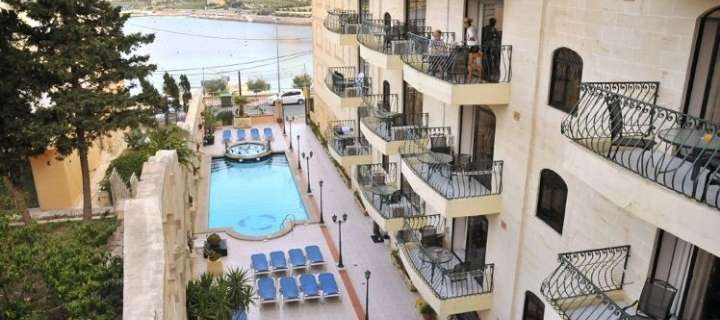 If you're travelling with a group of friends, it's a great idea to consider staying in an apartment or aparthotel that can accommodate more people. The White Dolphin Holiday Complex is an excellent place to stay on the island of Malta, only 5km from the nearest beach and 2km from the fun Qaura Boardwalk with its own outdoor saltwater pool.
Rooms feature sweeping views of Qawra Bay, and the hotel is situated in a convenient part of town. There are many restaurants, bars, and a bus terminal in close proximity. Though the apartments are self-catering, there is an on-site restaurant featuring a variety of delicious Mediterranean dishes. Apartments come equipped with kitchenettes, air conditioning, and dining areas. Overall, this complex is a good choice for groups because there are units of varyings styles and sizes to suit each party's individual needs.
Topaz Hotel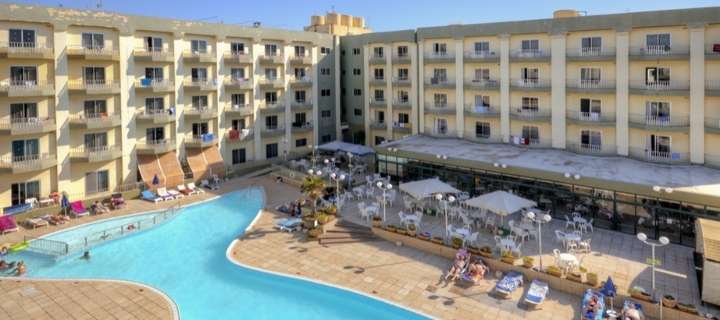 Located in the heart of the well-known seaside resort area, Bugibba, this charming hotel is a great choice for your group holiday. It is conveniently just 20 km from Malta Airport, and the nearest beach is only a 15-minute walk away. Ideal for friends who want to go out on the town and explore at night, the city centre is also within walking distance.
There is also a restaurant on-site at the hotel, offering buffet-style breakfast, lunch, and dinner. Guests can enjoy both indoor and outdoor pools, free WiFi, and air conditioning. Though this is a standard hotel, it can accommodate larger travel parties with spacious, adjoining rooms.
Il Palazzin Hotel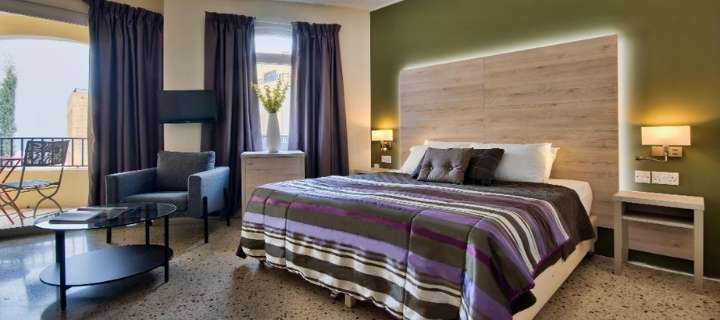 Just a short walk from both the Qawra and Bugibba promenades, this hotel is in an excellent central location where you can easily access lots of entertainment and public transport links. Conveniently, Malta Airport is only 21 km from the hotel.
Bright, double rooms feature balconies or terraces overlooking the lush gardens or outdoor pool. Upper floors also boast lovely views over Qawra, Salina Bay, and the Mediterranean. Groups of friends will love the indoor and outdoor pools as well as the cosy restaurant and onsite bar.
Maritim Antoine Spa Hotel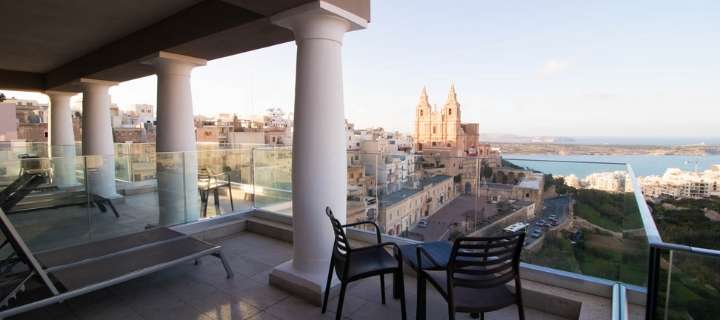 Situated in the hillside town of Mellieha, this hotel is only 1km from the largest beach in Malta, Ghadira. There is also a multitude of restaurants, bars, shops, and public transport links in the area. The hotel is a mere 25 km from the airport, 3 km from local nightclubs, and 4 km from the tourist area of Bugibba.
In addition to its stellar location, groups of friends will definitely enjoy the many great amenities at this hotel. There is a luxurious rooftop pool, onsite spa, and several bars and restaurants. From fresh seafood at the Les Jardins Restaurant to your favourite Thai dishes at Antonine Al Fresco Thai Fusion Restaurant, there is bound to be something for everyone at this hotel. Groups of friends looking for a fun-filled, sunny beach holiday will absolutely appreciate the Maritim Antoine Spa Hotel.
Why Spend a Group Holiday in Malta?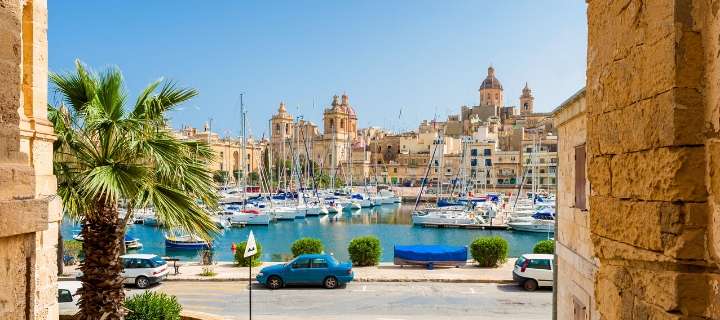 Overall, Malta offers the perfect balance of sea, culture, nightlife, and relaxation for a group holiday. With breathtaking sights like the uninhabited island of Comino, the Blue Lagoon, and the Azure Window, Malta's stunning natural beauty won't disappoint. There are also many sites of historical importance in Malta, including the megalithic ruins of Mnajdra and the spooky underground St. Paul's catacombs.
In addition to the many beautiful beaches and the historic city of Valletta, Malta hosts a number of popular festivals and annual events to check out. From the electronic dance party that is Glitch Festival to the Bubble, an alternative, humanitarian-focused music festival, it's definitely worth checking Malta's events calendar before planning your trip.
Are you ready to spend your next getaway exploring Malta with your best friends?
---