Your Guide to Barbados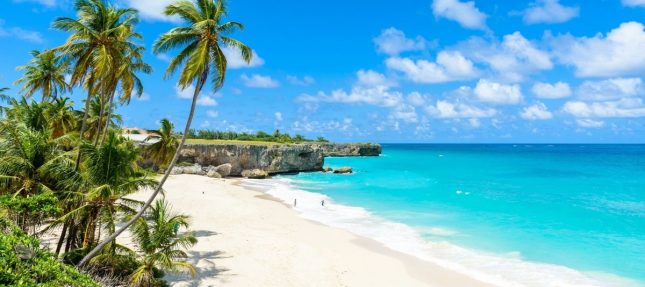 Barbados is famous for its fine powdery white sand and its glistening turquoise bays. Its nightlife has to be experienced to be believed. And its UNESCO World Heritage capital city is brimming with historical significance, pristine gardens and a taste of Caribbean life. The Bajan locals are known for their friendliness and will welcome you with a smile as you start your Barbados holiday.
A breakdown of Barbados
Barbados is divided into three main areas: the south coast, the west coast and the east coast.
The South Coast of Barbados is where you find the electric nightlife, the lively St. Lawrence Gap and the island's capital, Bridgetown. With endless sun soaked beaches to choose from, the South Coast offers everything you need for an escape to the sun.
The West Coast is quieter, but is perfect for a relaxing and slightly more active holiday. It's a popular destination for activities like gold and watersports. Whether you want to explore historical towns, admire the breathtaking sunsets or just get some good R&R, the West Coast is ideal.
The East Coast, facing out to the Atlantic, is rugged and rocky. With palm trees bent by the wind and rolling sand dunes, the east coast is more popular with Bajans than tourists. Thanks to the wind and swells from the Atlantic, it has become a top location for surfing.
What to do in Barbados
Explore the Beaches
Barbados is home to a plethora of amazing beaches – perfect for having the ultimate beach holiday. Dover Beach is great for families as its waters are calm and there are plenty of stalls along the stretch of beach to get refreshments. Lined with trees and with a sheltered pool-like area, Accra Beach is ideal for gentle swims and a lazy day at the beach. St Lawrence Bay has the most spectacular sunsets, and, if you're lucky, you might even spot some sea turtles as you stroll along the shore.
Farley Hill
If you feel like an adventure, a visit to Farley Hill to enjoy a sunrise, sunset or just a change of scenery is a great option for a day out. Located in Farley Hill National Park, you'll find a ruined plantation house that overlooks the Atlantic Ocean. 
Barbados Museum
Take a break from relaxing in the sun to learn about this charming island. The Barbados Museum, located in Bridgetown, is an excellent way to spend a few hours and learn about the history of the island and the fascinating coral reefs that surround it. 
Mount Gay
A holiday in Barbados would be incomplete without a visit to Mount Gay, the world's oldest rum distillery. Dating back to 1703, you'll learn about the history of rum in Barbados, see how it's made and, most importantly, get to sample some of the island's finest rum. 
Swim with Turtles
In the waters surrounding Barbados, you'll find hawksbill and leatherback sea turtles. There are numerous tour operators that will take you offshore to swim with these amazing animals in a safe and supervised way. This is definitely a once-in-a-lifetime opportunity!
Oistins Fish Fry
If you go to the Caribbean, chances are the tastiest and favourite dishes are based around fresh fish. On Friday nights, head to the village of Oistins to experience open-air stalls grilling fresh fish and barbequing chicken from the main street to the waterfront. There's plenty of side dishes like rice and peas and mac and cheese to make a hearty, casual and memorable meal. 
Where to Stay in Barbados
The south coast is the prime location for sun holidays in Barbados with an excellent array of accommodation to choose from. Our top picks for your holiday are located along this sunny, sandy coast.
4* Bougainvillea Barbados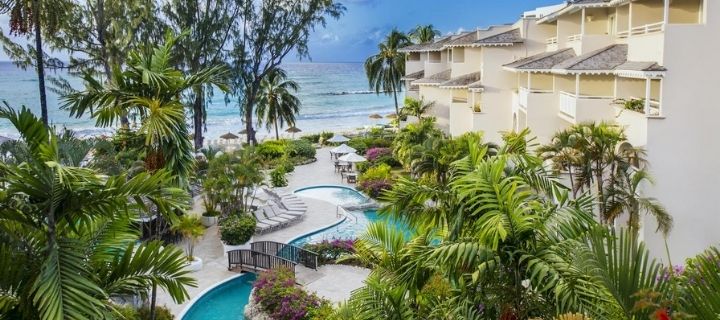 Located on the white sands of Maxwell Beach, the 4* Bougainvillea is a tropical paradise that caters to your every need. It has a wide range of fantastic facilities including watersports, a swim-up bar, 3 swimming pools, a spa, a large games room, fitness center and boutique. It has two restaurants, one offering delicious local Caribbean cuisine and one offering fragrant Thai food. The rooms are bright, airy and stylish making it the perfect place to unwind.
4* Sea Breeze Beach House by Ocean Hotels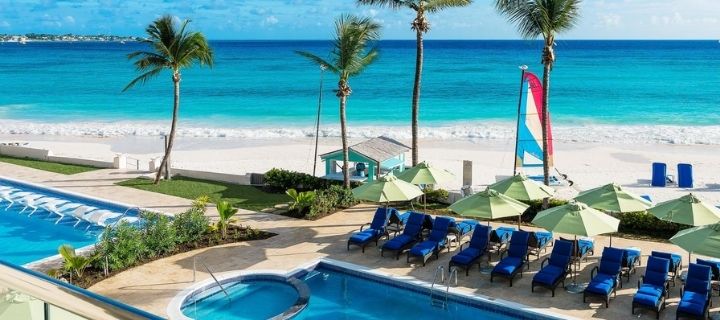 The 4* Sea Breeze Beach House is an all-inclusive resort where everything is at your fingertips. Sitting on the water's edge, this resort is filled with facilities including 3 outdoor swimming pools for adults and children, an adults-only hot tub area, access to 2 beaches, a fitness centre and a kids' club. All the rooms have balconies so you can enjoy stunning views of the sea and the island. With an intimate feel to the resort, it's easy to completely relax and have a sun holiday to remember.
4* Turtle Beach by Elegant Hotels
Turtle Beach is another 4* all-inclusive resort with two stunning white sand beaches to explore. With a spacious outdoor pool and a variety of watersports on offer, a stay in Turtle Beach can be as relaxing or as active as you wish. It also has excellent spa facilities, a fitness centre and is right on the beachfront.
How to get to Barbados
It has never been easier to get to Barbados thanks to a new route with Aer Lingus. You can fly to Barbados via Manchester and connections in Dublin, Cork and Belfast. Flights depart three days a week on Wednesdays, Fridays and Sundays.
This winter, Royal Caribbean's Grandeur of the Seas will be porting in Bridgetown. Adding a cruise to your Barbados holiday, you'll get to experience more of Caribbean life visiting islands like St. Lucia, Trinidad and Tobago. You can find out more about the cruises here. 
---