The Algarve is one of our favourite sun holiday destinations. Not only is it a short flight from Ireland, but it has some of the nicest beaches, people and food. Once you step off the plane at Faro and feel the heat on your face, you're immediately in holiday mode.
As there are so many amazing destinations to choose from along this rugged golden coast, we've selected our top picks to help you plan your next escape to the Algarve…
Albufeira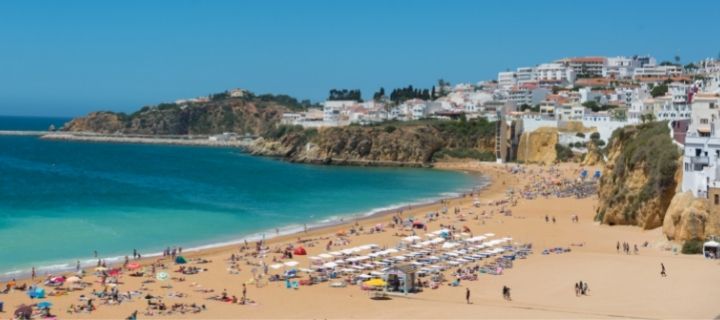 Albufeira is easily our most popular destination along the Algarve coast. Its Old Town is equal parts charming to bustling. The focal point of Albufeira is the Old Town's square, with restaurants, bars and shops around its edge. Off the square, there are plenty of side streets to explore where you'll find traditional restaurants, shortcuts to the golden Fisherman's beach and quaint shops selling Algarvian wares. Albufeira's Montechoro Strip comes alive at night time and is a great spot for people-watching.
Vilamoura
Vilamoura is a short distance from Albufeira. It's a cosmopolitan, chic area with an expansive marina filled with fancy yachts. If you're looking for a more upmarket stay, look no further. Vilamoura is particularly popular with those who love to tee off and spend some of their holiday playing golf. With six golf courses to choose from, there are plenty of options to get in some green time during your holiday. If golf isn't for you, enjoy its gorgeous beach, Praia da Falésia or take a catamaran tour to admire the Algarve's iconic rugged coast.
Carvoeiro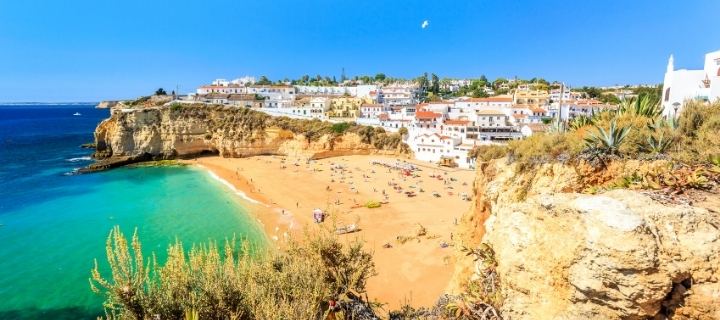 Carvoeiro is a sleepy little fishing town, made for those who want a quiet, chilled out holiday. The town of Carvoeiro is quite compact, sitting between two dramatic cliffs. Its main horseshoe-shaped beach sits at the bottom of the town square making it convenient to feel the sand beneath your feet whenever you want. Along the cliffs, you can do a scenic boardwalk along the Algar Seco Parque and see Carvoeiro from above. Although Carvoeiro is a haven of calm, the lively town of Lagos is only 5km away.
Olhão
Olhão is a great choice for those who want the most authentic and traditional holiday in the Algarve. Still a busy fishing town, Olhão is filled with charm and character. If you're self-catering in Olhão, you'll eat like royalty as it has the freshest produce at its weekly fruit and vegetable market and the fish market. From Olhão, you can take a short boat trip to some of the most stunning and sandy beaches, the most popular of which is Ilya da Armona. You're also only a short drive from Faro so you can spend a day exploring the Algarve's capital.
Lagos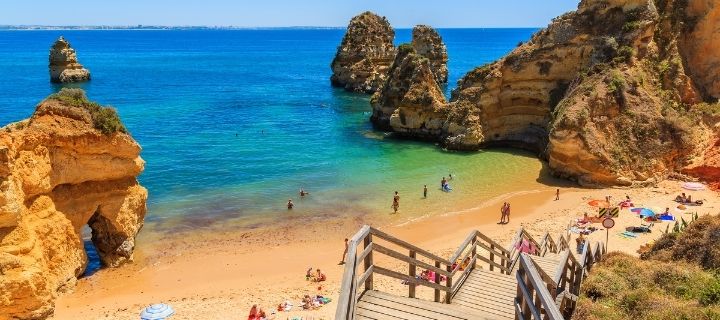 Lagos is a great choice for people who love days on the beach as it has some of the best in the region. Visit Batata Beach or Meia Praia for calm waters and plenty of watersport activity. Porto do Mos and Praia da Luz, on the other hand, are ideal for those to love to surf as they're renowned for their waves. Lagos is also known for its maritime history which can be seen in its impressive fortress. In its maze of streets, you'll find delicious restaurants, hopping bars and plenty of shops to browse.
Alvor
Another humble fishing village, Alvor is another excellent choice for a laid-back holiday in the Algarve. Its narrow cobbled streets lead you to the harbour and Alvor's lagoon. Its beach, Praia de Alvor, has plenty of restaurants and cafes where you can enjoy the day's catch and watch the calming waves crash against the shore. Of course, no holiday to Alvor is complete without a relaxing stroll along the elevated boardwalk through the Ria de Alvor Nature Reserve, where you can observe the wildlife and wetlands. Close to the larger and livelier towns of Portimão and Praia da Rocha, you can have the best of both worlds during your visit to Alvor.
Where will you stay on your next holiday in the Algarve?