City breaks to Bilbao include flights and hotels with ClickandGo.com
A thriving metropolis, Bilbao is capital of the province of Biscay, located in the beautiful Basque Country. Perhaps best known for the magnificent and ultra modern Guggenheim Museum, the city has many other fascinating architectural marvels like the Euskalduna Conference & Music Centre, Calatrava airport and Norman Foster's Underground.
Bilbao is a very dynamic and bustling city which is a great choice destination for visitors. With Bilbao's population of 1 million, it ranks as the 5th largest urban area in all Spain.
A very privileged setting means that the city lies within a fertile area with mountains, forests and a lovely coastline with pristine beaches. A busy port area has brought wealth and employment to the region and Bilbao is an important commercial hub as far back as the 14th century when the city was founded.
Once only famous for its shipyards and sooty chimney stacks, the city has undergone a pretty radical transformation since the opening of Frank Gehry's contemporary masterpiece, the Guggenheim Museum, in 1997.
Nowadays, even the old city "Casco Viejo" has lots of character and is atmospheric and fun, the newer part of the city is choc full of amazing modern buildings, lovely green areas and plenty of lively bars and restaurants.
Show more
---
Did you know...?
In Bilbao, tapas is called 'Pintxos
Bilbao comes from the Basque "bi albo" which means two sides, as it's built on both sides of the river mouth
Bilbao doesn't have the typical Spanish weather as it isn't as warm & can have a lot of rain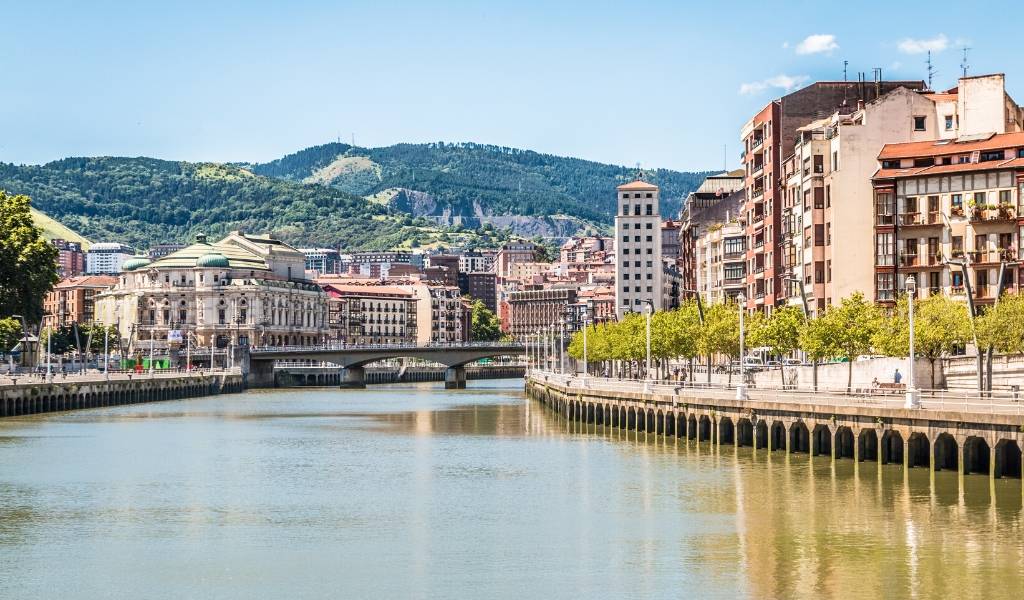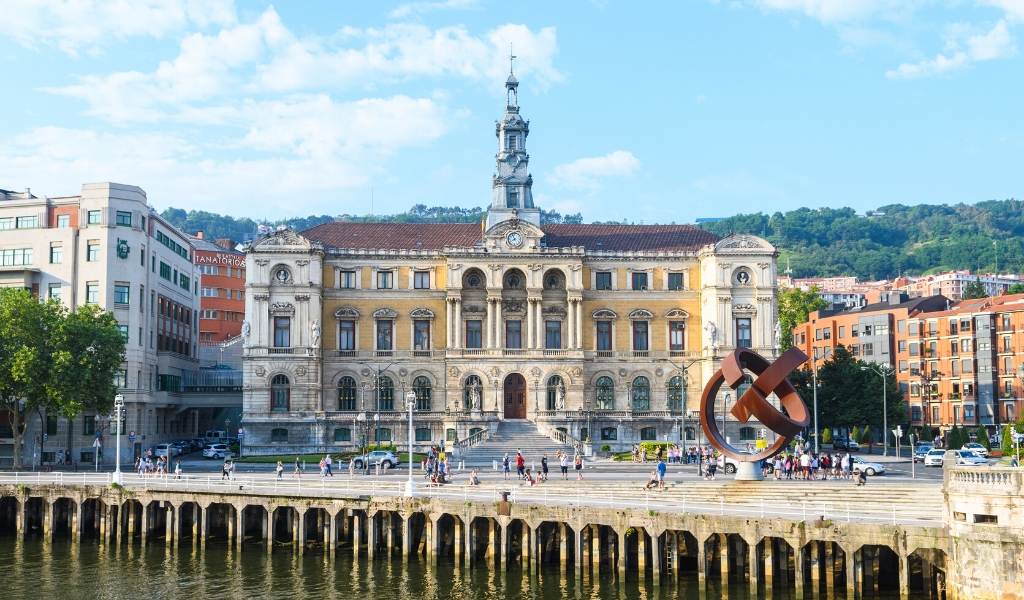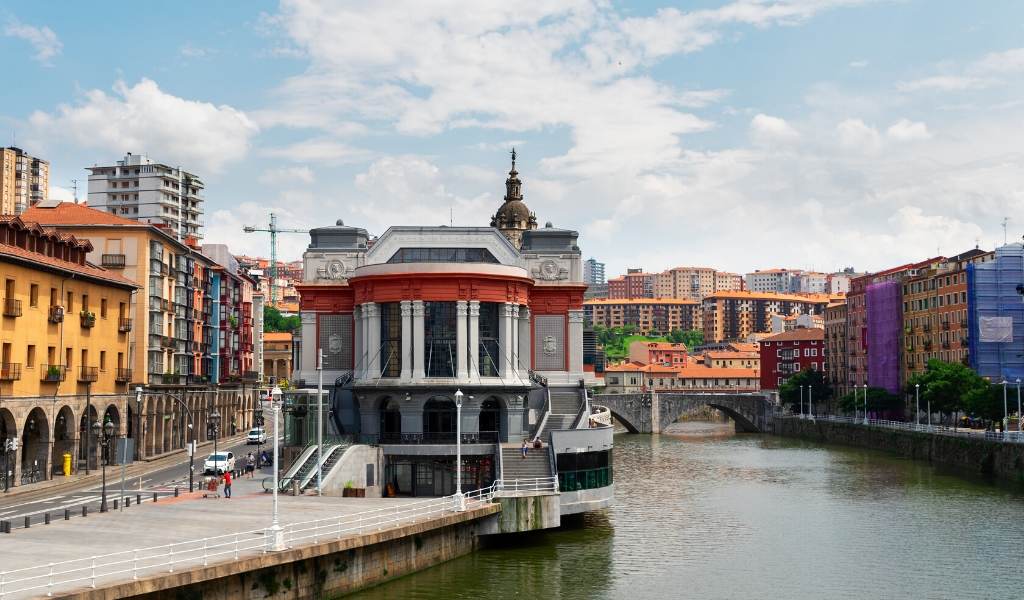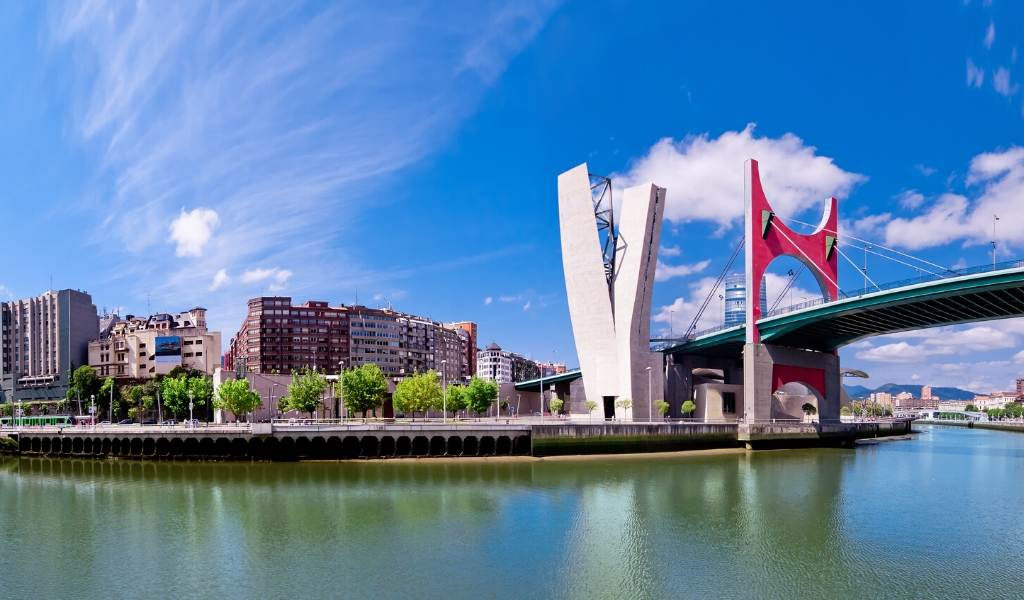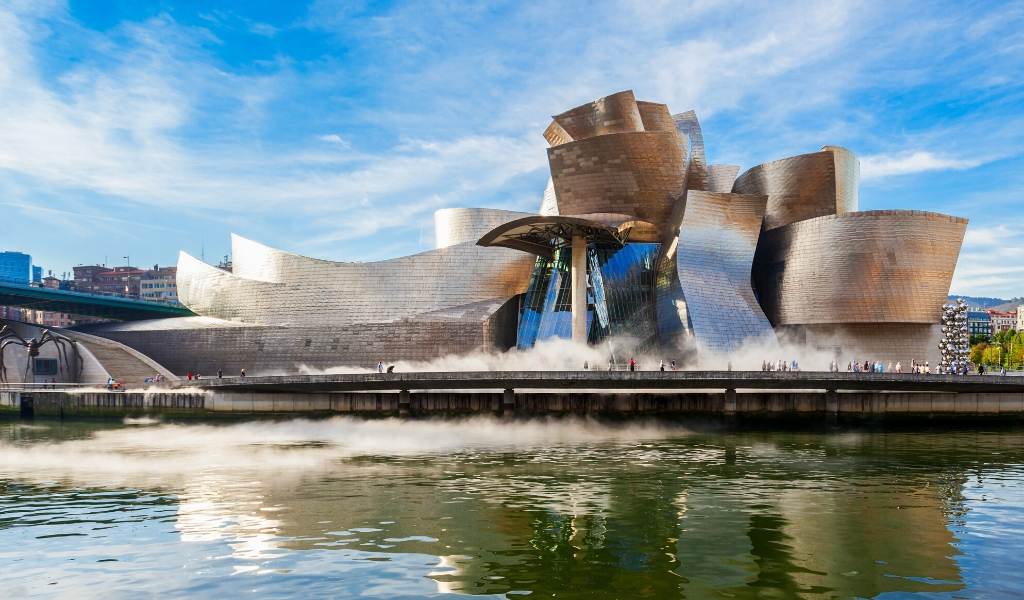 Top Reasons to Visit Bilbao
---

Museums and Architecture

---

Foodies and leisure

---

Sightseeing with a Difference
Museums in Bilbao: Bilbao is known for the Guggenheim Museum, which is certainly something worth seeing. In addition to this world famous contemporary art museum, we recommend checking out the Museum of Artistic Reproductions, which displays art from all over the world, and the Fine Arts Museum, which showcases art from the 12th century to the present.
Churches of Bilbao: Basque country is largely Catholic, so there are many spectacular churches around the city. The most impressive ones include the Santiago Cathedral, Iglesia de los Santos Juanes, Iglesia de San Nicolas, and the Basilica of Begoña.
Azkuna Zentora: Azkuna Zentora is a modern culture and leisure centre featuring exhibitions, a place for concerts and workshops, cinemas, restaurants and shops. There is also a huge swimming pool with a transparent floor, a gym and a huge sun terrace!
Parque Doña Casilda de Iturrizar: Also known as Duck's Park, Parque Doña Casilda de Iturrizar is the perfect place for a leisurely stroll or midday picnic. This enchanting park features bright flowers, shady trees, cobbled pathways, beautiful fountains and neoclassical statues. At the corner of the park is the Bilbao's Fine Arts Museum.
Learn how to make pintox: Pintoxs (Basque for tapas) are among Spain's most well-known dishes. Instead of eating your way through several pintoxs bars, why not try a cooking class to make your own? Go grocery shopping with the chef, then learn how to make delicious pinxtos!
Mercado de la Ribera: Mercado de la Ribera is the biggest covered market in Europe! More than 60 local merchants sell traditional foods like fruits, seafood, meats, cheeses, and more. Head there early when it's most lively and then stop at La Ribera bar for a freshly cooked meal.
Las Siete Calles & Plaza Nueva: The old town of Bilbao is made up of 7 main streets (siete calles), perfect for a stroll around and browsing cute little shops. Stop for a café break in the beautiful Plaza Nueva.
Bilbao La Vieja: This part of Bilbao has become the hippest and chicest part in the city! If you love funky bars and trendy cafes, look no further. Discover innovative street art, small galleries and fashion boutiques around this charming neighbourhood.
Sightseeing with a Difference
Cruising the Ría del Bilbao: As most of the major attractions are located on the river, a cruise through the city is the perfect vantage point to admire Bilbao. Choose your means of transport: a relaxing boat ride or a kayak where you paddle yourself!
Mount Artxanda: Bilbao is surrounded by beautiful green mountains. The Mount Artxanda cable car climbs the top of the hill within 3 minutes. At the summit, you can enjoy the breathtaking scenery of Bilbao and the river running through the city.
---
Bilbao Airport Transfers & Weather
AIRPORT
Bilbao Airport
BUS
Located at departures, the Line A3247 Bizkaibus brings you to the centre of Bilbao. It departs every 15mins with the journey taking 20mins and costing €3 each way.
PRIVATE TRANSFER
You can also get your own private transfer which takes approx. 20mins and costs approx. €65 return based on 2 people sharing.
* Prices and times for transport from the airport are subject to change
Average temperature
| | | | | | | | | | | | | |
| --- | --- | --- | --- | --- | --- | --- | --- | --- | --- | --- | --- | --- |
| | Jan | Feb | Mar | Apr | May | Jun | Jul | Aug | Sep | Oct | Nov | Dec |
| | J | F | M | A | M | J | J | A | S | O | N | D |
| high | 13 | 14 | 16 | 17 | 19 | 23 | 25 | 26 | 25 | 21 | 16 | 14 |
| low | 6 | 6 | 7 | 8 | 10 | 13 | 15 | 15 | 14 | 12 | 8 | 7 |