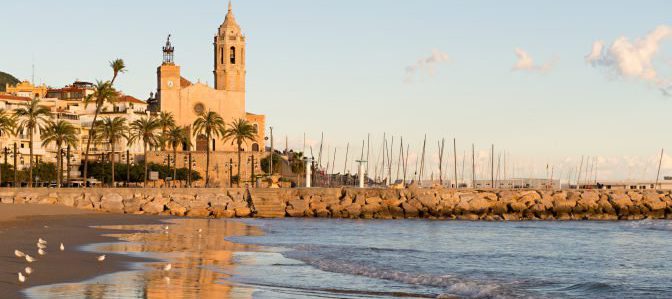 Sitges: Spain's hidden gem!
I've been working in the travel industry for 22 years, more or less since I left college. I've been very fortunate as travel is my hobby, I always wanted to work in the industry, I love travelling and I still do. What's more, I love sharing my experiences about places and what I enjoy most is trying to match people to places, because let's face it, we all want different things from our holidays.
Over the years my work has allowed me to travel extensively, and I don't mean to brag but it's really useful in our office because one of us will have been to all the places we feature, be that a beach resort or a city. That first-hand knowledge allows us to be picky about the accommodation we chose and we hope that ultimately sets us apart from other travel companies. We don't bombard you with hundreds of hotels and apartments in each destination, we've selected the best properties in terms of location, standard and price using our knowledge and experience and cross-checking that against the most popular website reviews to keep us current in terms of recent feedback and experience.
That's a bit of a long introduction to Sitges, a great beach resort just 30 minutes south of Barcelona. When you work in the industry, people always ask where's your favourite place, where do you go for holidays? For me, when I want a short flight, a short transfer on arrival and some sunshine, I head to Sitges.
Before we get started, here are just a few quick facts about Sitges…
Why Sitges is my favourite holiday destination?
Sitges has been on the go for years in terms of tourism. It would have featured heavily in the package holiday brochures of the 60's and 70's and then it kind of disappeared from the brochures as new destinations came on board. So whilst other destinations like the Balearic Islands or the Costas may have overtaken Sitges in the brochure stakes, Sitges has survived the test of time. You won't see it in many brochures now, there are no coach loads of people arriving each day, it's a resort for the independent traveller and at Click&Go that's our market.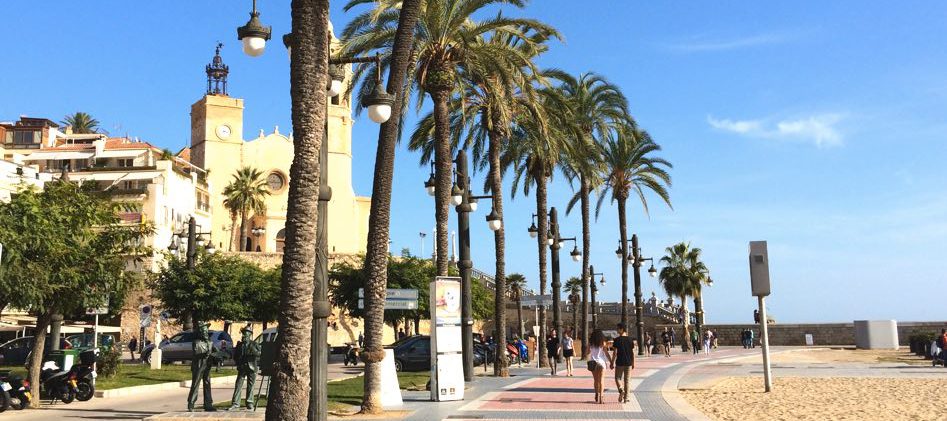 The town hall and the planners in Sitges have been really strict over the years and nothing drastic or offensive has been built. The romantic style of the buildings has been maintained in the face of the quick buck. In truth, old buildings were torn down to make way for an ugly hotel or apartment building. Now, because of those strict planning rules, the resort is thriving as it has something that other resorts can only crave for; Sitges really has old world charm and universal appeal. The clientele which Sitges attracts appreciate this and are willing to pay a little over the odds in terms of hotel prices to stay in Sitges.
It's not only holidaymakers that love Sitges, even in these harsh times for the property world; it's the most expensive real estate in Spain. Anyone in Barcelona or the surrounding areas who can afford to own a place in Sitges does so. The Spanish Royal family have a villa right on the front. All of this is what sets Sitges apart. It's an old world resort, with great beaches, a totally character filled town centre, great shops, bars and restaurants and I guarantee you, anyone who goes there will be back, it's hard to beat in terms of style and overall holiday enjoyment. The people who go to Sitges like the other people that go to Sitges. I know that might sound like a strange thing to say but it's true.
The Spanish the town of Sitges has a certain cache, and for holidaymakers who enjoy travelling and finding places, Sitges ticks all the boxes.
Getting to Sitges
Barcelona is the best airport to use to access Sitges as the airport is to the south of the city and Sitges is just 30 minutes, further south along the coast. Aer Lingus fly twice daily year round to Barcelona from Dublin and daily in the summer from Cork and Belfast. It's a short 2-hour flight and there is a train station right at the airport in Barcelona.
You can take the train or bus or a taxi from the airport to Sitges and it will take 30 to 40 minutes depending on traffic and departure times. I opt for the train generally, it's about 3 Euros one way, and the last train departs the airport around 11pm. You can take any train leaving the airport and travel 1 stop to Prat de Llobregat, change there and take the train to Sitges heading towards Vilanova. If you stay on the train it will bring you into the centre of Barcelona.
From the train station, you can walk to most hotels or take a taxi from the rank at the train station. The buses from Barcelona drop you near the train station also. If it's your first time to Sitges and you arrive by bus or train don't be put off by your first impressions, the area surrounding the train station is nothing, if not totally ordinary, just give it 5 minutes till you stroll down to the seafront and you'll be blown away.
Accommodation in Sitges
In terms of where to stay, Sitges offers mainly hotels. There are very few apartment options, most are privately owned, that said we have a good choice of hotels from 3 to 5* and we know them all so if you need more info just call or email us in the office or use the live chat facility on our site.
Sitges' Beaches
Sitges is famous for its beaches and there really is a beach for everyone! The main beach stretches along the promenade for about 2 kilometres and local families have the rights to hire out sunbeds and parasols all along the beach. All along the promenade up to the Calipolis hotel, there are restaurants and cafes if you want to break away from the beach for lunch.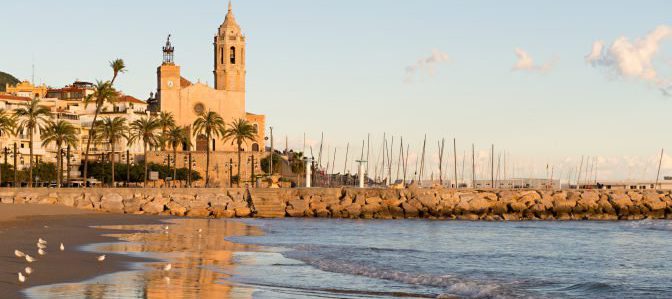 Directly across from the Calipolis is the main gay beach, that one is affectionately known as "the beach of the dolls", being in the centre of town, this one is clothed. From there, is an area called Vinyet and there are no commercial businesses allowed there, it's more of that good planning and it means the focus is on the centre of town.
Beyond this are some of the areas nude beaches, the first one is straight and the next one is the not so nicely named "Playa del Muerte" is gay.  San Sebastian is the part of Sitges between the Cathedral and the marina. In the last 2 years, the area has been pedestrianised and that has really improved the seafront there, giving the restaurants and bars more space and taking the cars away makes it much more pleasant. There is also a lovely sandy beach in San Sebastian and then between San Sebastian and the Melia you have Balmins beach, which is mixed straight and gay and mixed nude and textile.
Great Restaurants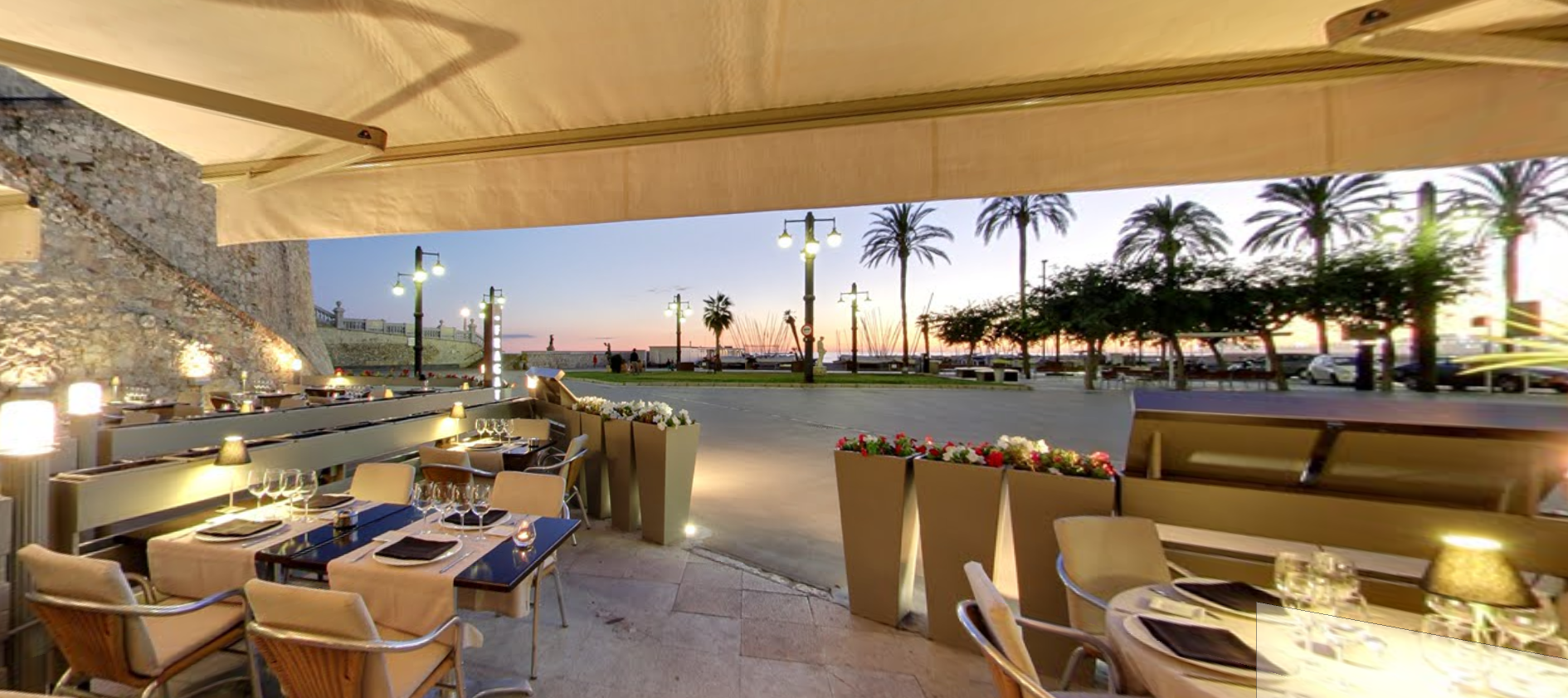 If you're a foodie, you'll be spoiled for choice in Sitges with over one hundred and fifty restaurants to choose from.  Their "menu del dia" is from €10 upwards and is a 3-course lunch or dinner with a half bottle of wine per person. That is seriously good value.  If I had to pick my top 4 places to eat I would include the following…
Al Fresco restaurant and Al Fresco café
Ask for a table in the garden, pricey but great food and service, If you want a light meal the café is excellent. (There is a great coffee shop near Al Fresco called Firenze, great cakes, ice cream and coffee – ask for a cortado, an espresso with milk)
El Donastiarra
Quite simply the best tapas restaurant in town – not easy to get a table but worth standing and you only pay for what you eat, they charge you by the number of cocktail sticks on your plate!!
Restaurant Zodiaco
One of my favourites, a little old-fashioned in the style stakes but possibly the best value in town. You'll have to ask for the "menu del dia", it won't be handed to you, all part of the game…. she prefers people to eat a la carte. Whatever you chose you won't be disappointed.
You'll have to book most of these if you're looking a weekend reservation in July or August and generally if you have to make a reservation you won't get the menu del dia.
What else…
Barcelona is a mere 40 minutes train ride away, it only costs a few euro each way. It's great to have the city so close if you fancy a break from the beach.  The trains run very frequently from around 6am to 12 midnight, which makes for an easy and inexpensive day trip.
Best time to visit Sitges
July and August tend to be packed and busy, plus it's also likely to be very hot and the hotels are at their most expensive. The best time really is May, June, September and October but it's also a great place to visit year round.
Sitges boasts sun 330 days a year but naturally, in the winter months the temperature will be in teens, so not quite beach weather but very pleasant. Whenever you go, you won't be disappointed and I'd be very confident that you'll be back.
Check out our website where you'll find great deals on hotels and holidays to Sitges.
— Paul!
---