Top 10 Customer Service Moments in 2017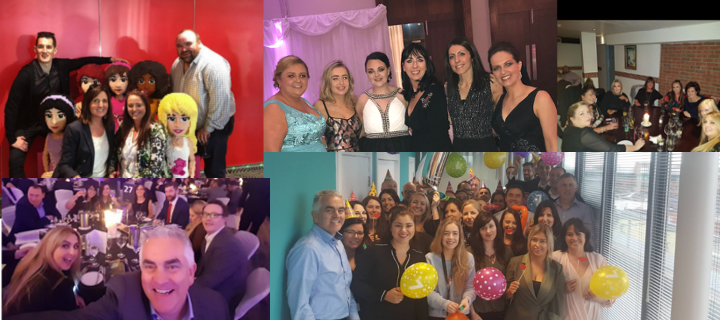 We do what we do because we love holidays and everything a brilliant holiday brings. Most of all, we love helping our customers create lifelong memories on their own holidays.
As the year draws to close, we decided to look back on how our Sales and Holiday Support Teams have helped our customers.
Our Sales Team help customers choose the perfect destination, share their expert knowledge and answer any question big or small. They know all of our accommodation and destinations inside out so you can rest assured that your holiday is in safe hands.
Our Holiday Support Team help customers before they travel, when they're on holidays and when they come home from holiday. This year, they were particularly busy between Storm Ophelia, Hurricane Irma, flight cancellations, air control strikes and bad weather.
So here are our top 10 customer service moments of 2017…
10. Going the extra mile
This is something we strive to do for our customers. We want the entire holiday experience to be perfect and we try to exceed expectations when we can, like with one of our customers, Ken…
"We're not the type of family that seeks out compensation when the least little thing goes wrong, and normally we put things down to experience and move on. So I was delighted to see the cheque come through and that the episode hadn't just been forgotten even after the holiday was over, it makes your company look like you do care about your customers, and as a family who tries to holiday at least twice a year we would definitely use your services again."
9. When (natural) disaster strikes
This year has been a test for our team dealing with hurricanes and storms, but they (and our customers) have come out the other side! During Hurricane Irma in October, Julie helped Alan & Diane C. find shelter in Miami while the storm passed…
"Thanks for getting us sorted with the Hotel in Miami, it was lovely. I didn't bother getting receipts for taxis, as suggested, as to be fair it wasn't that expensive, but thanks for the offer anyway. Just wanted to email you to let you know we had a fabulous cruise and everything went smoothly, so thanks from both of us for looking after our booking."
8. Customer service with a smile
One of the many things we pride ourselves on is the expert knowledge amongst our team. Everyone in Click&Go is passionate about travel and could talk about holidays all day long. Here's one example of how Will in Sales shared his expertise and wowed Nuala G. with our customer service…
"2 weeks ago I booked a little break to Dubai, for the end of March – my first adventure with Click&Go. My point of contact was Will and I genuinely feel that he went over and above in helping me and his customer service was just top class. I found him very helpful, he gave me great advice, and on one issue with which I was struggling he went that extra mile for me, for which I am most grateful. Watch this space for a great trip to Dubai – thank you again to you and your team."
7. The fog didn't mistify us
Bad weather isn't just awful for day-to-day life, but also for travel whether it's a plane or cruise ship! This October, European cruise ships couldn't dock in Amsterdam due to the weather so our team worked relentlessly to arrange alternative travel plans for our customers like we did for Joan H.
"I want to thank Click&Go so much for taking care of us on our cruise when our ship could not dock in Amsterdam. Thank you so much for contacting us and rearranging flights so promptly with no stress to us whatsoever. Click&Go are amazing and I would and do highly recommend you to everyone."
6. If only we could teleport
Have you ever landed in an airport and thought "how the hell do I get into the city/to my resort!?", well, that's where our team come in! We regularly arrange transfers for our customers so there's no stress from the moment they leave Ireland. Here's some lovely feedback Jacynta in Sales received from Barry…
"We have just returned from a fantastic weekend in Venice which we booked through Click&Go. This is just a short note to thank you (for your assistance earlier in the year with airport transfers) and all the team at Click&Go for organising another wonderful break for us. This is our fourth or fifth break with the company and each one has been great. Keep up the good work!"
5. Sail the seven seas
Cruises can be tricky to coordinate, especially when you've to fly to the departure port. Our team help you book every aspect of your cruise holiday, send you all the documents you need and can make amendments to any detail on your behalf. The service we provide for cruises particularly impressed one couple, Thomas and Stephanie….
"Jacynta, thank you so much for your help in organizing the holiday of our lives. Having never cruised before we both were quite nervous. From the start, we thought we were royalty and the cabin with the balcony really made our stay. It was unbelievable from start to finish. What a way to celebrate our 25th wedding anniversary! Once again thank you so much."
4. Let's fly away… Or not
Flights being cancelled is one of the many areas our Holiday Support Team excel in behind the scenes. In September and October, Ryanair cancelled thousands of flights and here's one example of how our team, specifically Alison, helped our customers…
"Just returned from a fantastic holiday in Vilamoura Portugal! A big thanks to Alison who worked tirelessly all day to relocate us after our Ryanair flights were cancelled! Will have no hesitation in using Click&Go with our future holiday plans!!! Highly recommended… Thanks again for your wonderful service." – Jim K.
3. When the best-laid plans go awry
Sometimes you book a holiday, but personal circumstances whether it's an illness, a broken bone or bereavement mean you have to cancel. When Celine had to cancel her holiday due to an accident, Sharon, our Holiday Support Manager, stepped in to help her in whatever way she could…
"We lost our holiday to the same resort in Tenerife in February 2017. After quoting the previous booking number, Christina informed me that you had entered my details on the system and I was entitled to a reduction on accommodation. I want to congratulate you on your company's efficiency and customer service and thank you for arranging same and the generous gesture. I will be spreading your good name amongst my friends and acquaintances from now on."
2. A trip cut short
Similarly to the above example, sometimes when you're actually on holiday something happens at home and you have to cut your holiday short. When Una M. had to come home unexpectedly, our team were there to help her change her flights…
"I was very pleased with my holiday booked through you. I booked with Alan and he was so helpful. I had to cut my trip short, but Loredana and Louise went beyond the call of duty to help me – it was much appreciated! Thanks a million for everything and I would have no problem booking with you again."
1. No booking too big
While most of our bookings have on average 2-3 people, we don't shy away from large groups. One group of 23, nicknamed "The Nurses" travel with us every year, and Kevin emailed us on behalf of his mother to praise Paul…
"My mother, Ann was on a trip to Nerja in Spain with "The Nurses" earlier this month. She is well travelled and thought that she had seen it all, ( we thought we had heard it all…) but has been raving about Paul and the whole holiday experience with Click&Go since she came back. The hotel was absolutely "splendid and glorious" and congratulations to you for finding it and for bringing the group there. So thanks, Paul, she had a blast, well done!"
As you can see, our team go that extra mile to make our customers' holidays seamless, stress-free, and superb! If you're thinking about your holidays for 2018, you can call our team 7 days a week on 01 539 7777 and they are more than happy to help you pick your perfect holiday.
Looking for some holiday inspiration? Check out Click&Go's special offers here.
---