4 features we love on MSC Seaview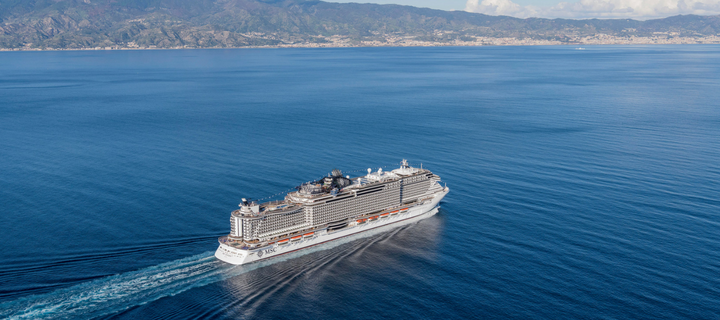 MSC has just christened its most innovative ship to date, Seaview and Orla, our Head of Sales, was lucky enough to sail on its christening voyage (and be in the presence of MSC's Godmother, Sophia Loren). She walked a total of 12km in one day touring the ship so let's find out what she loved on it…
The design & décor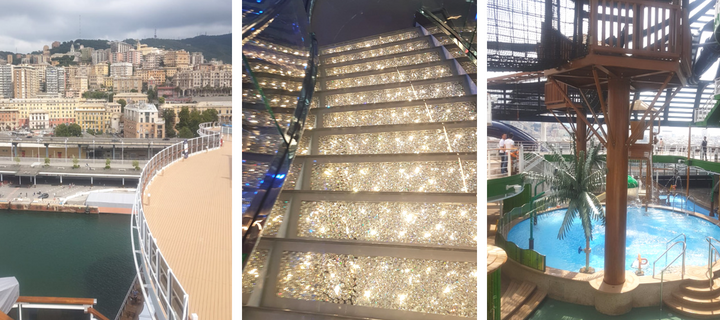 The first thing we notice about anywhere we stay, be it a hotel, aparthotel or even a cruise ship, is the décor. Orla described Seaview's design as modern with a hint of art deco and its décor as stylish and classy.
Taking inspiration from the beach condos in Miami, it makes sure you feel connected with the sea whether you're relaxing on your balcony, having a morning walk on the Bridge of Sighs or enjoying your lunch.
The cabins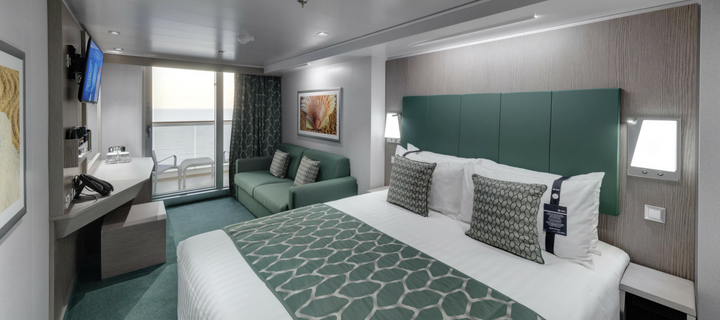 Seaview has the largest number of balcony cabins at sea with 1,312 cabins or 73% of the total cabins. The stylishness of everywhere else on the ship is cohesive with the design of the cabins. Comfortable and spacious, the needs of the guest are at the forefront. Orla particularly enjoyed her unobstructed balcony views.
The choice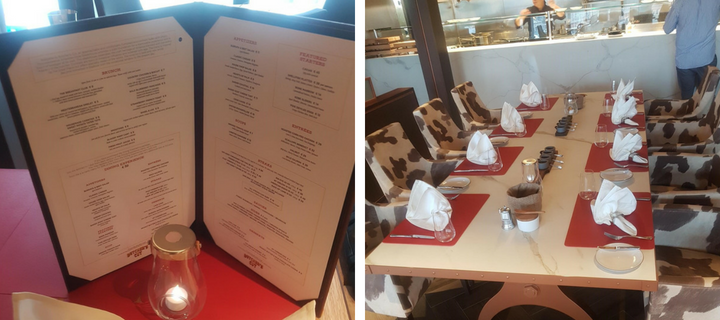 You have 20 bars and lounges, 2 buffet restaurants, 6 speciality restaurants and 10 other unique dining venues to choose from, so Orla noted, there really is something for everyone. As you (may or may not) know, most cruise ships have buffets and main dining rooms to sate your appetite and on Seaview:
"There are 2 buffet restaurants [on Seaview]. One is on Deck 8, which almost takes up the entire deck and has an amazing feature of wrap around decking where you can enjoy eating your meals outside in the sunshine. Buffet 2 is on Deck 16 beside the pools, so you don't have far to travel if you are sunbathing by the pool."
But is the food nice?
At the buffet, there's lots of choice with pasta fish, roast meat, chicken, salads, cold meats, pizza, fries, burgers, hotdogs and plenty of deserts. There's no need to worry about the food sitting there getting cold as Orla reports that everything was piping hot.
For the main dining, fine dining and quality produce are the order of the day with lobster, foie gras, beef and risotto on the menu.
Orla also tried out some of the speciality options. Firstly, The Butcher's Cut…
"It's an intimate restaurant with the best steak and mash I have ever tasted – juicy steak and creamy melt in your mouth mash."
Secondly, Teppanyaki by Roy Yamaguchi…
"This is a full dining experience where Asian cuisine is prepared right in front of your eyes!"
The activities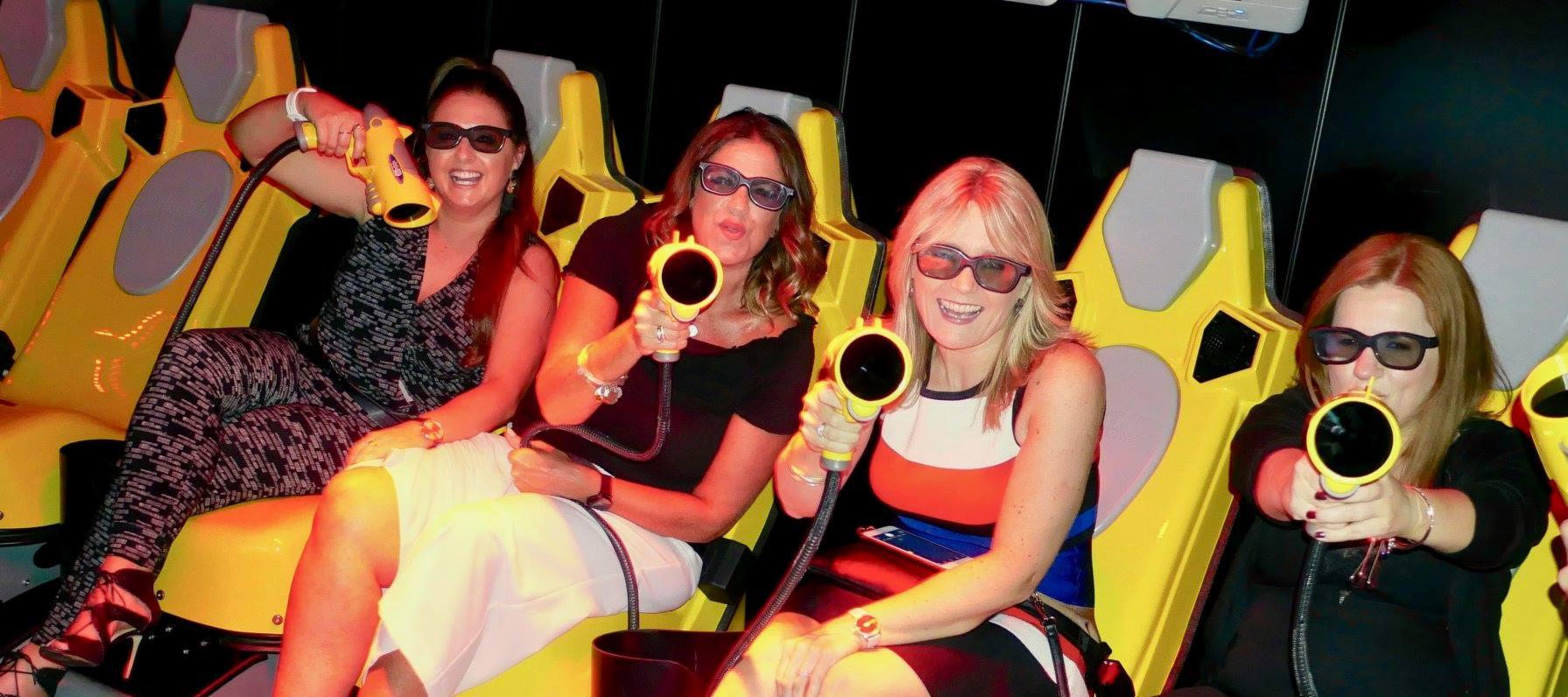 Much like the variety of food options, you won't be left bored onboard Seaview with the number of activities it has. Aside from its Jungle and Sunset pools, Forest Aquadventure Park (which has 5 different waterslides!), luxury Aurea Spa and 7 new Broadway-style shows, it has the longest zip line at sea, 2 full bowling alleys, F1 simulator and endless entertainment for kids from tots to teens. Or you can always become a zombie killer in an end of the world apocalyptic battle like Orla (left) did against our comrades in travel.
Where would you find Orla?
The christening sailing was only for 2 nights, so if Orla went on a Seaview for her holidays, what would she do and where would we find her?
Morning: I would have breakfast outside in fresh morning sun on Deck 8, you can enjoy your choice of buffet breakfast on the main wrap around deck. I didn't partake in the gym while I was on board but I definitely would! It has high spec quality gym equipment for any gym lovers out there.
Afternoon: Laze by the panorama pool and then raise the blood pressure in Forest Aquaventure and Adventure Park, it has slides to keep adults and kids entertained
 Evening: I would enjoy some Champagne at the stylish and classy Champagne Bar and then eat some freshly made Asian cuisine in Teppanyaki Restaurant
MSC Seaview will be sailing the Meditteranean for summer 2018 before heading across the Atlantic to Brazil for the winter. 
Click&Go Travel Podcast on Cruises
---