The 5 Best Places to Stay in Sunny Beach, Bulgaria
Bulgaria is known as the "Jewel of the Balkans" and on this gem's Black Sea coast sits a little resort called Sunny Beach. It's known for its 8km of Blue Flag status sandy beaches and vibrant nightlife. But, it's also a destination that boasts great value. 
Whether you want to take a walk on some perfect sandy beaches that undulate with sand dunes, take advantage of their water sports activities, have a laze in the sun, or do things to keep the whole family entertained, Sunny Beach is worth considering.
Click&Go operates direct flights from Ireland with Aer Lingus to Bourgas airport, which is 35 km from Sunny Beach. We provide a range of great accommodation and we've listed our top picks below…
3* L&B Hotel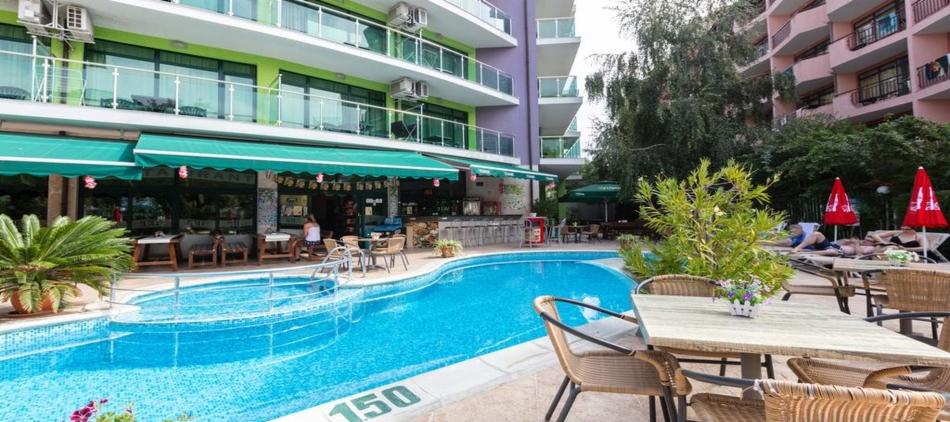 This small, quaint, family run property is a top seller and highly rated. Therefore, it's no surprise it was named a TripAdvisor 2019 Travellers' Choice, TripAdvisor's highest recognition. The simple, clean, and spacious rooms that have a balcony guarantees a comfortable stay. There is a pool, a complimentary breakfast, and the hotel is sat within walking distance from the city centre, beach, and one of the biggest water parks in the country. 

4* Best Western Plus Premium
Boasting fantastic TripAdvisor reviews, this hotel is the best value for a 4* hotel on bed and breakfast. Tasteful rooms and free WiFi combine for a comfortable stay and the location is prime. Outside the hotel doors, there is great shopping, food, entertainment, and you will find yourself close to the famous Flower Street. The most prominent hotel facilities are a breakfast area, City Bar, a swimming pool with slides (including a kid's pool with its own slides), and a gambling hall with more than 50 slot machines.
4* MPM Kalina Garden
The 4* MPM Kalina Garden hotel is the perfect all-inclusive choice for a holiday escape. Its great TripAdvisor reviews should highlight this hotel as a fool-proof accommodation choice. Whether travelling with the family or as a duo, all the amenities and services are included, ensuring a comfortable and entertaining stay. An on-site restaurant, a bar, and a bistro provide a variety of dining options. The pool and entertainment program for children also ensure endless enjoyment.
4* Marvel Hotel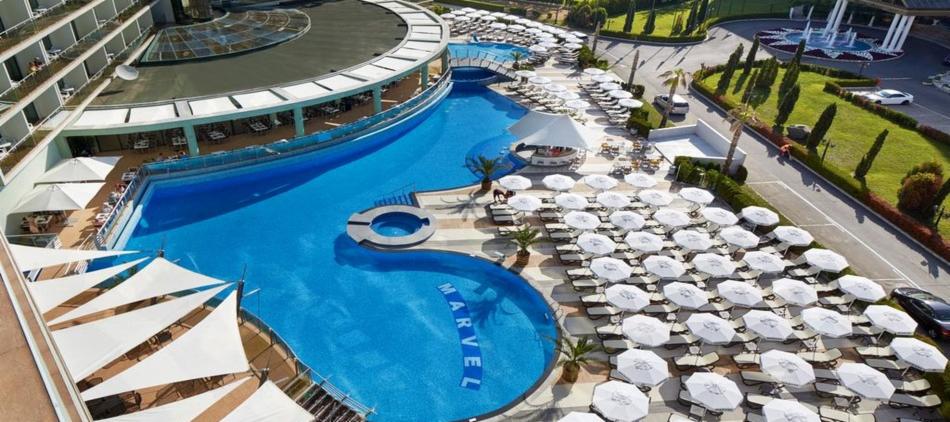 This hotel is another popular choice for those looking for an all-inclusive stay, making it a perfect option for families, groups, and couples. Rooms are abundant with natural light and finished with great amenities. There is also a buffet-style restaurant, plenty of entertainment for children, a sauna, jacuzzi, and both indoor and outdoor pools.
5* Royal Palace Helena Sands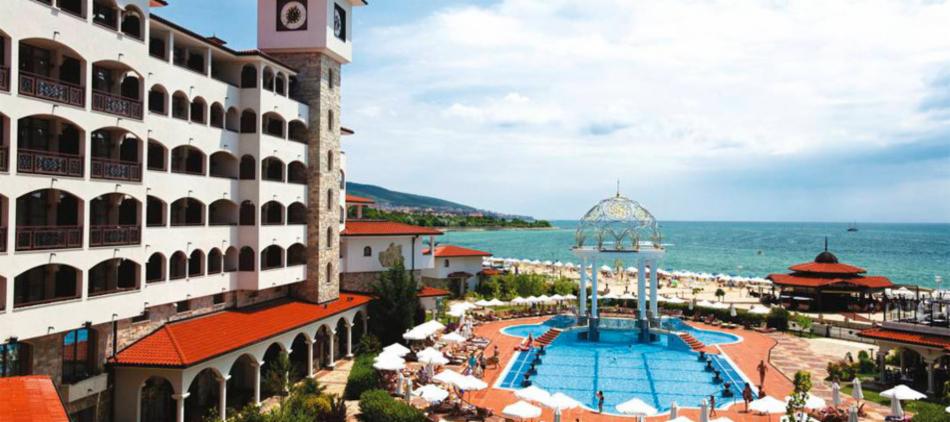 This 5* hotel has an architectural style reminiscent of the Bulgarian Revolution and is a stone's throw away from the lovely beach. The facilities range from an Italian restaurant, café, piano bar, barbecue area, beach bar, immaculate pool, kid's club, and children's playground. Therefore, there is plenty to keep you and your family busy. The rooms are in modern style and have either a double or king-size bed. They also have an en-suite bathroom and a balcony or terrace. This is simply one of the best 5* hotels in Sunny Beach and is the number 2 hotel on TripAdvisor.
Do you see a stay at any of these hotels in your future? We do! Start planning your Sunny Beach Sun Holiday with Click&Go today. 
---