Our Top 10 Places to Stay in Majorca
Majorca, the largest of Spain's Balearic Islands, is a destination that has to be seen to be believed. Ditch any preconceptions you have about the island because it's not all parties in Majorca. It has charming Spanish villages, stunning scenery and beaches that are more Caribbean than the Mediterranean.
In Click&Go, we think everyone should visit Majorca at least once. With regular flights from Dublin, Cork, Shannon, Knock and Belfast from the end of March to the end of October, there's no excuse to not visit this sun-soaked island.
If you're tempted to, here are our top recommendations for where to stay, whether you're a family, couple or a gang of friends.
Santa Ponsa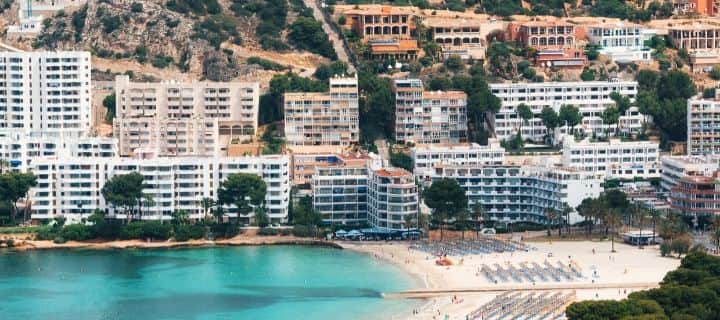 Santa Ponsa isn't just for 18-year-olds letting off exam steam. If you want a lively atmosphere with plenty of bars, you can find that here. If you want to relax and have quality time with your family or loved one, you can find that here too.
3* Deya Apartments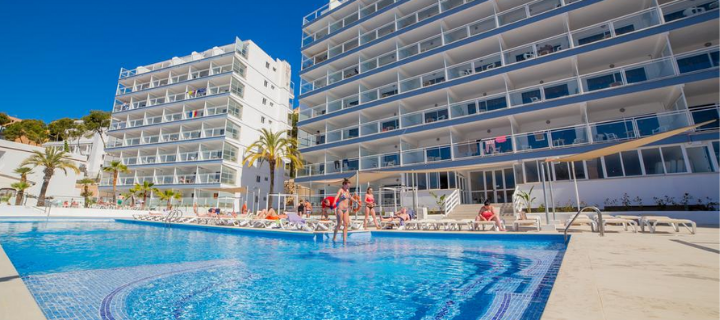 Want to sleep, have the craic at the pool and even more craic at night? The Deya Apartments are perfect for you. This property is purely for those who want to soak up the sun by day and party at night. It's close to all the bars, is self-catering and has recently been refurbished. It's colourful, fun, young and lively.
3* Vista Club Apartments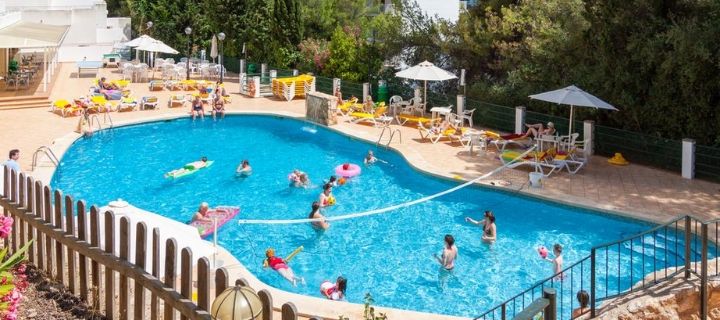 Looking for somewhere cheap and cheerful? The 3* Vista Club Apartments are our top Value Option for Santa Ponsa. Perfect for couples or families, this property has self-catering studios and apartments, a good pool and a bar for drinks and snacks throughout the day. It's only 300m from the centre, so it's a bit quieter than the Deya for a restful nights sleep.
3* TRH Jardin del Mar Aparthotel
The 3* TRH Jardin del Mar Aparthotel is a great self-catering Value Option for couples or families who want some additional facilities. It has on-site entertainment for kids, a fantastic pool for splashing in during the day, a gym, a playground and a solarium terrace.
3* Club Santa Ponsa Aparthotel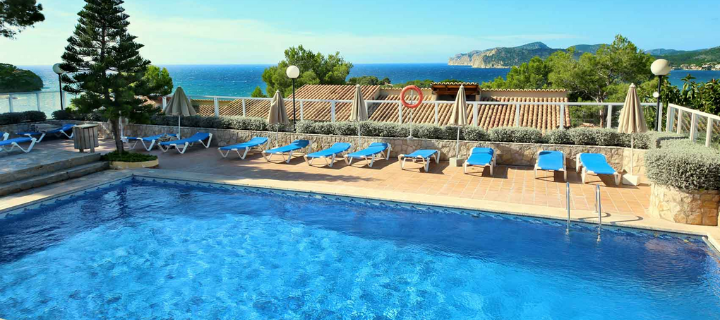 Fancy an all-inclusive holiday, but don't want to break the bank? The 3* Club Santa Ponsa Aparthotel offers fantastic value. It has a high 4.0 rating TripAdvisor with glowing reviews mentioning things like the variety and quality of the food, the comfortable beds, basic but spotlessly clean rooms and lovely views. A hit with couples, friends and families!
4* Ola Bouganvilla Aparthotel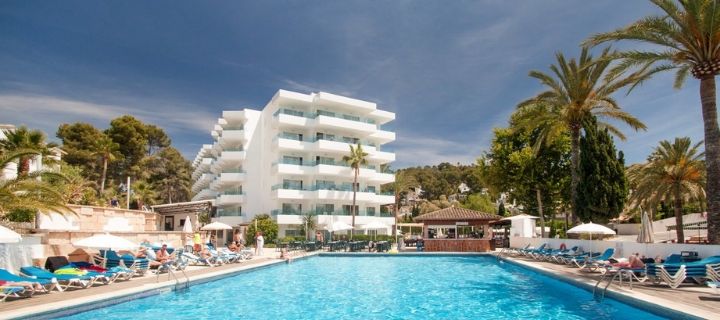 The 4* Ola Bouganvilla is perfect for families who want a chilled out holiday as it's set back from the centre of Santa Ponsa. The studios and apartments on offer here are modern, spacious and bright. It has great entertainment during the day and night, a kid's club, a big pool and kids pool with a splash zone.
3* Pirates Village Aparthotel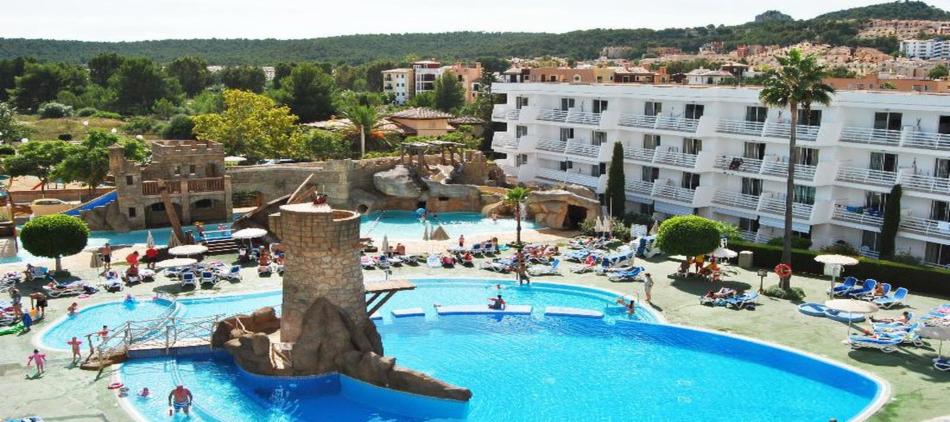 The 3* Pirate's Village is a pure family property – everything is pirate-themed! It has a Certificate of Excellence on TripAdvisor and it's no surprise with the range of facilities it has for families. The rooms are big and modern and you can stay on room only, self-catering or all-inclusive basis. There's the main pool, Pirates Tower Pool, with a baby zone, splash zone and relaxation area. It's also used for the pirate shows. The kids have their own Pirates Bay Pool with waterfalls, waterslides and caverns for hiding. Finally, there's the Pirates Cave kids club with fun and games galore.
Alcudia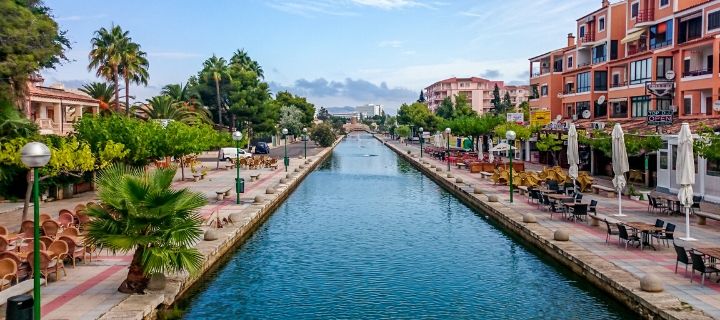 Located on the north side of the island, Alcudia is a quieter and more historic town. The old town has 14th Century walls, is filled with delicious restaurants serving good home-cooked food. It has sandy white beaches, an impressive marina and plenty of culture.
3* BelleVue Club Aparthotel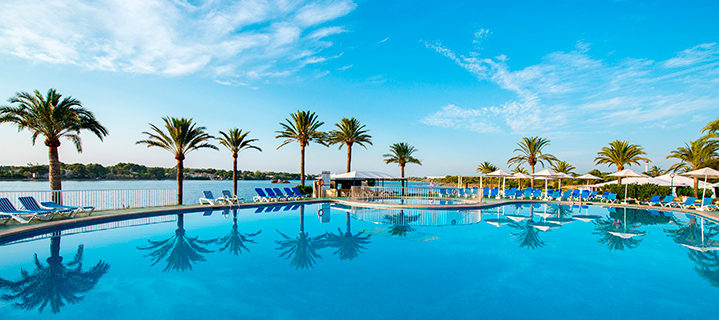 The 3* BelleVue Club Aparthotel is a huge complex with 8 swimming pools, 2 pools just for kids, a sports area with tennis courts, mini-golf, squash and even a go-kart circuit. If you're a family on a budget, it's a great option as it has everything you need on-site, including a kids club, entertainment, laundrette and plenty of food options.
3* Club Mac Alcudia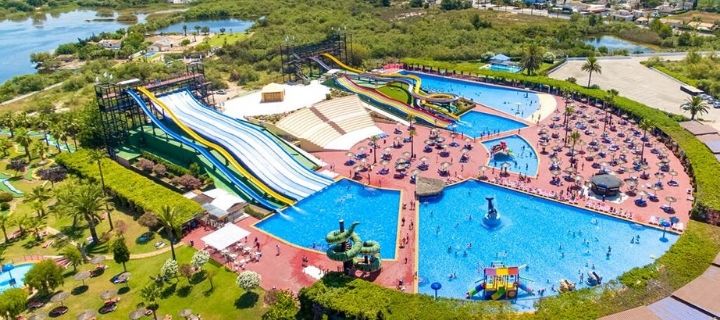 The 3* Club Mac Alcudia is an all-inclusive aparthotel with its own waterpark. Waterpark aside, it has an endless list of activities and facilities to make the perfect family holiday. It has archery, tennis, volleyball, mini-golf, watersports and pedalos. It also has 8 different pools, entertainment and, not just a kids club, but a kid's village with a wide range of activities for kids of all ages. If all that isn't enough, you also have access to the Hidropark waterpark across the road. Or there's a relax area for adults who need some peace and quiet.
4* SeaClub Resort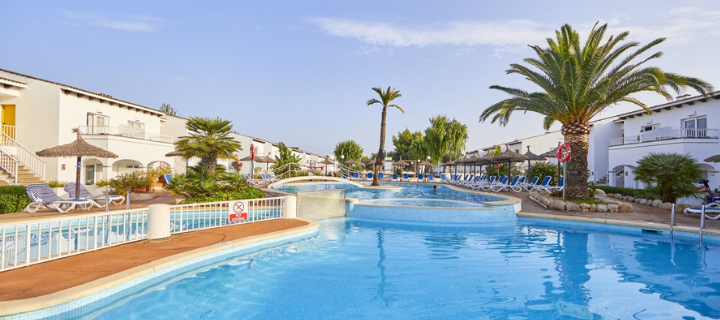 The 4* SeaClub Resort is brilliant for families with younger kids. Walking around the resort, it's almost like a Mediterranean village as its accommodation comprising of villas and has plenty of garden areas. There are 7 pool areas, 2 of which are for kids and 1 Serenity pool for those aged 16+. It also has a kids club, nighttime entertainment, 2 mini markets, gym, reading area, playgrounds, buffet restaurant and cocktail bar. Thanks to its superb facilities, it has a Certificate of Excellence on TripAdvisor.
Cala d'Or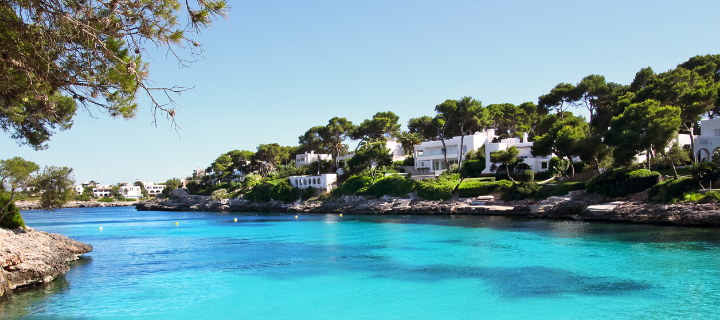 Cala d'Or is a picturesque town on the southeast coast of Majorca. While it doesn't have one stretch of beach, it has multiple sandy beach coves with powdery white sand and crystal clear waters. It's known for its impressive yacht-laden marina. You can find all kinds of dining from the fine variety to traditional Spanish cooking. Cala d'Or has a great atmosphere that every holidaymaker can enjoy.
4* Blue Sea Club Marthas Aparthotel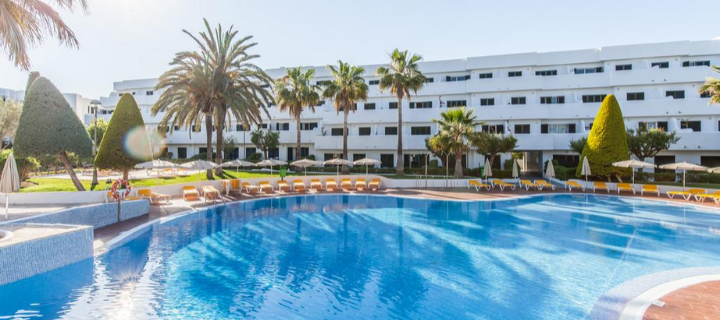 The 4* Blue Sea Club Marthas Aparthotel is an all-rounder property for families, couples or friends. It has 3 outdoor pools, an indoor pool and plenty of entertainment day and night. If you're a fan of pizza, it has its own pizzeria, which is renowned locally. The rooms have everything you need from air conditioning and WiFi to hairdryers and flat-screen TVs. Close to two gorgeous cove beaches, it has everything for a relaxing Majorcan getaway.
Where will you stay in Majorca?
---