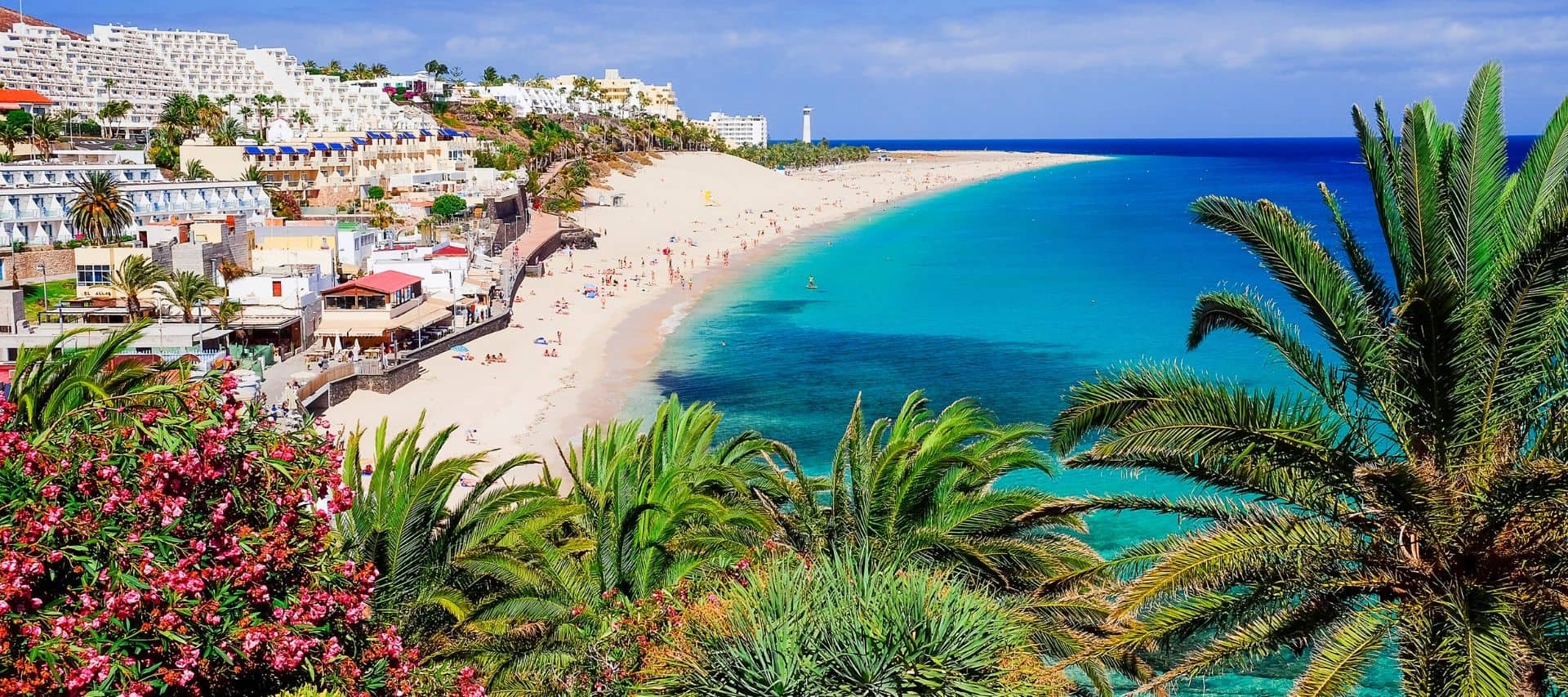 Your Guide to Family Holidays in the Canaries
Family holidays are the best way to create memories and bonds with your children that you'll cherish forever. Likewise, they give families the freedom to relax and unwind together.
The Canary Islands are ideal for your next family holiday, thanks to its year-round subtropical climate, flawless coastlines and affordable accommodation. We've narrowed down our top family properties with exciting activities that will be sure to impress everyone. With flights from Dublin, Cork, Shannon, Knock and Belfast, the search for a fun-filled family holiday couldn't be any easier.
Tenerife
Tenerife is the largest of the Canary Islands and the most visited each year. With exquisite miles of blonde sandy beaches to the stark contrast of striking black sandy beaches in the north, this island has something for everyone. It has plenty of lively resorts such as Playa de Las America, slick Costa Adeje and bustling Los Cristianos.
Top Place to Stay in Tenerife
3* Palm Beach Apartments, Playa de Las Americas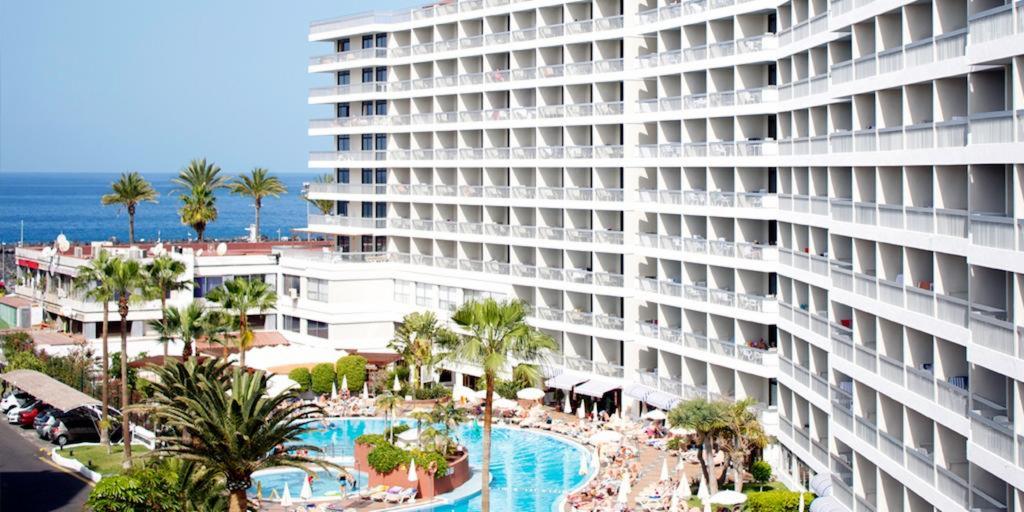 The Palm Beach Apartments are a top seller in Click&Go. It boasts a serene beachfront location with incredibly unique views of the ocean and is close to a wide range of excellent amenities. This includes a kids' pool, kid's club, a playground and a large games room to keep youngsters entertained. Leisure visitors can unwind with a swim in the outdoor pool, enjoy the fitness centre or relax in the spa.
A short stroll away from Palm Beach, families will find the San Eugenio Shopping Centre, Troya Beach and the Light and Music Fountain. A fantastic visual, aquatic display including lights and melodies that kids are sure to enjoy.
Top Family Activity in Tenerife
Siam Park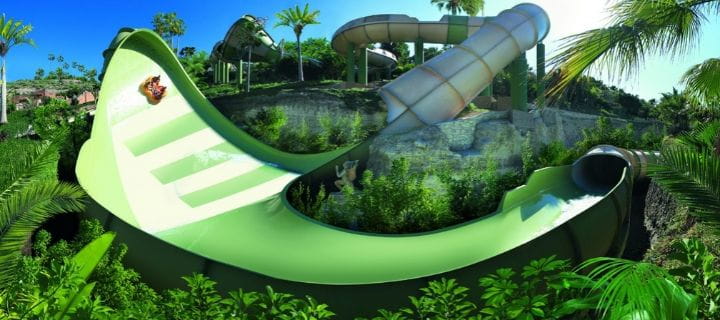 A free shuttle bus or short taxi will bring you to Siam Water Park in Costa Adeje. Arriving early in the day is recommended to make the most out of this experience. Depending on the time of year and seasonality, prices can vary for entrance, so pre-booking tickets is recommended. Lockers are located onsite to store personal belongings and can be rented for the day. Numerous attractions have infant sections for smaller children and miniature versions of the parks more adrenaline-pumping slides, including the Mai Tai River, The Lost City and Lazy River. Read more information about Siam Park here.
Gran Canaria
With guaranteed sunshine year-round and affordable amenities aplenty, Gran Canaria is the perfect spot for your family holiday this summer. Every day can be different and families won't be bored with plenty of activities to keep the family busy. Our popular resorts include picturesque Mogan, laid back San Agustin, hedonistic Playa del Ingles, bustling Puerto Rico and adventurous Maspalomas.
Top Place to Stay in Gran Canaria
5* Radisson Blu Resort & Spa Mogan, Mogan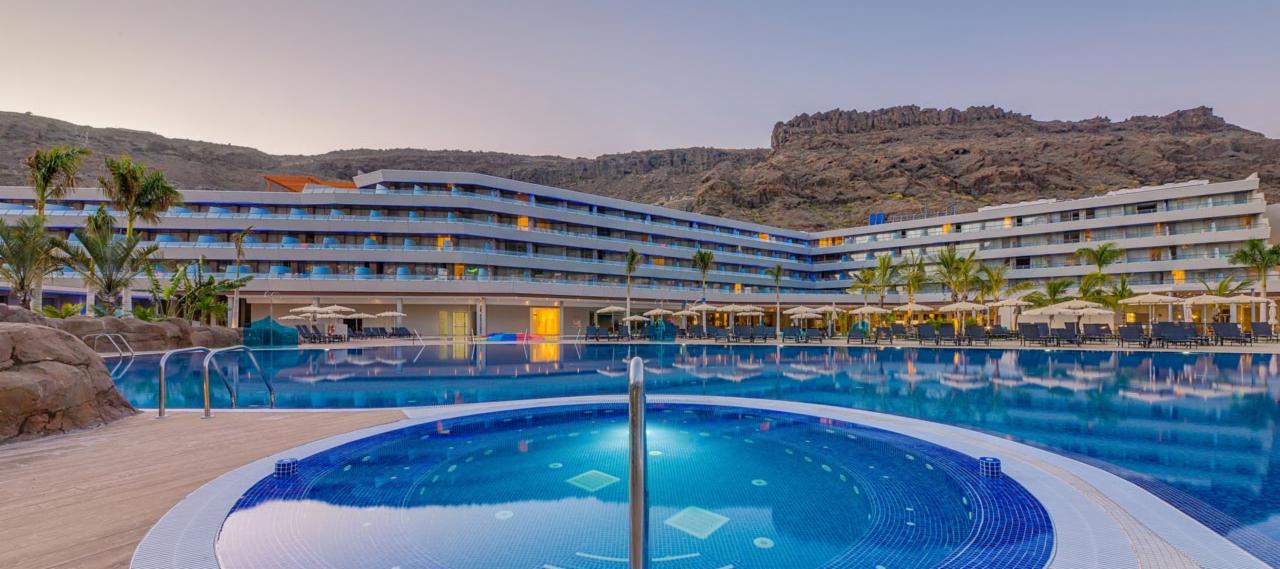 Located in the peaceful resort of Mogan, is the Radisson Blu Resort & Spa. A stunning 5* property located a short 10-minute stroll from the picturesque fishing village of Puerto de Mogán. The hotel's close proximity to the village means that hotel guests can enjoy the culture and beauty of Mogán, with relaxing boat rides or a stroll along the promenade. The airport transfer to the hotel takes 45 minutes.
This hotel boasts a 4.5 Certificate of Excellence on TripAdvisor, making it highly rated by customers. It offers a wide range of on-site facilities, making it suitable for both couples and families alike. These include three restaurants, a pool lounge and bar, entertainment lounge, outdoor and indoor pool, kids club and a separate children's splash pool. Guests can utilize the spa facilities to relax and unwind, the spa permits children to use the facilities from 10am to 11am each day. The sports facilities include a fitness centre, a multipurpose court, running track, yoga deck and a rock-climbing wall. The room types can cater up to 6 sharing and boast magnificent views of mountains, the village or the pool.
Top Family Activity in Gran Canaria
Whale & Dolphin Watching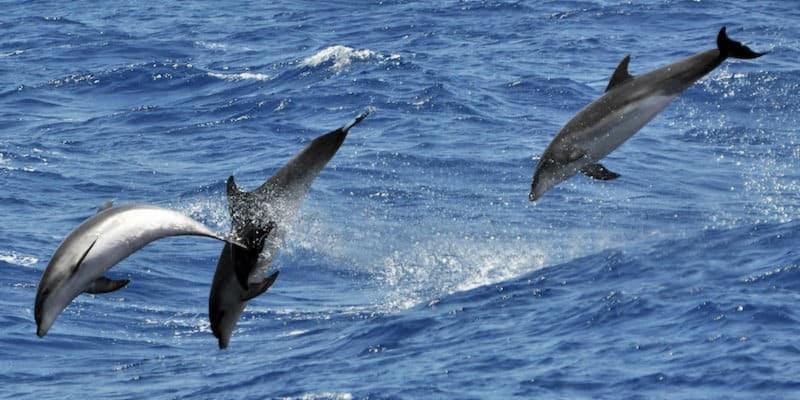 Why not leave the hotel behind for the day, and venture out to see these majestic creatures. hale and dolphin excursions usually last between 2 -3 hours. Prices start from as little as €30 per person
Children will be amazed at the pod of whales residing in their natural habitat and the playful nature of dolphins up close. Most whale watching tours will supply visitors with a light lunch too. Read more about Whale and Dolphin Watching Excursions here.
Lanzarote
Lanzarote has proven a hit with Irish holidaymakers for decades. This is thanks to its volcanic landscape and stunning, white beaches. High rise buildings are forbidden and buildings have to be painted white, which sustains the picturesque reputation of Lanzarote. The major resorts include laid back Costa Teguise, scenic Playa Blanca and playful Playa del Carmen.
Top Place to Stay in Lanzarote
4* Sands Beach Resort, Costa Teguise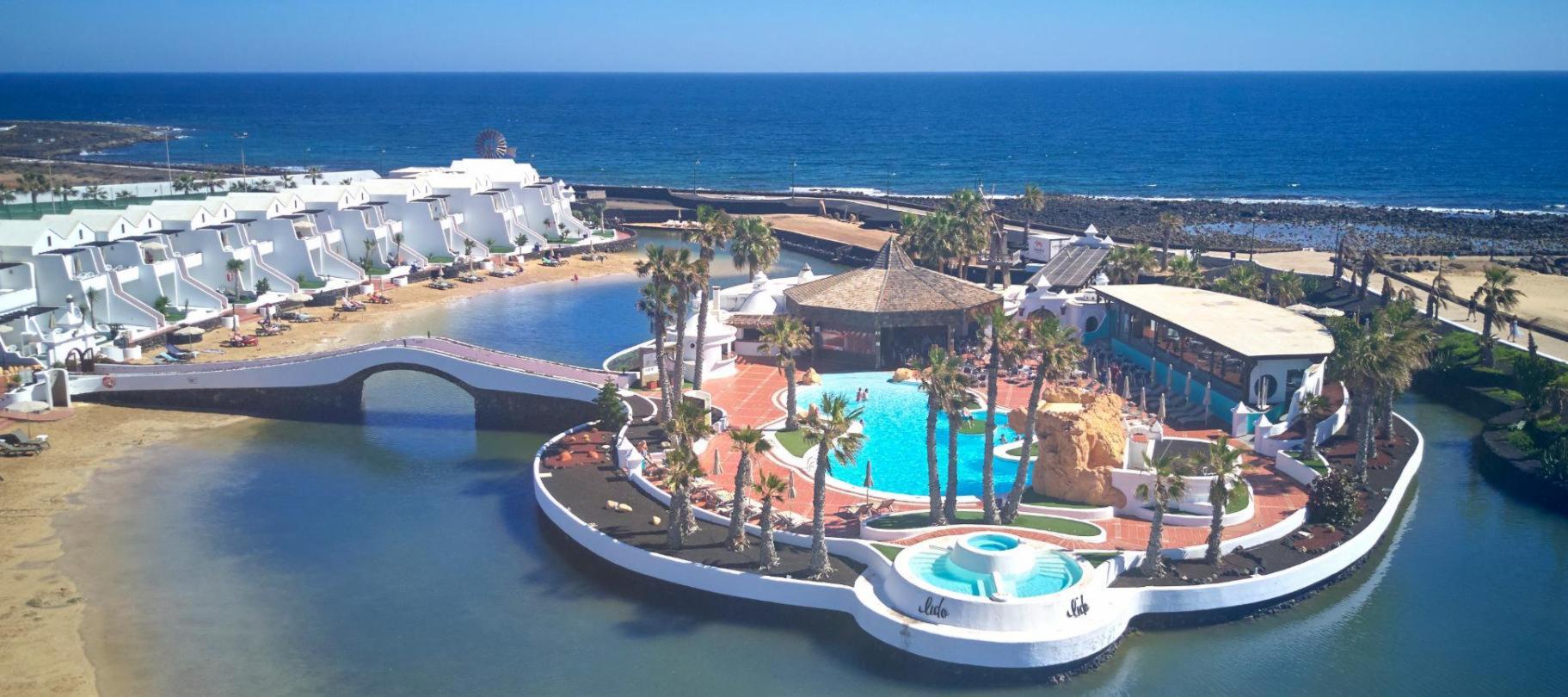 This remarkable 4* hotel is located in Costa Teguise in Lanzarote. The complex is landscaped with magnificent features including a saltwater lagoon, numerous sport facilities and a beachfront each with separate zones. Younger guests can keep themselves busy in the kid's playground and property run kid's club, the Buddy Club. Entertainment programs are available for the young and the young at heart. Adults have an extensive variety of facilities to use, including the wellness and beauty centre. The resort places emphasis on keeping active and staying fit. These opportunities include tennis, running, windsurfing and canoeing. If golf is your muse, there's an outstanding golf club nearby, where users can putt to their heart's content. The complex is ideal for relaxed or active family holidays.
Costa Teguise is more suited to families than other resorts in Lanzarote, above all, it offers more than spending the day soaking up the sunshine. The resort is fully equipped with a plethora of shops, restaurants and bars offering good value for money. The great range of recreational facilities in the resort is one of the many pros that make it super family-friendly. The serene promenade is perfect and accessible if your family want to rent bicycles for the day and enjoy the beautiful views.
Top Family Activity in Lanzarote
Submarine Safari
Located in Puerto Calero, families will find an intriguing day trip – a Submarine Safari. Climb aboard this exciting excursion, which takes visitors 30 metres underwater. See the depths of the Atlantic Ocean and learn facts about marine life from the professional guides on board. It gives children and adults the opportunity to possibly see sting-rays, barracudas, angel sharks and schools of fish first hand. A free daily bus service will transfer you to and from Costa Teguise to Puerto Calero and visitors get their own diving certificate at the end of the excursion. Read more information about Submarine Safari here.
Fuerteventura
With over 150km of beautiful golden sand, Fuerteventura's beaches are one of the main call outs for visiting this idyllic island. It boasts the best beaches in Europe and also homes ones of the largest deserts. But, it has more to offer visitors than just sand and sea. The main resorts include Corralejo, Caleta de Fuste and Costa Calma.
Top Place to Stay in Lanzarote
4* Pierre & Vacances Origomare, Corralejo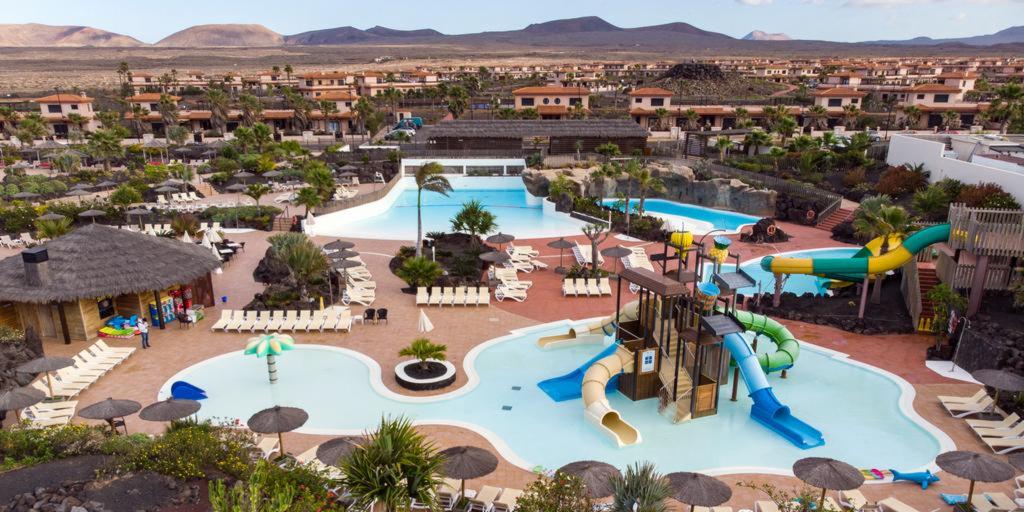 Perched on the northern tip of the picturesque island of Fuerteventura, approx. 25 minutes from Corralejo, visitors will find this fabulous family holiday resort. The village is split into five different "oasis" areas, each with its own pool. Craterpark, a volcano-themed wonderland is a 5,000 m² water park located in the hotel. While the kiddies enjoy this, the adults can escape to the Adult Only heated pool for a more peaceful relaxation method.
This hotel has a fantastic mix of kids clubs which cater to all age groups, the Mini Club (4 to 5 years), Planet Club (6 – 12 years) and Teenager Club (13 – 17 years). Daily activities include an aqua gym, archery, mini-golf, sports tournaments, discos, regional culture evenings, and even cooking shows. A property run shuttle bus services visitors to Corralejo resort and beach from June to September.
Top Family Activity in Fuerteventura
Oasis Park
This nature reserve is a must-visit with the family. Located in the south-east of the island, visitors will easily spend the entire day at this remarkable zoo. Home to over 3000 animals of 250 different species. Families can admire and learn more about the animals with educational sessions, including personal displays with lemurs, parrots and sea lions. Open every day of the year, it includes 3 restaurants, a children's play area and a farm with domestic animals. The camel safari is a must-do. Embark on an adventure on your own camel around the park, making it a fun day for all of the family. Read more information about Oasis Park here.
So, now you have the hotels and activities for your perfect family holiday in the Canaries, where will you be heading to next?
---