How to safely enjoy your next holiday in Portugal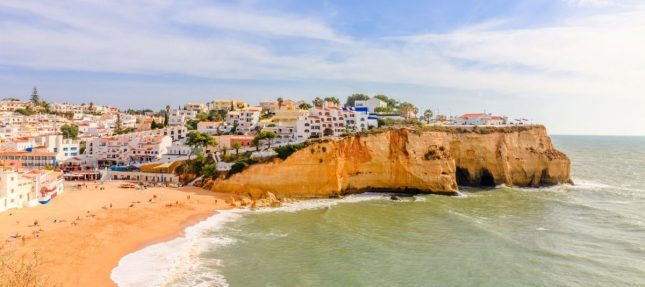 We're slowly getting back to a semblance of normality and countries across Europe are making plans for the return of international travel. One of our favourite destinations, Portugal and its beautiful Algarve coast, are already welcoming tourists. Find out how Portugal is reopening below…
How is Portugal's vaccination rollout progressing?
Portugal's vaccine rollout is on a similar trajectory as Spain. There have been 5.32 million doses administered so far, with 30% of the population receiving their first dose and 16% fully vaccinated. They're currently in the second phase of their rollout which includes people aged 50-65 years old.
In Lisbon, they're trying to accelerate the vaccine rollout and aim to start vaccinating those in their 40s from the 2nd of June and those in their 30s from the 20th of June. Pharmacies across the city are offering free antigen testing to locals every 15 days to help minimise the spread of the virus.
In the Algarve, as of May 9th, 26% of residents have received their first dose of the vaccine and 10% have received both doses. This amounts to 155,336 receiving at least one dose. The number of daily cases in the Algarve is quite low, with just 18 new cases of COVID-19 confirmed on the 26th of May.
When is Portugal reopening to tourists?
Portugal and the Algarve have reopened! As it's on the Green List for tourists from the UK and Northern Ireland, Portugal can welcome holidaymakers once more. By the end of this week, up to 25,000 are expected to make their first post-lockdown, post-COVID visit to the golden Algarve.
The implementation of the EU COVID-19 Certificate in July will be welcomed with open arms as it's another boost for the tourism sector. Portugal, like many other countries in Europe, have been vocal in the need for a tangible plan for the return of tourists to their country.
Currently, regardless of vaccination status, anyone over the age of 2 must present a negative PCR result upon arrival in Portugal. In addition, you have to fill out a passenger locator form before you arrive. You can see the most up to date info on the DFA website.
How can I safely enjoy my holidays in Portugal?
Since mid-April, any restrictions in Portugal have largely been lifted. Some of the measures currently in place include:
Attractions, such as Zoomarine and Slide & Splash, are open again but booking is essential as there will still be reduced capacity.
Although there are limits on numbers to a table, indoor and outdoor dining have returned. There is currently a limit of 4 per table inside and 6 per table outside.
All shopping centres and shops have fully reopened.
Outdoor events have returned, but with a reduced number of attendees.
The health and safety measures we've all become so familiar with are still in place. Social distancing, wearing of face masks and regular hand washing/sanitising will remain part of your holiday for the moment.
To most safely enjoy your holiday, stay as vigilant with the health and safety measures as you can. Use technology to aid your trip by booking meals and attractions in advance, pay with card or by contactless payment and utilise the abilities of your smartphone.
Although we can't travel to Portugal right now, when we can, later in 2021, it will be just as good and just as memorable as before. From walking along its rugged, golden beaches to enjoying its fresh seafood, a return to the Algarve will be a refreshing experience.
---