We all want to holiday like a celebrity, right? Why should they get to have all the pampering when we're the ones working 9 to 5, juggling kids and the daily demands of adulting?
Well, what if you could not only holiday like one but actually have a real-life Hollywood star as part of your travel experience?
Celebrity Cruises have teamed with a host of lifestyle experts to help make their new ship BEYOND the best on the water, including their wellness expert, actress Gwyneth Paltrow. She may not be actually on the ship sipping Martini' with you, but the Oscar winner has lent her expertise in how to make your cruise experience worthy of its own gold star award.
The stunning ship is the third in Celebrity Cruise's revolutionary Edge series, all of which are departing Europe this summer for memory-making idylls. The stretched deck is packed with incredible outdoor spaces such as the two-storey Sunset Bar and the Rooftop Garden that brings passengers as close as possible to the water without actually getting wet. And what better way to travel in style and comfort as you take that bucket list trip around the Greek Islands.
When sailing from Rome the ship's first port of call is the quaint Greek town of Katakolon, which just happens to be the closest inhabitation to the ancient site of Olympia, where the Olympic Games began in the 8th Century BC.
We all have an image of the picture-perfect Greek Island scene in our heads and no doubt, they include whitewashed cubed houses with blue windows and dome roofs perched on gently sloping cliff faces, overlooking turquoise waters. Well, welcome to Santorini; the quintessential Greek Island that all books and movies are inspired by. Explore the cherry blossomed lined cobbled streets while enjoying local delicacies such as warm baked feta cheese in filo pastry drizzled with honey.
A romantic favourite with honeymooners, Santorini presents instagrammable perfect backdrops around every corner. And when you're fully relaxed and recharged jump back on board as the ship brings you to your next Greek experience, the party island of Mykonos.
Famed for its beach parties, many of the island's clubs and bars stay open until sunrise, so make sure to wear your dancing shoes when you disembark.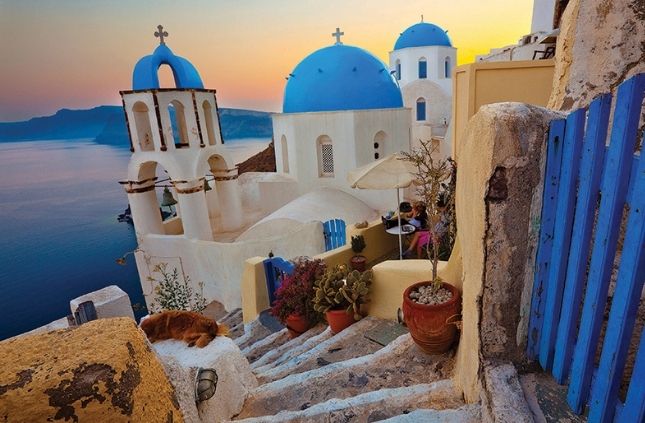 Back on board, relax as you make your way to the historic island of Rhodes where sites such as the Acropolis of Rhodes and The Palace of the Grand Master of the Knights awaits exploration.
The final island stop, from Rhodes you sail back to the mainland and discover the Greek capital Athens. The birthplace of modern civilisation needs no introduction, it just needs to be seen at least once in a lifetime. From the hilltop citadel Acropolis, explore the Parthenon temple and survey the sprawling city beneath. Try to avoid the hike up to the Acropolis in the midday sun as you'll find no shade, best to make the trip first thing in the morning or as the sunsets.
Wave goodbye to Greece as you say hello to Malta and its capital city of Valletta. The picturesque walled city is famed for its museums, churches and palaces. Packed with historic landmarks Valletta is perfect to spend a day exploring on foot. Your island-hopping adventure draws to a close with a final stop in Barcelona, where you can soak up the sights of sounds of the best Spain has to offer.
Sailing her inaugural season in the Med, Beyond will be completing a selection of 9 and 10-night cruises from either Rome or Barcelona. With Celebrity Cruise Always Included philosophy the cost of your sailing will always include an all-inclusive drinks package, Wi-Fi and tips.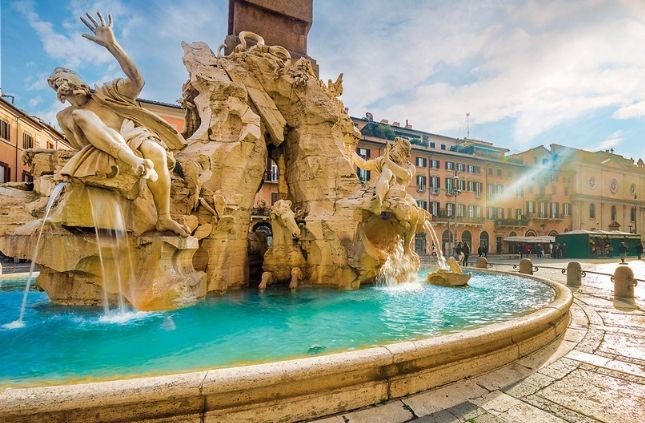 But this is just one of the many options open to travellers onboard a Celebrity Cruise this year, you can immerse yourself in the historic holy lands of Israel's Haifa and Ashdod or even set your sights further over the horizon to Asia, Alaska and South America. Celebrity Cruises have offerings for Chile, Patagonia and Argentina with some of their cruises even visiting Antarctica. So if you've always fancied yourself as a bit of a bird watcher, this could be your chance to get up close and personal with some penguins!