When considering the Greek Islands as your next escape from the daily grind, you probably don't want the extra job of deciding just which of the 227 islands is the one for you. So we've taken a closer look at five of the most popular to help narrow down your choice for the perfect Greek getaway.
Corfu
With its stunning sandy beaches and rugged mountain backdrop, Corfu has been a firm favourite for holidaymakers for centuries. Before commercial air travel made it possible for regular tourists to visit in the 21st Century, the island was the holiday reserve of European royalty.
Explore the old town that is bursting with rich Venetian and French history and architecture but still manages to feel a cool, modern city. The most popular beach on the island is Agios Spiridon and is perfect for a day of sunbathing and gentle swimming.
As well as the standard Greek stables of feta salad, moussaka and gyros, Corfu's local dishes feature veal heavily so be mindful of that if you are opposed to the eating the controversial meat. Safe bet to stick with the sweet stuff, mandoles are delicious caramelised almonds and pasteli are honey sesame bars. The island even produces its own ginger beer called Tzitzibira, a legacy of its British colonial past.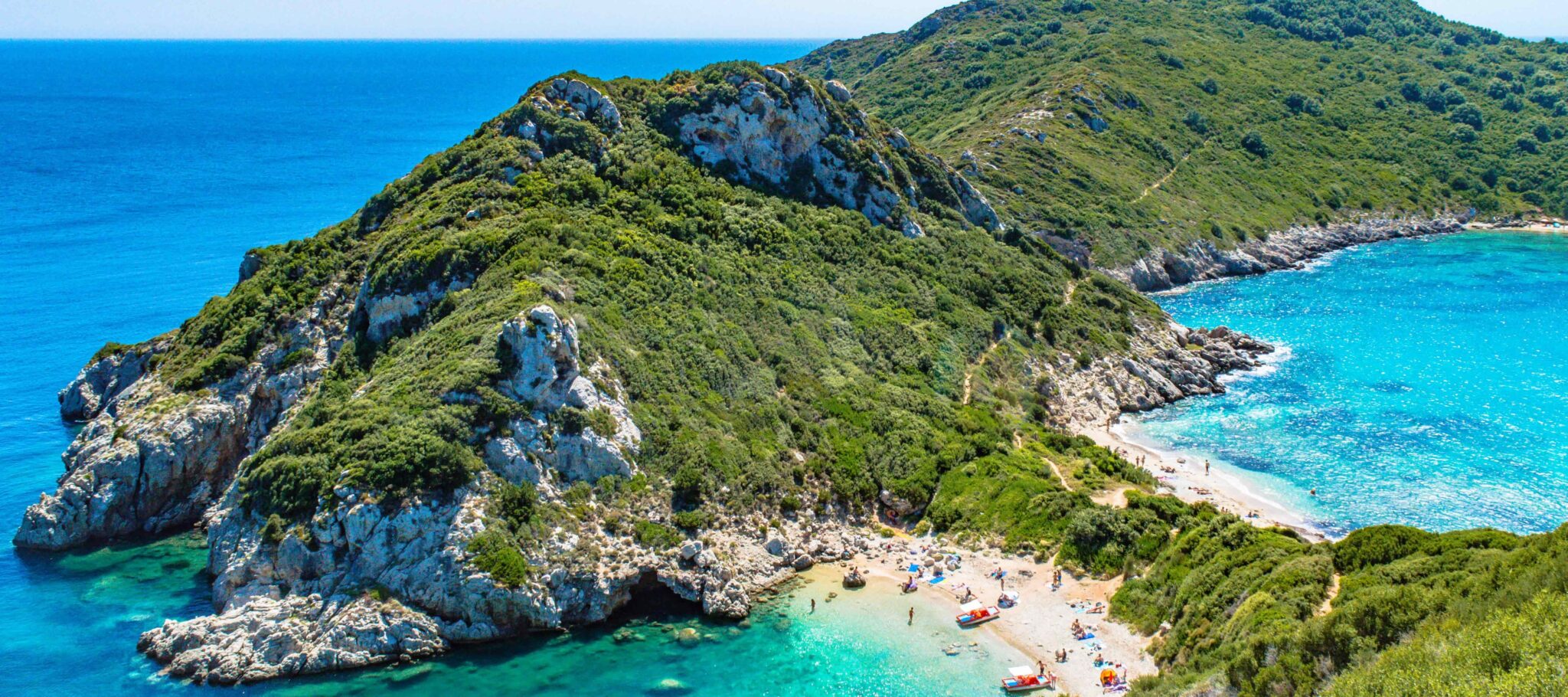 Crete
The largest of the Greek Islands, Crete is home to one of the most significant archaeological sites as well as some of the best beaches in Greece.
The Knossos Ruins are considered to be the oldest city in Europe, first settled in the Neolithic period. It's palace, built by the ancient Minoans and still in surprisingly good condition, is connected to the Greek myths of the Labyrinth and the Minotaur and Icarus who flew too close to the sun.
But getting close to the sun is probably what you'll want to do while in Crete and the island has three stunning beaches to choose from. The popular Elafonisi beach is picture perfect with a pink sand lagoon stretching out into turquoise water. For the more adventurous travellers, opt for Matala Beach that offers lots of rock and cave formations that are believed to once have been habitats. But for something truly unique venture further afield to Balos Beach, which is located in a wild remote area and is only accessible by ferry or a dirt road. One of the world's most photographed beaches, Balos is about an hour west of the city of Chania, famed for its 14th century Venetian harbour, narrow cobbled streets and array of waterfront restaurants. Both here and in the capital Heraklion, you will find lots of local wine on offer from the island's Dafnes wine region, which goes perfectly with some Cretan cheeses, such as Graviera. Their version of the Greek meze salad is Dakos, which is similar to Italian bruschetta but substitutes bread for soaked rusks and mozzarella for local soft cheese Mizithra. If you're feeling brave go for the Chochlioi Boubouristi, snails fried in wine and rosemary.
Halkidiki
Jutting out into the Aegean Sea, the three peninsulas of Halkidiki offer some of the most glorious beaches in Greece. With calm crystal water and secluded bays, each of the many Blue Flag beaches have a different appeal to holidaymaking searching for their own piece of heaven.
For a traditional beach holiday opt for Kassandra Peninsula, the busiest and most developed of the three regions. The Sani Resort has everything from 5 star luxury hotels to water sports and a pristine marina. With an abundance of Blue Flag beaches, its tough to pick the top one on the Kassandra peninsula but considered the prettiest is Kallithea Beach, which translates as 'nice view.'
Sithonia Peninsula is relatively underdeveloped and unspoiled, making it a hidden gem to discover. Here the Gerakini beach is the most popular spot offering all the expected seaside facilities but for something a little more secluded opt for Metamorfosi Beach, backed by pine trees and traditional tavernas for when the sun goes down.
For a more secluded experience, the Aristotelis Peninsula is the perfect place to explore sandy beaches, hidden coves and the holy mountain area of Mount Athos. Home to the oldest surviving monastic region in the world, Halkidki's Holy Mountain is an active retreat and hermitage and as such only be visited by special arrangement. But you can take boat trips to view the UNESCO World Heritage Site from the sea. And for some historic exploration on land, visit the Aristotle Park, dedicated to the great philosopher in his birthplace of Stagira.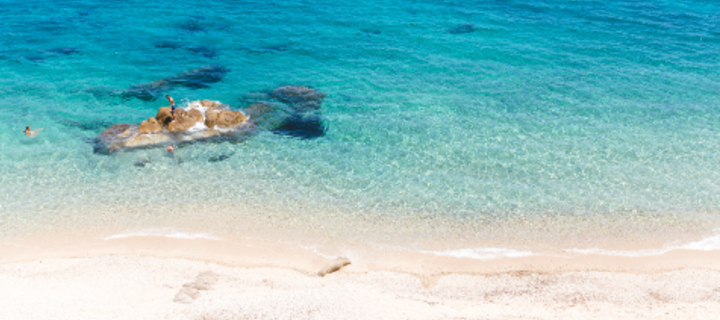 Rhodes
As well as the array of beaches you'd expect from any Greek Island, Rhodes also offers visitors the chance to step back in time into its ancient past. It is impossible to spend time on the island and not stumble across a remnant on its vast history. Explore the ruins at the Ancient Kamiros, the Acropolis of Rhodes and the village of Lindos, that despite being established 3,000 years ago, is still a functioning town famed for its whitewashed building and narrow cobbled streets. To get away from the sun, find shelter at the Valley of the Butterflies, a 600 acre nature park with walking trails through valleys and streams where butterflies spend their summers.
The island is famed in history for being the home of one of the ancient seven wonders, the almost 100 feet bronze statue The Colossus of Rhodes, that stood for only 54 years before an earthquake destroyed it. And if you're looking to make some earth shattering moves of your own, Hippocrates Square in Rhodes town is where you'll find the bars and nightclubs while the resort of Faliraki is the preferred choice for clubbers looking for a party holiday. The island's national dish is Giaprakia, vine or cabbage leaves stuffed with mince and rice while their local honey is regarded as one of the best in Greece.
Santorini
We all have an image of the picture perfect Greek Island scene in our heads and no doubt, they include whitewashed cubed houses with blue windows and dome roofs perched on gently sloping cliff faces, overlooking turquoise waters. Well, welcome to Santorini. The quintessential Greek Island that all books and movies are inspired by. Explore the cherry blossomed lined cobbled streets while enjoying local delicacies such as warm baked feta cheese in filo pastry drizzled with honey called Meliasti and of course, their world-renowned cherry tomatoes. A romantic favourite with honeymooners, Santorini presents Instagramable perfect backdrops around every corner. But as well as being a mecca for honeymooners, the island also has lots to offer for a fun group holiday with its nightclubs in Fira and beach bars in Oia and Perissa. For a history fix, visit the ancient site of Akrotiri, that was destroyed by a volcanic eruption in 1,613 BC and only rediscovered in 1967.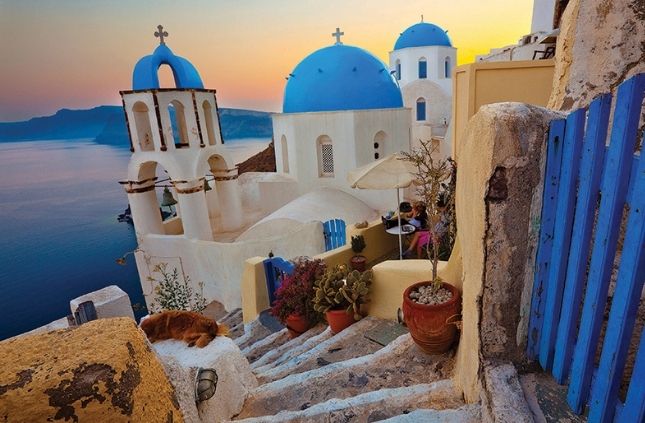 Whichever Greek island you choose, you are guaranteed stunning beaches, historic significance and mouth watering local cuisine. So, if even if it's still all Greek to you, just pick one of our top five and you can't go wrong.