Everything you need to know for an unforgettable trip to Verona!
A note from our guest blogger, Francesco Adriani
"I was born in a small city near Vicenza, so it was always easy to go to a day trip to Verona! I know this beautiful city quite well because many friends of mine studied and lived there, so that was a great excuse for pass one or two days visiting or just enjoying a walk or a concert in the magic atmosphere of the city! My personal advice is not to pass up an opportunity to visit Verona. It might not be as famous as other important cities, but it certainly deserves your attention for a couple of days! You won't regret it!"
About Verona
Verona is a city in the north-east of Italy, located in a strategic position, mid way between Venice and Milan and just 20 minutes by car from Lake Garda. It's easy to reach from Dublin since Aer Lingus has three flights a week into Verona's airport, just 15 minutes by taxi from the city centre.
Not as famous as other Italian cities, Verona is mostly known for Romeo and Juliet and for its stunning Roman amphitheatre, the Arena, but there is much more to see in this beautiful city break destination!
Why go to Verona?
There are a lot of reasons to spend a couple of days in Verona.  You can visit its ancient city centre (where you will find Roman, Medieval, Venetian and Austrian architecture), take a walk through one of the numerous parks (such as the Giardini Pubblici, Giardino Giusti or Giardino Sigurtà ) or just sit for a coffee in Piazza delle Erbe during its famous market (Saturday and Sunday) and watch the world go by.
The interesting thing about Verona is that through the years, it was dominated by many different cultures, so you can find a variety of styles and influences in the city.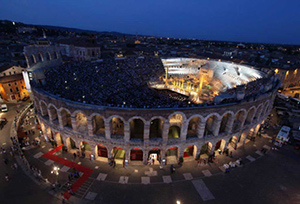 If you like ancient Roman architecture, don't miss the Arena, the biggest attraction in Verona! This amphitheatre is the best preserved in Italy, and is the scene of many operas, concerts and shows. If you take in one of these events it's something that you will never forget! If you just want to visit it, you can do it between 9am and 7pm (Tuesday to Sunday) or from 9am to 3pm if there is a show on. For more information see www.arena.it 

Other legacies of the Roman rulers include the Ponte Pietra, the Roman theatre and the two ancient entrances to the city, Porta Leoni and Porta Borsari.
If you are a Romanesque lover, you can't miss the church of San Zeno Maggiore! This ancient, fourth century church is famous for the Mantegna masterpiece, the Pala di San Zeno.
There aren't so many buildings in Verona from the Middle Ages as most were destroyed by an earthquake in 1117, but from this disaster was born the biggest church in the city, the Duomo (Santa Maria Matricolare). You can visit this amazing cathedral every day for free (the opening hours change between February and March and between October and November).
For more modern architecture, you can find traces of the Venetian influence almost everywhere! The best example is the palazzo Maffei, which you can clearly see resembles the Venetians' palaces.
There are also a lot of Austrian military buildings, since Verona was an important strategic point during the reign of the Hasburgs. The best example is undoubtedly the arsenal of Franz Josef I.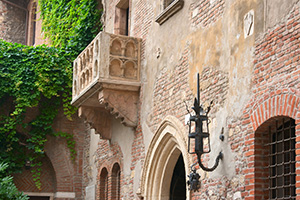 A non-historical attraction is of course the balcony of Juliet! The central place of Shakespeare's masterpiece is located in the city centre, in Via Capello 23 and this is one of the most visited sites in Verona! Lovers write their names on the wall of the arcade and tourists touch the breast of the statue of Juliet … that's for good luck!
Anyway, everywhere you go in Verona you breath art and history, so even a simple walk thought the city centre is something worthwhile!
Getting around in Verona
Verona is quite big, but you can easily get around on foot as the main attractions are all in the city centre. If you don't want to spend too much time walking around, the city has a good public transportation system. A daily ticket (until midnight) is just €4 while a single trip ticket is €1.30. For more information, see www.atv.verona.it
Verona by night
In Verona, it's normal to have a drink (or aperitivo) before dinner.  For eating there are many restaurants – expensive and chic or simple and cheap, but regardless of price you can be sure the food will taste of tradition and passion! For some tips on where to eat, here's a list of the best restaurants in the city: www.verona.com/en/ristoranti-verona
Verona also offers lots of choices for after dinner.  The night life in Verona can be quiet and romantic or you can go crazy in one of the many of local clubs! Thanks to the university, the city is full of young students and has no shortage of venues to spend an unforgettable night in!
Hotels in Verona
Like many other city break destinations, there is a vast choice of hotels in Verona.  The best thing would be to pick a hotel in the city centre, so you can really enjoy your trip and breathe the real Verona!
A good choice would be the 4-star Grand Verona Hotel, which is located half way between the main train station and the Arena, which you can reach by foot in just 5 minutes!
If you want something simpler and maybe cheaper but you still want to be in a central location, you can go for the Best Western Armando, a good 3-star hotel.
Getting to Verona from the airport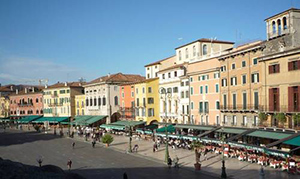 As mentioned, Verona has its own airport so it's really simple to get to! There are Aer Lingus flights to Verona from Dublin on Tuesday, Thursday and Saturday, making it easy to spend 2 or 3 nights in this beautiful city!
The airport is connected to the city centre by a shuttle bus service that arrives into the Porta Nuova railway station every 20 minutes from 5.40am to 11.10pm and costs €6.
If you want to take a taxi, it's just 15 minutes and should cost around €15-20. You will find taxies right outside the airport or you can call the Unione Radio Taxi (+39 045 532 666), the Taxi e Autoblu  (+39 045 858 1403 ) or the Radiotaxi Catullo (+39 045 2223525).
You can also take a local bus to the city centre, but this would be more complicated than the shuttle or the taxi as you would need to change twice.
Not only Verona
Another reason why Verona is a great location is that you can easily take a train to visit two other nearby cities. With the "Freccia Bianca" train you can reach Milan in 1 hour 20 minutes (for €21.50) and Venice in 1 hour 10 minutes (for €23). You can also use the cheaper regional trains to reach Milan in 1 hour 50 minutes (for €11.55) and Venice in 2 hours 15 minutes (for €7.50). You will find all the necessary information on the website of Trenitalia (www.fsitaliane.it).
In addition, Lake Garda is easily accessible as the train from Verona to Milan serves Peschiera del Garda and Desenzano, two resorts on the lake.
What else?
What else can be said about this city? If you want a cultural city break and if you enjoy art, good food and fun, Verona is the city for you! Check out the offers on ClickandGo.com for an unforgettable city break trip to Verona!
---