Wroclaw – Enjoy the Gnomes!
Our lovely Holiday Support Manager, Sharon recently visited Wroclaw in Poland with two friends and gave us the low down on what to see, do and some handy travel advice – let's find out what she thought of this culture-filled city…
Wroclaw is a city on the Oder River in western Poland. It is, they say, a more manageable version of Krakow and I can see why after just 2 days. It's someplace I would love to return! It's a fantastic spot for a weekend break for both couples and families and very affordable for anyone on a small budget.
Wroclaw is known for its Market Square where there are the most beautiful, elegant townhouses in many different colours, yellow, red, green, pink, and orange! One highlight of the square is the Gothic Old Town Hall with its large astronomical clock. The Market Square is vast and is a place where you can sit and watch the world go by as it's filled with restaurants, cafes, bars and street entertainment. It's also home to the Christmas Markets, which are held there each year.
Flights to Wroclaw
It's easy to get to as Ryanair flies direct 5 days a week:
Sunday
Monday
Wednesday
Thursday
Friday
The timing of the Friday evening flight and return on Sunday evening gives you two full days in Wroclaw, which is perfect for a weekend break.
Money
They will accept Euro but will charge you more so where possible pay with Zloty. I would change a small amount of money at Dublin airport on the way out and then you'll have enough for a taxi. Credit cards are taken in restaurants and most larger shops.
There are quite a few exchange places around the main square called Kantor. There isn't a big advantage to changing large sums of money so check out what you think you will spend first.
The easiest rate to work on in Oct 17:
1 Polish Zloty = 0.24cent.
100 Polish Zloty = €24.00
Transport to and around Wroclaw
The taxi from the airport to the centre of Wroclaw is about 15/20 minutes' drive and will cost approximately €11-€17 (depending if you pay in Zloty or Euro). Ask the price when you get into the taxi, they will tell you the meter decides but at least you know it's on the meter. Alternatively, you can get the bus from the airport to the town centre is about 45 minutes and cost about €2/€3.
Trams run across the city and we used these to get to Sky Tower. They're very easy to use and hotel staff will advise on which tram to take. You purchase your ticket on the tram so you will need small change for a ticket. (All machines have English option).
Bikes are also very popular around Wroclaw with bike hires all over the city and most hotels do bike hire too.
Tours
Free Walking Tour
There is a Free Walking Tour which is excellent. It takes maybe 2 hours and there isn't too much walking, but it gives great insight into the town and its history. This tour goes maybe twice a day and meets in the main square, but this location may change if Christmas markets are on. The great advantage of this walking tour is you'll go down streets and alleyways that you wouldn't see during a bus tour and you'll find beautiful little shops and restaurants.
Golf Cart Tours
Golf type cars also do tours around the city and these are more personal as can do a tour for 2 or more people. These can be found around the main square but are quite expensive (compared to everything else in Poland). The advantage here is that you get to spend more time at something you want to see and you have more control over the direction of the tour.
Tourist Office
The Tourist Office is located on the Market Square; it's a small office but provides lots of information. Everywhere people speak English so language is not a problem. I went into the tourist office and asked if there was anything, in particular, we should see on the days we were there and they gave us a good plan of what to see in the time we had. There's any number of different day tours from culture to the Vodka tasting tour!
Restaurants
Italian is everywhere! Lots of sitting outside with heaters and blankets (in winter). Eating on the main square may be a little more expensive, however, it's still very good value compared to Irish prices (Pasta dish Min was approx. €5). There are also a lot of Jewish restaurants around the town, which are good value. Overall, I thought the food wasn't amazing but it was simple and tasty across all the restaurants where we dined.
Bernard's on the Square is highly recommended, however, it can be difficult to get a table as it's very popular with the locals. It's on the main square across from a Kantor (money exchange). The food is average but it's a very hip place to eat (for Wroclaw).
There are lots of bakery places on the streets and although I didn't try it, there was something like a big doughnut that everybody seemed to be eating and these are sold from shop windows along the street.
The beer can be very strong and the wine is very cheap.
Shopping
There are a number of shopping centres all over the city and an outlet shopping mall, Wroclaw Fashion Outlet, on the way in from the airport.
You will come across what we would call Farmer's Markets, which will give you a flavour of the authentic taste of Poland and everywhere you go you will see the elaborate flower displays (and be shocked at how little they cost!).
Off the main Market Square you will find all the European and American shops along a shopping street, unfortunately, I never got a chance to go into any and see if there was a price difference. Also located off the Square, is the flower market, which is small but open 24 hours and well worth a visit.
Inglot make-up is made in Poland and pretty good value. It's about 30-40% cheaper.
Attractions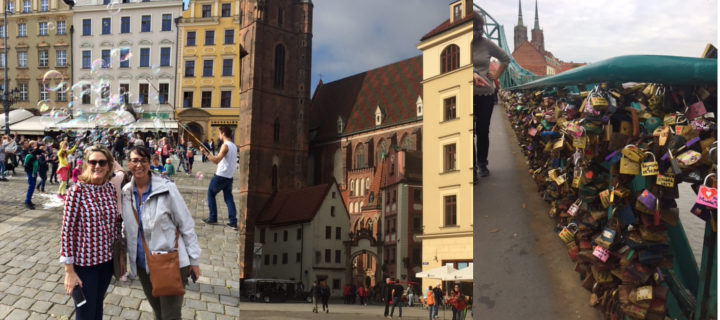 The free walking tour gave us great ideas of things to see and do. You can do general tours of the city or more specific tours on the Islands & Bridges, World War II & Jewish Wroclaw or the famous Gnomes. This company also do paid tours for food and drink adventures and all tours advertised are done in a specific language for that particular tour. Highly recommend this tour!
Sky Tower Observation Deck
Sky Tower Observation Deck which is the tallest building in Poland with an impressive 50 storeys it is the only skyscraper in Wroclaw. It is in a modern building with a new shopping centre at the base (small). Located just a short tram ride or 20/30-minute walk from the Market Square.
Purchase a ticket from the ticket office on the first floor of the shopping centre and they will give you times for visits and availability. The entrance to the lift that takes you to the observation deck is located outside the shopping centre and your visit should last about 30 minutes. Unfortunately, you can't purchase tickets online and the ticket office isn't always open between tours so check it out when you arrive at the shopping centre – if necessary you can go for a coffee or wander around the shops while you wait (there's a small Inglot shop in this shopping centre).
Wroclaw Fountain
It's supposed to be amazing at night but wasn't operating when I was there in October so check if it's operational, either through your hotel reception or the tourist office.
Tumski Bridge
Tumski Bridge is a steel bridge over the Oder river. For lovers or friends, the tradition of placing a padlock on the bridge will ensure your love will last forever! They say that the weight of these locks have damaged the bridge and may need to be removed! Too much love I guess…
Zoo
Although I did not get to go personally, it is very highly ranked on TripAdvisor and with the tourist office. Our tour guide also strongly advised a visit to the zoo. You can get a tram from the city centre to the entrance of the zoo. The cost for a family ticket is approximately €35, but you cannot purchase them online. It has an aquarium, underwater tunnel and even dancing hippos under water!
Night Life
There are many bars and restaurants all over the city. Wroclaw is quite a young vibrant city considering its heritage and you can find bars in small squares around the centre of the city in pockets for 4 or 5 together.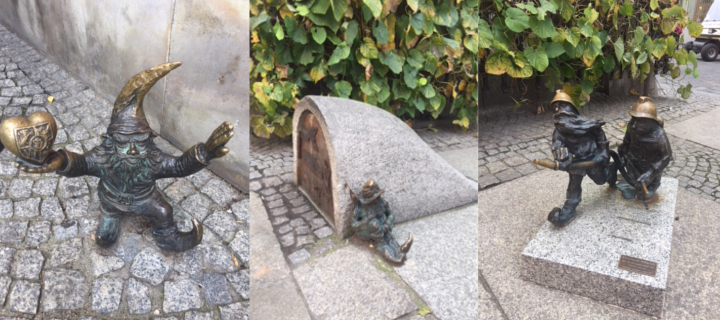 And finally the city is famous for its Gnomes or Dwarfs, they are placed all over and you can even download an App to find them (like finding Pokémon!). At present, there are about 350 of these small figurines (about a foot tall), lurking in the alleyways, peeking out from the doorways and swinging from the lampposts. Although most visitors to the city have no idea what they represent, they are in fact to commemorate the Orange Alternative (Polish anti-communist movement) around the late 1970's.
Fancy seeing Wroclaw for yourself? Find out more about Wroclaw and our city breaks here.
---