Everything you need to know for your next family holiday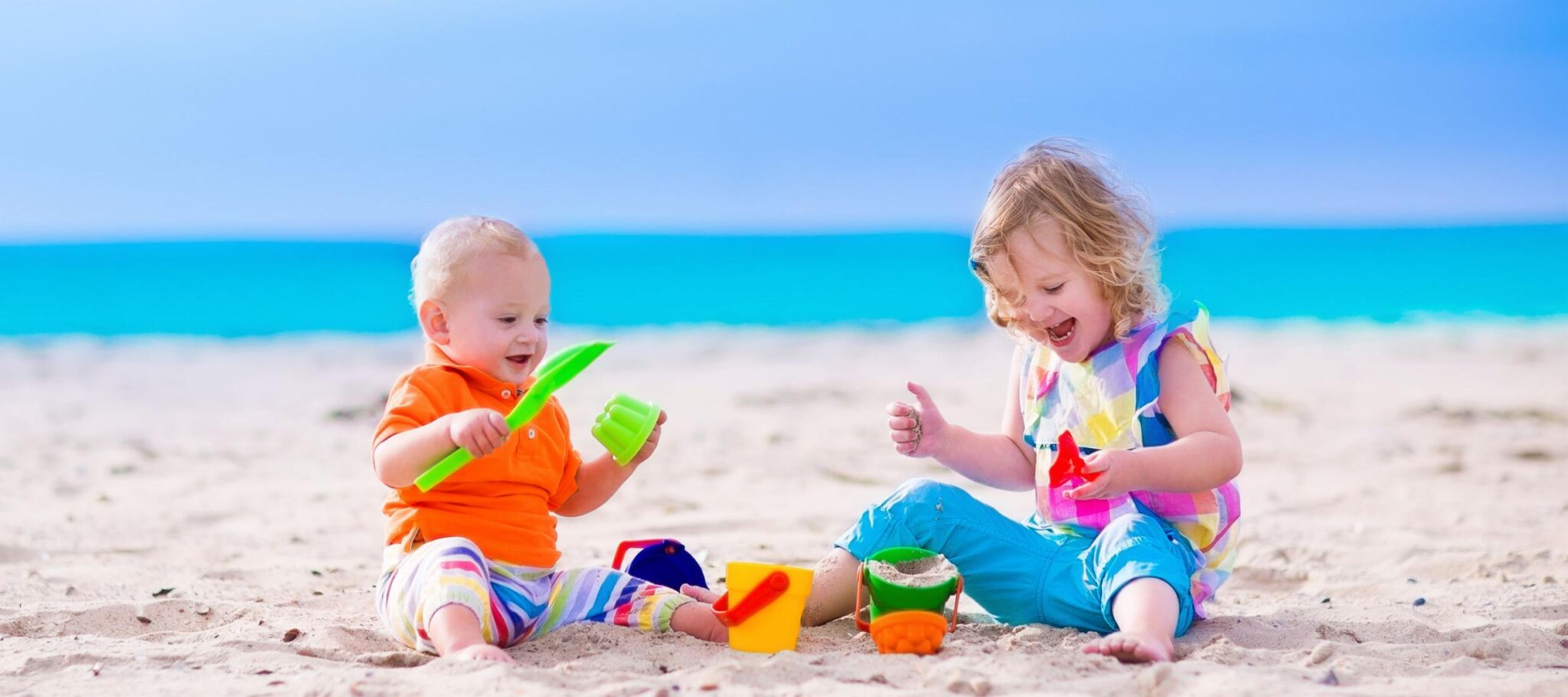 Booking your family holiday, whether it's your first or fifth, can be a minefield of information, options and considerations. From picking the right destination to finding the perfect resort to keeping your kids amused on a flight, there's so much information out there so… We've consulted the parents in our office, picked our travel experts' brains, scoured the internet and compiled everything you need to know when booking your family holiday in one bookmarkable place.
We're going to cover the following topics, but you can use these links to jump directly to that section:
So, let's get started!
Family Friendly Destinations
With small kids, you might prefer a staycation with fewer unknowns, but, once you're prepared, a foreign holiday will be a breeze. The advantage of travelling with kids under 5 is that you're not as tied to a school calendar so you can get sunshine and value by travelling at the start or end of the season when it's not as hot and not as busy.
There are so many destinations to choose from and each sun destination has fantastic family-friendly options, whether you prefer a lively resort or something more laid-back and less of a commercial hub. Our top destinations are scattered around the Algarve, Canary Islands, Costa del Sol, Salou, Majorca and Turkey.
The Algarve for Family Holidays
If you're not already familiar with the Algarve, it's an idyllic stretch of golden beaches along the south of Portugal. It has a fantastic selection of family activities, friendly people, delicious food and is great value.
Albufeira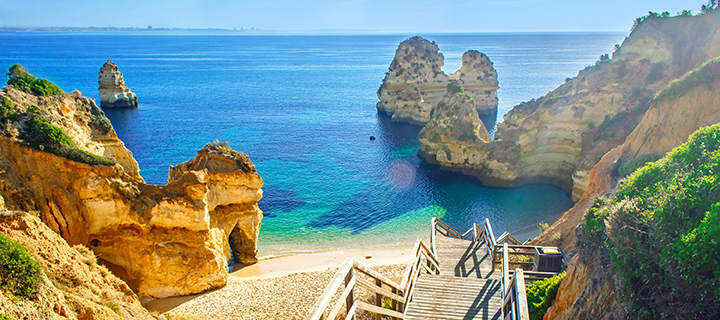 One of the most popular towns for family holidays is Albufeira. It divided into the Old Town and the New Town/The Strip. The Old Town is centred around its iconic Fisherman's Beach framed by cliffs on either side with a bustling promenade filled with restaurants and cafes. The Strip is livelier with a mile long road lined with bars, clubs, restaurants and shops – more geared towards teenagers and young adults.
Carvoeiro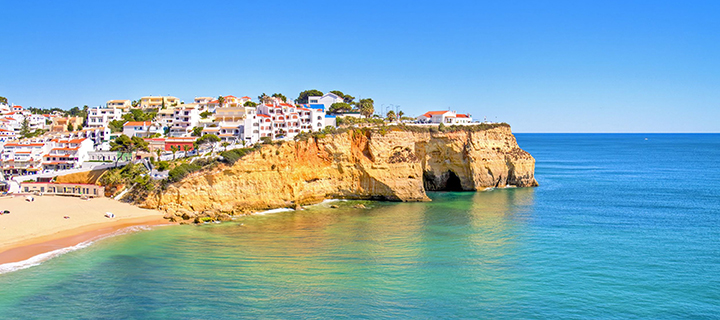 Carvoeiro is smaller than Albufeira and has the feel of a traditional Portuguese town with whitewashed buildings and remnants of it's fishing village history. Carvoeiro is a very child-friendly town with plenty to keep the family amused – from its close proximity to the Algarve's theme parks to its own picturesque (and buggy-friendly!) boardwalk.
Praia do Vau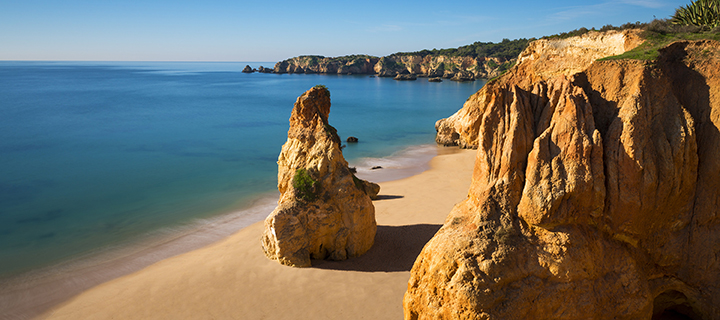 Praia do Vau is located 2kms from the big resort town of Praia Rocha. It has two beaches sheltered by cliffs, which would be less crowded than those in Praia Rocha, especially during high season – it even has a Certificate of Excellence on TripAdvisor!
The Canary Islands for Family Holidays
The Canary Islands are synonymous with guaranteed sun and family holidays. Each island has white sandy beaches, stunning scenery, guaranteed sun and fantastic family-friendly resorts. Our customers gravitate towards Lanzarote, Fuerteventura, Gran Canaria and Tenerife.
Lanzarote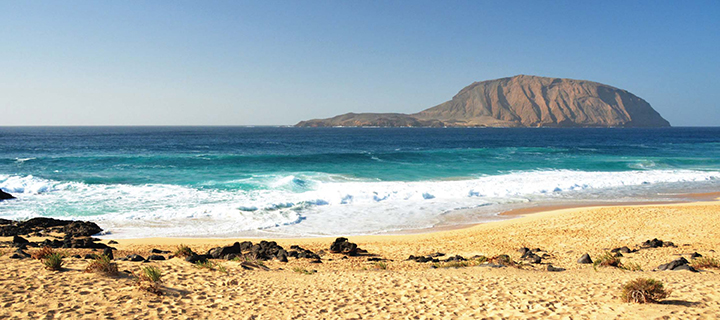 The most popular island for family holidays is without a doubt Lanzarote. Puerto del Carmen is its big resort town with smaller towns of Costa Teguise and Playa Blanca offering a more laid back holiday. With its stunning volcanic landscape, glistening beaches and array of family activities it's no wonder it's so popular!
Fuerteventura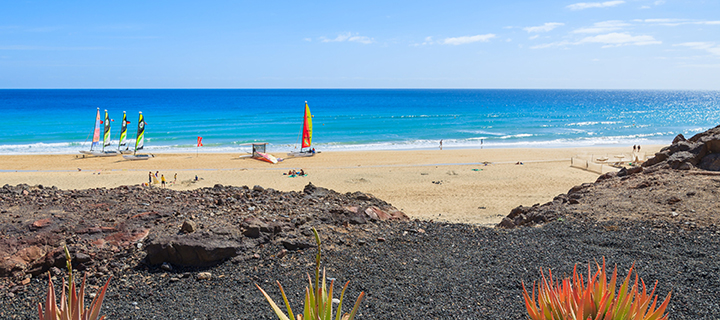 The second largest and least populated island in the Canaries, Fuerteventura is ideal for a relaxing holiday. It has plenty to keep kids amused away from the pool or its 150km of beaches, including Aqua Park, Lobos Island nature reserve or Oasis Park animal sanctuary and theme park.
Gran Canaria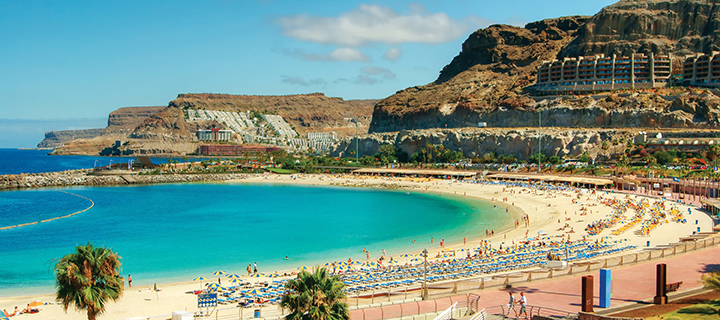 Gran Canaria is a mix of landscapes with white sand and black lava beaches, mountains and desert. Our favourite part of the island is Mogán, also known as 'Little Venice'. Located in the valley of two mountains, it would be hard to find a more picturesque town. It has a flat gradient with pedestrianised streets making it perfect for evening strolls with your family.
Tenerife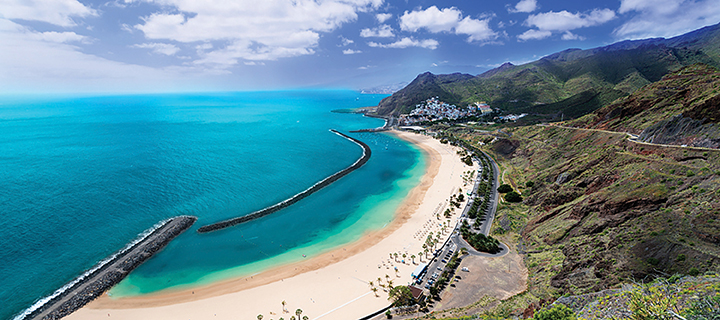 Tenerife is the biggest island with a breath-taking volcanic national park (Teide National Park), water park (Siam Park) and even an impressive zoo (Loro Parque). It has plenty of lively resorts to choose from, but for family holidays, our favourite part of Tenerife is Costa Adeje. It's calmer than its neighbour Playa de las Americas but still has plenty of activities, shops, restaurants and cafes to cover all your holiday needs.
Costa del Sol for Family Holidays
Majorca
Majorca is a top destination for every type of holidaymaker. Its dramatic scenery, family-friendly beaches, Mediterranean climate and relaxing atmosphere keep people returning to it each year.
Santa Ponsa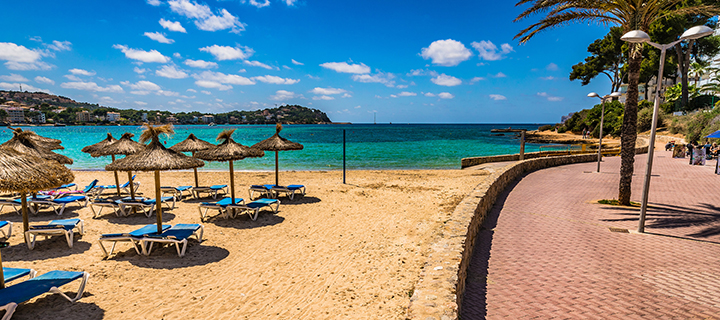 While Santa Ponsa may not be your first choice for a family holiday, it has some fantastic family resorts that are designed specifically for families. The beaches are crystal clear with shallow waters perfect for small kids and plenty of fun to be had nearby in the Western Water Par) and Jungle Parc, the outdoor adventure park.
Alcudia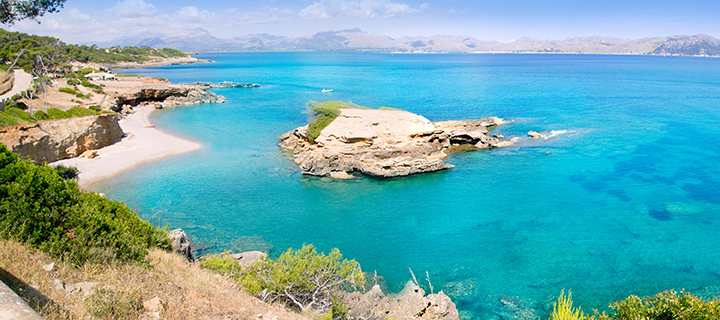 On the opposite side of the island is Alcudia. The beach is Alcudia is a kid's paradise according to Edel from our Holiday Support team who has been here 4 times…
"The beach is amazing – clear blue warm water and white sand it has volleyball etc for the kids to use. There are amusements alongside it as well so after a day on the beach the kids can play there before going home."
Salou for Family Holidays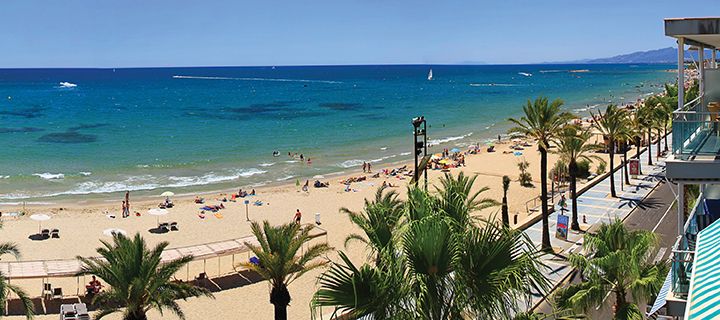 Salou is a classic family holiday destination, especially with PortAventura World, Ferrari Land and Aquopolis nearby for days out away from the pool or beach. Salou is located along Spain's Costa Dorada, or 'Golden Coast'. It has 14km of calm, sandy and spacious beach stretching all the way to its neighbouring coastal town of Cambrils.
Kusadasi for Family Holidays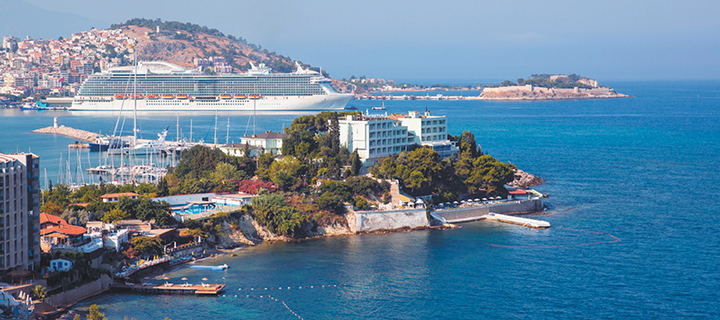 Kusadasi is a bustling beach resort on Turkey's west coast and is well tried and tested by the Irish holidaymakers. It has a picture perfect man-made beach, Ladies Beach, traditional markets, a fantastic selection of dining options and one of the Seven Wonders of the World. Our product expert, Stephen is a big fan of family holidays in Kusadasi as it has such a welcoming feel.
Family Friendly Resorts
In Click&Go, all our accommodation is hand-picked by our product experts. They've visited the resorts, read the reviews on TripAdvisor and listened to our customer's feedback to ensure we're only giving you the best options. For this blog, we double hand-picked accommodation recommendations by talking to our product expert, Stephen on the best family-friendly resorts.
Family Resorts in the Algarve
4* Estrela do Vau Aparthotel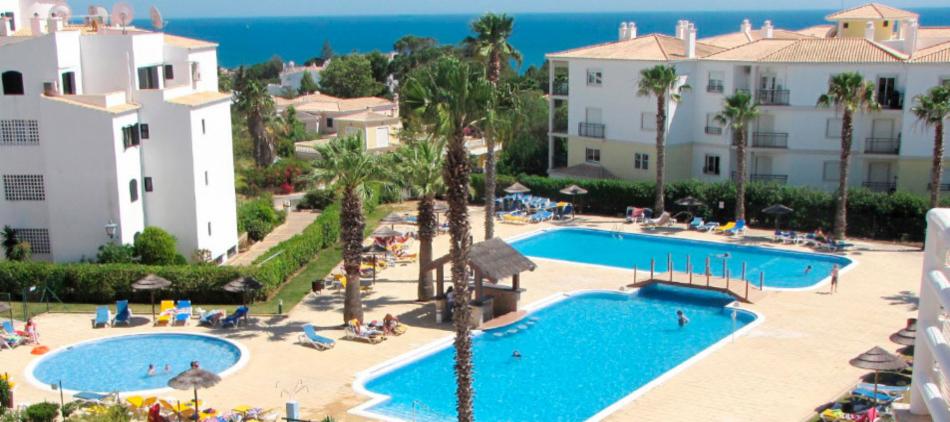 Located in Praia do Vau, this is one of our best-selling resorts and an Irish favourite. It has a kids pool, large outdoor pool, mini golf, evening entertainment, bar, restaurant and every other amenity a family could ask for. Estrela do Vau is a self-catering resort with studios and one/two bedroom apartments. Both with kitchenettes, air conditioning, satellite tv and balcony/terrace. It's a spacious resort with a relaxing atmosphere.
4* Paraiso de Albufeira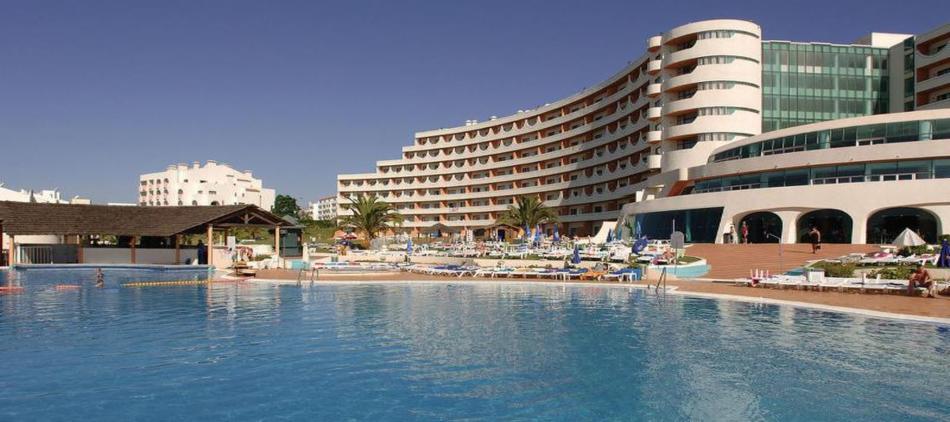 Located halfway between the old and new town, Paraiso de Albufeira is a very family-focused property with a large outdoor pool, expansive green area and well-equipped games rooms. This is a self-catering property, but the Albufeira Shopping Centre is a 2-minute walk away and has everything you could possibly need from food to nappies to toys for the pool.
4* Rocha Brava Village Resort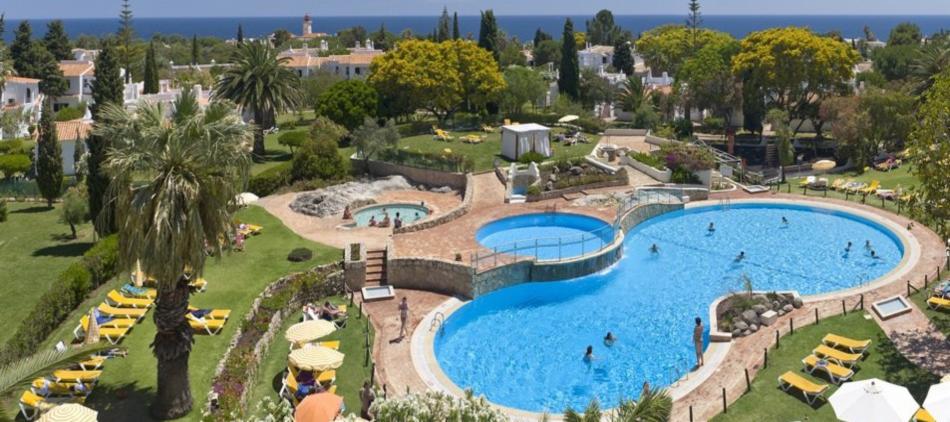 Stephen stayed here with his own family and sung its praises! With its clifftop location, stunning views and lush green landscape, Rocha Brava is a true break away from it all. It has a free kids club (from 4 years old), a playground, games room, restaurant, supermarket, poolside bar and plenty of tall trees to give shade from the sun.
Family Resorts in Costa del Sol
4* Sunset Beach Club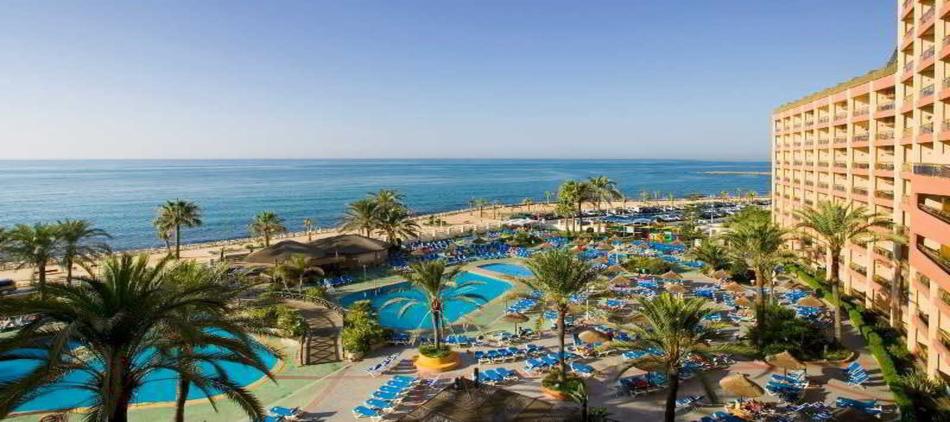 This is an absolute favourite among Irish holidaymakers going to Costa del Sol. It's on the beach, has two outdoor pools, a supermarket on-site, is close to the centre of Benalmadena and only 20mins from the airport!
4* Los Patos Park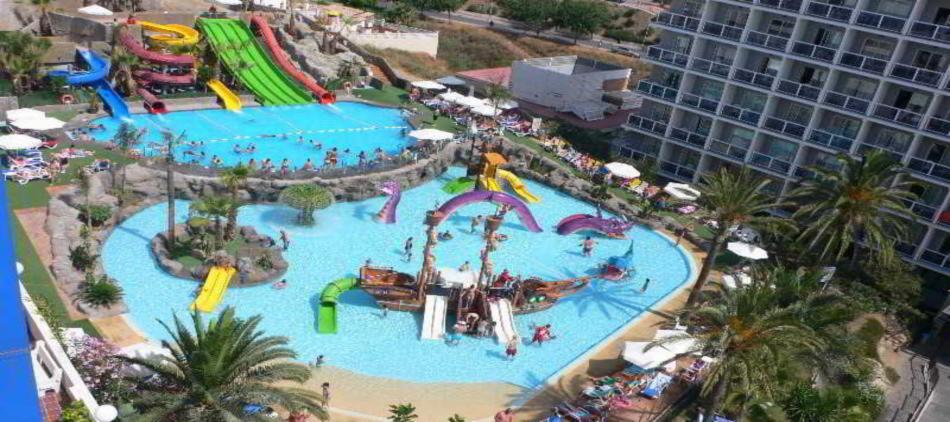 Closer to the centre of Benalmadena, Las Patos Park is a kid's poolside dream with its own waterpark area in addition to its outdoor pool and a kids pool. It's only a few minutes walk from the beach and main road for buses to the marina or centre.
Family Resorts in Majorca
3 Key Pirates Village Apartments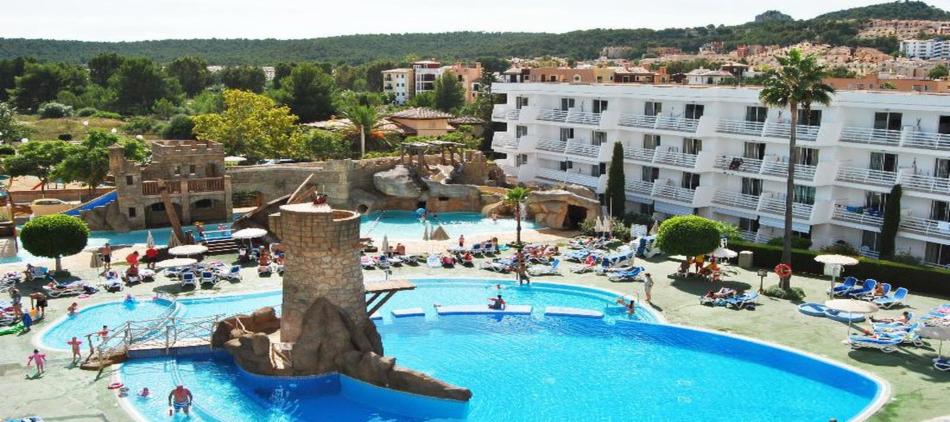 A themed hotel with children at its centre, to quote Stephen it's a "family heaven". With water slides to slide down and pirate ships to explore, kids will be kept busy in the pool. The hotel has a restaurant, bar, games room, laundry service and plenty of evening entertainment for kids and adults.
3 Key Eix Lagotel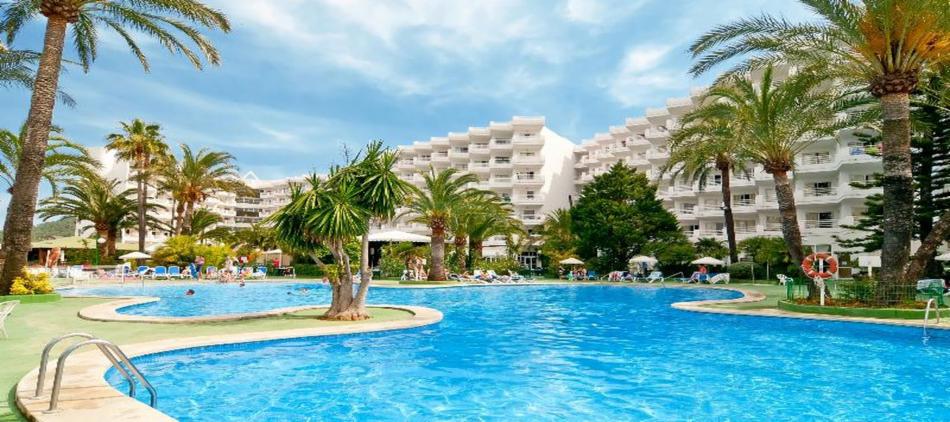 While the Eix Lagotel in Alcudia is a large complex, you won't be in need of anything during your family holiday with 3 swimming pools (one for adults only), supermarket, restaurant, shop, cafe, laundrette, evening entertainment and even a mini-golf course! Eix Lagotel has the beach on one side and the S'Albufera Nature Reserve on the other making it a very relaxing resort.
3 Key Sea Club Resort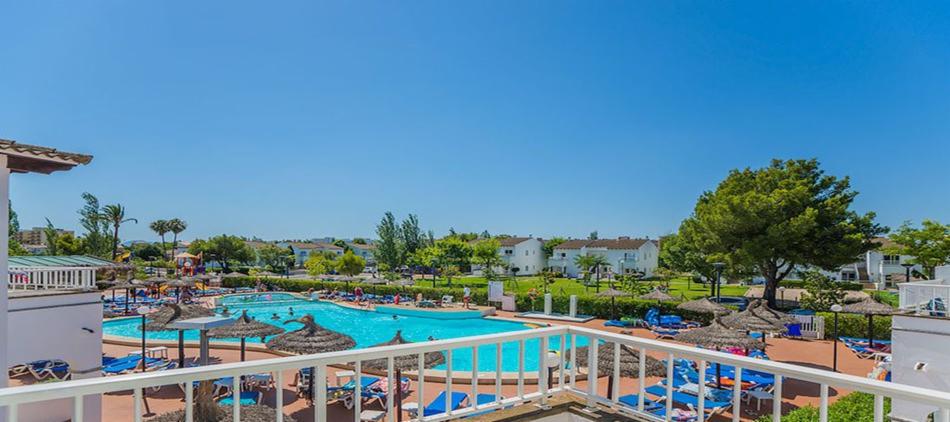 Our Alcudia expert, Edel is a big fan of the Sea Club resort having stayed here 4 times and recommending it to family and friends throughout the years. She said:
"Sea Club was brilliant accommodation! The location is perfect as you're across the road from all the shops, bars & restaurants. There's a kids clubs, activities during the day for kids and adults and entertainment in the evenings. They have play areas, 3- 4 swimming pools all shallow water going into deeper water as you walk further in, games, pool tables, sand pits everything you need and want in a property – even a laundrette which comes in handy when travelling with kids! All the staff were amazing with the kids and are well used to kids running wild through the complex! It's very secure with security constantly walking around at night. I couldn't fault it at all."
Family Resorts in Lanzarote
4* Sands Beach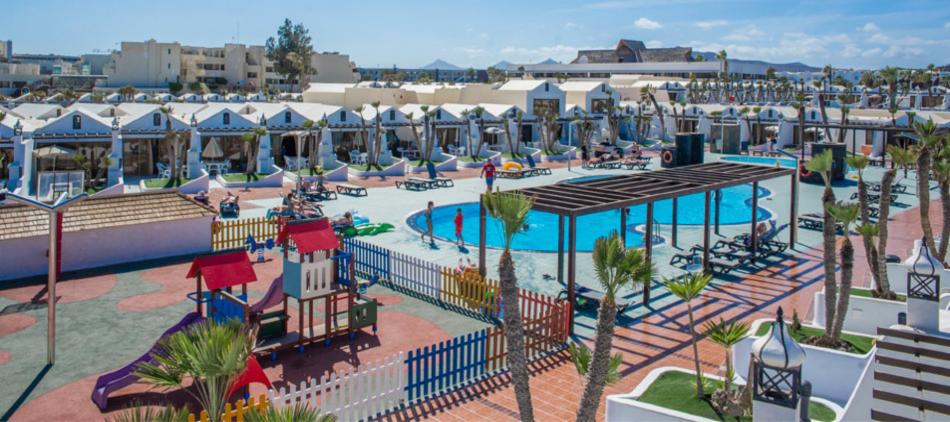 Sands Beach is located in Costa Teguise, a quieter, family-friendly part of Lanzarote. This is our best-selling family property in Lanzarote and there's no question why… Apartments are organised in clusters with a swimming pool at the centre. Sands Beach has 7 separate swimming pools, 4 children's pool, private lagoon, supermarket (each apartment has its own kitchenette), playground and evening entertainment.
4* Costa Sal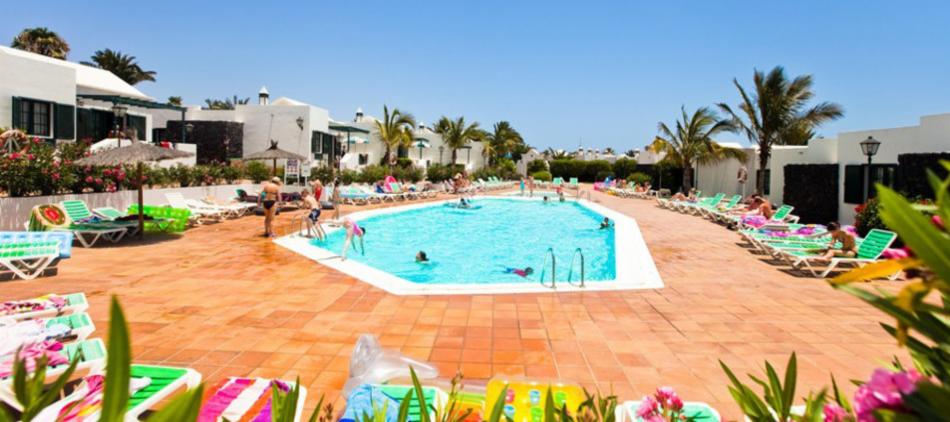 Costa Sal is run by an Irish woman and she has made sure it caters to Irish tastes. Located in Matagorda, it's away from the hustle and bustle of Puerto del Carmen but has all the Old Town charm. It has 2 children's pools, 2 adult swimming pools, playground, laundry room and offers baby cots free of charge. Each apartment has its own kitchenette and with the local shopping centre only 200m away, everything you need is at your doorstep.
4* THB Tropical Island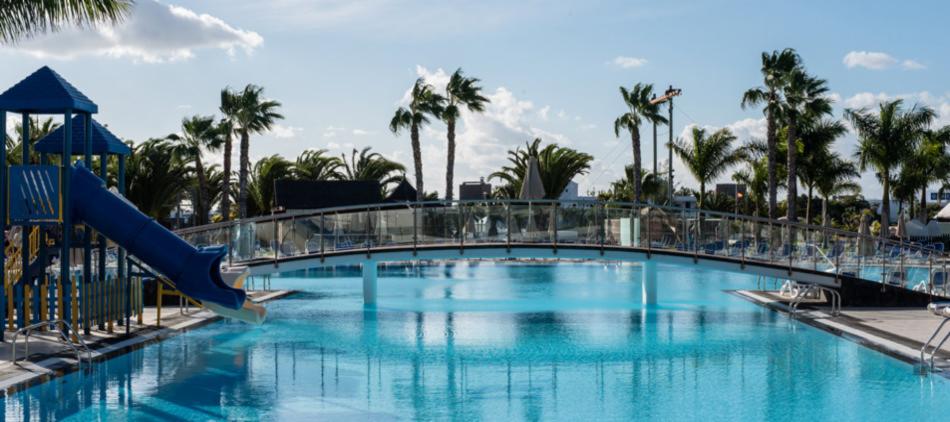 Tropical Island is designed specifically for families with a whopping 14 swimming pools on site and a Splash Park playground. It also has a supermarket on site, kids entertainment, evening entertainment and bright, spacious apartments with their own kitchenette. Tropical Island is located in Playa Blanca, which is known for its stunning white beaches.
Family Resorts in Tenerife
4* Hovima la Pinta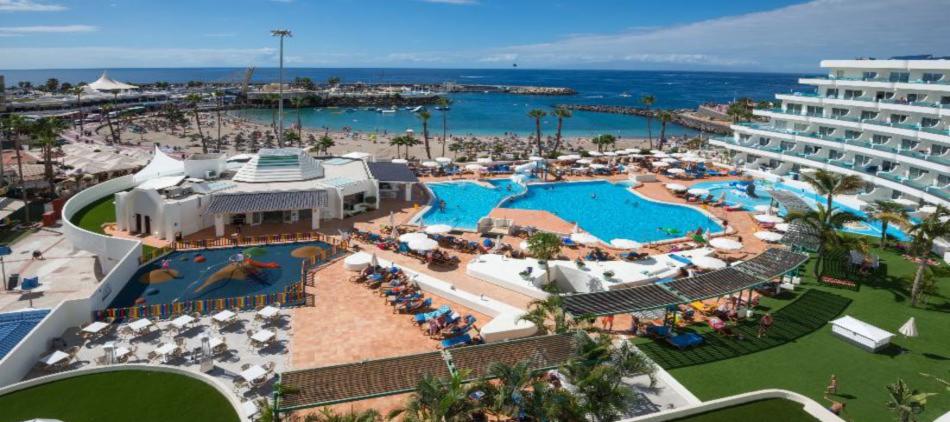 Hovima la Pinta Resort has a premier location by a small cove in Costa Adeje so you're only moments from the beach. The apartments are spacious with a kitchenette and you can request a cot if needed. The resort has a magnificent pool area with an adults pool, kiddies pool and nearby playground. It's completely family focused with evening entertainment and even has a Certificate of Excellence from TripAdvisor!
Family Resorts in Gran Canaria
3 Key Cordial Mogán Valle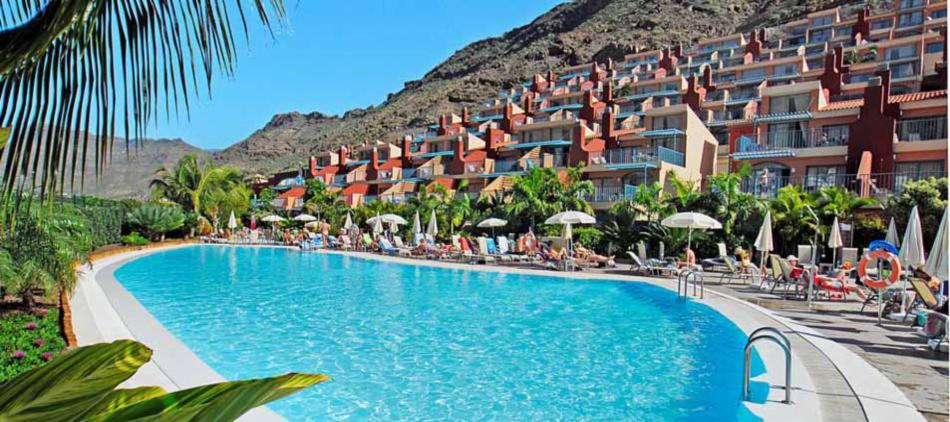 The Cordial Mogán Valle resort is a great pick for a relaxing family holiday as it's in a quiet part of the Mogán Valley but only a short walk 10min walk to shops and restaurants. It has plenty to keep kids amused with a kid's pool, 3 large pools (family, infinity and adult only), kids splash zone play area, a playground and evening entertainment. All apartments are equipped with a kitchenette and a balcony or terrace to take in the valley views.
4* Sol Barbacan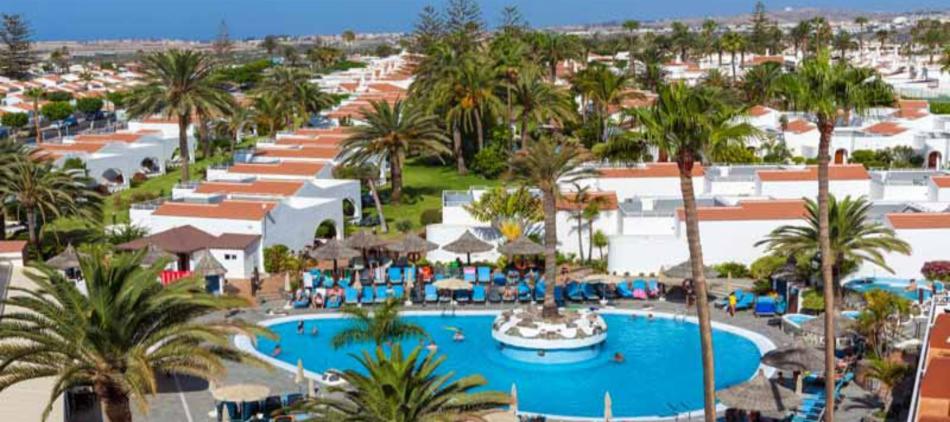 Sol Barbacan is a well-known resort in Playa del Ingles and has recently been refurbished and renovated making it as good as its ever been. It has all the essentials for a fantastic family holiday (and then some!) including 2 adult swimming pools, kid's pool, evening entertainment, bar, restaurant, mini-golf and is only a few minutes from the shopping centre which has all the shops and restaurants you could want.
Family Resorts in Fuerteventura
3 Key Las Marismas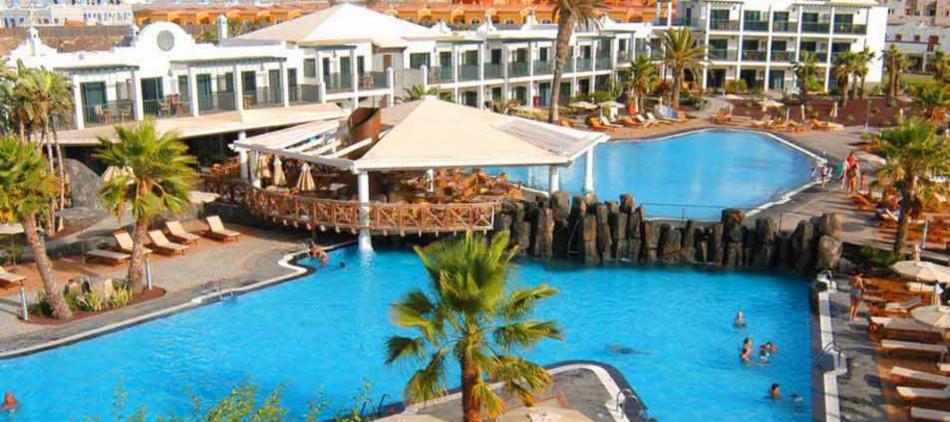 Located in Corralejo, Las Marismas is central to the centre of the town, the natural park and botanical gardens and only a few minutes walk from the serene white sand beaches. It's a resort that has everything a family needs from numerous swimming pools, playground and mini-golf to a laundrette, mini market and restaurant.
3* Broncemar Beach Hotel
The Broncemar Beach Hotel, centrally located in the relaxed Caleta de Fuste, is known for its homely feel and friendly, helpful staff. Rooms are clean, spacious and each equipped with a kitchenette. The Broncemar has 2 swimming pools, a kid's pool, playground, 2 restaurants, a supermarket on site and evening entertainment. It's only a stone's throw from both the centre of Caleta de Fuste and the beach making it an ideal choice for families.
4* Pierre & Vacances Village Origomare
Located on the northern tip of Fuerteventura, Pierre & Vacances Village Origomare is a holiday village like no other in the Canaries! The accommodation (studios and villa suits) are divided into 5 oasis areas each with its own swimming pool and paddling pool. It also has an adults-only pool and a waterpark area called 'Craterpark' with a wave pool, climbing pool, water slides, a water tree and a paddling pool. There are also 2 restaurants, a bar, playground, laundrette, evening entertainment, mini market and organised classes and discovery walks.
Family Resorts in Salou
3 Key Pins Platja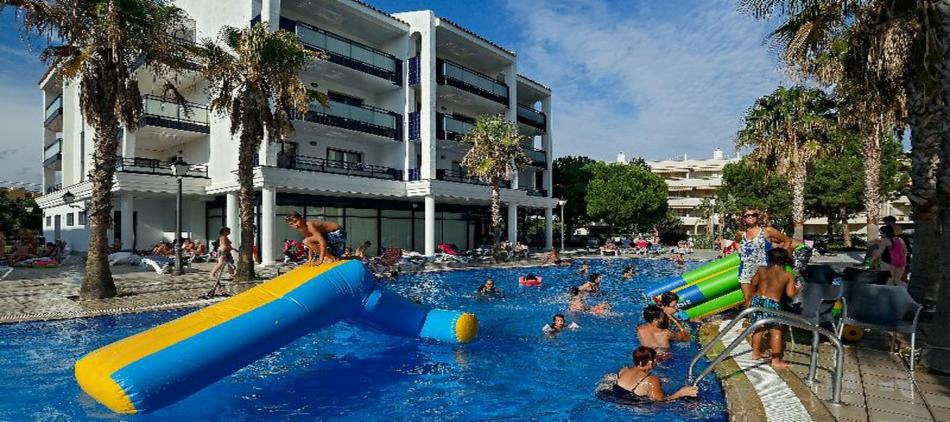 Located in the quieter and quaint town of Cambrils, the Pins Platja is a brilliant family-friendly resort in Costa Dorada. The beach is only a few steps from the Pins Platja and with a supermarket attached to the hotel, it's convenience is unparalleled. There is also a bus stop across the road for easy transport to the centre of Cambrils, Salou and PortAventura World. The swimming pool is large for maximum splash time and there is a smaller kid's pools beside it. The rooms are all spacious and each containing a kitchenette.
3* CYE Holiday Centre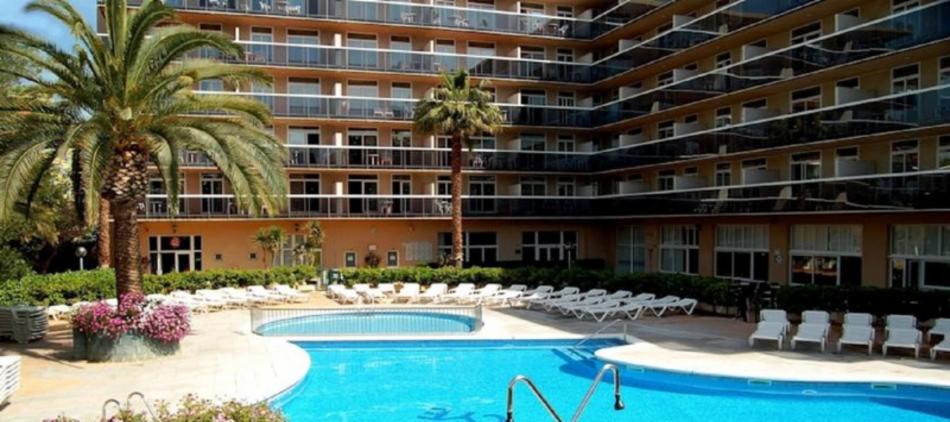 Located in the heart of Salou, the CYE Holiday Centre is our bestselling family resort in the area. It's modern with clean, spacious apartments fully-equipped for the needs of families. It's also an ideal base if you're planning on visiting PortAventura World as it's only a 30minute walk away.
Family Resorts in Kusadasi
4* Palmin Resort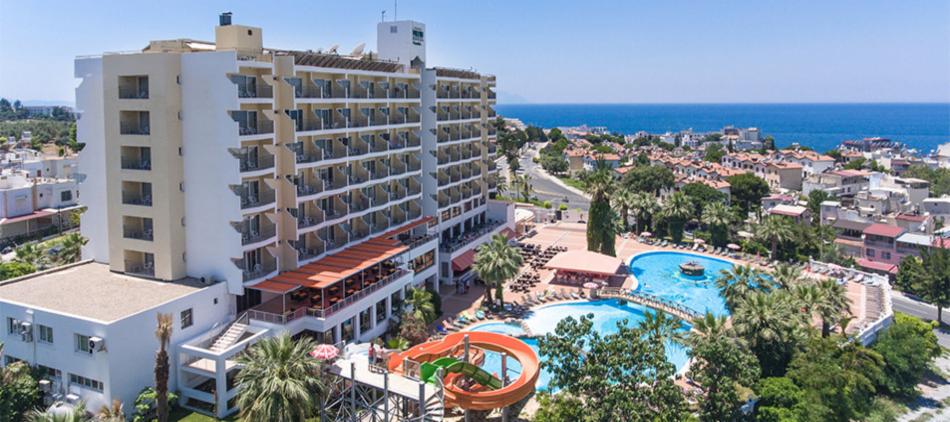 A fantastic family resort in the lovely Ladies Beach area of Kusadasi. Stephen has stayed here numerous times and had nothing but positive things to say about how friendly the hotel staff and hospitality staff in general were. The hotel has multiple pools, water slides, evening entertainment and is only a short walk to Ladies Beach.

Flights & transfers
We find that one of the biggest concerns with our family customers is the length of time their kids have to sit on a plane. Here are the flight times from Dublin for our top sun destinations: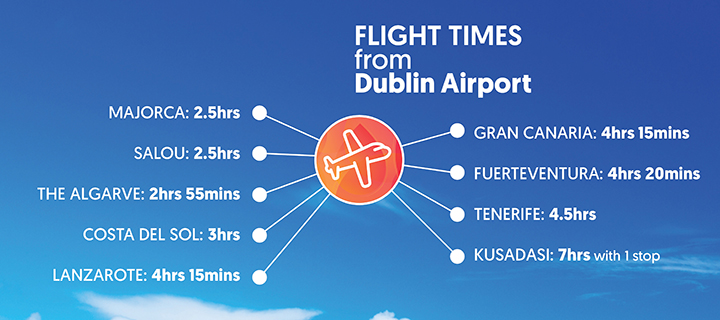 Once you land, transfer times can vary greatly, depending on which resort you're going to and if you've booked a private or shared transfer.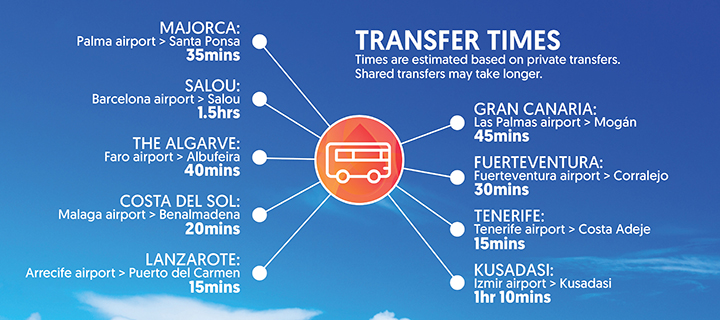 Surviving the airport & flight
In the Airport
The key to a stress-free airport experience is being prepared and having a plan. Here are a few tips to keep in mind for the airport:
Leave plenty of time to get to the airport.
If you're leaving your car, make sure to add in time for parking and getting a transfer to the terminal (and remember to take a photo of where you parked!).
Have all liquids easily accessible in your hand luggage.
If you're bringing baby food, sterilised water, baby milk or formula for the flight, the usual 100ml liquid limit doesn't apply and it doesn't have to be in a plastic bag but still have it ready for security inspection.
If you have a buggy/stroller, keep it until boarding the plane and ask that you have it as soon as you land.
On the Flight
Julie from our Sales Team has 3 kids and shared her top tips for making the time on the airplane as stress-free as possible:
"I always make sure I have my seats pre-booked as this way it's less hassle on the day. I always have some stuff on the tablet that the kids can watch and have them charged. I always have some kids magazines and or colouring books. I then have lots of snacks as the plane food with 3 kids can end up costing a lot."
Some other nuggets you should keep in mind include:
If you're travelling with a baby or young toddler, pick flight times around their nap times, feeding times or when they tend to happiest
Have a change of clothes and bags for dirty clothes in your hand luggage
If they're older than 6months, have their favourite snack on hand to keep them quiet and content
Pack some new toys or books along with some favourites in your hand luggage to keep them entertained
Sun Care for Children
Exposure to sunshine and UV rays is a key source of vitamin D for both adults and children, however, they're also a contributing factor to skin cancer. According to the Irish Cancer Society, most people get their sun exposure before the age of 18 so make sure your kids are well protected.
Shade
While Mammy and Daddy may want to show off their tan upon arrival in Dublin, staying in the shade means your baby or toddler doesn't burn or overheat.
At the pool, make sure your sun lounger is in a shady area or at least has a parasol so you can create shade. At the beach, make sure you have a parasol or baby beach tent. A baby beach tent is great because not only does it deter UV rays, but it also keeps your kids sand free and cool.
Accessorise
A hat and sunglasses are essential sun holiday accessories, especially for babies and small children. A wide-brimmed hat for maximum shade and if your child is averse to headwear, make sure it has a tieable strap so it stays on for longer than 10 seconds. If it's a nice day at home, get them into the habit of wearing the hat outside so it's easier when you're on holidays.
Eyes are very sensitive and the glare of the summer sun can not only cause immediate discomfort but can cause long-term eye damage. Wrap around sunglasses with UV protection are best so no unwanted rays get in. Look out for the EU standard for sunglasses EN ISO 12312 -1 when browsing for a new pair.
Clothes
For splashing about, a UV swimsuit is key. It covers most of their body, protects them from UV rays and you can spend less time worrying about topping up their suncream. If you're away from the water for the day, loose cotton or linen close-woven clothes are perfect to keep the kids from getting too warm and are best for keeping UV rays away.
Sunscreen
Get a sunscreen that's made specifically for babies and children. Between the hat, sunglasses, swimsuit/cotton clothes and shade, the amount of sunscreen you have to apply should be minimal. Do a patch test to make sure they don't have an allergic/bad reaction to it. For older kids (and you!), a suncream like Parasol that only needs to be applied once a day, and although pricey, it is well worth the money for how easy it makes life.
Do you have any tips or advice we've missed? Let us know in the comments! If you're considering booking your family holiday, you can book it with a €1 deposit per person 10 weeks in advance if you're travelling with Aer Lingus.
---