No one does Christmas markets better than Austria. In Vienna, they've been perfecting the art of Christmas markets, or Christkindlmarkts as they're called, since 1298.
Now, in their 720th year, you could say they've basically nailed them down to a perfect science. There are 20 official Advent markets in Vienna and all have their own unique flair, but here is a list of 6 (yes, I somehow whittled it down to only 6) of the very best ones that we advise you get to during this Christmas season.
Vienna Christmas Dream Market on
Rathausplatz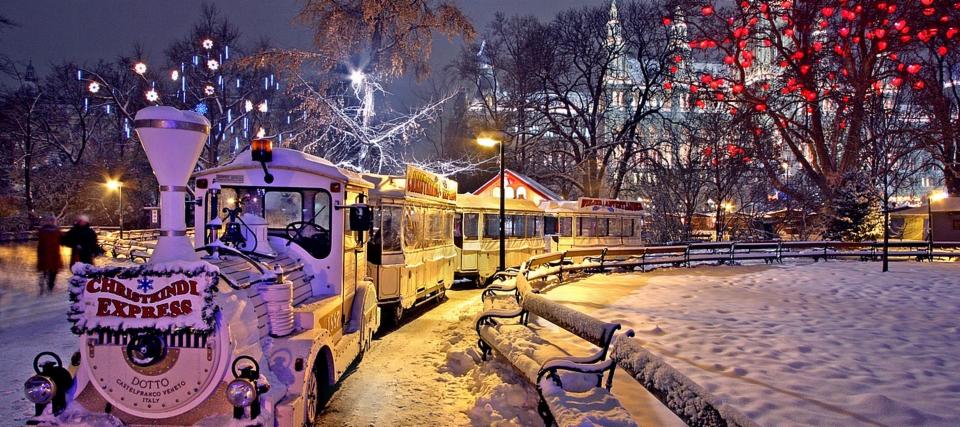 This place is what Christmas market dreams are made of! Each year at Christmas time, Austrian vendors descend on the Rathausplatz to sell their handmade crafts and delicious treats. Partake in the magic and support a local artisan as you traverse the dozens of stalls.
Quick Facts
With over 140 different stalls, there is plenty to ogle at. From toys to clothes, handmade to leather goods, sausage and pastries to mulled wine and cider…take your time and explore it all. Find a full interactive map of everything here.
You're sure to find a stall where snow globes are being sold. Snow globes were first patented in Vienna over 100 years ago. So grab a beautiful handmade creation that is 100% Viennese while supporting a family business.
The 2018 Christmas tree that is to be put in front of City Hall is from Metnitz, Austria – a quaint town located a three-hour drive to the southwest of Vienna.

Enjoy a spin around the 3000 m² skating rink and marvel at the impressive light displays!
Christmas World offers everything kid-related. There is a carousel (€3 per ride) and a reindeer train (€2.50 per ride) to entertain the tiniest tots for a while.
Where?
In front of Vienna City Hall, otherwise known as Wiener Rathaus in the Innere Stadt District.

When?
16th November to 26th December with ice skating from the 16th of November to the 6th January, 2019.

Hours?
Sun-Thu 10am – 9.30pm
Fri and Sat 10am – 10pm
7th December 10am – 10pm
24th December 10am – 6pm
25th and 26th December 11am – 9.30pm
Ice skating: daily 10:00 am – 10:00 pm, Dec 24 10:00 am – 6:00 pm
Old Viennese Christmas Market on Freyung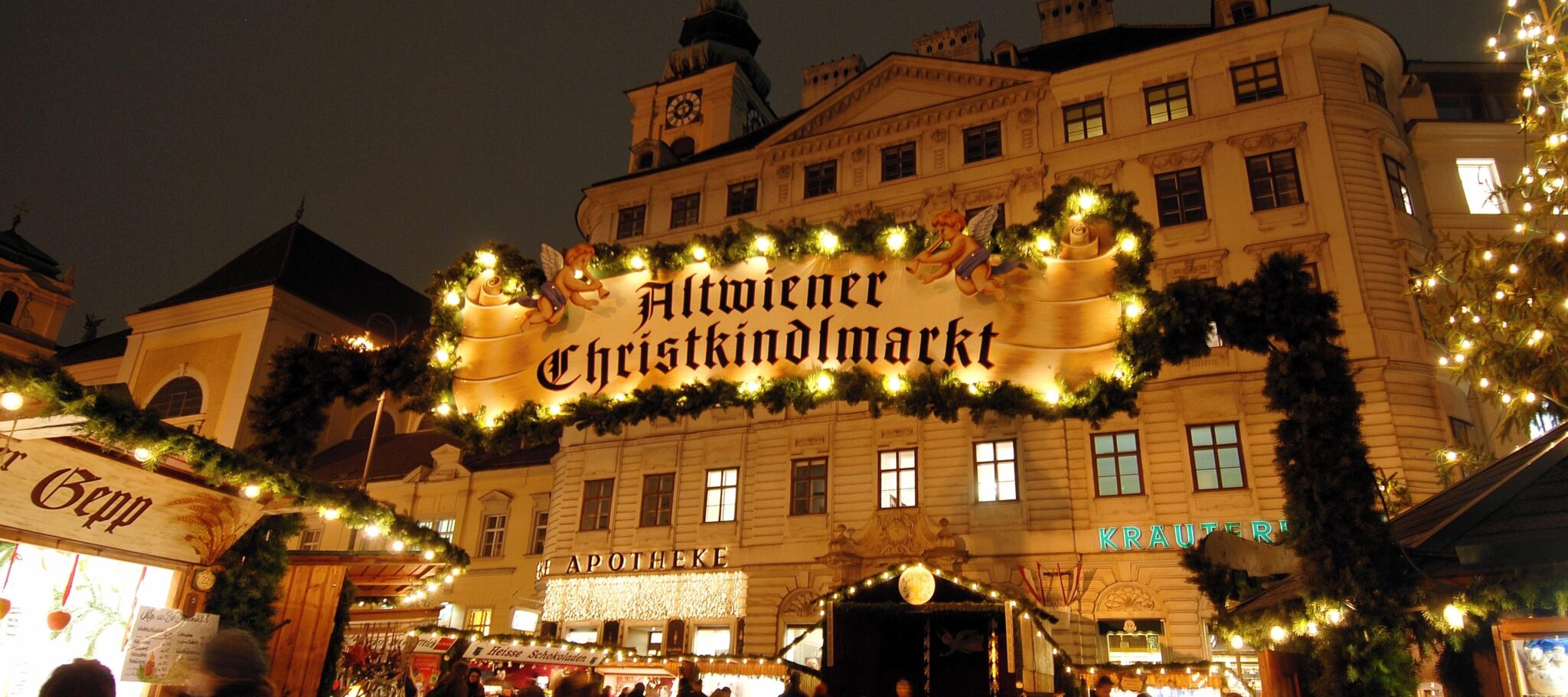 The crowds here are thinner than at Rathausplatz, so it is a nice change of pace but still city centre.
The Altwiener Christkindlmarkt is a very romantic little market where you can buy items of the highest quality and enjoy plenty of musical and other onstage entertainment appropriate for the whole family. With just under 60 stalls of goods, it's a quaint and intimate experience. A complete detailing of the booths for this season can be found here.
Quick Facts
The Freyung is normally home to an open-air organic market but transforms into a Christmas market at this time of year. You will find some of the best traditional food here as well as some great organic produce. Enjoy a Vanillekipferl – a light and tasty biscuit that has the taste of an Austrian Christmas in every bite, a Marroni – a nutty and absolutely delicious chestnut that is a popular Viennese winter snack, or the Glühwein, a spicy wine that will warm you right up!
This market has a huge nativity scene. It is 46m long – the longest in the country! It runs along the back of a row of stalls.

Where?
Freyung, 1010 Vienna

When?
The 17th of November to the 23rd of December
Hours?
Daily from 10:00 am – 9:00 pm
Christmas Market by Schönbrunn Palace
There is an amazing product offering at these 80 different booths and the impressive backdrop makes it that much better. Here at the Schönbrunn Palace Christmas Market, you'll be surrounded by the amazing atmosphere, but fear not…if you can't make it before Christmas, on the 27th December, the Christmas market re-brands itself as a New Year's market!
Quick Facts
The Christmas market features choirs and other music groups providing some holiday cheer in front of the Christmas tree in the middle of the market during the early evenings! When it transforms to the New Year's market, the music vibe switches to jazz and swing.

The Christmas tree in the middle of the market normally comes from a forest in the west of Austria by Salzburg. In front of it sits a hand-carved nativity scene with over 250 figures.
Where?
The Parade Court in front of Schönbrunn Palace, 1130 Vienna. Entrance into the Parade Court through the Main Gate, Hietzing Gate, and Meidling Gate.

When?
Christmas Market is from the 24th of November to the 26th of December and the New Year's Market is from the 27th of December to the 6th of January 2019

Hours?
24th November to 23rd December: 10am to 9pm
24th December: 10am to 4pm
25th December to 6th January: 10am to 6pm
Art Advent on Karlsplatz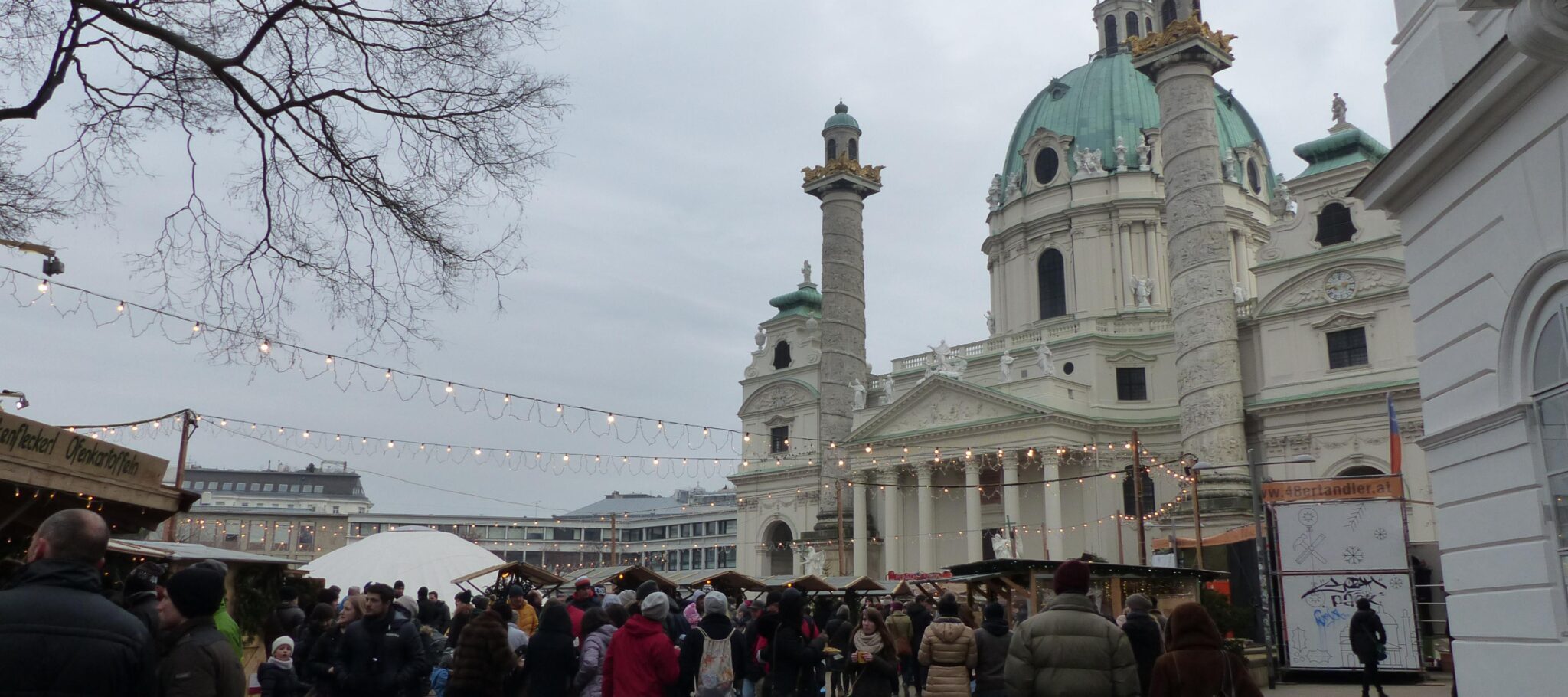 The Art Advent on Karsplatz is entering its 25th year so come and celebrate its quarter-century birthday by shopping the amazing handmade items that made this market famous in the first place. An overview of all of the stalls that will be present at the market this year is available here.
Quick Facts
This market proves a commitment to quality so you won't be bombarded by cheesy gifts and touristy souvenirs.
If you are ecologically cognizant, this would be the market for you. This market is sustainable and certifiably organic.
There are various workshops to partake in and plenty of live music to enjoy.

There are children's programs and petting zoo offered as entertainment for your little ones!
Where?
Karlsplatz, 1040 Vienna in front of St. Charles' Church

When?
23rd of November to the 23rd of December

Hours?
Daily from 12 noon – 8pm
Food until 9pm
Christmas Market on Spittelberg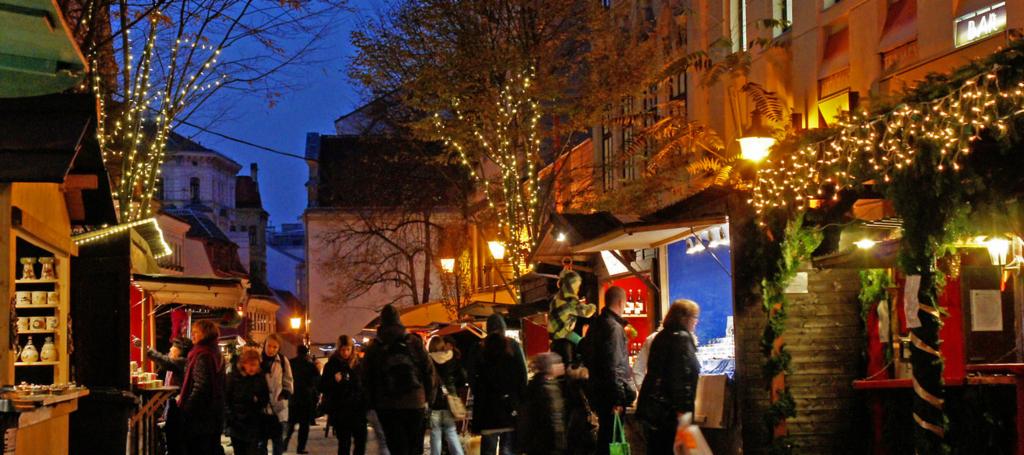 This market takes a more unique approach because instead of being set up in a large open square like many other markets, this one is set up along quaint little streets. The intimate experience invites you to just wander around and enjoy your time reveling in the cosy atmosphere and perusing the eclectic offerings.
Quick Facts
Due to its more intimate and localised nature, we recommend going at off-peak times due to its tendency to feel a little jam-packed at peak times.
The market winds along 3 different alleys, Schrankgasse, Spittelberggasse, and Guttenberggasse, so take your time and see it all.
This might be the least commercialized and most laid-back market, so if you are looking for friendly vendors and a cool vibe while you check everything off your Christmas list, this will be your best bet.
If you want to grab a snack, the booths selling food will do the job, but you can also save up your appetite and head to one of the many great restaurants because Spittelberg is a fantastic neighbourhood for dining.
Where?
Spittelberggasse, 1070 Vienna along the beautifully lit up alleyways in the 7th district of the city.

When?
The 15th of November to the 23rd of December

Hours?
Monday-Thurday: 2pm – 9pm
Friday: 2pm – 9:30pm
Saturday: 10am – 9:30pm
Sunday & hols: 10am – 9pm
Christmas Market on Stephensplatz
This market is situated right out front of an attraction that is 100% already on your list of things to see – St. Stephen's Cathedral. The beautiful gothic cathedral is an amazing backdrop for the Stephansplatz Christmas market. This market is on the smaller side, but it is right in the very middle of Vienna with two of Vienna's most famous streets for shopping situated right off of the square.
Quick Facts
At Stephensplatz, you are right in the center of the city so the Christmas spirit is in overdrive. Walk along any street that stems from Stephensplatz and be amazed at the light displays that hang above you (pictured above)!
This is one of the markets that was added most recently so it is relatively new. Odds are that you were most likely going to stumble across it anyways due to its central location, so it is a perfect place to take a break, enjoy a stroll, and drink something warm.
Where?
Stephansplatz, 1010 Vienna
When?
November 16 – December 26, 2018
Hours?
Daily from 11:00 am – 9:00 pm
Dec 24 11:00 am – 4:00 pm
Dec 25+26 11:00 am – 7:00 pm
Vienna is a magical place and even better at Christmas. Tempted to explore their amazing Christmas markets?
Click&Go Travel Podcast on Christmas Markets