Budapest's Top 4 Christmas Markets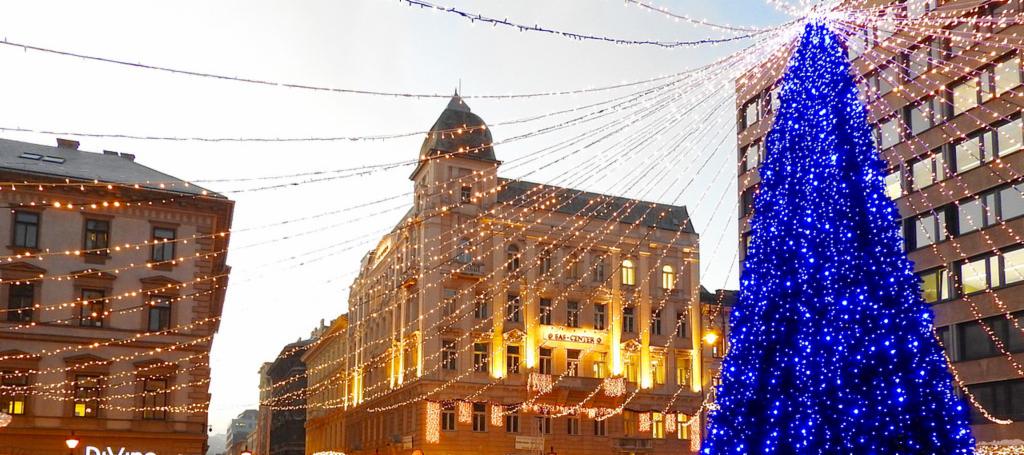 Make sure you come hungry to the Hungarian capital because there are plenty of things to eat and feast your eyes on this Christmas season. Those looking for good food and even better handiwork should head to Budapest's Advent fairs and Christmas markets where you'll spend hours traversing them while mingling, sipping, singing, and eating.
Christmas Fair at Vörösmarty Square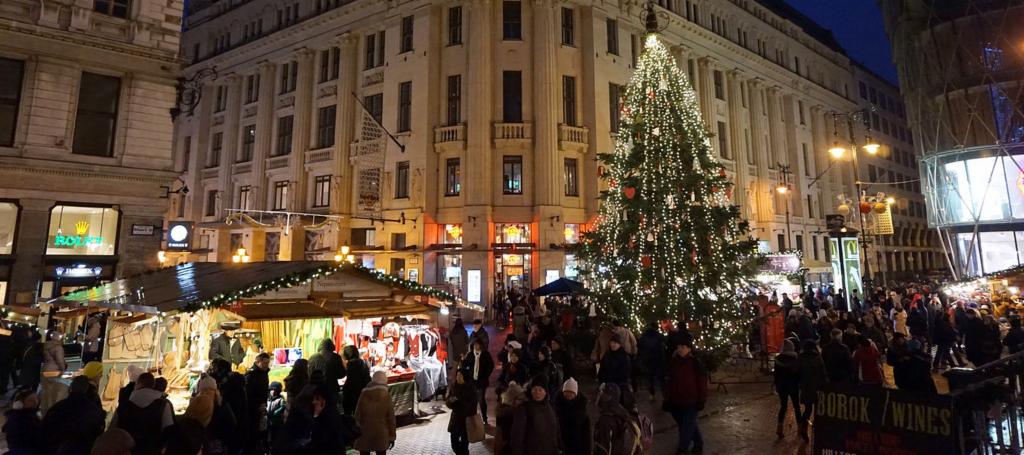 This is the Budapest's biggest and arguably the most famous and popular Christmas market, with the crowds to justify. Peruse the handmade Hungarian crafts and gifts while you sip your mulled wine from a festive Christmas mug. There are dozens of stalls and therefore plenty of things to see and taste.
Quick Facts
Enjoy live music between 5pm and 8pm on weekdays and between 4pm and 8pm on weekends. There are also dance shows and other workshops hosted throughout.
On Sundays at 4pm, a candle is lit on the giant Christmas wreath in celebration of advent followed by choral music.
Along with the wreath, there is another festive Christmas decoration: a central Christmas tree in the middle of the fair decorated with beautiful ornaments.
Ensure that you take the time to enjoy some traditional Hungarian food, like some goulash – a soup made of beef and vegetables that is most likely served in a tasty bread bowl.

Where?
Vörösmarty tér, district V. Central location downtown in front of Gerbeaud Cafe on the square.
When?
The 9th of November, 2018 to the 1st of January, 2019 (Only the food stalls are open after the 29th of December).
Hours?
Sunday to Thursday: 10am – 8pm (handicraft shops), 10am – 9pm (food stalls)
Friday and Saturday: 10am – 9pm (handicraft shops), 10am – 10pm (food stalls)
Dec 24: 10am – 2pm (handicraft shops), 10am – 3pm (food stalls)
Dec 25th, 26th: 12pm – 6pm (handicraft shops), 10am – 6pm (food stalls)
Dec 27th: 10am – 8pm (handicraft shops), 10am – 9pm (food stalls)
Dec 28th – Dec 29th: 10am – 7pm (handicraft shops), 10am – 8pm (food stalls)
Dec 30th: 10am – 10pm (food stalls only)
Dec 31st: 10am – 4pm (food stalls only)
Jan 1st: 2pm – 10pm (food stalls only)
Christmas Market at St. Stephen's Basilica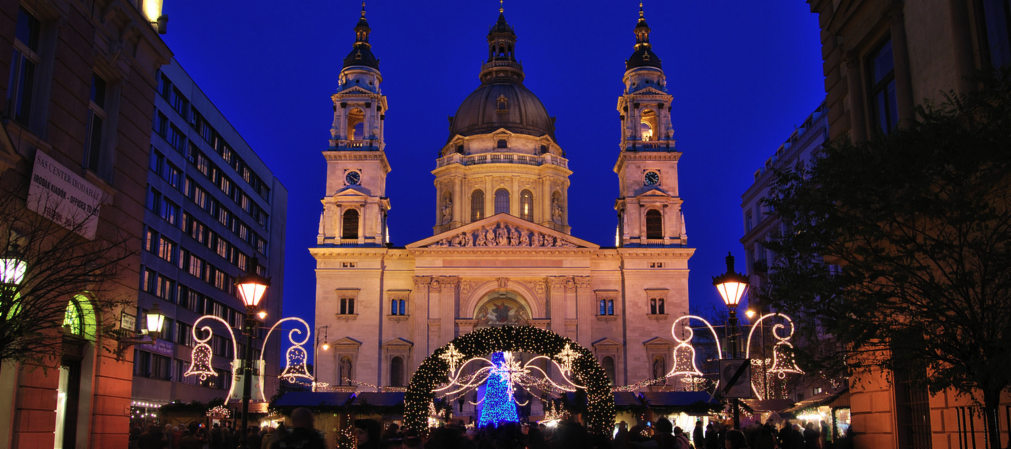 A quick ten-minute walk from Vörösmarty, you will find the Christmas market at St. Stephen's Basilica, one of the largest churches in Hungary. Enter under the beautiful archway into the market and roam around to your heart's content.
Quick Facts:
There are round about 100 different stalls and a small ice skating rink if you're looking to take a quick whirl around. It's free onto the rink for children up to the age of 14 and rentals are also free for children.
This year, there will be a 3D visual light show projected onto the Basilica each night after the sun sets. There are glasses at the market available to view the 3D show, but it will be just as enjoyable without the glasses. Beginning at 4:30pm, the show will replay every half hour until 10pm.

Try the well-known chimney cake here. It's cylindrical in shape and comes in many flavours including salted, vanilla, and cinnamon.

Enjoy and join in on some folk dancing. There is a performance every Friday and Saturday and then you can try it out for yourself.

This is an eco-friendly fair. All cups, cutlery, and plates are biodegradable and recycling will be collected.
Where?
Szt. István Square in front of St. Stephen's Basilica.
When?
The 23rd of November, 2018 to the 1st of January, 2019.
Hours?
Mon-Fri: 11am – 10pm
Sat-Sun: 10am – 10pm
December 24th: 10:00am – 2pm
Dec 25th and 26th: Closed
December 31at: 10am – 10 pm
Advent in Óbuda's Main Square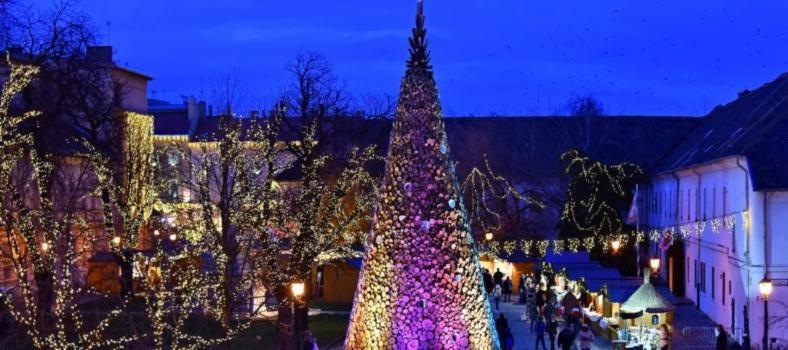 Óbuda is a very important neighbourhood when you consider the history of Budapest. Here, there is a treasure trove of remains from the Roman period. The atmosphere is quaint and plays into the vibe of the cute Christmas market. At Advent in Óbuda, you won't experience as much hustle and bustle as you would downtown, so it's a nice change of pace.
Quick Facts:
Over the course of Advent, Óbuda hosts many programs including concerts and puppet shows.
At Óbuda, there are also two separate ice rinks. They are open from the beginning of December through mid-February from 8am to 8pm. Entry is free.
Enjoy the huge Christmas tree and life-size nativity scene which includes an animal petting area perfect for any little ones – open on Sundays between 3pm and 7pm.

There is an entire promenade dedicated to some great food. Make sure to try some artisan cheese and chocolates, some roasted chestnuts, grilled and roasted trout, and opt to sip on pálinka, which is a potent alcoholic and original Hungarian beverage made by the distillation of fruit like plums and cherries.
Where?
Fő tér – also known as the Main Square – in Budapest's III District
When?
The 30th of November to the 24th of December 2018
Hours?
Mon – Thurs: 2pm – 9pm
Fri – Sun: 10am – 10pm
24th of December: 10am – 1pm
Advent & Winter Festival in Városháza Park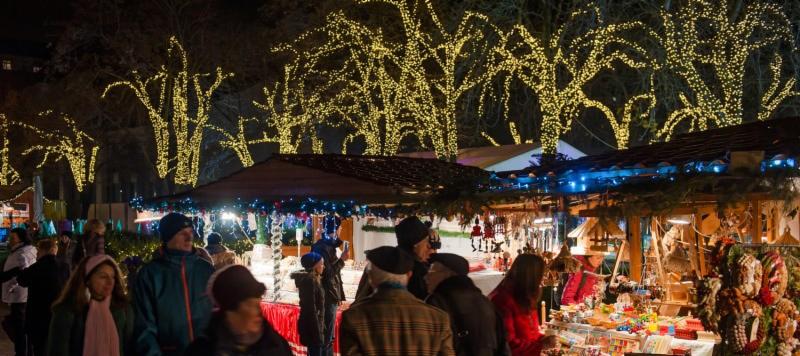 In its sixth year, this Advent festival and Christmas market is upping the Christmas spirit even more. There are plenty of twinkling lights, many different types of food to try, and things to do at this festival.
Quick Facts
There is a glass house in the middle of the market which hosts many events catered to music and Hungarian culture.

There is a flurry of events and programs available at this Christmas market. Most of the children's events – like concerts and workshops – dominate the weekends. A full calendar of programs is available
here and all events are free.
Where?
Városháza Park, city centre. Very close to Deák Square.
When?
The 23rd of November to the 30th of December 2018.
Bonus: Take a ride on Budapest's lit up Christmas trams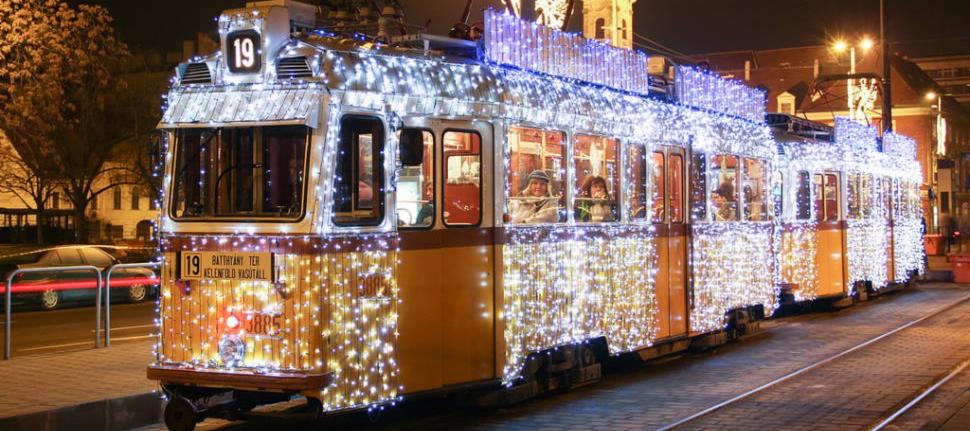 Just like squares around the city get a bit of a festive face lift in the Christmas season, the public transport in Budapest is no different. Some of the trams get covered in 30,000 LED lights. There are a few routes with lit up trams, but Tram #2 is your best bet and goes along the Danube Promenade. A regular ticket is needed to get on board. Catch a ride on them after 4pm from the 1st of December to the 7th January. The last tram runs its route at about 9pm. Sit back and enjoy the do-it-yourself sightseeing aboard the festive tram.
There is no surprise as to why Budapest is such a sought-after Christmas holiday destination. Tempted to visit?
Click&Go Travel Podcast on Christmas Markets
---