Top Walking Tours of Rome
The Eternal City of Rome is essentially one giant museum – chock-full of art, history, culture, phenomenal architecture, and even better food. Due to it being a notoriously bad city for buses and cars, Rome can be hard to get around and figure out. But if you want to see Rome, the best way to do it is with your own two feet. 
Choose from tours in the daytime, at night, around the most popular and must-see attractions, tours where you'll be thankful you're walking because you'll be eating so much, and so many more. There are a plethora of walking tour options to choose from – so many that a quick Google will probably leave you overwhelmed. So, take a gander at our list of the top walking tours in Rome and don't forget to pack your walking shoes.
Through Eternity Tours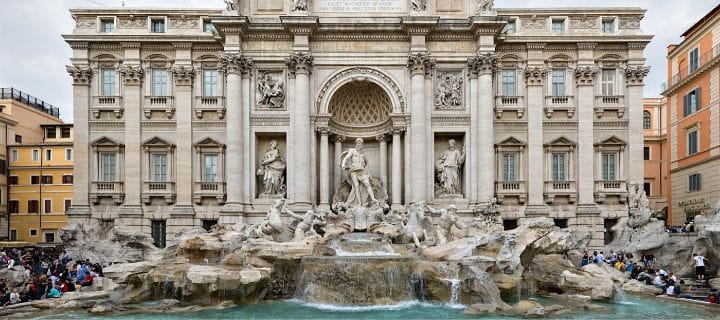 Discover the best parts of the Eternal City with Through Eternity Tours. They also have day trips from Rome and other excursions that you can embark on, as well as a whole host of private tours if you wish to opt for those over a group option. Here are a few of the group walking tour options:
Secret Rome Tour: Ten Unmissable Sights
This 3.5 hour group tours take you through some of the most famous sights as well as some hidden gems including the Via della Pace, the Jewish Ghetto, the Theatre of Marcellus, and Piazza Mattei. €49 per person.
Colosseum Night Tour with Underground and Roman Forum Experience
Be free of crowds as you walk around this iconic sight after the sun has set. Also see the underground of the Colosseum, the arena floor, the Imperial Forum, and Capitoline Hill. It's €75 per person.
Rome at Twilight Tour Among the Piazzas and Fountains
From the Spanish Steps to Piazza Navona, Trevi Fountain to the Pantheon, on this 2.5 hour tour, see all of these amazing sights at dusk. €39 per person.
Rome Food Tour: Sublime Tastings in the Historical Center
At €49 per person, this 4-hour walking tour has you eating your way through the city. From gelato to cappuccinos, and baked bread to tasty cold cuts, appreciate every second!
Context Tours
Context is a global company, but has its genesis in the city of Rome. Consequently, their passion and expertise truly shines when it comes to the Italian capital. Join a true Roman local – whether it be a chef, historian, or some other expert – and learn this city inside-out. They have dozens of tour options to choose from.
Go below the surface, literally, when you trek for 3.5 hours around sewers, crypts, and hidden temples below the bustling city above in their Underground Rome Tour.
They also offer kid-friendly tours and programs including a Colosseum tour where you and your little ones can learn the history and mythology surrounding ancient emperors and gladiators. Eat your way through Rome and learn about its vast culinary culture, marvel at the amazing architecture, all while getting your steps in. Most of the tours also have the option to make it a private excursion.
Underground Rome Tour
Unearth the invisible city and learn all about Roman history. 90 Euro per person for a 3 hour tour.
Roman Forum tour
A 4-hour tour that takes you through the Colosseum, Palatine Hill, and the Roman Forum. €110 Euro per person.
Kid-Friendly Ancient Rome Discovery Tour
This private 2.5 hour long family tour is centered around the Colosseum for €375.
Vatican Art Tour
Including skip-the-line tickets, you will wander about the vast Vatican art collection and St. Peter's Basilica with an expert art historian. €110 per person for this 4-hour tour.
Savoring Rome Food Tour
Rome is known for the incredible gastronomic culture and culinary tradition. Experience the amazing street food and indulge in pizza, coffee, pasta, and gelato on this 3-hour tour. €90 per person with €15 tasting fee per person.
Coffee and Stroll with a Local Expert
Pick the brain of a Context tours operator and gain a more intimate knowledge of the city at your own pace. Private tour where the operator meets you at your hotel for €299.
Eating Europe Tours
The Eating Europe Tours are very highly rated and for a good reason. Each tour option has a different vibe but all share a common thread – amazing Italian food. What's not to love?
Vatican Area Food Tour
If your trip to Rome includes a stint in Vatican City, improve your experience with this food tour that weaves you through the Prati neighbourhood next to the Vatican. €59 for adults, €49 for teenagers 13-17, and €35 for children 4-12 for this 2-hour tour that departs at 10am on Mondays, Fridays, and Saturdays.
Trastevere Street Eats for Foodies
Eat your way through one of Rome's most beloved neighbourhoods that also happens to be famous for its food. This 3-hour tour takes you through the intimate back streets of the Trastevere neighbourhood where you can taste some of the very best Roman street food – from mouthwatering risotto balls, roast pork, amazing cheese, and pastries galore. €69 for adults, €57 for teenagers 13-17, and €42 for children 4-12 for a 3-hour tour.
Rome Evening Wine and Food Stroll
Learn about Italian viticulture from a highly trained Sommelier as you meander along charming cobblestone streets. Wine is a major part of the Italian lifestyle, so you can indulge and write it off as a learning experience. Taste some of the greatest wines from the North and South of the country coupled with some amazing bites. €98 for adults 18 and older for this 3-hour long tour.
Walks Of Italy Tours
Walks of Italy Tours caters to small group tours and their site allows you to filter your experience to exactly what you are interested in doing. They also offer tours in other amazing cities around Italy as well. They have plenty of day trip options, walking tours, museum tours, and even cooking classes!
Welcome to Rome: Twilight City Stroll and Gelato Tasting
Enjoy this intimate walking tour and see some of the most famous sights like the Trevi Fountain and Piazza Navona. Plus, there is a pit-stop for some homemade Italian gelato! €34 for adults, €29 for children aged 4-12, and €31 for students aged 13-22.
Walk on Walk Off: Flexible Tour Pass of Rome
This tour pass offered by Walks of Italy allows for lots of flexibility. For €59, you can choose any 10 tours from their curated list of hour-long walking tours over the course of your trip (pass is valid for 7 days), but there is no commitment or reservation needed – you just show up at least 10 minutes before each tour starts if you wish to go on it! You can also purchase this pass to include skip-the-line Vatican tickets for €89 or Colosseum tickets for €95.
New Rome Free Walking Tour
Did I say free? Yes. Yes, I did. The New Rome Free Tour company does a whole host of tours, but their most famous is the Free Walking Tour. The guides for this tour are only funded by tips so you are setting the price. They do have other tours as well, but those do come at a price.
The New Rome Free Walking Tour is a 2-hour free walking tour run by a guide. The itinerary covers the Spanish Square and Spanish Steps, Immaculate Conception Column, The house of Gian Lorenzo Bernini, Saint Andrew Church, Bernini's Angels, The famous "Galleria", Column of Marcus Aurelius, Prime Minister House, Temple of Hadrian, Pantheon, The Tomb of the Kings, Tomb of Raphael, Saint Ignatius Church, Andrea Pozzo's Tromp l'oeil, Trevi Fountain.
The other walking tours include excursions to the Colosseum and Rome Underground and they offer food tours beginning at €28 per person.
Any of these got you interested in tying up your trainers and talking a walk around the magnificent and historical city of Rome?
---