Top 10 hotels in Spain with waterparks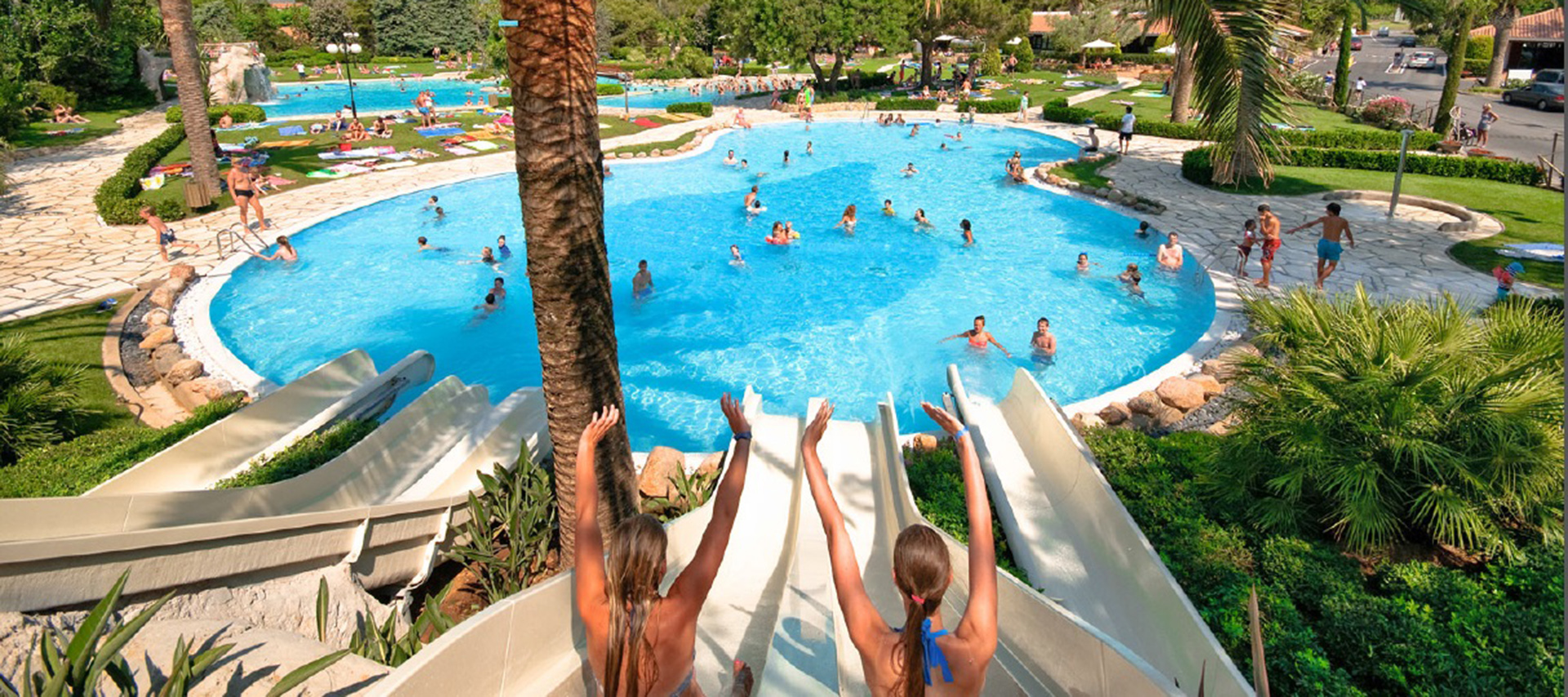 Spain has perfected the summer holiday. The glorious sunshine, the fantastic resorts, the tapas and sangria, the endless opportunities for fun and making memories. Keeping the kids entertained is the number one goal for parents, so why not choose a hotel that is guaranteed to keep the kids all day long?
Globales Los Patos Park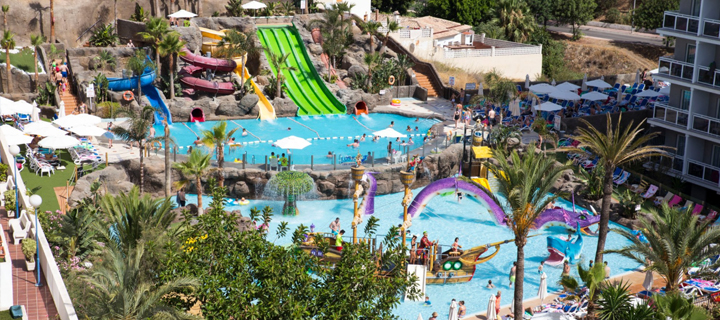 The waterpark in Benalmadena's Globales Los Patos Park is one that will keep kids, teenagers and adults entertained all day long.
It has two dedicated pools for all your waterslide and splashing fun. There's the lagoon-shaped children's pool that boasts its own slide and canon-filled pirate ship, a shark and snake slide as well as two towers with slides and a bucket splash. Beside it, the adult pool has a 4 stripe slide, a tube slide and 3 twisty turny slides to get your adrenaline pumping!
If you need a break from the slides, fear not as there's a normal adult pool and children's pool beside the pool bar.
Playa Montroig Campsite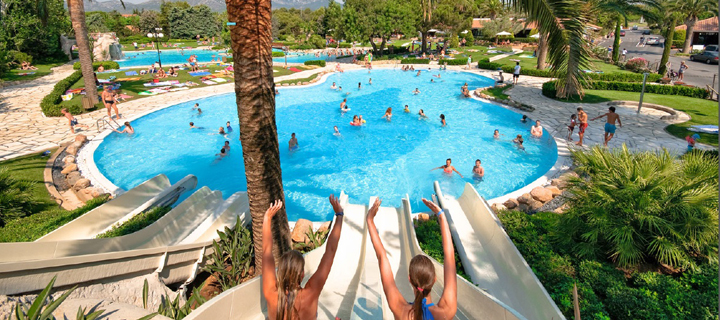 The 4* Playa Montroig campsite outside Cambrils along the Costa Dorada, although its waterpark offering is smaller, is a fantastic choice for families.
Playa Montroig has 4 swimming pools with 6 slides and waterfalls. The pool area is spread out with lush green spaces and plenty of space so it never feels too crowded.
If kids need more entertainment, the campsite has 4 playgrounds, mini golf, football pitches and games rooms.
Playasol Spa Hotel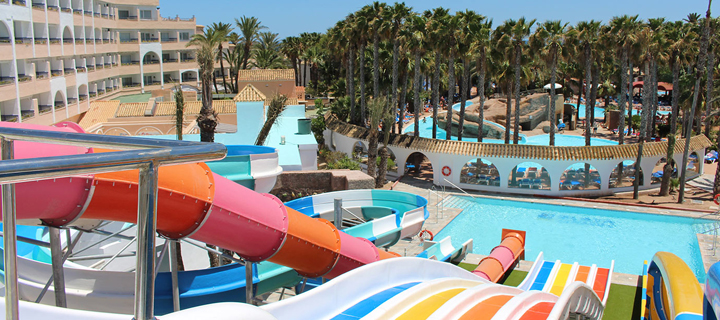 The 4* Playasol Spa Hotel is a top-rated family resort in
Roquetas de Mar thanks to its spectacular pool, proximity to the promenade and beach and the umpteen bars and restaurants nearby.
The sprawling main pool has two jacuzzis – one for adults and one for children. Its water park boasts a 4 stripe slide, one tube slide, one slide filled with twists and turns, one straight slide and one twister slide.
Magic Aqua Rock Gardens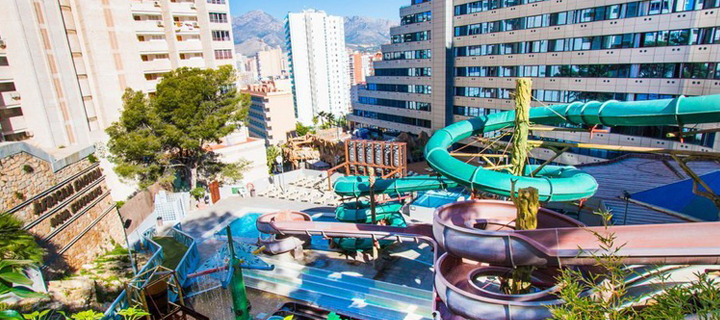 Benidorm's Magic Aqua Rock Gardens is another brilliant choice for families as it has plenty to offer both children and adults.
Its waterpark features a 4 stripe slide, two tube slides and two flume slides. Next to the main slides is the children's waterpark with a splash playground and its own series of smaller slides.
For the adults, the main pool has a swim up pool bar, a large screen for sporting events and oxygenating beds.
Sol Katmandu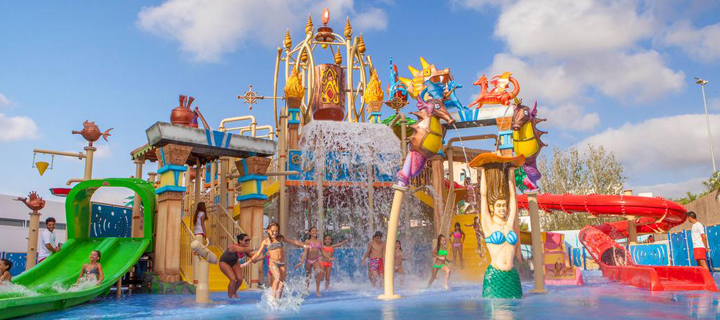 Sol Katmandu is a themed 4* resort in the heart of Magaluf.
The hotel boasts 3 different pools and guests get free access to the Katmundu Park for their duration of their stay. In the Park, kids can splash and soak in the undersea Katlantis kingdom.
It features a water fortress, twisting slides, 150 interactive water features, splash buckets and oodles of fascinating Steampunk sea creatures. It's a place for plenty of water fun and that's without mentioning all the other attractions in the theme park!
Pirates Village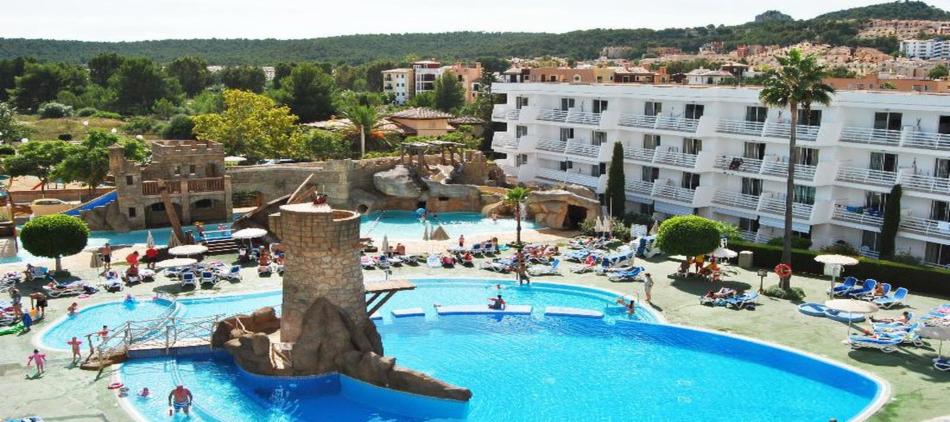 Described in the office as a "family heaven", Pirates Village in Santa Ponsa has a fantastic pool filled with pirate ships, slides, towers, bucket splash and caverns to explore.
The Tower Pool features a relaxation area for adults and worn out children alike to unwind and restore their energy stockpiles.
Globales Bouganvilla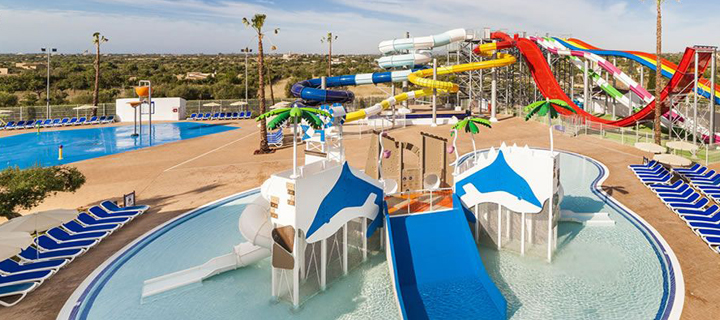 Globales Bouganvilla in Sa Coma, Majorca, is a child's paradise in terms of water activities on offer.
Aside from its main pool area, its water park, Splash World, is divided into four areas. There are two small pools with slides for younger children, a splash playground filled with water jets and the main waterslide area, which has the following thrilling slides:
Aquatube
Black Hole
Kamikaze
Free Fall
Aqua Racer
Wave Slide
Club Mac Alcudia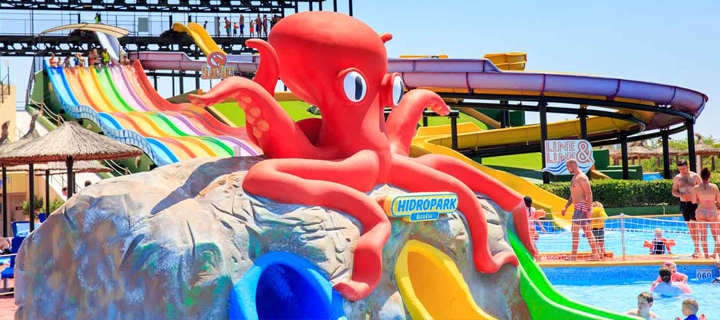 Built around 2 natural lakes, Club Mac is in a league of its own for family holidays. It has multiple swimming pools, mini golf, running track, kid's club, playground, umpteen bars and restaurants and, most importantly, free access to the Hidropark across the road!
Hidropark has 6 different types of slides, a children's area, a wave pool and plenty of sun loungers and restaurants to relax in. It could cost up to €80 for 2 adults and 2 kids for one day in the park whereas in Club Mac it's free!
Globales Playa Estepona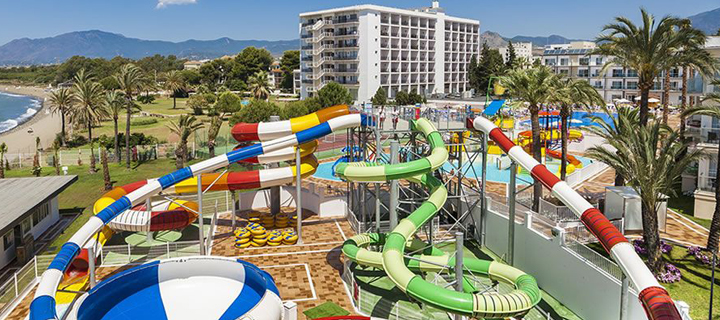 Like the Globales Bouganvilla in Sa Coma, the Globales Playa Estepona has an impressive Splash World waterpark.
In addition to its 4 adults and children's swimming pools, Globales Playa has a wave pool, a children's waterpark with smaller slides and 6 thrilling waterslides:
Aqua Racer
Kamikaze
Black Hole
Free Fall
Capsula
Torbellino
Albir Garden Resort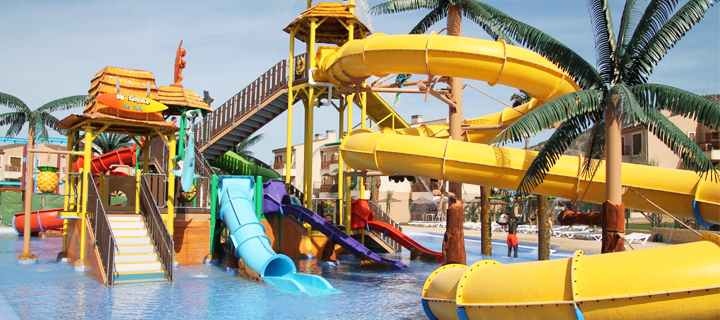 The Albir Garden Resort located a short drive from the busy Benidorm and a few minutes walk from the centre of Albir town, caters for the entire family.
Its waterpark boasts 16 slides big and small for the tiniest tots to the bigger child-at-heart. If you need to fully relax, make sure to try Albir's spa where you can indulge in their massage treatments, Turkish baths, saunas and jacuzzis.
Want to find out out about more waterpark hotels? Listen to our podcast!
So, which waterpark hotel will you be visiting this summer?
---