Your Guide to SeaWorld Parks Orlando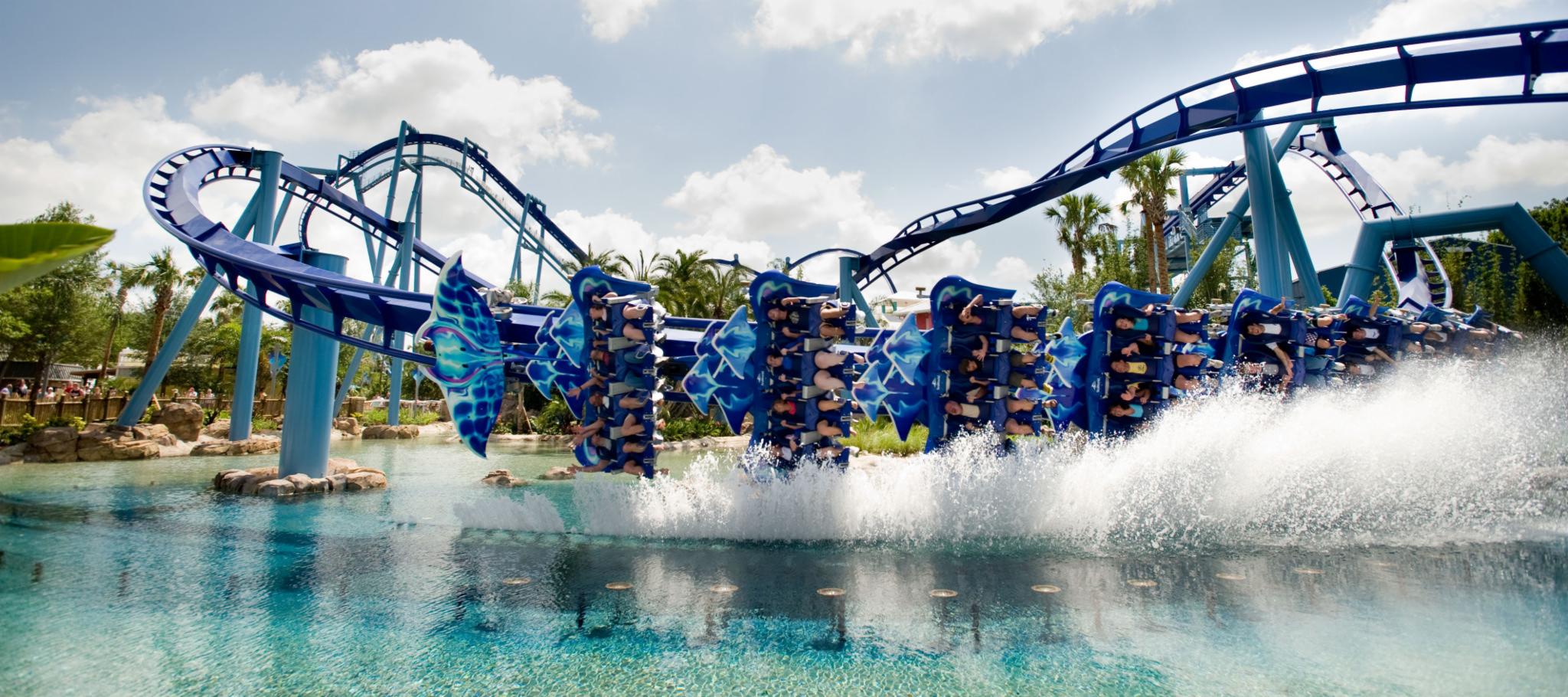 ROLLER COASTERS! ROLLER COASTERS! And a bit of relaxation. Probably not the first thing that comes to mind when you think of SeaWorld, but we're here to change your mind.

SeaWorld has had its fair share of controversies over the last few years, but it's slowly starting to shed its image of an animal only attraction park. Thankfully they've stopped the breeding of orca whales and are, slowly but surely, phasing out the shows, however, that's a long way off.

SeaWorld Parks and Entertainment in Orlando consists of four parks:
SeaWorld Orlando
Aquatica (Water Park)
Busch Gardens (in Tampa Bay – 1hr from Orlando)
Discovery Cove
In September 2018, Kevin from our Sales team was lucky enough to visit the four SeaWorld Parks in Orlando as part of a familiarisation trip hosted by Visit Orlando the Official Tourism Board of Orlando. He was treated to a VIP tour of each park which meant he experienced as many of the attractions as possible! Find out how he got on below…

---
I have fairly vivid memories of visiting SeaWorld Orlando almost 20 years ago and, in that time, as you would imagine, the Park has gone through some dramatic changes. The SeaWorld Parks have so much more to offer than just the animal experiences.

It became quite clear to me from the group I was travelling with, and briefly talking to some of parks guests, that a lot of people were not aware that the parks were home to some of the fastest, tallest and longest rollercoasters in Orlando. If you're an adrenaline junkie, SeaWorld and Busch Gardens should be top of your theme park list when visiting Orlando.
SeaWorld Orlando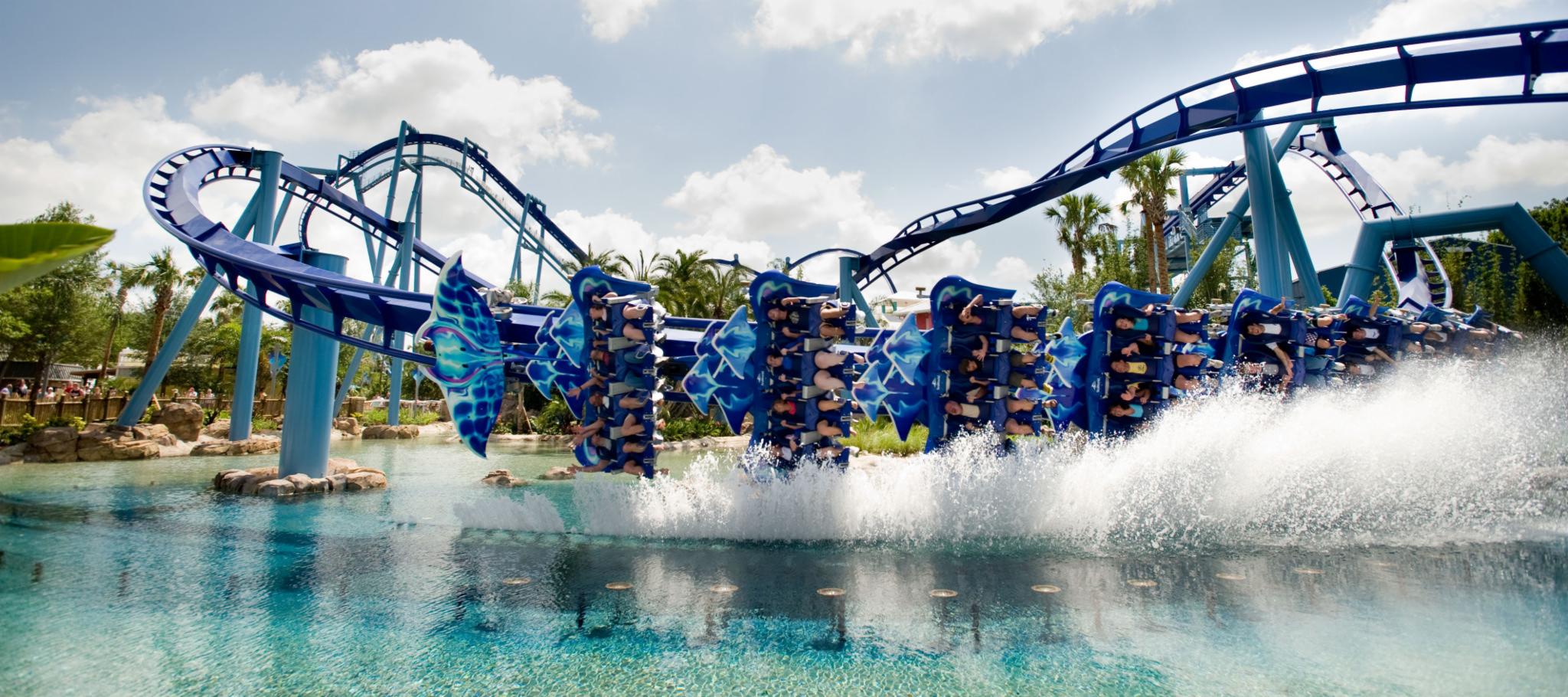 SeaWorld Orlando is the flagship park and welcomes over 4 million guest every year. It's a great option for all ages and particularly for families.
Unlike some of the theme parks in Orlando, SeaWorld is fairly compact and easy to walk around. There are enough roller coasters, rides, animal shows and animal encounters to keep everybody well occupied for the day. As I previously mentioned, SeaWorld is home to some of the fastest rollercoasters in Orlando where thrill seekers can test their nerves on coasters like Manta, Kraken and Mako. I was lucky enough to 'test' out the majority of the roller coasters Orlando has to offer and by a longshot, Mako is the most exhilarating ride I've ever been on. You're strapped in only by legs reaching speeds of up to 117km per hour!!

Of course, if rollercoasters aren't your thing, the park still has plenty to offer. The daily dolphin and orca shows still draw in big crowds and there's plenty of marine life and exotic birds around each corner. Turtle Trek is definitely another attraction not to be missed. Standing in the middle of a giant dome, guests wear 3D glasses with lenses which wrap around the sides. They make the footage pop off the walls of the dome in all directions as it becomes a wrap-around, immersive cinema screen. At one point a school of fish pass right through the middle of the room!
Aquatica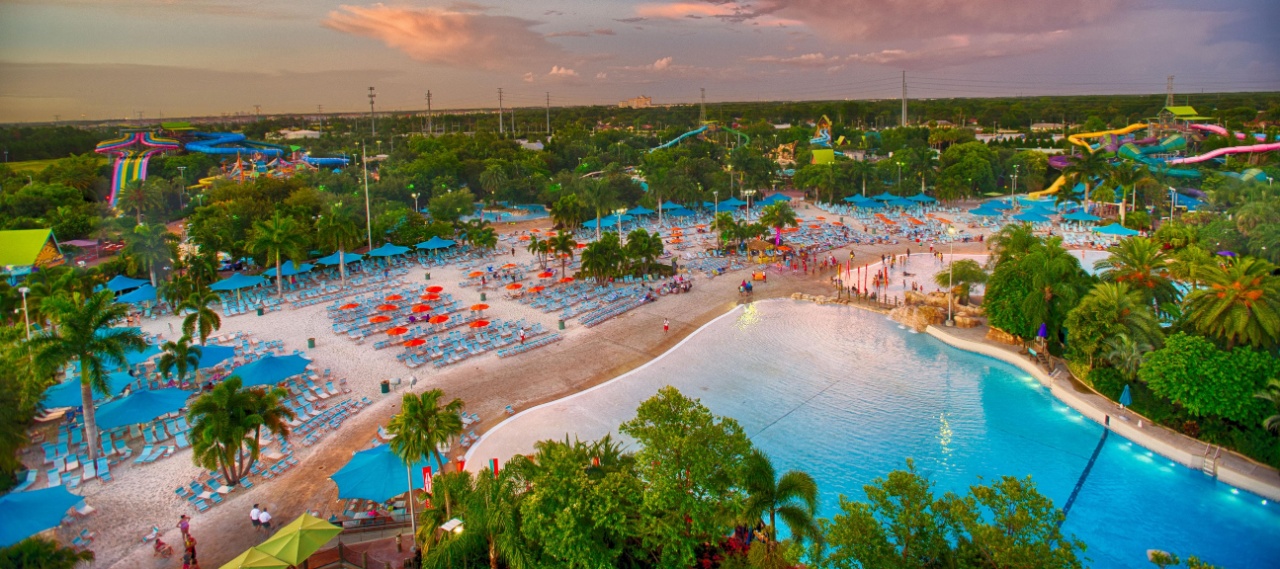 If you're looking for a fun and relaxing day out, Aquatica is the perfect water park in Orlando. It's more reasonably priced that it's biggest competitor Volcano Bay, it's easy to navigate and there's plenty of rides to cater to all.
You can spend the day relaxing on the beach or in the lazy river or if you want something a little faster there's plenty of water slides for the thrill seekers and, of course, you can't visit a water park without trying the wave pool. If you visit off-peak season you won't be waiting for more than a couple of minutes for each ride.
Busch Gardens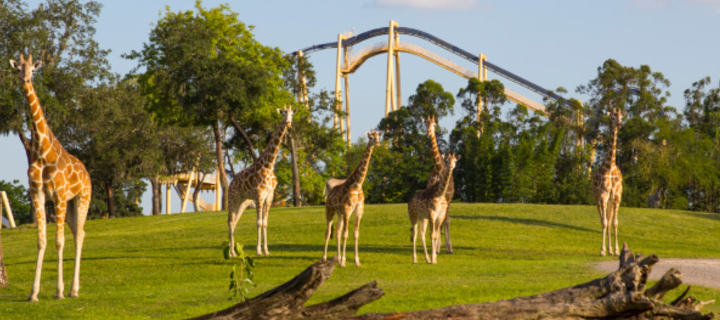 Busch Gardens is about an hour's drive from International Drive in Orlando. The park is packed full of big thrill roller coasters, attractions and animals. One of the highlights of the park is the Serengeti Safari Tour, during which you have the opportunity to hand feed giraffes.

The thrill seekers definitely won't be leaving Busch Gardens disappointed. Some of the main attractions include:

Falcons Fury: A 335-foot drop tower that upon reaching the top turns you 90 degrees mid-air. It was the only ride that truly scared the living daylights out of me!
Cobra's Curse: A family spinning roller coaster which reaches a height of 70 feet and speeds of 64 km/h.
Sheikra: A 200 foot-tall roller coaster with a 90-degree vertical drop!
Montu: A 150-foot tall steel inverted roller coaster with 7 inversion. You'll feel like a different person after experiencing this ride!
SeaWorld Discovery Cove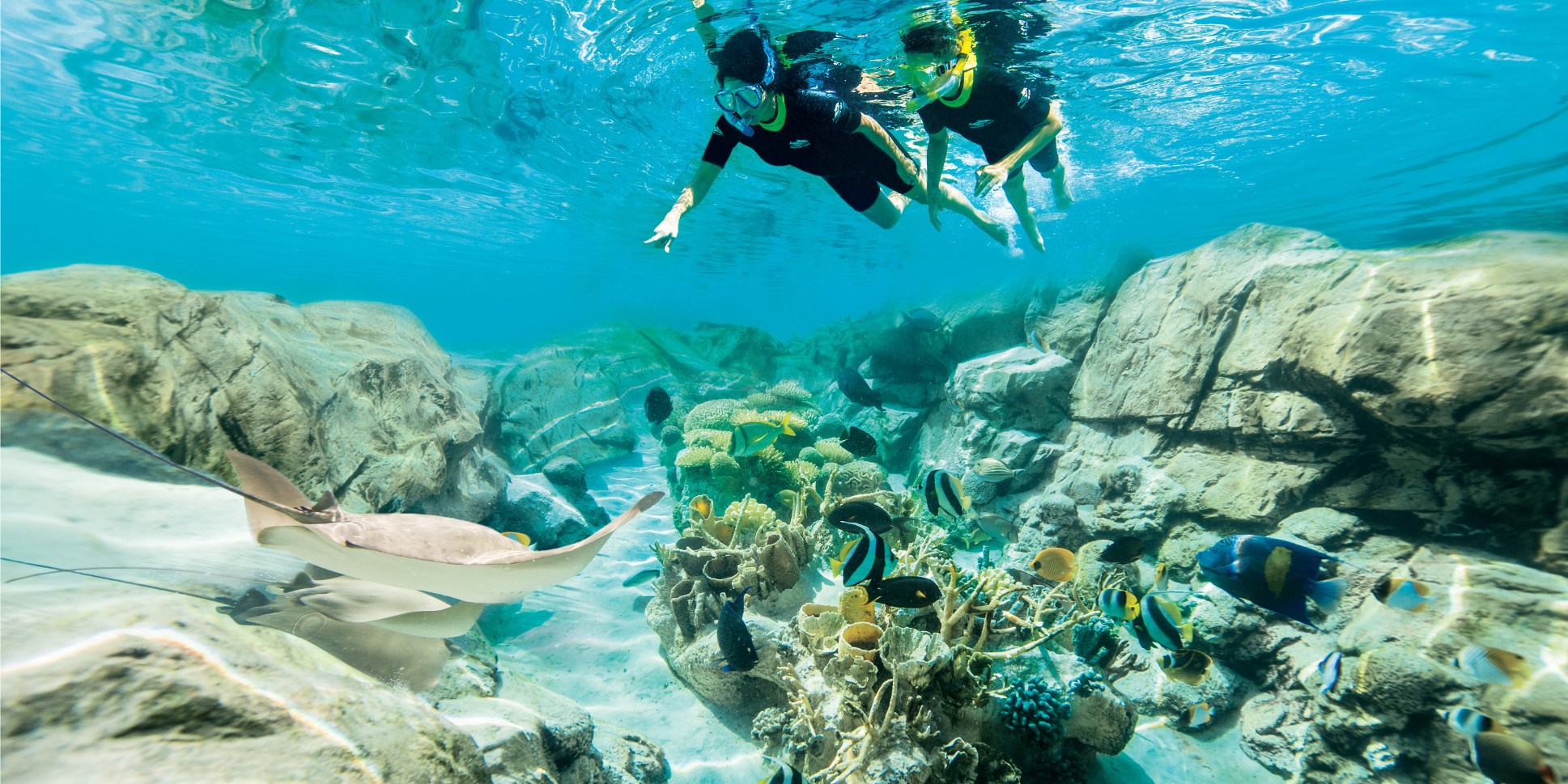 Discovery Cove is the perfect park to unwind and chill out after exploring some of the more hectic SeaWorld Parks. The Park takes you out of Florida and into a lush tropical paradise setting. The park is All Inclusive which means all your food and drink is covered in the price of your ticket.

The main attraction is the Dolphin Experience which allows guests the opportunity to swim and interact with dolphins. However, there's a lot more to the park than just the dolphin interactions. You can swim in the freshwater oasis, go snorkelling in a manmade salt water reef which is home to thousands of tropical fish (be careful not to stand on a stingray!), hand feed exotic birds or relax in the winding lazy river or just chill out on the beach.

Another great aspect to the park is that it limits the amount of guest that enter each day so the park never feels over-crowded. My advice would be to book well in advance.
Has Kevin tempted you to visit Orlando and the SeaWorld Parks?
---