PortAventura World is the most visited theme park in Spain and the sixth most visited theme park in Europe. It's located in Salou along the Costa Dorada and, if theme parks are your thing, it's an absolute must-do!
PortAventura World is split into 3 distinctive parks:
PortAventura Park – The namesake is divided into 6 themed areas – Mediterránia, Polynesia, SesamoAventura, China, México and Far West
Caribe Aquatic Park – This is PortAventura's splishy splashy waterpark with wave pools, a Bahama Beach, children's pool & splash area, indoor zone and 9 thrilling waterslides.
Ferrari Land – Ferrari Land is completely themed after the iconic Ferrari brand where you can go from 0 to 180km/h in just 5 seconds and now has a dedicated kids area with mini rollercoasters that offer thrills galore.
These are our top tips for your trip to PortAventura World…
Choose your time of year wisely
PortAventura welcomes, on average, 4.7 million visitors each year, so it can be quite busy on a normal day. When you're planning your visit, try to avoid Spanish holidays or celebratory times of the year like Halloween or New Years. Try planning your PortAventura World adventure in the shoulder season or midweek to avoid the crowds. If you are there during peak times, make the most popular rides your priority as soon as you enter the park.
Appropriate clothes
If hitting 10,000 steps is a daily goal for you, then PortAventura is the place to double it. Pack your comfiest shoes because you'll be walking and queueing constantly. The steps will stack up without you even noticing!
Keep in mind how long you'll outdoors so make sure to bring your sunscreen, hat, glasses Don't forget your sunscreen, hat, sunglasses and bring a bottle of water to refill during the day and stay hydrated! Bring a light raincoat to keep you dry(ish) on the water attractions.
Plan in advance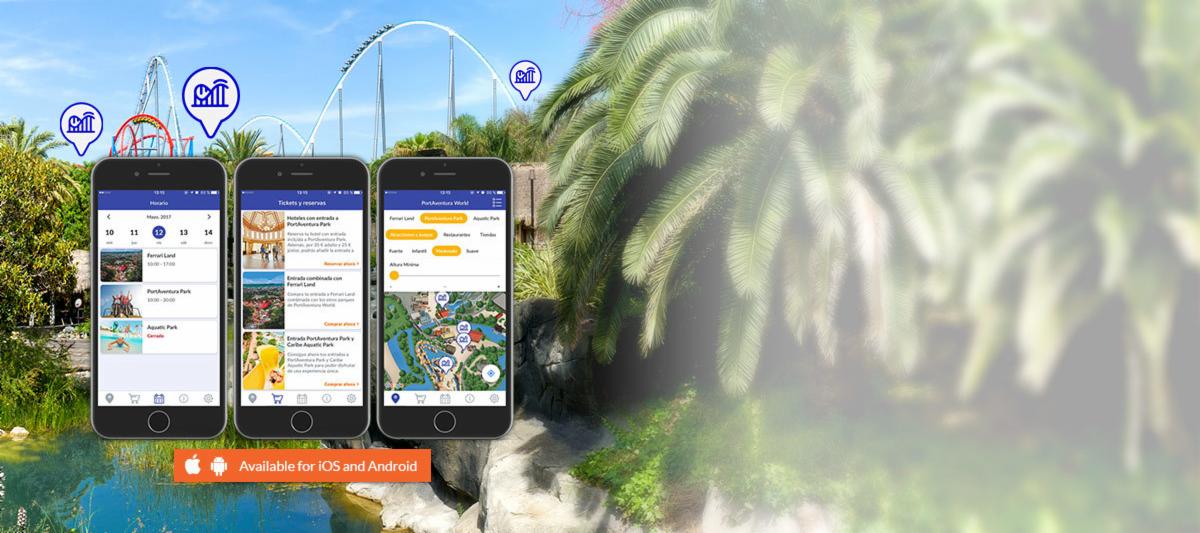 You may not think the phrase "fail to prepare, prepare to fail" would apply to theme parks, but it really does. Before you go have a good study of PortAventura World's website to see which coasters should get priority so you have a good idea of what you want to do first.
Or, even better, download the PortAventura App! This is super handy as not only will you get a good idea of the layout of the park, but you'll get familiar with the average wait times for the big rides. It has fantastic features to make your time in the park as stress-free as possible:
What's on offer in the 3 parks
Filter the attractions by intensity level (thrill, moderate, gentle & children's)
Browse menus and book restaurants
Find your location on the map
Get times and location for the shows and parades
Start slow
On your first day in the park, get your bearings of the park by hopping on the Steam Train in the Mediterranea Land. It takes about 20minutes to do a full loop of the park but definitely worth it! You get a great idea of what's in the park, the scale of the attractions and plan out your day.
Small Kids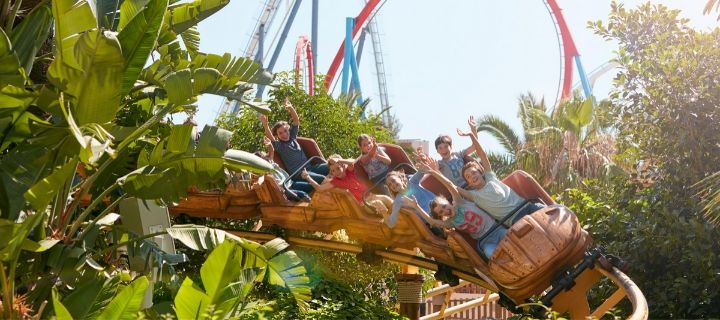 If you're going to PortAventura World with small kids, they probably won't reach the height requirement with height requirements ranging from 1.00 metre to 1.40 metres. But, fear not, as SesamoAventura is designed around small kids with slower paced rollercoasters, parades galore and shows to keep them entertained.
Get in the fast lane
If you want to have adrenaline-pumping, dizzying experiences, book the Express Pass to skip the main queue on some of PortAventura World's biggest rollercoasters. There are different levels of Express Passes you can get:
Express Max Fun: It costs €25 and allows 1 use per attraction on Street Mission​, El Diablo-Tren de la Mina, Angkor, Silver River Flume and Grand Canyon Rapids.
Express Max: It costs €34 and allows 1 fast access use per attraction on Shambhala, Furius Baco, Dragon Khan, Templo del Fuego, Tutuki Splash, Stampida, Angkor, Silver River Flume, El Diablo – Tren de la Mina, Grand Canyon Rapids.
Express Max Gold: It costs €30 and allows 1 fast access and 3 single front row rides use per attraction on the Express Max attractions plus front row ride on Shambhala, Furius Baco and Dragon Khan.
Express Premium: It costs €55 and allows unlimited access to Shambhala, Furius Baco, Dragon Khan, Templo del Fuego, Tutuki Splash, Stampida, Angkor, Silver River Flume, El Diablo – Tren de la Mina, Grand Canyon Rapids
You can get similar passes for both their waterpark, Caribe Aquatic and Ferrari Land.
Stay in the Park
If you want to make the most of your PortAventura World experience, stay in one of the official PortAventura hotels! What benefits are there? Well, there are plenty:
You're close to the action with the PortAventura World, Ferrari Land & Caribe Aquatic Parks being only a short stroll away
Your PortAventura World tickets are automatically included when you book – you'll even get special discounts on the Express Passes
You get a 1-day admission to Ferrari Land & discounts on Caribe Aquatic Park
You can use your room key to pay in the shops and restaurants in the parks
Anything you buy in the parks will be delivered back to your hotel
The PortAventura World Hotels
We feature three 4-star hotels on our website and each is in the park or just a short transfer away with all the above benefits. The hotels are:
Hotel El Paso – Feel like you're in Colonial Mexico, surrounded by lush greenery, delicious Mexican delicacies and a large swimming pool to cool down in.
Hotel Caribe – With a white sand pool, tropical plants and an air of complete relaxation, you'll be transported to the Caribbean in Hotel Caribe.
Hotel PortAventura – You'll almost think you're in a typical Mediterranean fishing village here. It has 2 adult swimming pools, games room, entertainment and activities galore.
So, are you ready to face the 'coasters of PortAventura World?