The Best Places for Families to Stay in Lanzarote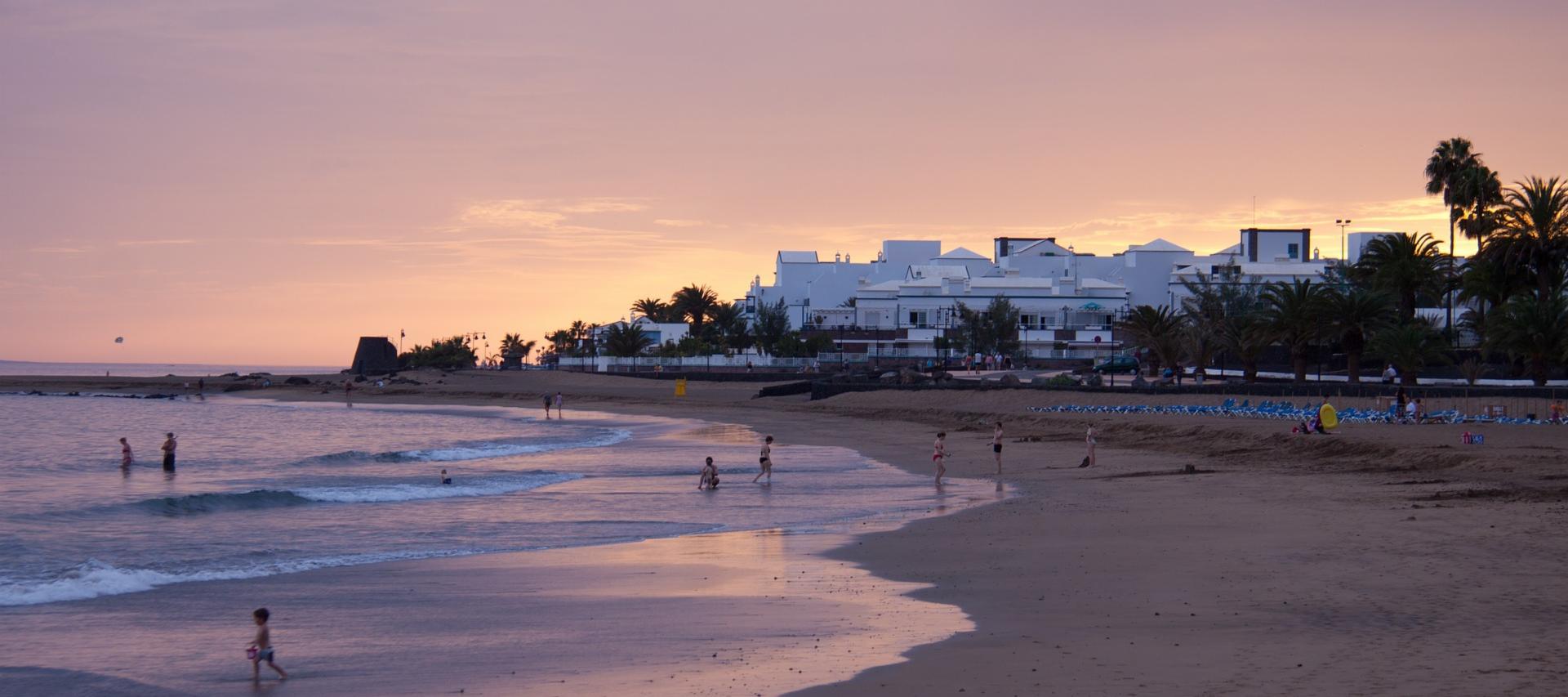 Lanzarote, one of Spain's Canary Islands sitting in the Atlantic off of West Africa, is one of the most popular holiday destinations among the Irish public. It's a unique volcanic environment which offers a beautifully consistent climate, immaculate beaches and an alluring atmosphere that you won't want to leave. It's amazing for any sort of getaway, including one with the whole family.

There are 4 major resorts on the island of Lanzarote:
Click&Go has over 95 hotels across these 4 main resorts with plenty of choices perfect for a holiday with the entire family. See some favourites and staff picks perfect for the entire family below!
Puerto del Carmen
Puerto del Carmen is undoubtedly Lanzarote's most popular resort. It's a former fishing village that has transformed into a buzzing centre full of restaurants, bars, and cafes.
It all rotates around Marina Rubicon, a quaint harbour centre with unparalleled services and pedestrianised streets. Also, Puerto del Carmen has a beautiful silky sand beach that stretches for 4km. From taking a simple stroll to shopping along the promenade or trying out the many water sports on offer, this diverse resort has so much to enjoy, making it a true Canarian delight.
Here are some of your best accommodation options for a family holiday to Puerto del Carmen…
Acuario del Sol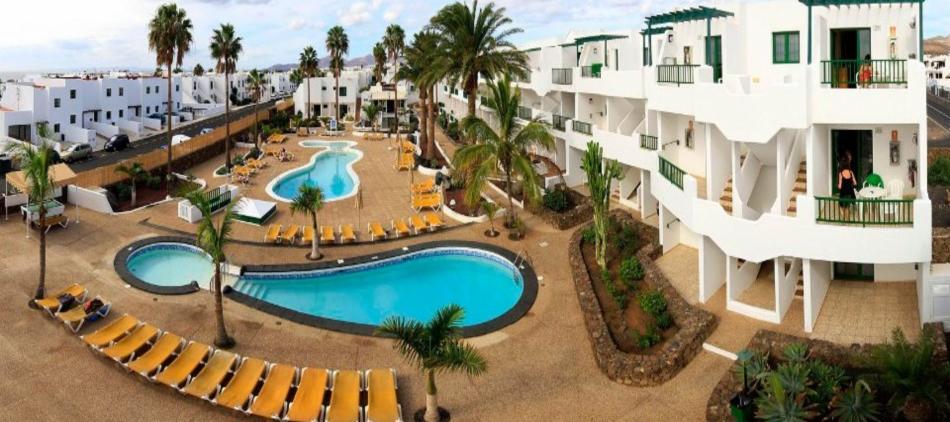 Acuario del Sol is a newly-renovated multi-block complex just east of the resort of Puerto del Carmen near Playa de Los Pocillos. Block 1 has garden-view apartments, reception, the salon, solarium, and an adult-only pool. Block 2 has pool-view apartments, adult and children-friendly pools, a children's park, a billiards room, and a bar/restaurant.
Wifi comes at no cost and there are plenty of shops around the complex. Plus, the beach is approximately 250m away. Overall, even though there is no kids club, this is a fantastic family-friendly value property.
Vik San Antonio
The Vik San Antonio is an attractive 4* hotel is all about location, location, location. It is a stone's throw away from the Los Pocillos beach and extremely close to the centre of Puerto del Carmen. There are plenty of rooms including newly-upgraded ones with flat screens, new flooring, and new bathrooms. Plus, there are family rooms available which accommodate up to 2 adults and 2 children or infants.
Vik Hotel San Antonio's amenities and facilities are exceptional, plus the services are maintained by well-trained staff. There is both a freshwater and saltwater pool, a children's pool, a mini club for kids which is open May to October, a playground, tennis courts, billiards, a games room, a gym, a sauna, a Turkish bath, and a full evening entertainment programme. There is even a cocktail bar that has a show and live music each evening. Essentially, the Vik Hotel San Antonio allows you to tailor-make your holiday to your unique specifications and relax in a fantastic location.
Sentido Aequora Lanzarote Suites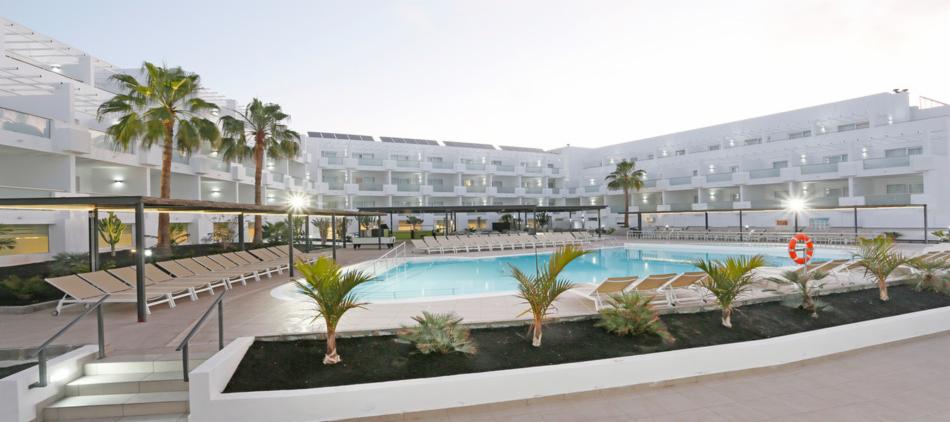 The Sentido Aequora Lanzarote Suites is an impressive 4* property on the outer perimeter of Puerto del Carmen. It is a stunning location for a family holiday, has a modern design and beautifully curated rooms, and is only located about 200 m from the beach. Plus, it is about 2 km away from the centre of Puerto del Carmen.
There is a plethora of amenities including 4 different swimming pools, 3 of which are kid-accessible. There is a 18+ pool, a teatro pool, an atlantida bar pool, and a bubbles and kiddies pool. Plus, there are multiple bars, a family buffet, an a la carte restaurant, sport courts, on-site laundry, gift shop, bike rental, and around-the-clock reception. Specifically for the kids, there is a Kiddies Mini Club for those children aged 4-8 and a Teen Club for those over the age of 9. Here, there are various kid-friendly activities on offer plus a mini disco and playground. Moreover, for those adults looking for a bit of seclusion and pampering, there is a wellness centre where you can receive massages, facials, and other body treatments for a fee.
At this location, there is a special offer for Click&Go clients for Summer 2019 (May to October). Drinks are included with evening meal (beer, house wine or soft drink). Plus, welcome drinks are available on arrival for all guests.
Costa Teguise
Even though it only came to be a resort about 15 years ago, Costa Teguise which is on the east coast of Lanzarote has developed into a powerhouse of Lanzarote resorts. It's the more laid-back sibling of Puerto del Carmen and offers everything you may need for a peaceful vacation. The resort is well-landscaped and has a modern communal feel with plenty of high-quality cafes, shops (including a fantastic market), a beautiful 18-hole golf course, and restaurants. Also, there are stunning beaches including La Cucarachas which has pristine pale sand and is well-known for prime windsurfing conditions.
So, where should you stay for your family holiday in Costa Teguise?
Sands Beach Resort
The 4* Sands Beach Resort in Costa Teguise has been planned down to every single detail. From the multitude of pools to the seawater lagoon which has a private beachfront setting, this is a perfect place for a Lanzarote holiday. The entire resort has 6 different areas which combine to create a large complex which offers everything you may desire for a lovely family vacation and a relaxed ambiance. Not only are there studios, but also one bedroom apartments with a kitchenette perfect if you prefer self-catering.
There are 7 different swimming pools, including a lap pool with 8 lanes and 5 different kid-friendly pools. There are large sun terraces, a mini club for children, a playground, mini disco and an entire plethora of entertainment and activities to keep kids entertained all day and through the evening. On top of all of this, there is a buffet, lounge and bar, tennis courts, full gym, barber, and a wellness centre with a full menu. The centre of the Costa Teguise resort is only about 10-15 minutes away.
Playa Blanca
In the very south of Lanzarote sits Playa Blanca, an absolutely gorgeous resort. Aptly named, Playa Blanca has lovely white sand beaches. Papagayo is one in particular. This beach is so stunning, you will never want to leave. Water sports are popular here and if you fancy a quick boat ride to fellow Canary Island, Fuerteventura, that is a possibility.
Resort highlights include local and international restaurants, but sampling some tapas is an absolute must. There are plenty of cute shops and a boardwalk perfect for a stroll. Overall, the vibe is very relaxed and informal. This makes Playa Blanca a perfect holiday destination.

HL Paradise Island
On the rim of Playa Blanca sits HL Paradise Island, a child-friendly club complex. There is 24 hour reception, a games room, TV lounge, nightclub, playground, children's entertainment program, hotel cafe, gym, spa treatments, and lobby bar to keep everyone entertained and content. Plus, there are two freshwater swimming pools, poolside snack bars, kid-friendly pools and there are plenty of activities on offer no matter what you desire. Moreover, the beach relatively close as it is only 1.5 km away and the city centre is 1 km away.
Puerto Calero
Holidays in Puerto Calero are absolutely amazing. The setting is utterly stylish and smart, offering a location that oozes everything needed for a pleasurable holiday. It is a prestigious Lanzarote resort that allows for breathing room away from large crowds. There's a sandy beach and various opportunities to charter boats from the marina. Plus, the accommodation is fantastic, with solid family options.
Costa Calero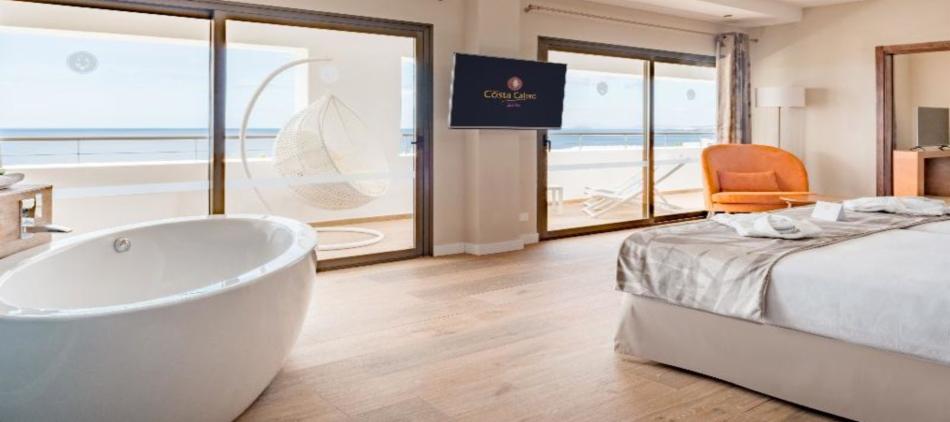 Costa Calero is a 4* hotel in Puerto Calero. There are see views and it sits among an immaculate garden. Facilities include 4 swimming pools including 1 saltwater pool, a games room, hotel-wide Wi-Fi, and 2 restaurants: La Magdalena and Oyambre. The wellness centre includes a thermal pool, gym, massage menu, and sea water, seaweed, and marine mud treatments. For your little ones, there is a playground, an entertainment programme curated for kids, and a kid's club.
Do we have you convinced that Lanzarote will make a fantastic holiday destination for the whole family?
---