There's a reason why people flock to Lanzarote year after year. It has guaranteed sunshine and it's a year-round destination – it's nearly more popular in winter than summer!
If you're unfamiliar with Lanzarote, here's your guide to this fantastic, vibrant island.
What are the different areas in Lanzarote?
There are four main areas or resorts in Lanzarote: Puerto del Carmen, Costa Teguise, Playa Blanca and Puerto Calero.
Puerto del Carmen
Puerto del Carmen is the largest and most popular area for holidaymakers in Lanzarote. It's beside the capital of Lanzarote, Arrecife, and only a short transfer from the airport.
If you prefer a busy backdrop for your holiday, where the streets are buzzing from day to night. Its promenade, dividing the resort from the beach, stretches for kilometres from Puerto del Carmen to Los Pocillos to Matagorda. It's perfect for a leisurely evening stroll and to take in the scenery.
Costa Teguise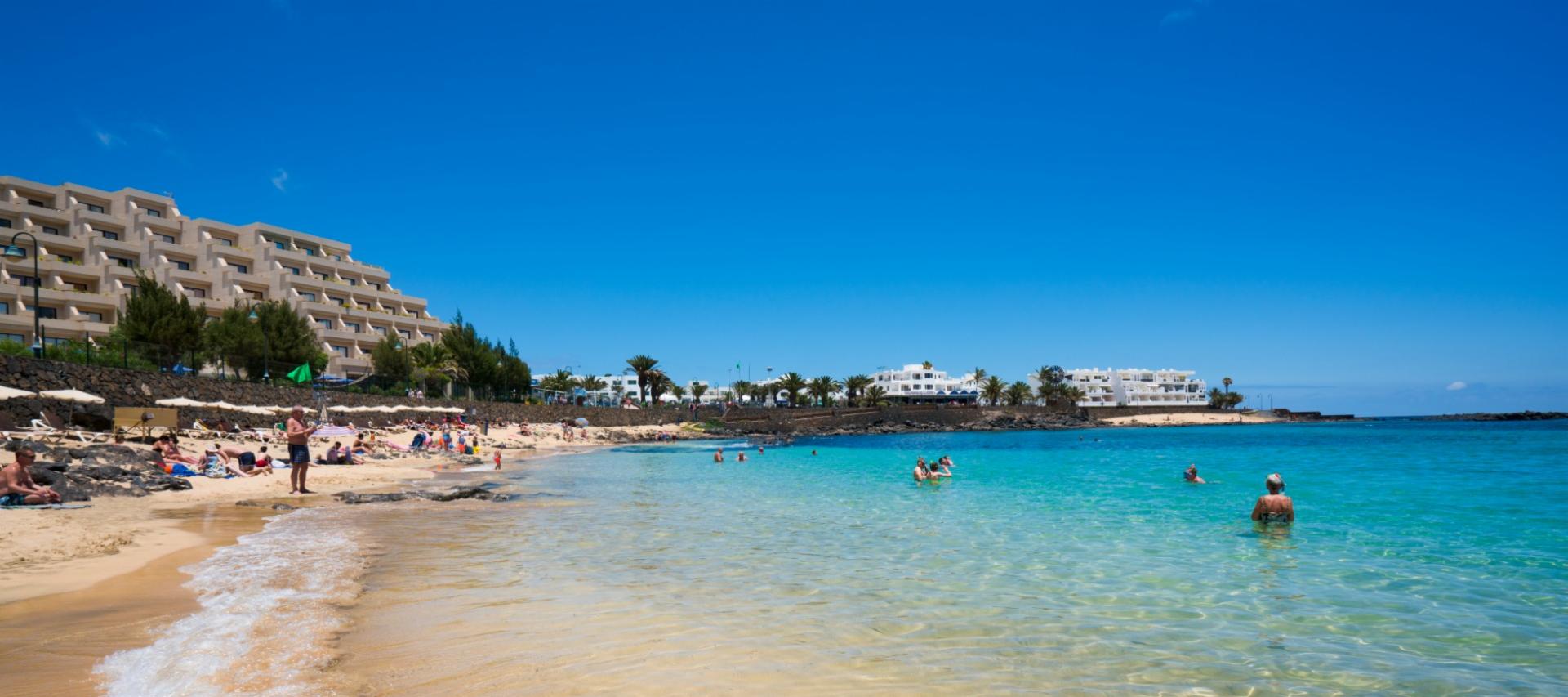 On the other side of and only a short transfer from Arrecife, is Costa Teguise. It has a more laid-back feel and was built to be an up-market alternative to the bustling Puerto del Carmen.
Life and activities in Costa Teguise centre around its fantastic beaches like Playa Cucharas, Playa Jablillo and Playa Bastian. If you want to try your hand at windsurfing, this is the place to do it, or, alternatively, Costa Teguise has some of the best scuba diving in Europe.
Playa Blanca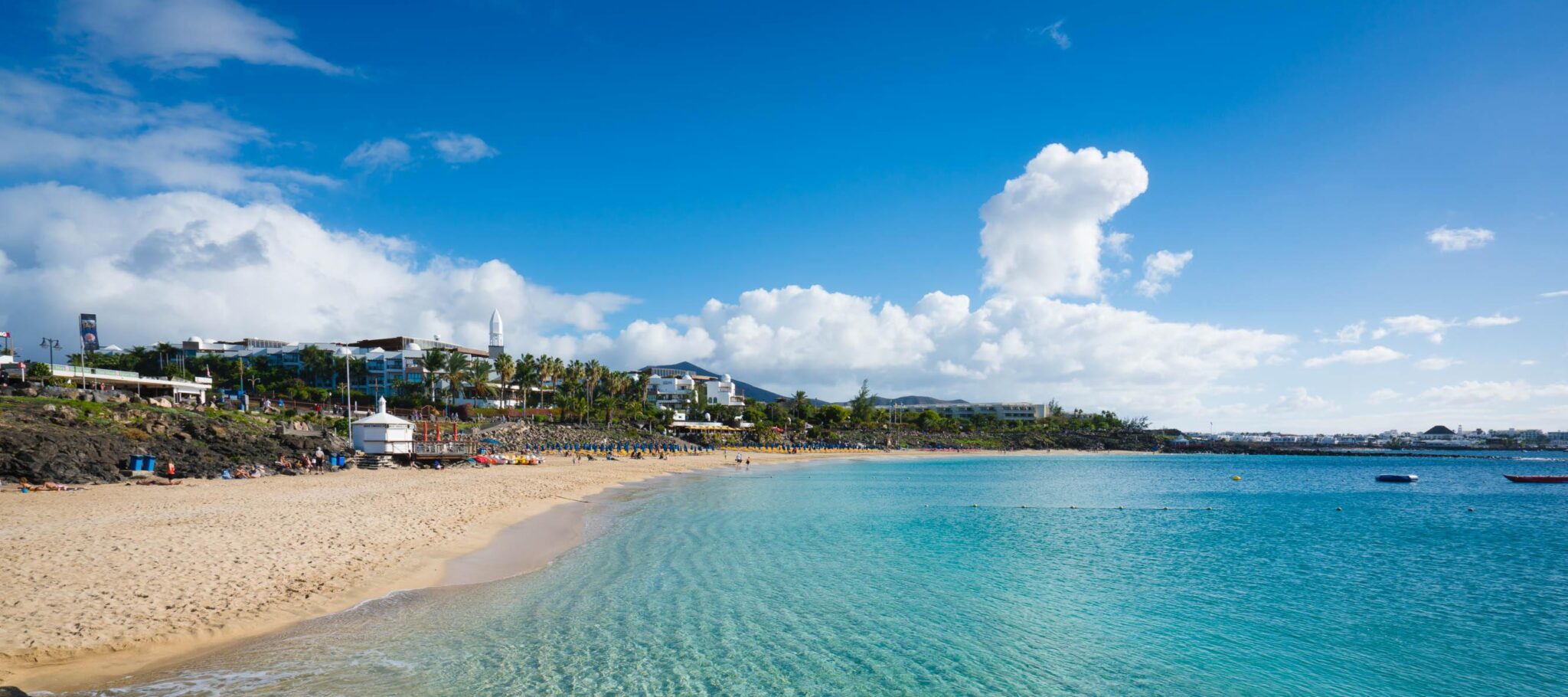 Playa Blanca is the most southerly resort in Lanzarote, roughly 37km from Arrecife. It was a small fishing village and has developed into a port town with a large yacht marina. If you're looking for a quiet and tranquil holiday, Playa Blanca is for you.
As its name implies, Playa Blanca has fantastic powdery white beaches like the famous Papagayo beach, as well as Playa Flamingo and Playa Dorada. Similar to Puerto del Carmen, it has an impressive promenade so you can amble from one side of the resort to the other.
Puerto Calero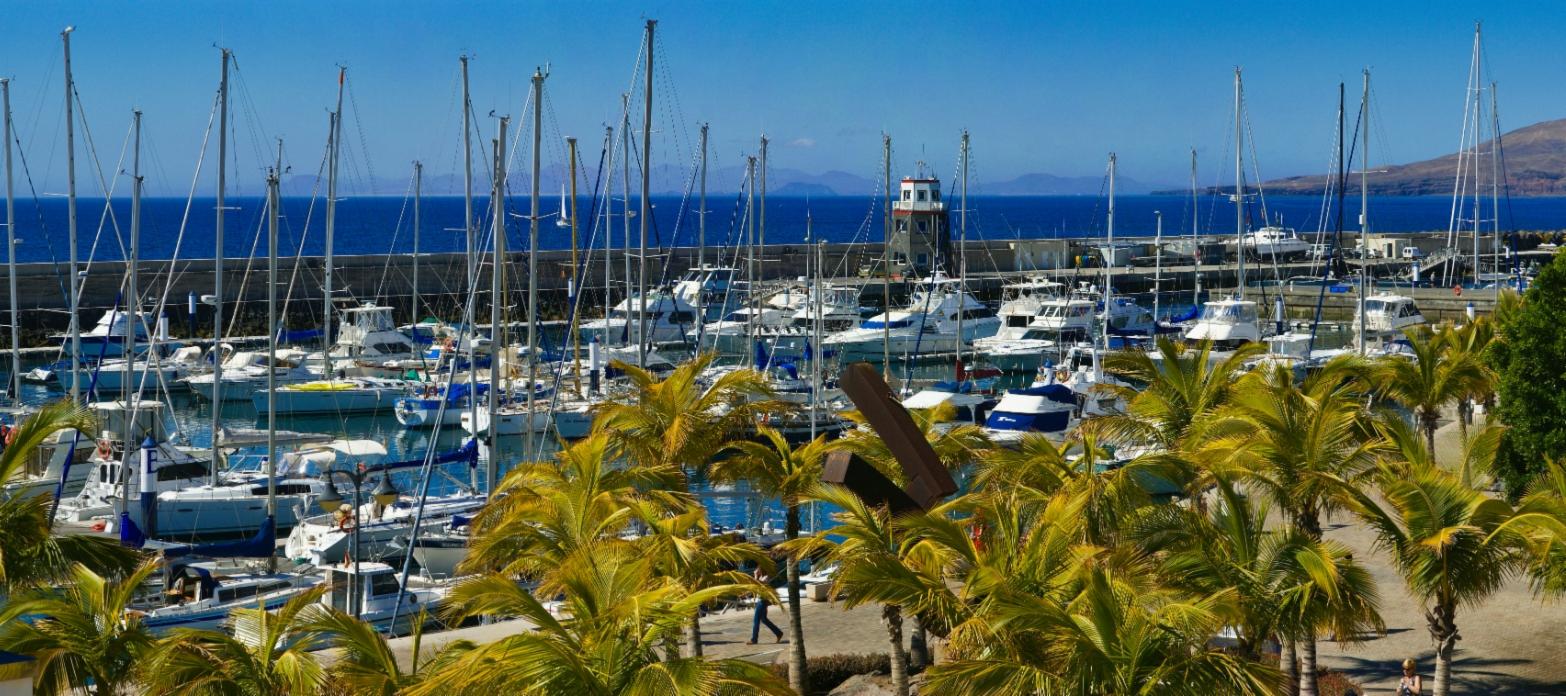 Puerto Calero, to the west of Puerto del Carmen, is focused on luxury. It's an upmarket resort filled with luxury villas and hotels.
It boasts an impressive marina filled with expensive yachts and cute cafes where you can take in the views. Speaking of expensive yachts, it's also a great place to try a catamaran sailing with daily luxe sailings departing from Puerto Calero.
What to do in Lanzarote?
If 7, 10 or 14 days of lazing by your hotel's pool or catching the rays on the closest beach are too much for you, Lanzarote has plenty of cultural and fun things for you to do.
Timanfaya National Park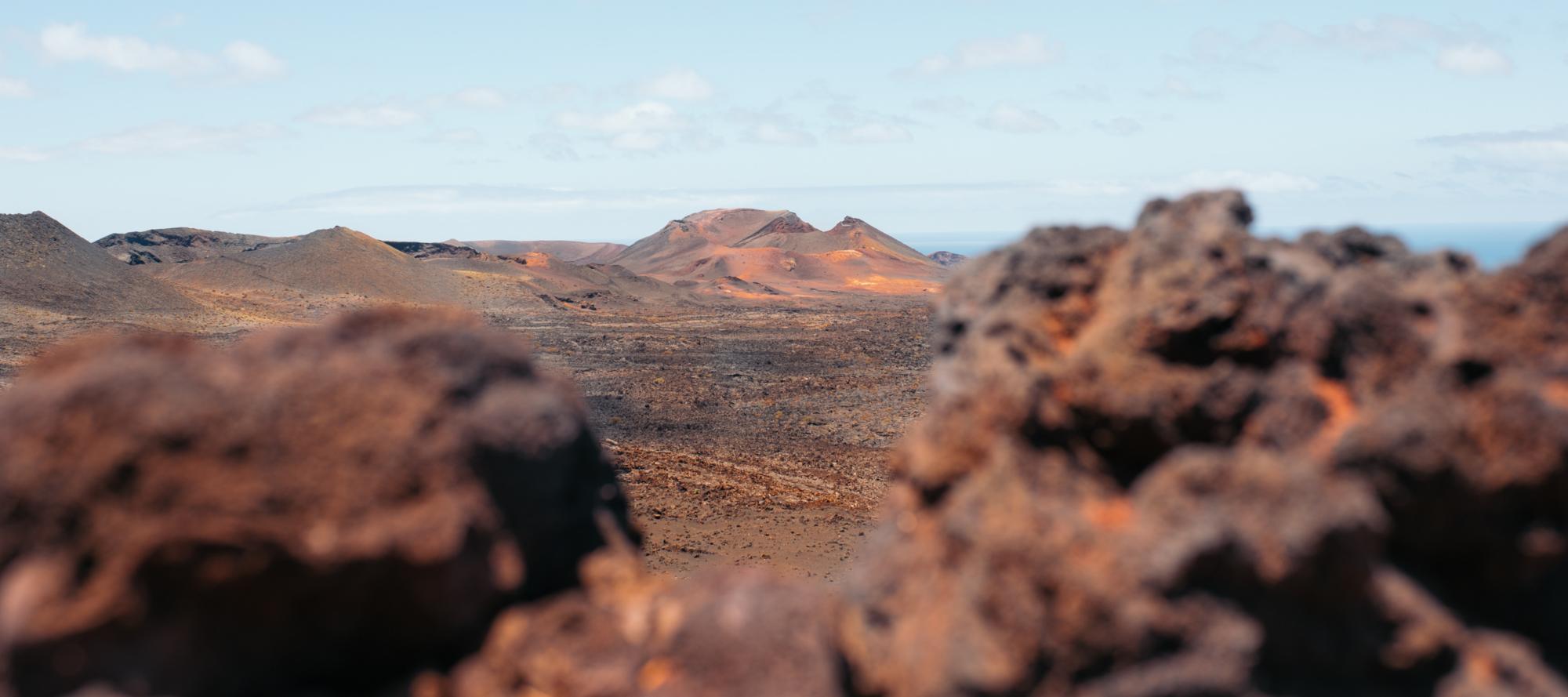 The volcanic park is Lanzarote's most popular attraction and it's no surprise here. On a tour of the park, you'll feel like you've landed on a different planet. The lava scape is filled with dormant volcanoes, vibrant orange soils and scenery like no other. Visit the El Diablo restaurant to eat food cooked over the geothermal volcano heat and take in the panoramic views of the park.
Jameos del Agua
A creation of Lanzarote's most famous artist and architect, Cesar Manrique, Jameos del Agua is a work of art created in lava tunnels and caves. It is a gorgeous place to visit to appreciate the influence of the volcanoes on the island's landscape and the creativity of Manrique. We recommend a visit in the evening for a 'Jameos Night', which takes place every Tuesday and Saturday night, where there is dinner and music so you can really appreciate this space.
Get Outdoors
We don't mean relaxing by the pool or beach but getting active. Lanzarote has become a very popular destination for those who enjoy outdoor sports. Here's a taste of what you can do:
Diving: With water temperatures from 18ºC to 24ºC and fantastic visibility year-round, Lanzarote is an excellent choice for diving holidays. The landscape under the sea is just as fascinating as that above ground.
Surfing: From surfing the waves to wind or kite surfing, Lanzarote's prime location in the Atlantic lends itself to fantastic conditions for surfing on the north and northwest of the island.
Running: Lanzarote holds a few marathons throughout the year with the Lanzarote Marathon in December being the largest. Its pleasant climate and stunning scenery make running even better.
Go Wine Tasting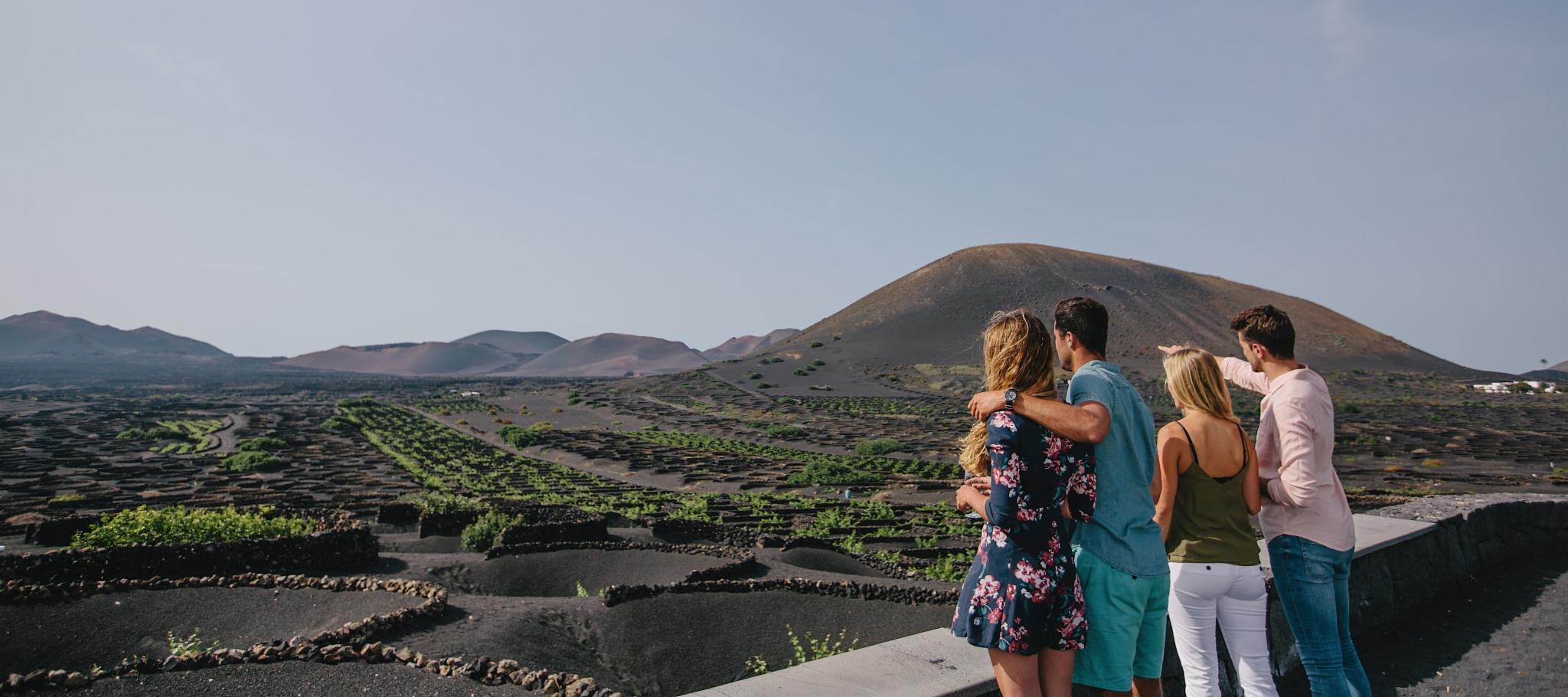 Visit the La Geria Valley where you can taste and learn all about Lanzarote's native wine. The wine in Lanzarote is made from the Malvasía grape, one of the oldest known varieties. The vineyard is a unique experience as the vines grow in black volcanic ash with small semicircular walls around them. Definitely worth an afternoon out!
Whether you want to completely unwind, soak up the nightlife or immerse yourself in some culture, Lanzarote has something for every holidaymaker!