Getting to Mexico
Visiting Mexico's breathtaking beaches on the Caribbean Sea certainly makes for the holiday of a lifetime. Getting there, while at this time can't be done directly from Dublin, is still relatively straightforward. You can connect at a number of convenient destinations, such as London in the UK, or anywhere on the east coast of the US and, from there, fly into Cancún.
Flying into Cancún is the best way to access all the hotspots on the Yucatán Peninsula, but it may not automatically be the perfect place to stay. Cancún is among the most popular destinations for tourism in Mexico, but you can find a bit more local culture and authenticity in some of the surrounding areas.
Where to Go in Mexico
For a similar all-inclusive, beach vibe but with fewer crowds, check out Playa del Carmen located 70 km away from Cancún.
After soaking up the sun in Playa del Carmen, you can head to the pristine, secluded island of Holbox for the ultimate relaxing environment and the chance to interact with some incredible wildlife. It takes about two hours by car and a 30 min ferry to access Holbox from Playa del Carmen.
After Holbox, head about three hours south to Tulum for some sightseeing, cycling, and sensational food & drink! Then, you can drive about 90 minutes north and arrive back in Cancún to end your trip.
Playa del Carmen
Playa del Carmen is a coastal resort town in Mexico, along the Yucatán Peninsula's Riviera Maya strip of Caribbean shoreline. What was once a quiet fishing village has been transformed into a vibrant tourist destination without losing too much of its original charm.
In the Mexican state of Quintana Roo, Playa del Carmen is known for its palm-lined beaches and coral reefs, as well as shops, bars, and night clubs centralised around 5th avenue. Though it was constructed after Cancún, it isn't as commercialised.
In addition to the local highlights in Playa del Carmen, it's a strategic vantage point for day trips to iconic sites in Mexico. The more than 1,500-year-old Mayan ruins of Chichen Itza are a two-hour drive inland, while the remarkable Isla Mujeres is about two hours north. There are tours to both destinations from Playa del Carmen for reasonable prices.
On the shores of the Riviera Maya, thousands of sea turtle eggs are laid each year. On the more secluded beaches surrounding Playa del Carmen and Tulum in the early summer months, you may see a giant mother turtle come ashore to lay her eggs. Then, if your holiday is in September or October, you may be lucky enough to watch as the baby turtles hatch and make their way into the sea!
Holbox
To get from Playa del Carmen to Holbox, first, arrange for a transfer to drive you the one hour and 40 mins north to the coastal town of Chiquila. From Chiquila, there are two ferry options to reach Holbox Island, a fast and a slow. However, even the slow ferry takes less than 30 mins and only costs €5. Ferries depart from Chiquila every half hour.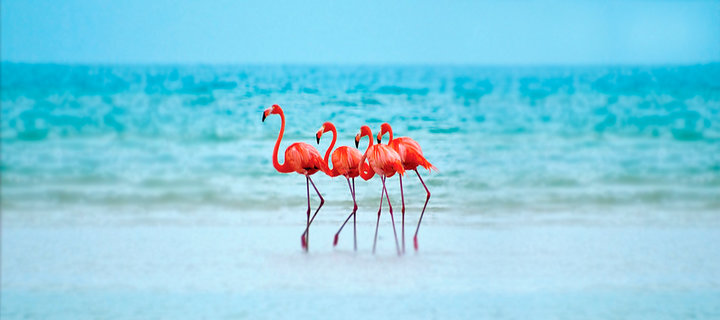 Holbox Island is an entire nature reserve and a habitat for pink flamingos and pelicans. There are no cars, limited roads, and unreliable wifi, but these sacrifices are totally worth it. Most of the hotels are situated right on the beach, and you may even find that going off the grid is a much-needed respite from social media, work, and other virtual responsibilities.
The island is only 2.5 miles long and 1 mile wide, but there is no shortage of things to see and do. There are hammocks in the sea all along the beach, and the water is warm and crystal clear. You can rent a golf buggy and tour the island on your own! Be sure to visit Holbox Village and try the legendary tacos al pastor street food and a Michelada, a unique cocktail that's similar to a Bloody Mary but contains beer instead of vodka.
For a day trip, check out Passion Island and Bird Island to see the Pink Flamingos and other wildlife for around €20. If you're feeling more adventurous, you can consider diving with whales and sharks offshore for about €100.
Tulum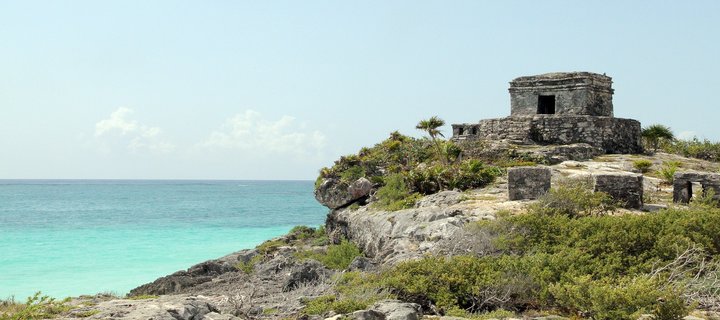 Tulum, located two hours south of Cancún, is a great place to end your trip. It offers an ideal blend of the natural tranquillity on Holbox Island and the upbeat environment in Playa del Carmen. Though there is a general relaxed and peaceful vibe, there is also a lot to see and do. One of the area's highlights is the 13th century Mayan Ruins set on a clifftop overlooking the beach.
For something totally unique, try swimming in a Cenote. Cenotes are natural sinkholes, and the word Cenote actually comes from the Mayan word dzonot for "well." The heat in Mexico can be pretty intense with temperatures sometimes reaching the 40's. These pools are freezing cold and so refreshing!
Gran Cenote in Tulum is one of the most famous cenotes in Mexico. You can swim, snorkel, walk the boardwalk, and rent equipment in and around these beautiful limestone caverns.
Cycling is one of the most popular ways to explore Tulum. There are bike paths all along the shore, through the bustling town, and even to the Mayan Ruins. Many hotels offer complimentary bike rentals, but if not, there are numerous places to rent them in Tulum. You can also hop on a group Tulum Bike Tour which takes you through town and stops at both the ruins and a cenote with a lunch picnic along the way.
Where to Stay in Mexico
The Reef 28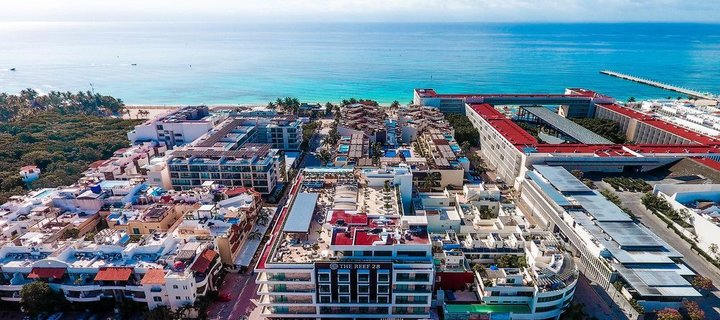 The Reef 28 is an adults-only, all-inclusive resort hotel in Playa del Carmen. It's a chic, modern hotel with a roof-top pool, all-day DJs, and bottomless drinks if you so choose. Each standard room features two huge double beds and lots of convenient amenities. For dining options, you have access to a buffet breakfast, three restaurants featuring Mexican, Italian, and Asian cuisine, as well as pool bar service all day.
The reef 28 has two sister resorts, the Reef Coco Beach and the Reef Playacar. You have access to these other two resorts as a part of the all-inclusive deal while you visit with a complimentary shuttle bus leaving every 30 mins from the hotel to each resort. The other two resorts are more family orientated and are on the beach. The Reef 28 is set back about a 10 min walk from the beach and about 5 min walk from 5th Avenue.
Villas HM Paraíso Del Mar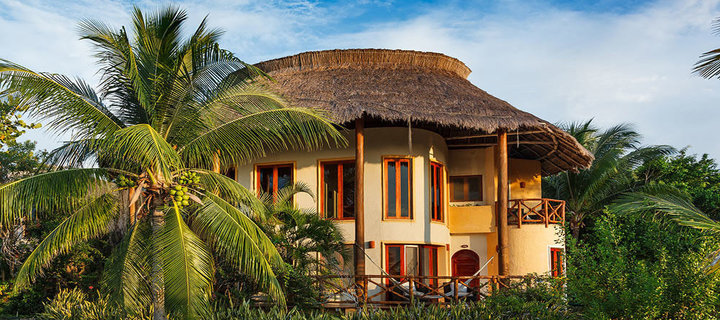 This scenic hotel on Holbox Island is made up of individual villas set just back from the beach. Each villa features a balcony with stunning views and traditional Mexican themed decor. The property is designed with hammocks, tree stump seating, and iguanas running around. The hotel puts on a great BBQ on the beach for a casual yet delicious dinner. If you're interested in taking a break from the overwhelming, hyper-modern resort vibe, this authentic escape will suit you.
Elements Tulum Boutique Hotel
The Elements Boutique Hotel is situated in a perfect location for exploring, only a 5-minute walk from midtown Tulum. There is a multitude of chic bars, restaurants, night clubs in the midtown area. The hotel also grants you access to an exclusive beach club with fancy cocktails, cool music, dining options, and of course, waterfront sun loungers. An additional perk, this hotel offers free bicycles so you can head out to all the best sights in Tulum with no extra cost.
With a solid itinerary and great accommodation options, there's nothing holding you back from exploring one of the world's most incredible destinations!