Your Guide to the Parks in Disneyland Paris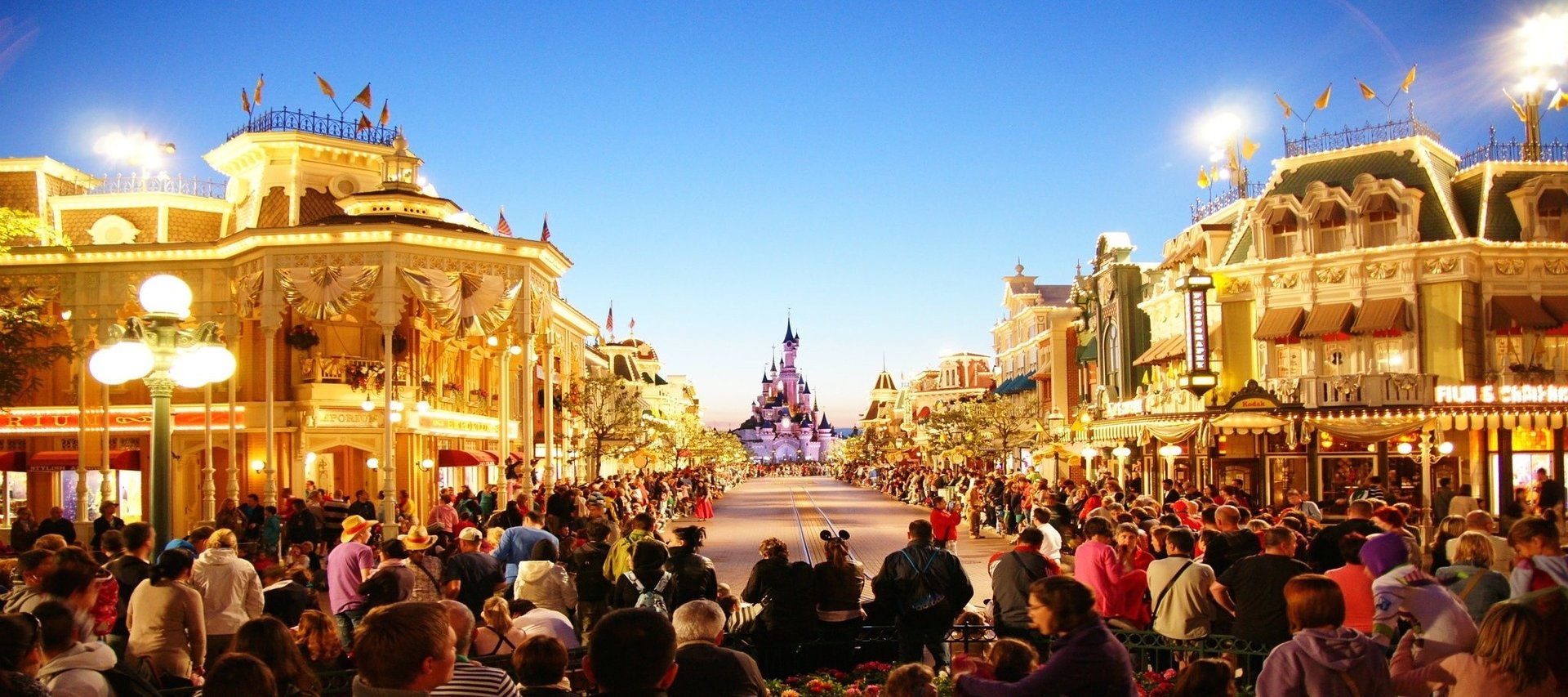 A holiday dedicated to exploring the enchanting Disneyland Paris is bound to be action-packed. With so many attractions to see and activities to do, a Disney holiday can be overwhelming. To help minimise stress, especially for families travelling with kids, we've created a comprehensive guide to the two parks in Disneyland Paris and all the important spots in each!
Disneyland Park
Disneyland Park, the larger of the two parks, is split into five separate lands, each with their own theme and major attractions. The park celebrates the many famous films created by Disney, including the iconic Sleeping Beauty Castle, a high-speed Star Wars coaster, and character encounters with Mickey, Minnie, and all your favourite princesses. The five lands in Disneyland Park include:
Fantasyland
Frontierland
Discoveryland
Adventureland
Main Street U.S.A.
Fantasyland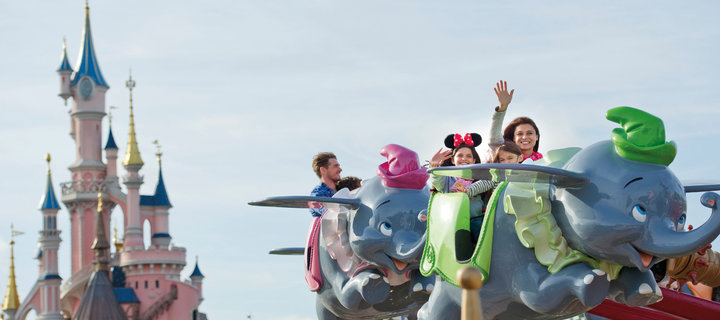 Fantasyland is the classic storybook setting where you can enjoy shops, restaurants, and of course, themed rides based on Disney's most magical films. Some of the most popular attractions in Fantasyland include twirling in the colourful Mad Hatter Tea Cups, meeting the real princesses at the Princess Pavilion, and taking the perfect photo in front of Sleeping Beauty's Castle.
This area is great for younger kids, with slower, age-appropriate activities like the It's a Small World boat ride and the whimsical Peter Pan's Flight. Keep in mind that Fantasyland is among the most crowded areas in the parks, so plan your fast-passes and prepare for wait times accordingly!
Frontierland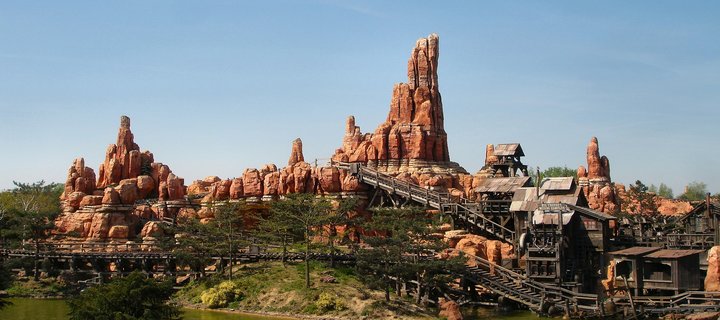 Based on the landscapes and homesteads of the American Old West, this rugged region encourages all trailblazers to try their hand at new adventures! Marked by the red rocks of Big Thunder Mountain, a thrilling coaster that takes you through a haunted mine, Frontierland is not to be missed. Be sure to schedule your fast-passes for Big Thunder Mountain in advance since wait times can be excessive at peak points.
The abandoned mine isn't the only haunted attraction in Frontierland. You can also opt for the spooky thrills of the Phantom Manor, a coaster through an old mansion which may or may not house some ghostly guests. For a more relaxing alternative, take a leisurely boat tour aboard the Thunder Mesa Riverboat Landing.
Discoveryland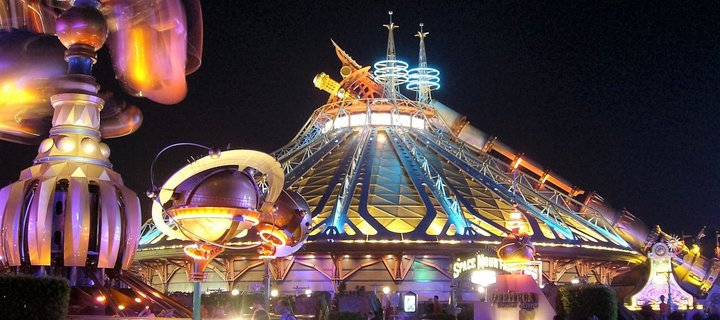 The famous Space Mountain indoor coaster has had a Star Wars transformation! It's within the futuristic world of Discoveryland that you'll find the thrilling Star Wars Hyperspace Mountain. This major attraction is among the best in Disneyland and a must-do on your visit to the parks. As with others, plan ahead for crowding and long waits by scheduling your fast-pass far in advance.
In addition to Hyperspace Mountain, Discoveryland features the fun, interactive Buzz Lightyear Laser Blast and the classic Mickey's Phillarmagic experience, great for the little ones. Alternatively, you can test out the Orbitron ride in the centre of Discoveryland. This ride is based on Leonardo DaVinci's drawings of the solar system where you can pilot your own spaceship and soar into the sky!
Adventureland
Just as its name suggests, Adventureland is full of swash-buckling pirates and exciting quests! For a traditional rollercoaster, check out the high-speed Indiana Jones Temple of Peril. Here you'll also find the famous Pirates of the Caribbean Boat Ride which takes you through the major scenes in the first film. This may not be the best activity for younger kids since there are some frightening sequences.
Instead, they might like to take a break from coasters and explore La Cabane de Robinson. Try to reach the top of this enchanting treehouse built by the shipwrecked Swiss Family Robinson. Also, visit Le Passage Enchanté d'Aladdin which takes you on a journey through miniatures of Agrabah, following the story from the acclaimed film.
Main Street U.S.A.
Though it may not be all about fancy coasters and boat tours along Main Street U.S.A., this is one of the most recognisable areas in the parks. Here you'll find legendary views of Sleeping Beauty's Castle, horse-drawn carriage rides, and vintage automobiles from the early 20th century. There are also two large arcades, the Discovery and Liberty Arcades, worth checking out. Main Street is your gateway to Disney's magic!
Walt Disney Studios
On the other hand, Walt Disney Studios gives you an inside look at the behind the scenes of your favourite Disney franchises. From major blockbusters to special TV programs, Walt Disney Studios explores their magical secrets in four main production zones:
Front Lot
Toon Studio
Production Courtyard
Back Lot
Front Lot
In the Front Lot, you'll find Disney Studio 1 where you can waltz down Hollywood Boulevard. With the Lights, Camera, Action attraction, you get to experience what it was like to be the star during the Golden Age of Film. Explore authentic renditions of Holywood movie sets, strut on stage, and bounce from one scene to the next. Here you can also learn about all the hallmarks of great films from the roaring '20s to the classic '60s.
Toon Studio
Toon Studio is the corner of Walt Disney Studios Park entirely dedicated to Disney's beloved animated classics. Here you can zoom around with Lightning McQueen at the Cars Quatre Roues Rallye. You can also explore a whole square designed in the exact style of Paris in Ratatouille. The ride takes you through the movie's best moments while shrinking you down to Remy's size! Overall, Toon Studio is best for younger children with fun and age-appropriate attractions.
Production Courtyard
Unlike Toon Studio, the Production Courtyard is better for older visitors, with the Twilight Zone-inspired Tower of Terror and mystery of the Hollywood Tower Hotel. Further, these thrill rides include sudden drops and spooky stories. A little ghost girl haunts the elevator in The Malevolent Machine while 5 unlucky people disappeared after a storm struck the Hollywood Tower Hotel in 1939.
For something a little more relaxed, try the Studio Tram Tour, a slow train ride through Production Courtyard and various movie sets before a big surprise at the end. Those strong-willed Disney adventurers will love the haunted tours that await them in the Production Courtyard!
Backlot
The Backlot in Walt Disney Studios is currently under construction as of November 2019. However, exciting new attractions are in the works. Disneyland Paris has announced a brand new Marvel campus will be complete sometime in 2020! In other areas of Walt Disney Studios, huge Star Wars and Frozen lands are in progress. Stay tuned to see if any of these new additions will be available during your Disney holiday.
Now that you know all the highlights in both Disneyland Park and Walt Disney Studios, are you ready to see all Disneyland Paris has to offer in person?
---