How to Spend the Perfect Weekend in Krakow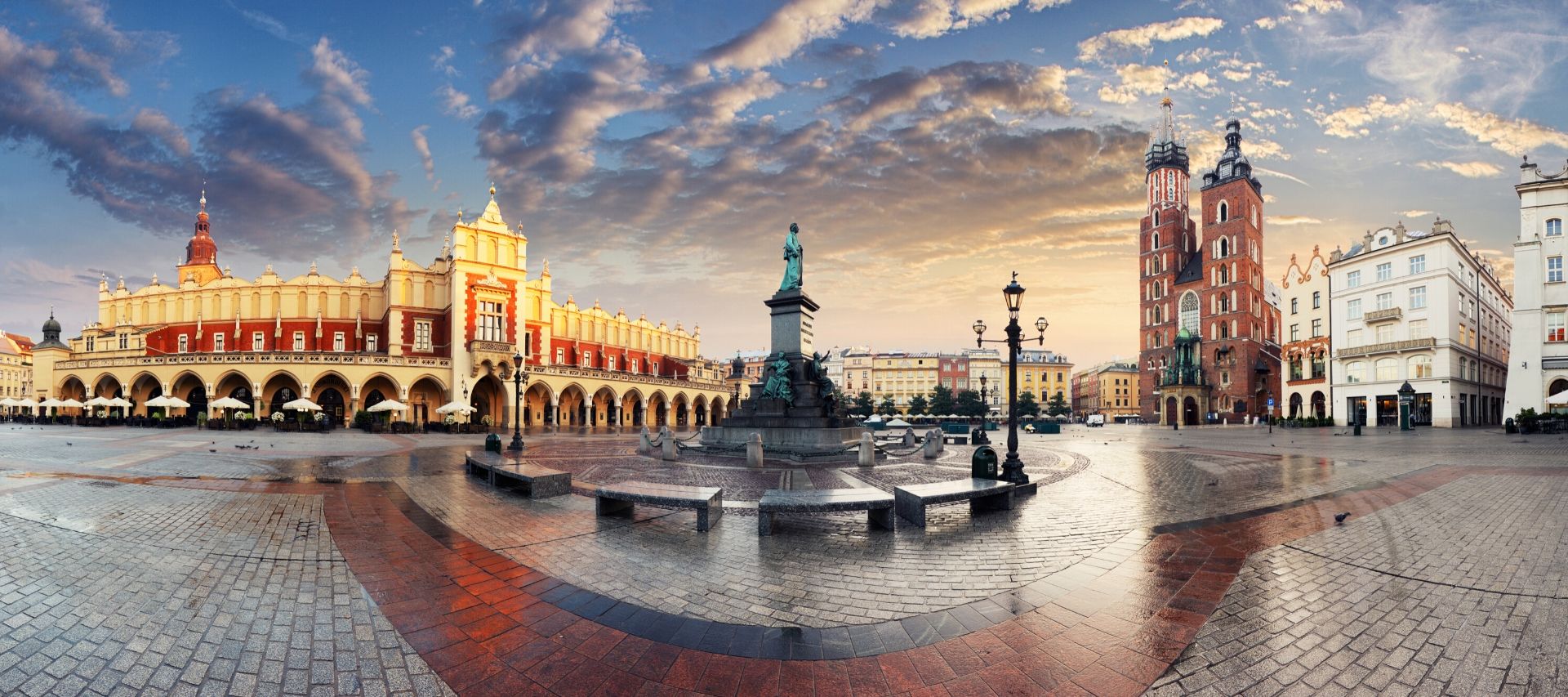 Though Krakow hasn't been Poland's capital city since the 16th century, it still remains an impressive cultural centre. The city has stood for over a thousand years, so practically every style of European architecture, from Gothic to Art Nouveau, is perceptible here. Many arts, literary, and culinary festivals come to Krakow, so it's important to check the schedule before you visit. Though there is lots to see and do, Krakow is a walkable place perfect for a weekend city break.
What to See in Krakow
Main Market Square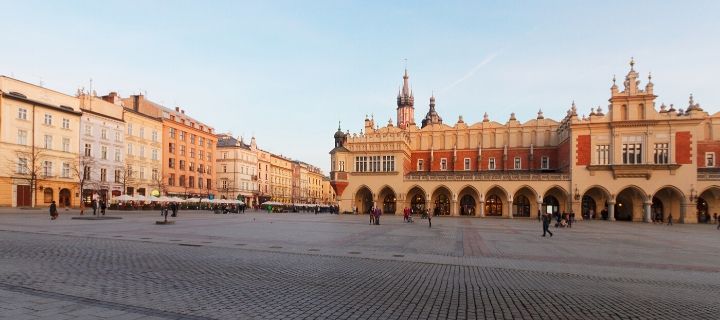 Krakow's expansive market square, also known as Rynek Główny, is actually Europe's largest Medieval town square at an impressive 200 metres by 200 metres. The iconic Cloth Hall building dates back to the 16th century, while the Town Hall Tower dates back to the 15th century. The Main Market square itself was designed in 1257 and now serves as the city's cultural centre. Home to annual Christmas and Easter markets, outdoor concerts, and festivals, the Main Market Square is an essential stop on any tour of the city.
Wieliczka Salt Mine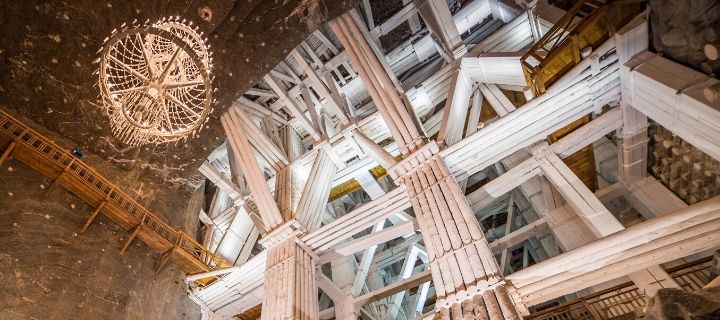 This increasingly popular tourist attraction is a UNESCO World Heritage site unlike any other. The underground labyrinth of twisting tunnels, caverns, and even lakes make up the Wieliczka Salt Mine. Located about 16km from Krakow, there is a convenient train from the city centre which takes about 45 minutes to reach the salt mine. Since 1722, the mine has been open for tourists, and you can explore it on a two-hour guided tour. Afterwards, you can choose to continue on and check out the Krakow Saltworks Museum. During peak times, we recommend you book your tour at least a week in advance.
Wawel Royal Castle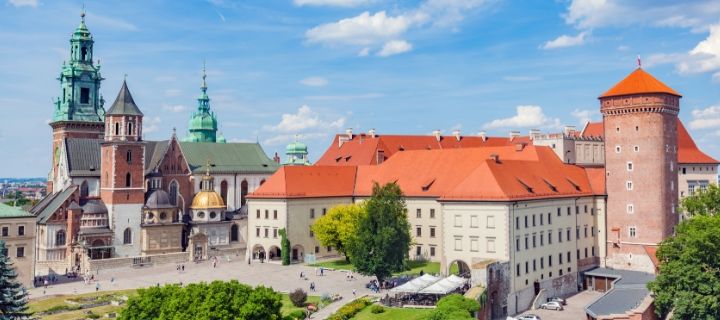 Once the epicentre of Polish politics and culture in the 1500s, Wawel Royal Castle is one of the most important historical sites in Krakow. The old fortress has since been converted into a museum featuring five main sections: Crown Treasury and Armoury, State Rooms, Royal Private Apartments, Lost Wawel, and the Exhibition of Oriental Art. Though each of them requires a ticket to enter, it's absolutely free to wander around the castle grounds, which are open 6am until dusk daily.
St. Mary's Basilica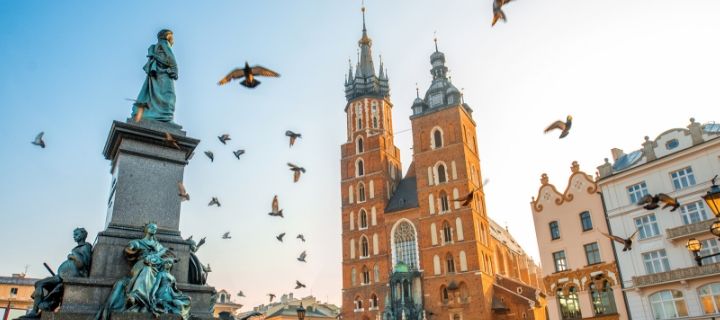 One of Krakow's most recognisable landmarks, St. Mary's Basilica was first constructed in the 14th century and is one of the finest examples of gothic architecture in Poland. The church is open to visitors and is free to explore. Admire the authentic stained-glass windows, paintings lining the walls, and carved wooden altarpiece. Then, you can pay a small fee to climb the tower and take in sweeping views over Krakow at the top.
Where to Go in Krakow
Schindler's Factory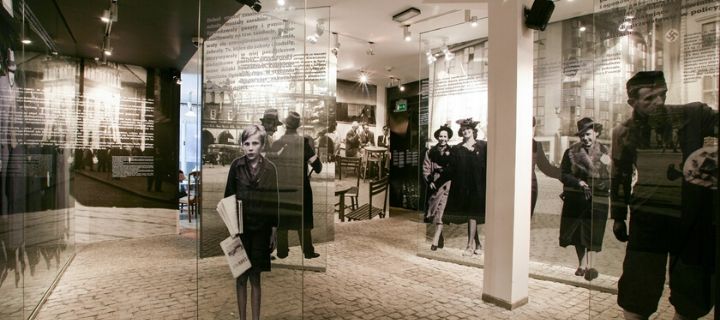 This museum tells the story of Oskar Schindler, the Nazi German industrialist who saved the lives of over a thousand of his Jewish labour force during the Holocaust. The museum also covers the reality of life under German occupation in Krakow from 1939-1945. These thorough, thought-provoking exhibits help shed light on the impact of the Second World War in Poland. Schindler's Factory is a popular tourist spot, so it's advised to book your tickets in advance online.
The Cloth Hall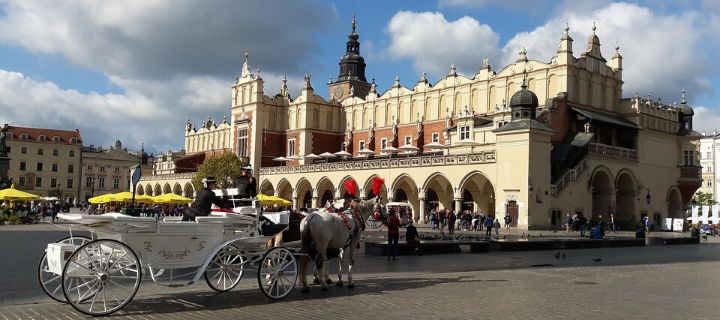 This massive edifice dominates Krakow's Main Market Square and was once the centre for clothing trade in medieval times. In the 14th century, it consisted of a mere two stalls but was expanded into a stunning Renaissance hall after a fire in 1555. Now, this huge space is used for all kinds of tours, markets, and even cooking classes! Its upper floor houses the Sukiennice Museum division of the National Museum Kraków and showcases a large collection of Polish painting and sculpture.
Starka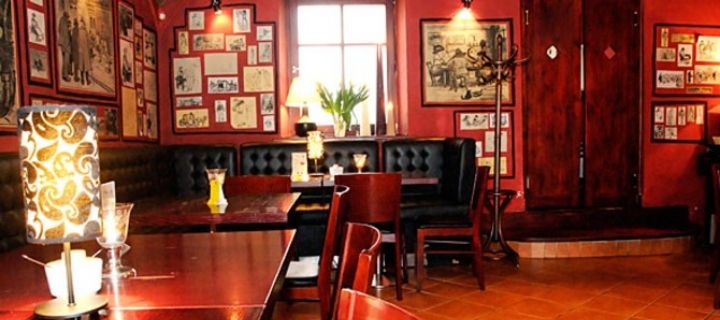 For high-quality traditional Polish cuisine, Starka is a must-visit. Located within Krakow's Jewish Quarter, this quaint, two-room restaurant is the perfect spot to try some Polish delicacies like sour rye soup, Starka salad, pork sirloin, and more. The restaurant also features an impressive selection of different flavoured vodkas to try!
Mercy Brown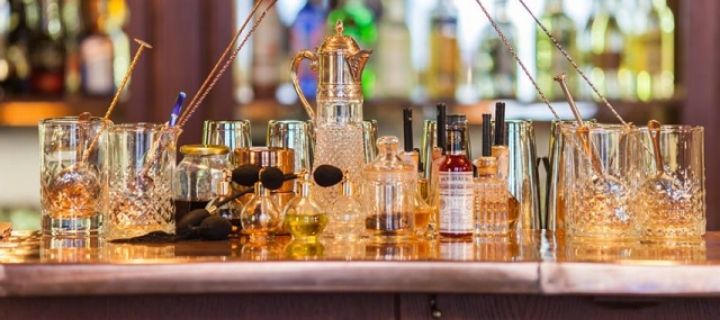 Designed in the style of an old American speakeasy, Mercy Brown is the city's best cocktail bar. The establishment is hidden above Smakołyki restaurant with no signs externally to give it away. Just like a real speakeasy, Mercy Brown's almost forbidden status adds to the fun. The cocktails here are as unique as the upbeat environment. Stop by on a Sunday for some live jazz!
Where to Stay in Krakow
5 Star – Niebieski Art Hotel & Spa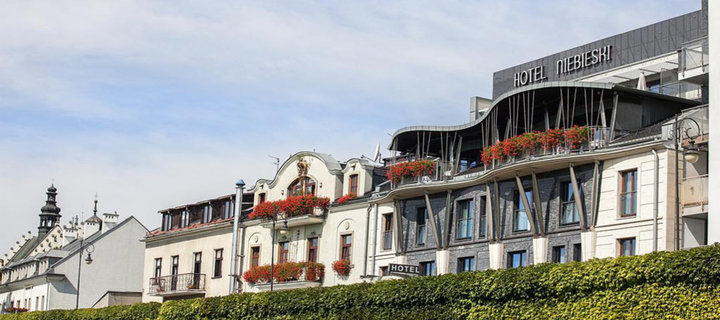 The Niebieski Art Hotel & Spa is one of Krakow's finest hotels and is located just off the Vistula River. This hotel features two restaurants, an extensive spa, and 52 accommodations in the form of two luxury apartments, 39 five-star quality rooms, and 11 three-star quality rooms. The apartments on the top floor even feature views of the Vistula Boulevards. The rooms are decorated with the unique work of local artists, so this upscale, modern hotel has a charming, boutique feel.
4 Star – Venetian House Market Square Aparthotel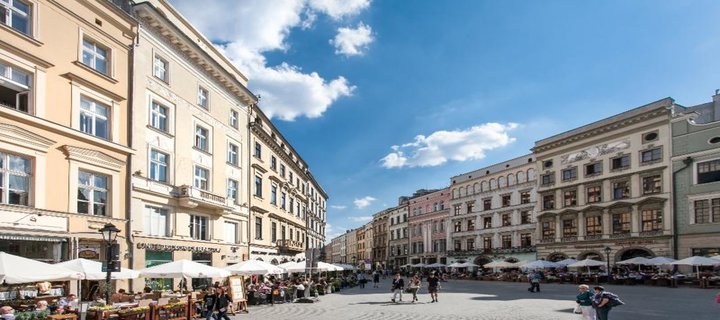 It's all about the unbeatable location with this hotel option. The Venetian House Aparthotel is truly right in the heart of Krakow's Main Market Square. Guests are surrounded by the colourful, ornate architecture Krakow is known for here. In addition, the hotel offers excellent quality and attention to detail. The renovated 16th-century building is home to fully-equipped, modern rental apartments, so you won't have to sacrifice the comforts of home while on holiday.
3 Star – Antique Apartments Plac Szczepanski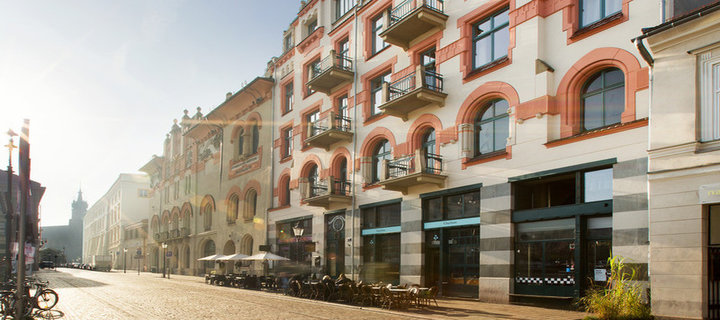 A celebration of Krakow's history and decadent architecture, the Antique Apartments offer elegant, affordable accommodation. With studio, one, and two-bedroom options, the facilities can easily suit a family, group of friends travelling together, or a smaller travel party. The hotel features free wifi, breakfast and dinner options, bookable airport transfers, and even tour tickets for organized trips to Auschwitz, the Wieliczka Salt Mine, and other spots around Krakow.
Are you ready to spend your next weekend getaway exploring beautiful Krakow?
---