Your Guide to Majorca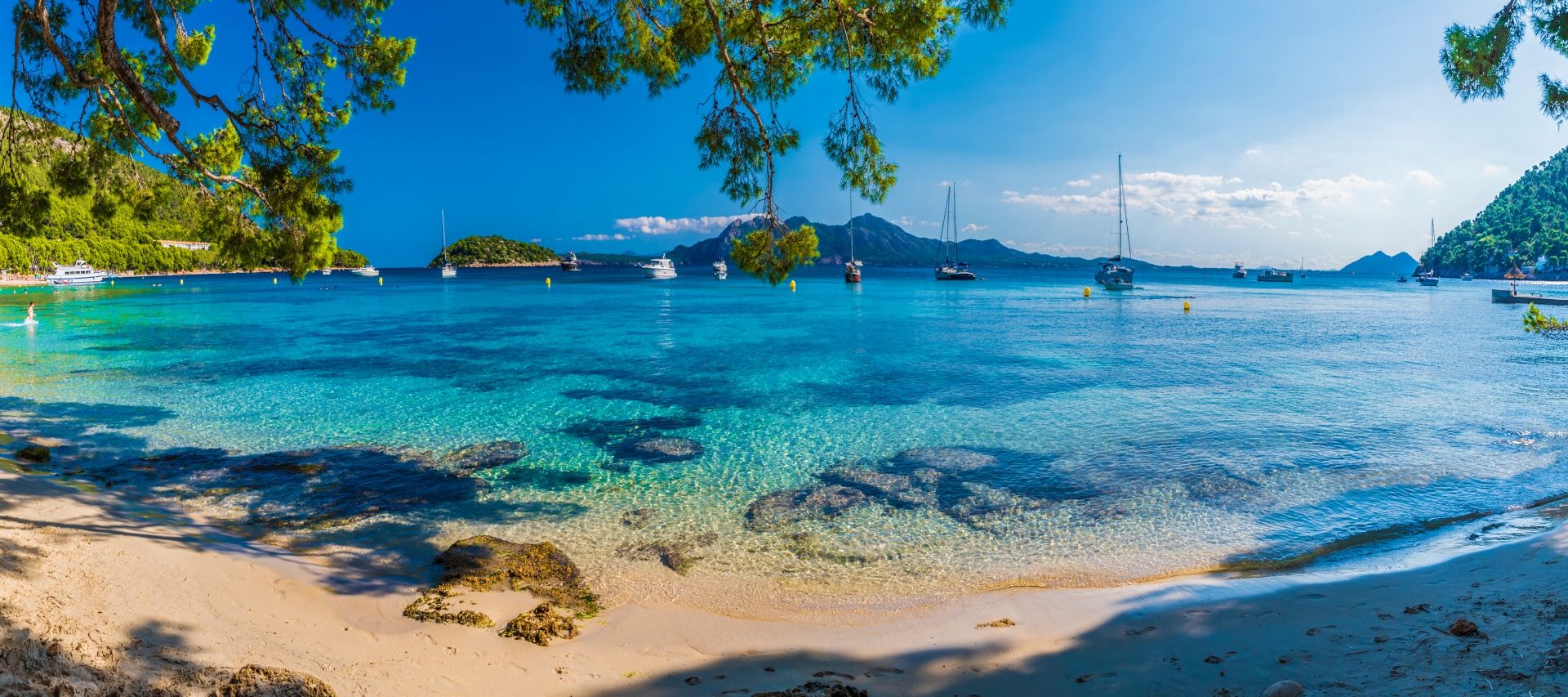 Known for its sparkling beaches, upbeat nightlife, and picturesque landscape, Majorca is a stunning island in the Mediterranean. Majorca is the largest of the Balearic Islands, and it offers a wide variety of different resort areas for tourists of all kinds. Whether you're looking for a lively party holiday, a fun-filled family getaway, or a peaceful beach escape, Majorca has it all. Much of its diversity comes from its varied resort areas, each presenting a distinct flavour of what Majorca has to offer.
Top Resort Areas in Majorca
Alcudia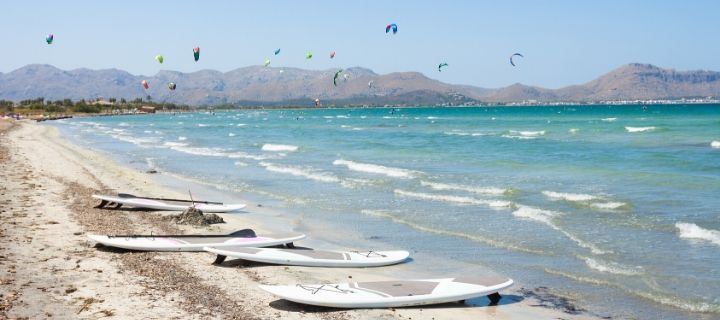 Often cited as the top family resort area in Majorca, Alcudia is scenic, well-connected, and has wide appeal. This port city with its preserved Old Town is the main tourist centre in the northeast of the island. It includes a 14km strip of pristine beach, perfect for watersports and safe for swimming. Platja d'Alcúdia and Platja de Muro on the shores of the harboured Alcudia Bay are among the region's most popular areas.
The walled medieval Old Town is also an important spot to check out, with some structures dating back to the 13th century! The town is full of authentic restaurants, shops, and cafes, as well as a market twice a week where you can get great deals on souvenirs. Since Alcudia is ideal for families, its nightlife scene is present, but not over-the-top. Nevertheless, there is a good selection of live music venues, bars, and pubs worth checking out.
Santa Ponsa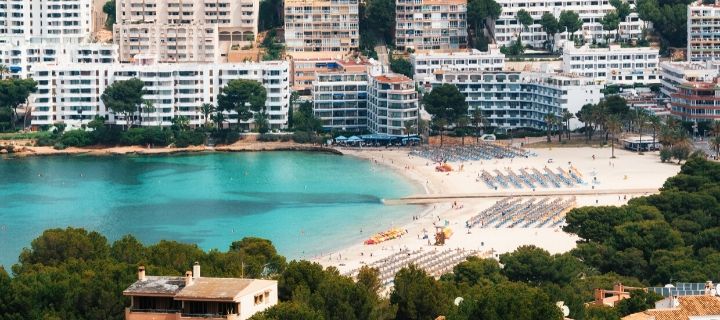 Located on the opposite side of the island in the southwest, Santa Ponsa is a lively resort town with a fabulous golden sandy beach. Santa Ponsa has a very traditional resort vibe, with hotels lining the water and a jam-packed promenade. The protected cove is safe for swimming, in addition to more adventurous activities like kayaking or windsurfing.
This diverse area is great for families with young kids as well as groups of friends travelling together. Local restaurants feature classic Spanish tapas alongside family-friendly options. Head to Ramon de Moncada Street in the evenings, and you'll find a wide range of entertainment, from bars and pubs to spectacular shows suitable for children. Santa Ponsa is also situated not far from the island's capital city, Palma. Take a 20-minute drive for a bit of culture to mix up this otherwise serene beach holiday.
Palma Nova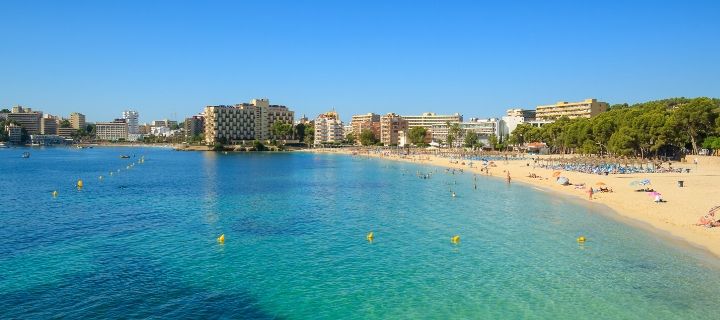 A more subdued, calm resort area, Palma Nova is a great option for those looking for a laid back holiday in Majorca. Palma Nova was actually the first purpose-built tourist destination on the island. The long, sheltered beaches feature gentle waters and ample space to lounge in the sun. Playa de Palmanova, Playa San Matias and Playa Es Carregador are the top three best beaches in Palma Nova.
Since Palma Nova is located on the northwest coast, you'll see gorgeous views of the Serra de Tramuntana Mountains in the distance. With local olive groves and pine forests all around, Palma Nova is more than just hotels and tourist attractions. Nevertheless, there is plenty to do in the area in addition to just taking in its natural beauty. A bustling promenade stretches all the way to neighbouring party-centre, Magaluf, which is a fun spot for a night out.
Cala d'Or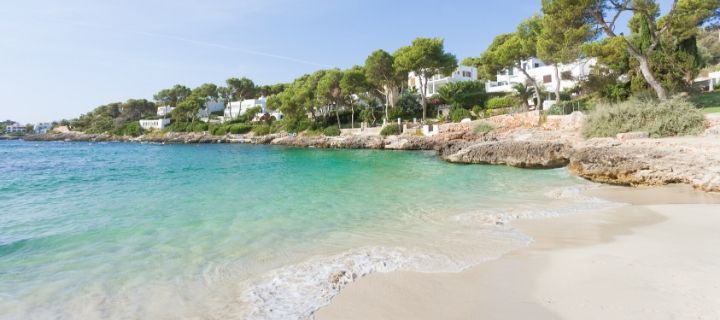 Once a traditional fishing village, Cala d'Or has transformed into a happening resort area full of exciting things to do. Sprawling sandy beaches, a huge marina, and many shops and restaurants make up this idyllic town.
Situated on the southeast coast of Majorca, there is no shortage of natural beauty in and around Cala d'Or. The medieval Santueri Castle overlooks S'Horta village and the coastline from a nearby hilltop to the north. Meanwhile, Mondragó Natural Park, with its lush scenery and wildlife, lies to the southwest. You can also find lots of excitement in Cala d'Or's centre, ranging from small, cosy pubs to expansive
Magaluf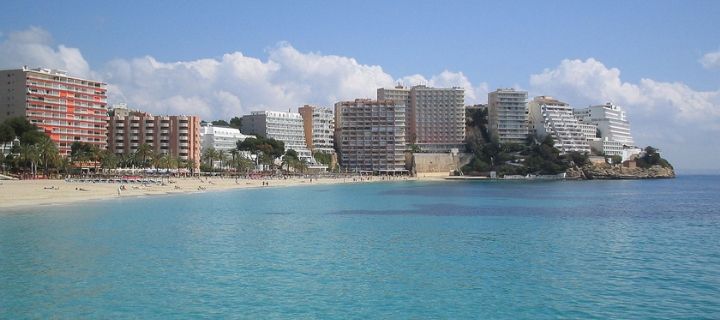 Magaluf offers the quintessential energetic resort experience. Between its strip of Blue Flag quality beach, palm-tree-lined promenade, and host of incredible nightclubs, Magaluf won't disappoint. In fact, Magaluf's nightlife is unmatched anywhere else in Majorca, with famous DJ's flocking to its venues and resorts. At night, the whole area comes alive with neon lights, music, and dancing.
If you aren't big on the clubbing scene, there are also several thrilling theme parks to check out in Magaluf. Waterparks and amusement parks like Kathmandu Park and Western Water Park are fun, family-friendly ways to spend the day in Magaluf.
Puerto Pollensa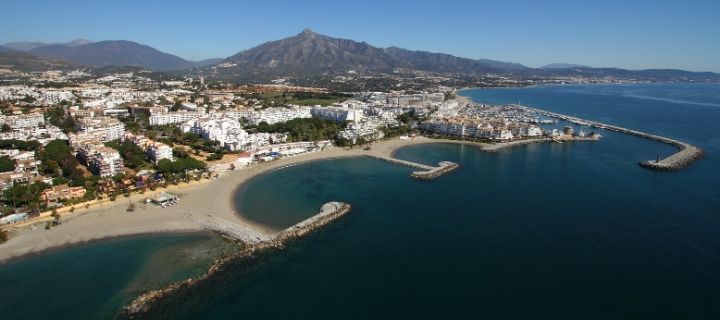 A stark contrast to Magaluf's vivaciousness, Puerto Pollensa is a quieter resort area in the northeast of the island. Facing the tranquil Bay of Pollensa, the area is home to peaceful beaches, stunning mountain views, and a traditional fishing harbour.
However, Puerto Pollensa is definitely not isolated, with a town centre packed with restaurants, shops, and family-friendly attractions. The town square hosts a colourful weekly market, while authentic seafood restaurants with sweeping ocean views dot the shoreline. Alcudia with all its history and culture to explore is only a short drive away, making for an excellent day trip. Otherwise, Puerto Pollensa is the perfect place to kick back, relax, and enjoy the sunshine.
Ready to start planning the ultimate island getaway to Majorca?
---