Your Guide to Halkidiki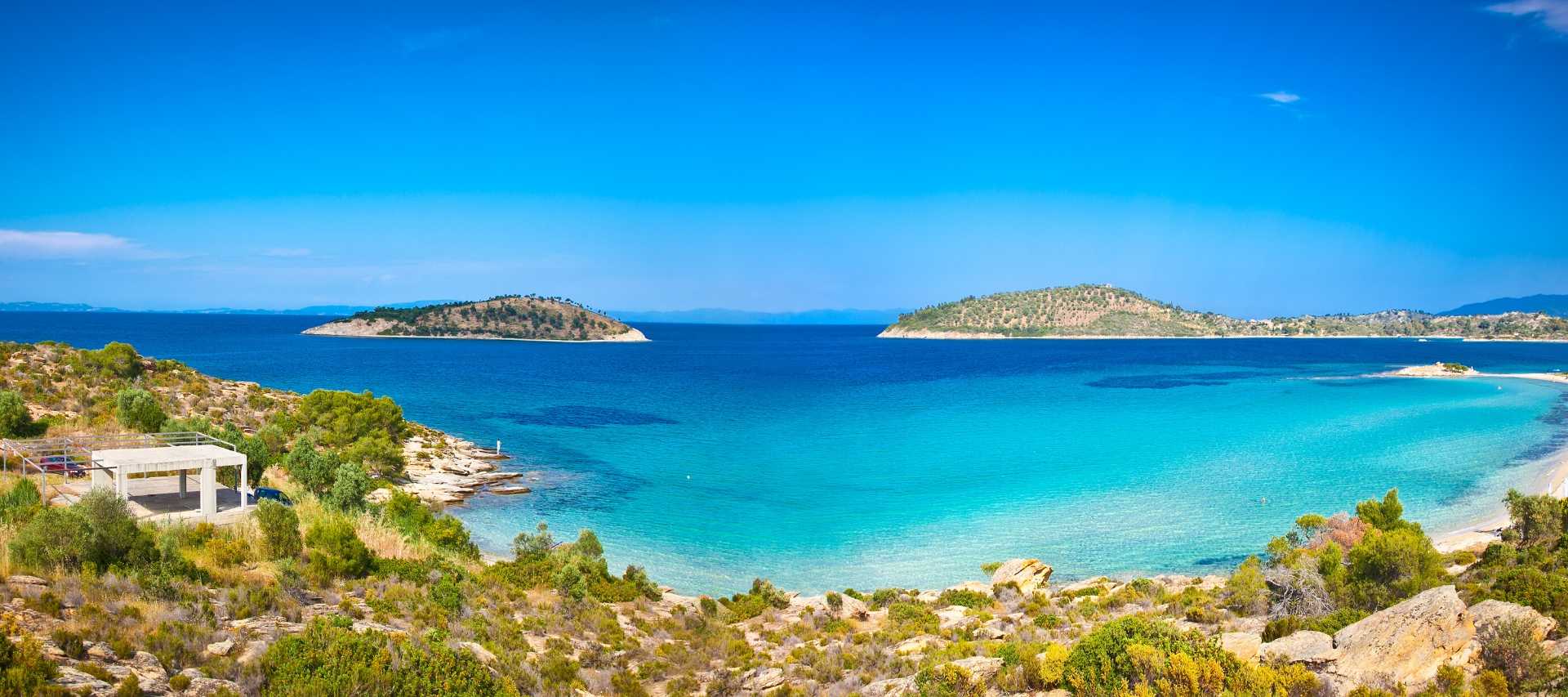 Consisting of three jutting peninsulas in the north of Greece, Halkidiki is uncharted territory for many, but this hidden gem makes for an incredible holiday destination.
Kassandra and Sithonia are two peninsulas within the Halkidiki region that are more popular for tourism, while Mount Athos peninsula to the east is an important monastic area for Eastern Orthodox Christians. With seemingly endless sandy beaches, remarkable ancient history, and plenty of sun, Halkidiki is definitely worth exploring on your next getaway.
Top Places to Go in Halkidiki
Kavourotripes Beach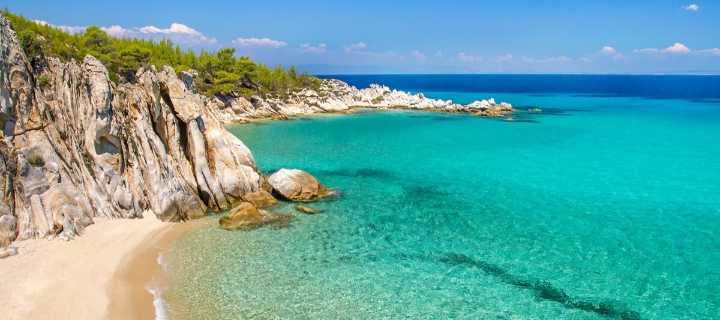 Located on Sithonia peninsula, Kavourotripes Beach is a stunning spot surrounded by rugged rocks. With its crystal clear turquoise waters and onsite accessible beach bar, it's a great place to spend the day. Ideal for swimming, sunbathing, and photographing Halkidiki's untarnished beauty, Kavourotripes Beach is a must-see.
Ammouliani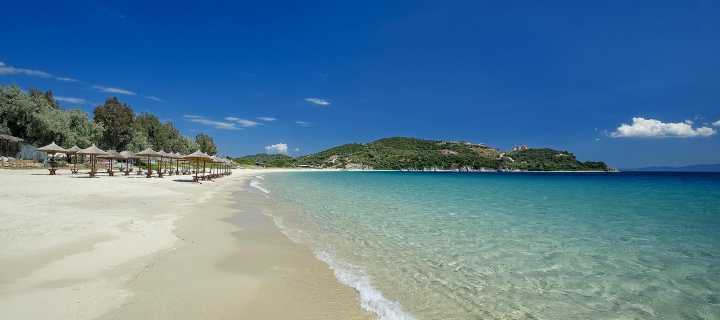 Ammouliani is a small, pristine island off the western coast of Mount Athos peninsula. Accessible via ferry, Ammouliani is a great place to go for a little day trip and offers you the opportunity to see a bit more of Halkidiki than just the area around where you stay. Mount Athos is a heavily protected area, and only men with specific permission are allowed to enter. Therefore, the only way to see the stunning mountains and coastline along this secluded place is via boat tour, which you can book as a day trip leaving from Thessaloniki or other resort areas in Halkidiki.
Aristotle's Park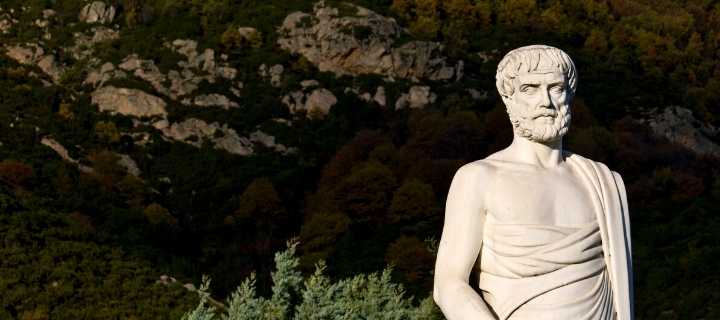 This park dedicated to the Greek philosopher Aristotle is a unique and interesting site to visit in Halkidiki. From the park, you can take in gorgeous views of the Gulf of Ierissos and the Mount Athos peninsula. The park includes sculptures and scientific instruments which demonstrate rules of physics from Aristotle's own works. Kids will love to see tools like optical discs, sounding bars, a compass, sundial, prism, and pendulum in action before their eyes!
Temple of Ammon Zeus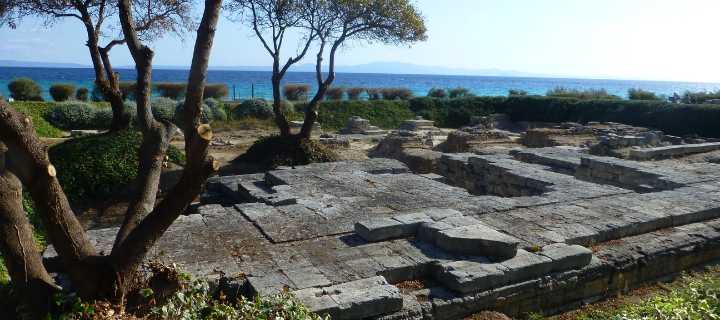 Near the town of Kallithea on the Kassandra peninsula, the Temple of Ammon Zeus is a significant architectural site. The sanctuary was built in the 8th century by residents from the village of Afitos to honour the god Dionysis. Evidence suggests the area went on as a worshipping site until the Roman period, after which it was destroyed. Now, surrounded by lush greenery and sweeping sea views, it's a magical place not to be missed on your Halkidiki holiday.
Kassandra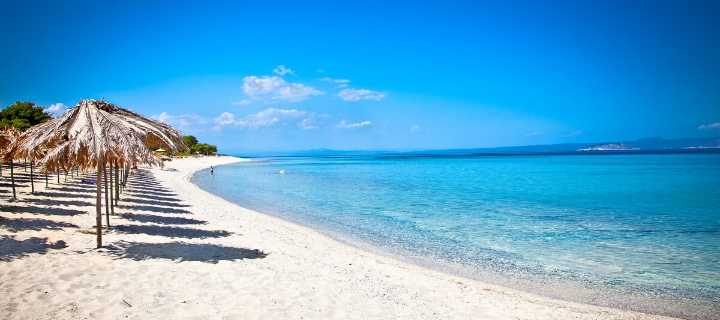 Kassandra is the western-most of the three peninsulas in Halkidiki. Well known for its untouched natural beauty, upbeat festivals, and growing tourist draw, there are many great places to visit and stay on the peninsula. The spectacular Sani resort lies in the shadow of the one and only Mount Olympus, while Siviri is home to the Kassandra Festival. Lasting nearly all of July and August, the Kassandra Festival is a celebration of Greek culture and has welcomed artists such as Ray Charles, BB King, and Joanne Baese in the past. It also honours traditional Greek dramas, with famous Greek actors returning year after year.
Where to Stay in Kassandra
Alexander the Great Beach Hotel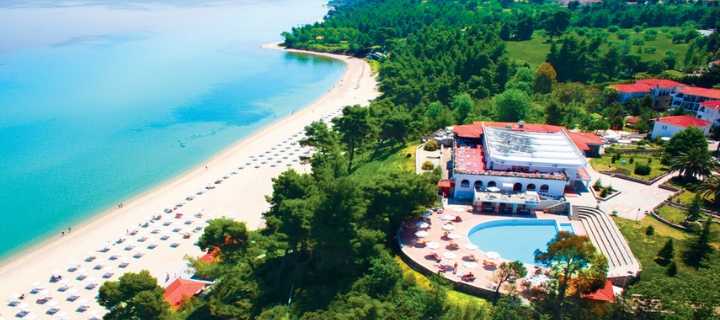 Located just 2.5km outside Kallithea, this hotel is a great choice for your Halkidiki holiday. It features a long strip of sandy beach with calm turquoise waters as well as an outdoor pool overlooking the sea. The rooms are comfortably furnished, and you can also opt to stay in spacious private bungalows. When it comes to dining options, guests can enjoy a daily breakfast buffet as well as the delicious culinary creations of famous chef Tassos Ferekidis. In addition, guests can shop at the onsite minimarket for homemade products and souvenirs.
Sithonia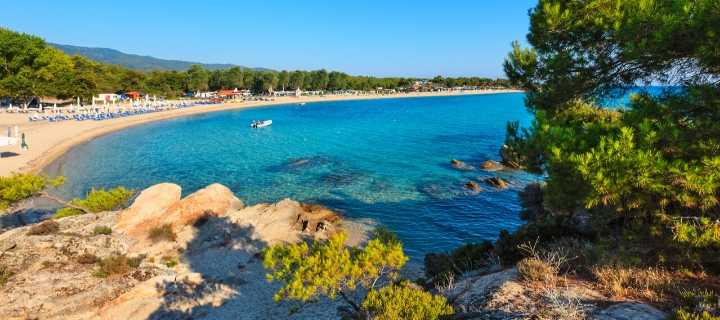 Situated between Kassandra and Mount Athos, Sithonia home to almost 100 beaches and 152 excellent places to stay. Its calm waters and rugged mountains are perfect for outdoorsy tourists looking to try stand-up paddleboarding, biking, or hiking. Alternatively, the brilliant, clear beaches of Sykia or Toroni are ideal for those seeking complete relaxation in an undiscovered paradise. Try some traditional gyros in one of Sithonia's top-notch eateries, or take a boat journey so you can explore all the inlets and coves along its beautiful coast.
Where to Stay in Sithonia
Lagomandra Hotel and Spa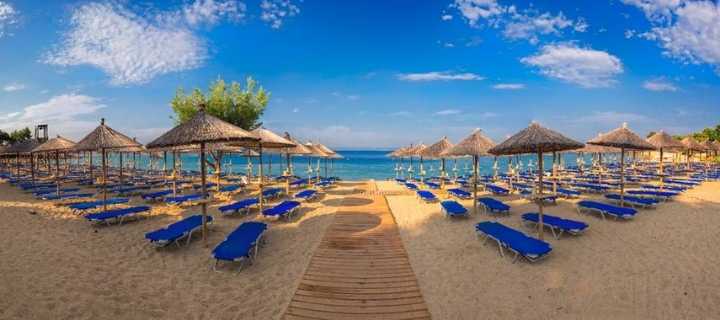 This spectacular, modern 4* hotel and spa sits right at the foot of Mount Itamos and right along the beautiful Lagomandra Beach, a blue-flag beach and one of Sithonia's finest. The small towns, Neos, Marmaras, and Nikitis, are close by and easy to access for a visit. Further, this hotel offers a wide variety of activities and amenities. You can check out the basketball and volleyball courts, Diving Centre, and many other water sports. An on-site restaurant serves a selection of Greek and European dishes, while the pool bar offers refreshments and cold snacks during the day. Rooms and suites feature elegant decor, air conditioning, and private balconies with views of the sea and gardens.
Are you ready to explore Greece's best-kept secret on your next holiday?
---