Where to Go in Majorca on your Next Sun Holiday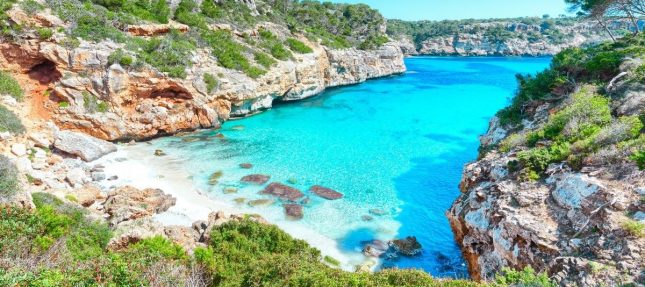 One destination that'll never give us the ick, and is definitely our type on paper, is the stunning Balearic island of Majorca. Landing in its historical capital, Palma, there are endless options for a sun-soaked holiday that you'll never forget.
For a lively holiday in Majorca
If you want a lively holiday with bars, clubs and a buzzing atmosphere, Santa Ponsa or Magaluf are the places to go. Both towns have golden stretches of beach with an array of water activities to keep you busy during the day.
In Magaluf, you can spend the day splashing about and testing out the water slides at Kathmandu Park or Western Water Park. From dusk, the big draw in Magaluf is its nightlife where famous DJs flock to play their sets for music-hungry fans.
In Santa Ponsa, its sheltered Blue Flag beach is perfect for relaxing during the day and its promenade is filled with bars, cafes and shops. Away from the beach, you can try out Jungle Parc and zipline your way through the trees and escape the heat of the sun. Although quieter than neighbouring Magaluf, Santa Ponsa has a great buzz at night. Just stroll along Ramon de Montcada and you'll easily find a bar or club to suit your tastes!
For a relaxing holiday in Majorca
If you want a relaxing holiday where you move between the pool and the sea, eat, drink and nap, then Alcudia or Cala d'Or are the perfect destinations for you.
Alcudia is a scenic port city with a fabulous 14km stretch of calm, pristine beach. It doesn't just have one of Majorca's finest beaches, Alcudia has a fascinating walled medieval Old Town that dates back to the 13th century! When you're not busy sunbathing or going for strolls on the beach, you can explore Puerto Alcudia and enjoy some delicious seafood.
Cala d'Or is one of Majorca's most stylish destinations with gourmet restaurants, elegant shops and a sunny disposition. Meaning 'Golden Bay', Cala d'Or has seven golden beaches to visit on your holiday. Cala Gran is the biggest of the beaches with tranquil waters and an abundance of facilities for a day at the beach. You can see the town's small fishing village roots in its cobbled streets and quaint buildings giving it an authentic Spanish feel. Cala d'Or's relaxing laid back atmosphere is perfect for those who want to just unwind.
Featured Stay in Majorca
If you want to really unwind, we have added a fantastic new 'Adults Only' property to our website. The 4* Rei del Mediterrani Palace hotel in Alcudia has gorgeous bright and airy interiors. Its large pool and poolside bar are perfect for soaking up the sun during the day. Not to mention its L´Agora bar with a stunning poolside terrace that's perfect for enjoying a few evening cocktails. 500m from the beach and set in beautiful gardens, this is a great choice for your getaway to the sun!
---