Cruises are truly one of the best ways to holiday. Waking up somewhere new every day, spectacular ships with endless opportunities for fun and enjoyment and only having to unpack once as you travel the world, what's not to love! Well, for those who have never cruised, this holiday type can be daunting because cruises do attract a lot of myths. But fear not! We are here to debunk some of the most common misconceptions around cruising because we truly believe everyone should try a cruise at least once. Here are 8 common cruise myths busted!
1. Cruises are for old people
We're starting off with one of the most common cruise myths there is, that cruises are for old people! This could not be further from the truth! In fact, all the major cruise lines, such as MSC Cruises, Royal Caribbean and Norwegian Cruise Line are building their newer ships to suit a much younger audience. Think young families with small kids right up to families with teenagers as well as dedicated staterooms and spaces for solo travellers. Basically, cruise ships nowadays are built to cater to everyone. The trick is to choose a cruise line and ship that suits your own personal needs. Yes, there will be some cruise lines and even some sailings with a much older audience on board but that shouldn't deter you from wanting to try a cruise.
Choosing the right cruise line, sailing and time of year to cruise can be a little stressful if you haven't done it before, so if this is something that worries you, chat to our Cruise Experts and they will be more than delighted to guide you in the right direction.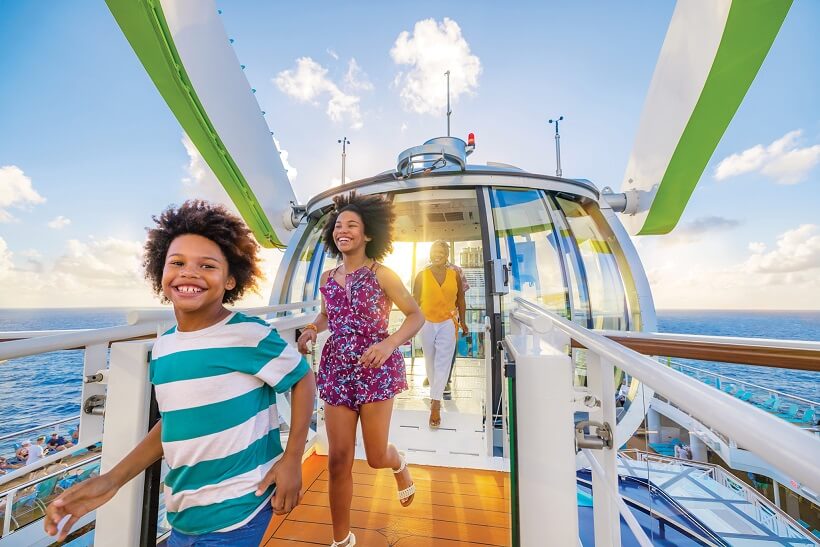 2. Cruises have loads of hidden extra costs
Cruises do come with a lot of planning and things to consider, but they don't have hidden extras. There are items you will need to consider such as paying for your gratuities which is your onboard tips and also perhaps your drinks package. But aside from those two key elements in cruise costs, there is no need to fear hidden extras. Once you book your cruise and pay for it, you can go and spend no additional money on your holiday, or you can choose to book excursions, speciality dining etc. the choice is entirely up to you. It is important when you're booking your package that you ask about what is included and try, if you can add your drinks package and gratuities onto the holiday cost at time of booking. This will eliminate any fears of extra charges while on board.
With your cruise fare, your meals are all included. Should you choose to dine in a speciality restaurant on board, there is an extra charge but there is no need to do this if you are budget conscious as the food available to you that is included is delicious and vast when it comes to options.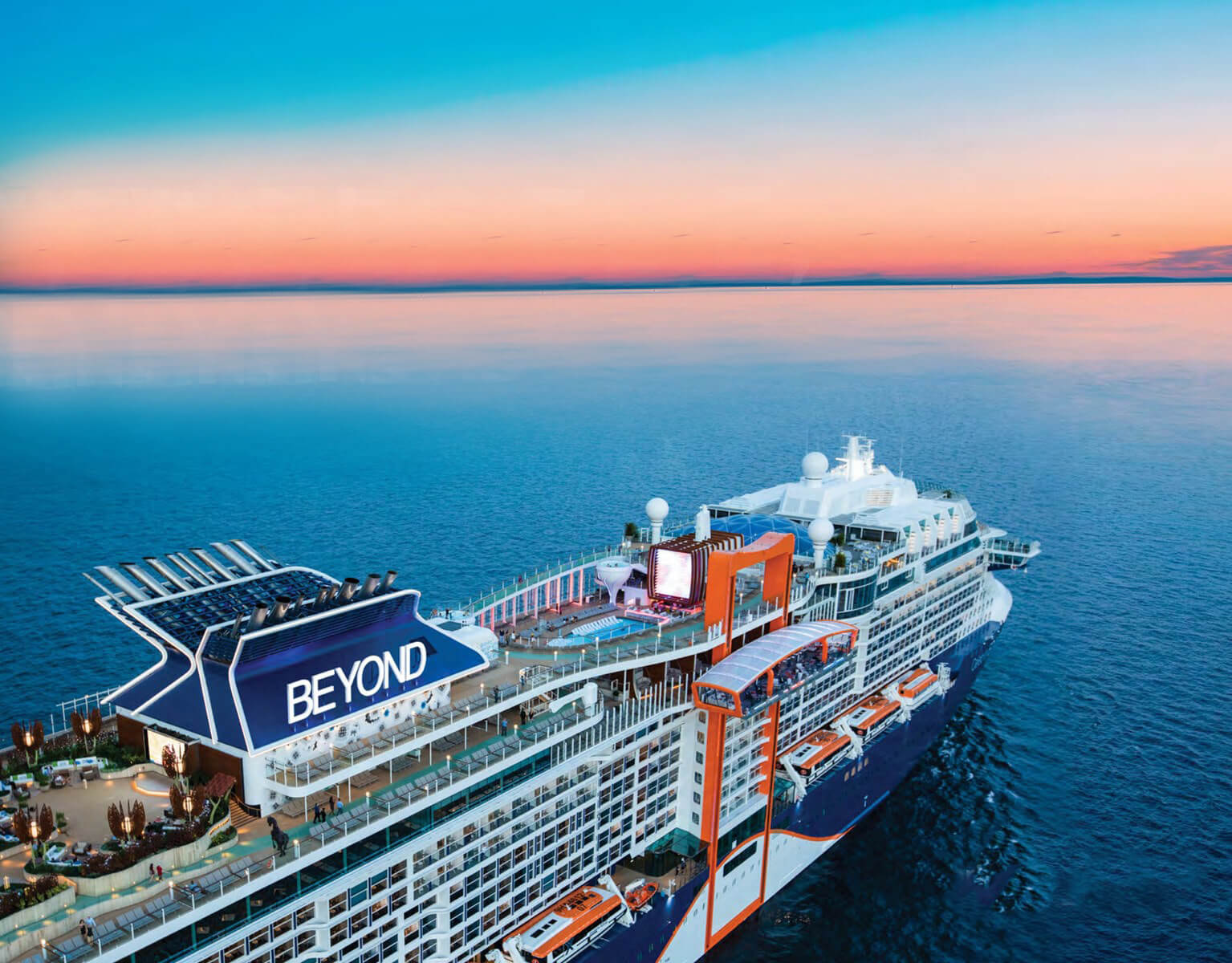 3. Cruises are boring
Whether you dream of historic cities, breath-taking, unspoilt nature or island hopping in the Caribbean, cruises are far from boring! Firstly, the huge array of ports of call you can visit around the world all offer so much to enjoy. While back on board, ships today are just as entertaining. From gyms and spas to water parks and crazy golf and bumper cars to surf simulators. All of these wonderful attractions that cruise ships today feature mean you have so much choice to be anything but bored!
Each evening on your cruise, no matter the cruise line, you also get a newsletter to your stateroom which outlines your day ahead for the following day. This newsletter is well worth a read before bed as it will tell you about your next port of call or sea day and all of the activities taking place on board the next day. From sail away parties, to white night and live music and shows, this newsletter is a boarding card to fun!
Of course, if you prefer to spend your days relaxing as you sail, there are plenty of places to enjoy some relaxation on board, both on the inside decks and outside.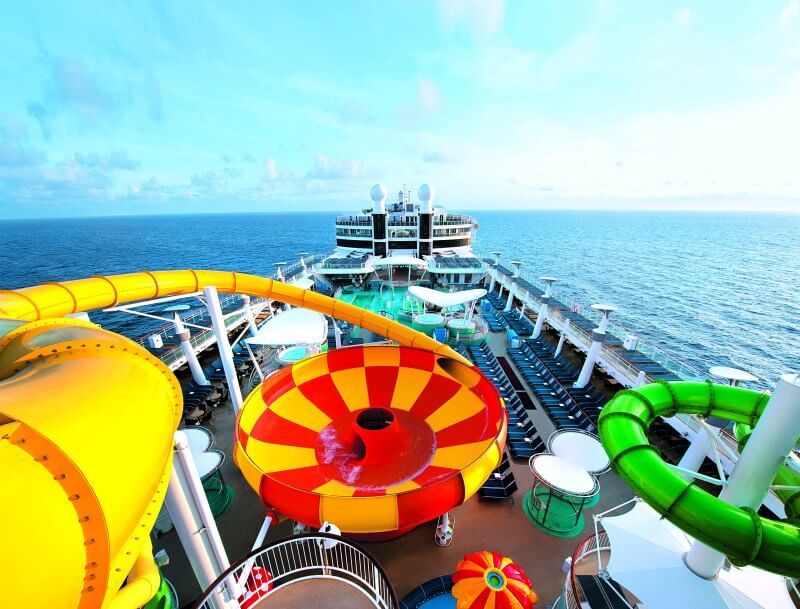 4. The food on cruise ships is bad
We all love to enjoy delicious food when we go on holiday and the food you will enjoy on your cruise will honestly blow you away! Each ship offers a huge array of choice when it comes to dining. From the ever-popular buffets to the elegant main dining rooms that are both included in your cruise fare, to small cafes and even pizza places such as Sorrento's Pizza on Royal Caribbean (also free), the food is honestly so tasty, and the choice is endless. Cruise lines understand how important food is to holiday makers and they really focus their attention on getting it right for their guests. In fact, you will find yourself planning your cruise days around your next meal because honestly, cruise ship dining is such a treat for your tastebuds!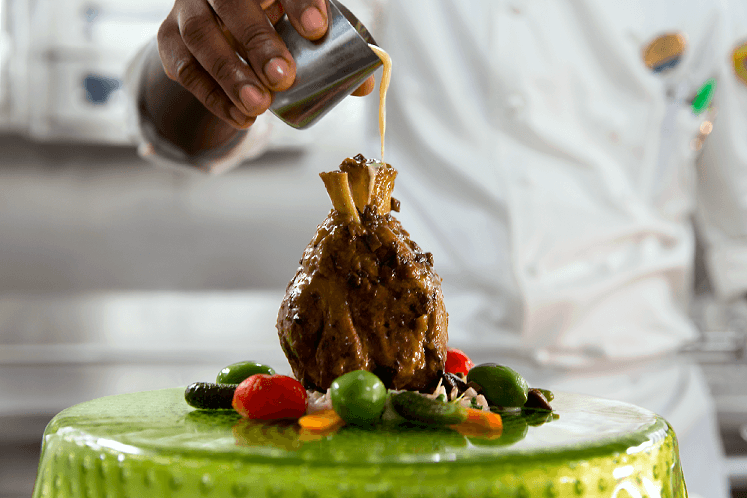 5. You have to follow a strict schedule
Another common cruise myth is that when you cruise, you have to follow a strict schedule. This myth makes cruising sound like a job, which is the last thing a cruise feels like! On your days in port, you will arrive and depart at set times but usually the time in each port is quite a significant few hour (8 hours on average) giving you ample time to explore all of the wonderful sights, shopping and attractions. Back on board, while activities do run in various venues around the ship from morning to night, you can choose to ignore them and go at your own pace if you wish. When you are on holidays, the last thing you want to feel is rushed so we advise everyone who cruises to do it their own way and at their own pace for the best experience.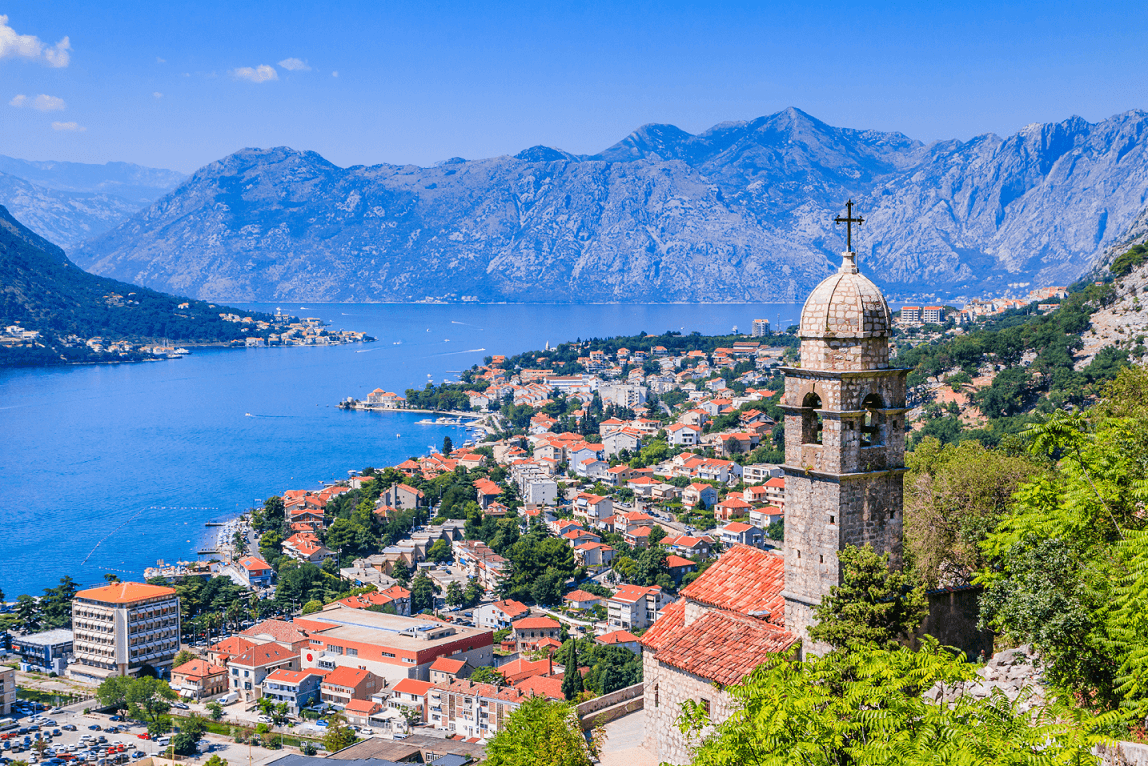 6. Cruises are claustrophobic and overcrowded
Most cruise ships can hold anything from 2,000 passengers to 6,000 passengers and its easy to see these numbers and think that you will feel overcrowded on board, and even claustrophobic but truthfully, the ships themselves are so large, everyone is well spread out meaning that you won't often be greeted with a wall of people. The pool area on sea days can get busy on a cruise ship but there are plenty of other sun lounger areas throughout many ships and also various pool and jacuzzi areas to head to if you're feeling it's a little busy.
When it comes to your cabin, also known as a stateroom, these are often discussed as being very small. In comparison to a hotel room, cabins on a ship are more compact. But they are extremely comfortable and come with everything you need. Dare we say, the beds on board all major cruise lines are so comfy, they may even allow for a better night's sleep than those in a hotel!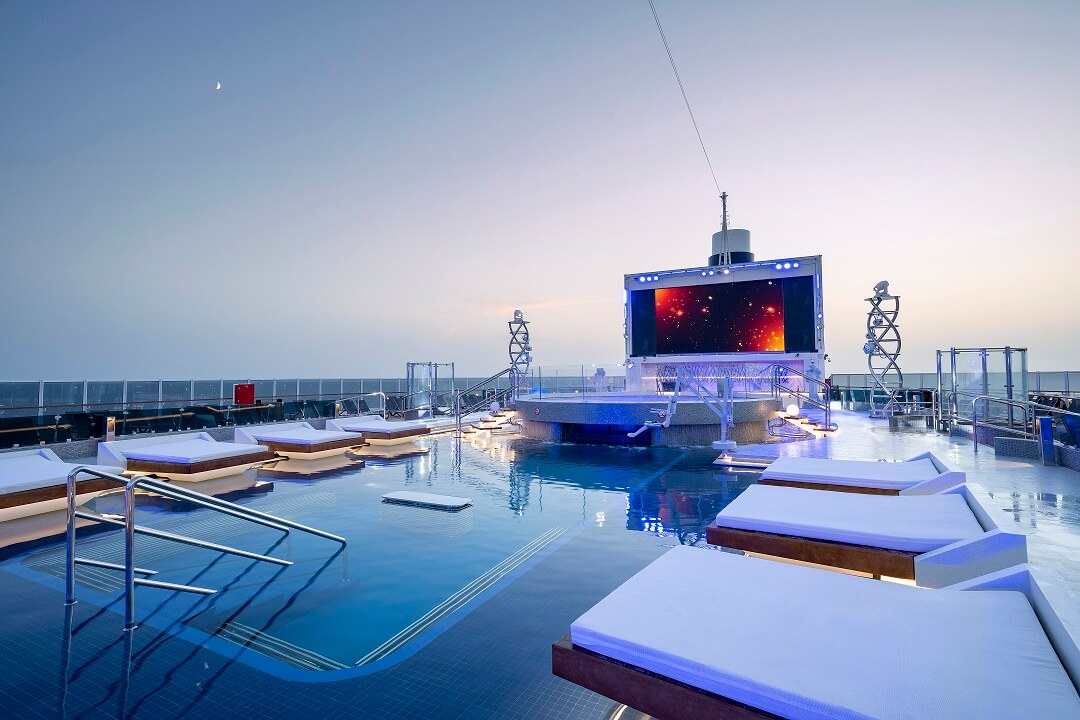 7. Cruises are too expensive
Cruise holidays are often perceived as being too expensive and at first glance at a cruise holiday price, we can appreciate why. But once you discover how much is included in a cruise holiday, this view does change. A cruise holiday package with Click&Go for instance will have your flights included, sometimes your transfers and then your cruise, meals, entertainment and often your tips or gratuities. When you look at a regular holiday without your meals included, the budget required for spending money can often end up being more than it would be compared to if you book a cruise holiday, where all of your meals are covered in your initial cost.
This can equal two things for you:
You can budget a smaller amount of spending money for your entire trip, knowing your meals each day onboard are already paid for.
You can, if you wish, dedicate your holiday spending money to more of the fun stuff like excursions, port days, shopping or perhaps even a spa treatment on board the ship.
Cruise holidays come in a variety of lengths and price points but overall, we can confidently tell you that they are incredible value for the experience you get on board.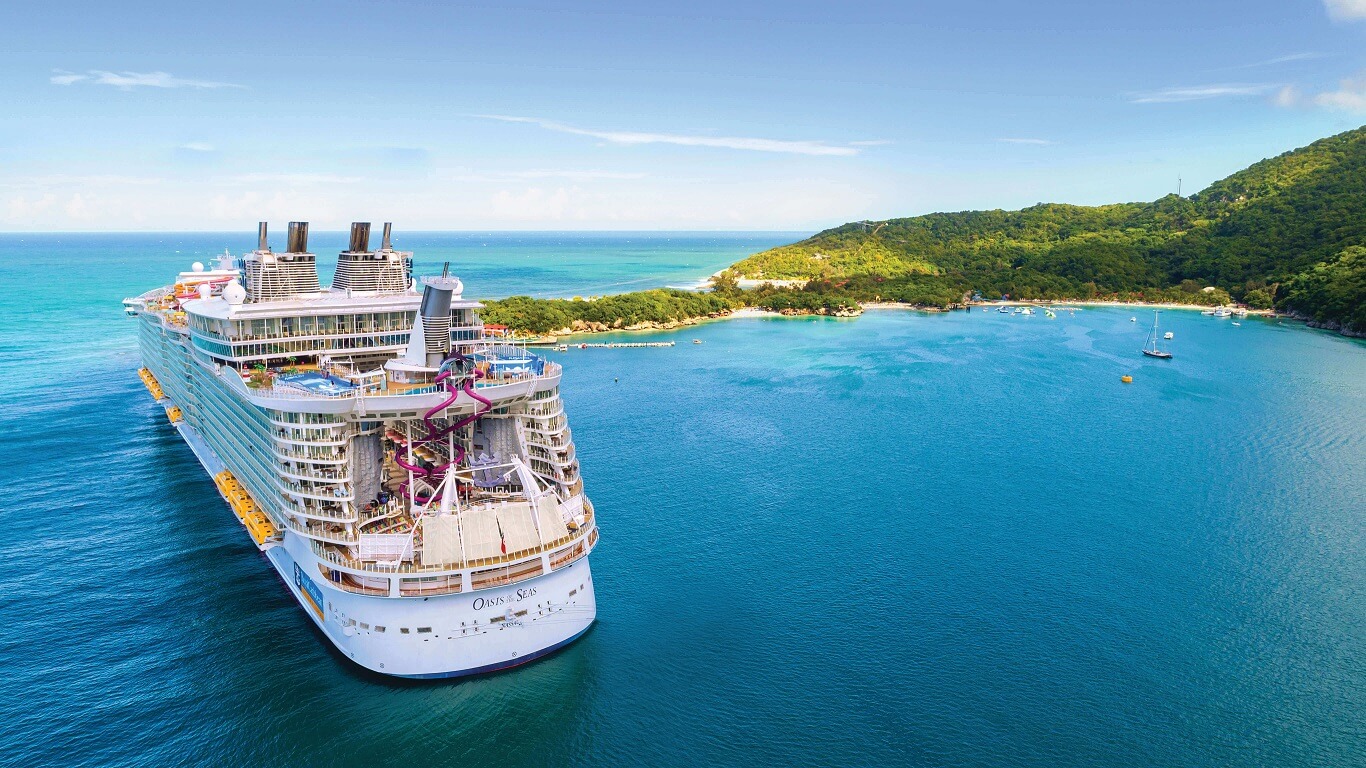 8. Cruises are not affordable for families
Following on from the point above, this myth could not be more wrong! When you take your kids away on a land-based holiday, depending on their age group, you will probably pay to visit water parks, theme parks, adventure parks to zipline etc and probably also take in a show or two potentially. On a cruise ship, these attractions are included in your holiday price. While there are some paid experiences, which vary per cruise line, the majority of exciting ship attractions are essentially free of charge! Another fantastic reason why cruises are actually brilliant value for families.
Another recurring piece of feedback we get from our family cruise customers is also how much choice there is for their family on board when it comes to food. Anyone with kids will appreciate how stressful it can be to keep everyone's tummies full and happy and, on a cruise, this is so easy with the huge array of food choices in the buffet, main dining hall and further afield. Endless choice, no need for mammy or daddy to cook four versions of the same meal and everyone is full and happy! Another great reason why cruises are ideal for families!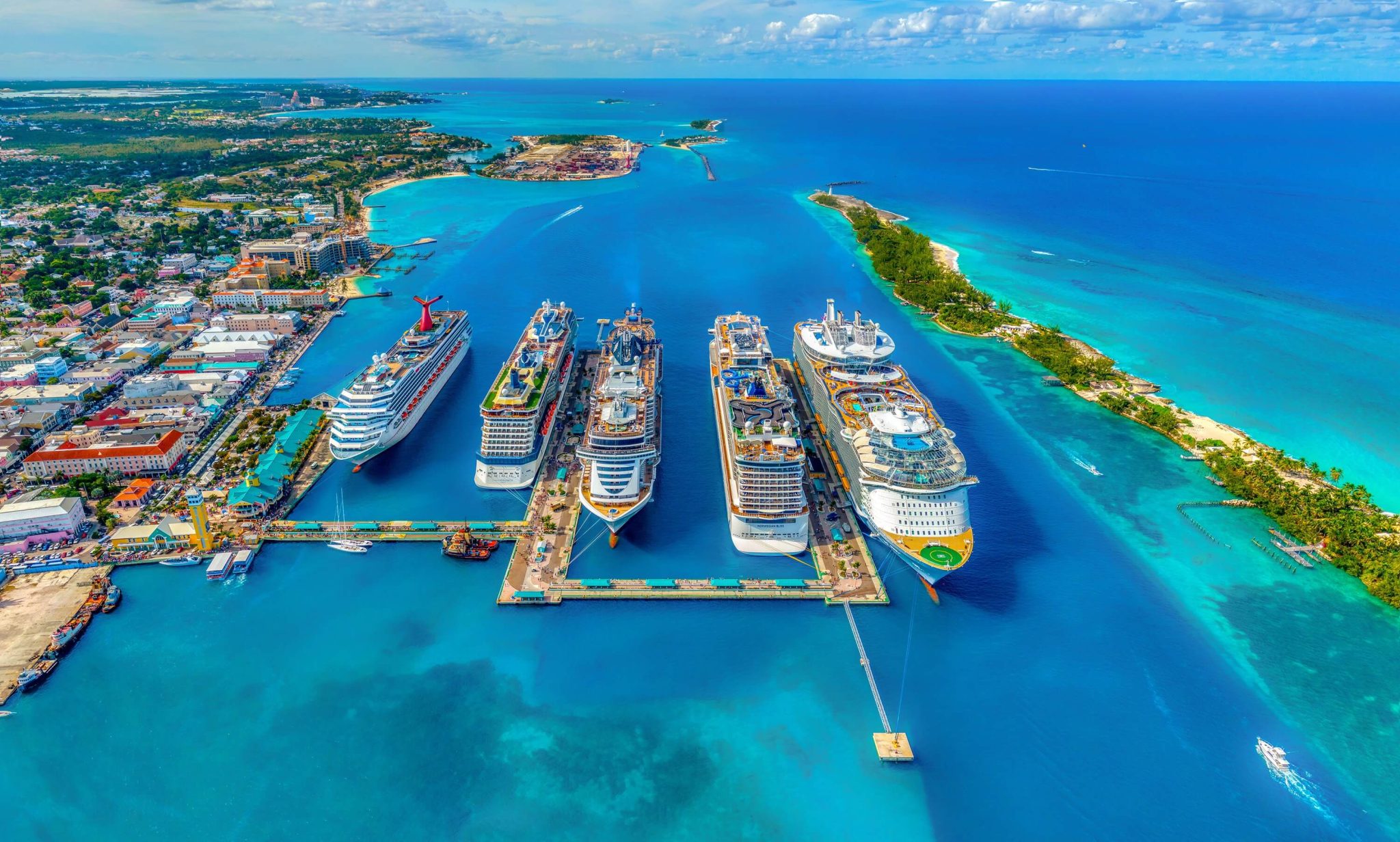 So, there you have it, 8 common cruise myths busted! If you are thinking of your first cruise holiday, and you're not sure where to start with the planning of it, that's where we are here to help. Our Cruise Holiday Experts are available by phone seven days a week on 01-6995329 and they would be thrilled to answer any and all questions you may have so that we can match you to the right cruise holiday for you. To discover our best cruise deals, visit our website.