The Best Christmas Markets in Berlin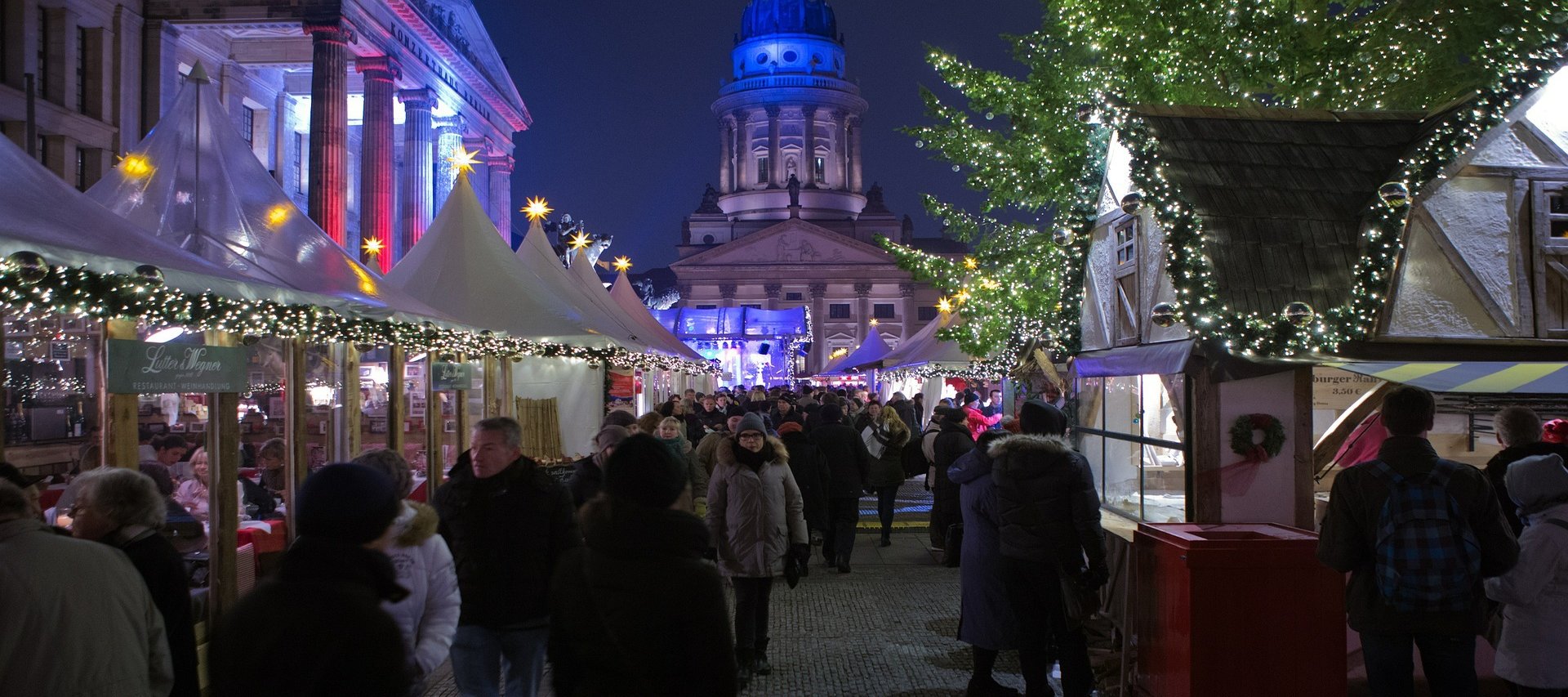 One of the reasons the German Capital is so popular as a Christmas market destination is that there are more than 50 markets spread around the city. The markets vary in size and content, so there's just about something for everyone.
Before planning a city break to Berlin this winter, it's helpful to do some research so you can avoid being overwhelmed by the many options on your holiday. Though there are so many wonderful markets to choose from, we've managed to compile a list of the top 5 markets in the city that certainly should not be missed!
Alexanderplatz Christmas Market
The Christmas Market at Alexanderplatz is an elegant traditional market featuring over 100 booths, a nearby ferris wheel, fair rides, and the tallest walk-in Christmas pyramid in Europe. The pyramid is decorated with over 5,000 twinkling lights! Local artisans sell handmade crafts and trinkets while food vendors sell delicious bratwurst, gingerbread, and mulled wine.
This market offers more than just a beautiful setting to shop and stroll. You can further enjoy the holiday cheer on the Alexanderplatz ice rink! Though the market closes on St. Stephen's Day, the ice rink remains open until the 5th of January.
Opens: 25 November
Closes: 26 December
Charlottenburg Palace Christmas Market
The Charlottenburg Palace Christmas Market is enhanced by its already beautiful surroundings. The 17th-century castle is illuminated in colourful lights while over 250 stands fill the square. Large chandelier-style Christmas lights hang all around the castle grounds, giving this market a particularly magical atmosphere.
Here you can purchase a variety of traditional gifts such as nativity figurines and ornaments for the Christmas tree. Indulge in some warm mulled wine and gingerbread, or opt to try the local German delicacies. Kids will love the merry-go-round, small rollercoasters, and other rides outside the orangery!
Opens: 25th November
Closes: 26th December
Kaiser Wilhelm Memorial Church Christmas Market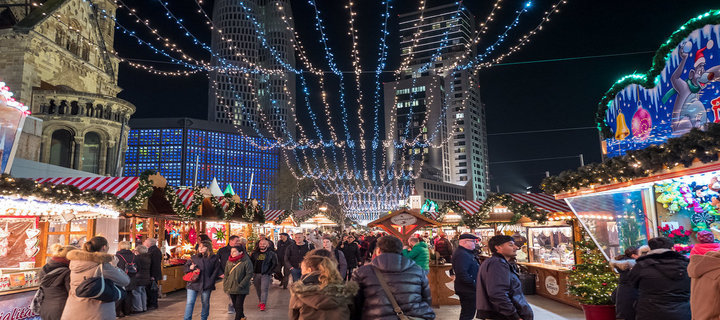 Like the Charlottenburg market, the Kaiser Wilhelm Memorial Church Christmas Market has the added benefit of an enchanting background in addition to the festive decor. This market features overhead twinkly lights, over 100 booths selling both crafts and food, and 70 rides! You can try German and Austrian authentic dishes, as well as peruse a wide variety of toys, decorations, and other artistic creations for sale.
For an extra special surprise, kids can meet Santa in his hut beside the Christmas tree in the centre of the market. Every weekend in the Advent season, he visits to hand out gifts for the children. This market is also unique because it offers a diverse range of Christmas beverages including different flavours of mulled wine, egg nog, hot chocolate, and more!
Opens: 26th November
Closes: 5th January
Winter World at Potsdamer Platz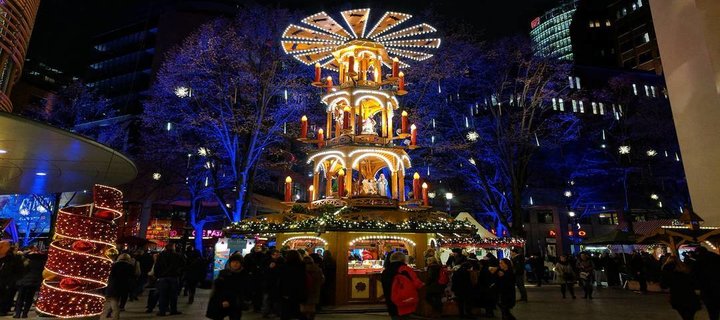 The Christmas market at Potsdamer Platz is aptly named Winter World. The decor in the market is inspired by Austrian winter village fashion with log cabins set up as stands. You can purchase a variety of German and Austrian goods and handmade trinkets. Indulge in delicious gingerbreads, candied apples, roasted almonds, and of course, mulled wine, while you watch the artisans hard at work.
Winter World offers a few unique ways to get into the Christmas spirit, including a large toboggan and a sizable open-air ice rink. Then, every weekend enjoy live music and an après ski style festival in this alpine wonderland right in the heart of Berlin
Opens: 25th November
Closes: 26th December
Gendarmenmarkt Christmas Market
The Gendarmenmarkt Christmas Market is set in one of the most scenic squares and most popular markets in Berlin. In charming, star-topped white tents you'll find a variety of handmade goods, traditional Christmas foods, and entertainment of all kinds.
For example, there are large tents throughout the market showcasing artisans working at their crafts. You can watch dressmakers sew and woodworkers carve their next works of art⁠—a great educational opportunity for kids! Local visual artists such as photographers and painters also sell their work in the market.
Each day, additional entertainment can vary, but often includes performances by jugglers, fire-dancers, choirs, jazz ensembles, and more. This market does charge a small admission fee of one euro for any visitors over the age of 12, but a portion is donated to charity.
Opens: 25th November
Closes: 31st December
Where to Stay
The largest of the Berlin Christmas markets is at the Kaiser Wilhelm Gedachtniskirche, located close to the Kurfürstendamm. Many people enjoy staying in hotels in this area as the Kurfürstendamm is the main shopping street in Berlin.
Many holidaymakers prefer to stay close to the Winter World at Potsdamer Platz market, as this is near Berlin's main tourist landmarks including the Brandenburg Gate and the Holocaust Memorial.
Nevertheless, Berlin has an excellent public transport system, so a quick trip on the uber-efficient U-Bahn (underground) or S-Bahn (local train system) will get you across the city in no time.
So if you fancy getting into the Christmas spirit like a Berliner, check out our website where we still have some great deals, all including direct flights to Berlin from Dublin and an extensive choice of central hotels.
Gute reise!
---