With Click&Go, you can explore Thailand's beautiful southernmost region with flights into both Phuket and Krabi. Phuket is the largest of Thailand's islands and is set in the warm Andaman Sea. With stunning shores, ornate temples, and vibrant nightlife, it's no surprise that Phuket is one of Thailand's most popular tourist destinations.
Krabi is a province on the mainland northeast of Phuket with its own wonders to discover. Krabi retains much of its original culture and environment even after tourism hit the area, so you can experience Thailand in a more authentic way. Wander Krabi town's sensational night market or hop on a longboat for exciting island tours! Read on to hear all about our top attractions in Phuket & Krabi.
Things to do in Phuket
The Great Buddha of Phuket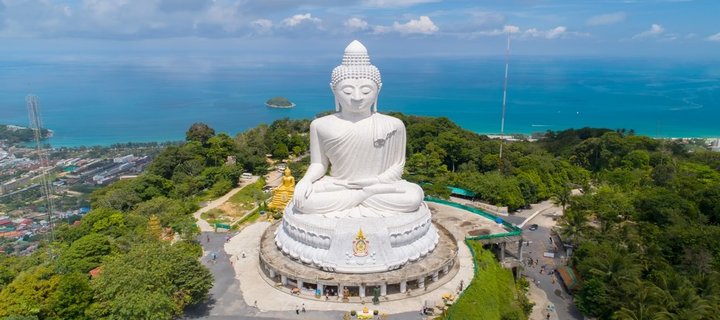 Thailand is famous for its Buddhist history and influence, as well as some of the largest Buddhist monuments in the world. The Great Buddha of Phuket, or simply, Big Buddha, is the third-largest statue of the Buddha in the country! Standing at 45 metres tall and covered in spotless white marble, the Big Buddha is a formidable sight to see.
Since the monument opened to the public, tourists have flocked to Nakkerd Hill for the breathtaking sea views as well as the chance to see the massive Buddha. At the site of the statue, there are meditation areas and even Buddhist monks around willing to give blessings to visitors. Both parking and entry to the Big Buddha are free.
Wat Chalong Temple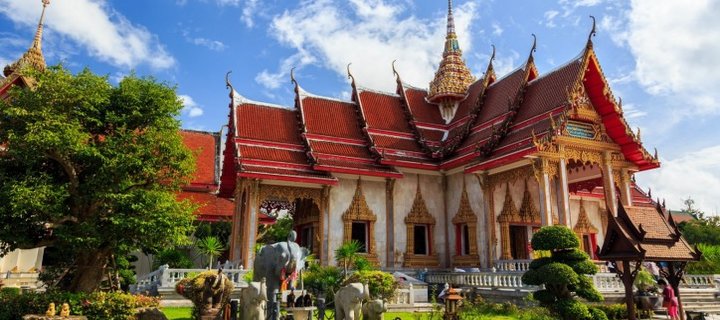 Another important religious site to visit in Phuket is the Wat Chalong, or the Chaithararam, Temple. There are 29 Buddhist temples on the island of Phuket, and Wat Chalong is considered to be the most important. Wat Chalong actually consists of several exquisite halls and monuments on the grounds that you can tour. The site is open from 7 AM to 5 PM and is free to enter.
Wat Chalong has visually impressive architecture and detailed artistic components, as well as a fascinating history. The temple was built to honour two venerable monks, Luang Pho Chaem and Luang Pho Chuang, who led the Chalong Subdistrict in fighting against the Chinese and even used their healing skills to help the injured in 1876. Keep in mind before you go: it is traditional to wear conservative clothing inside Buddhist temples, and you will be asked to remove your shoes before walking inside!
Tour of Phang Nga Bay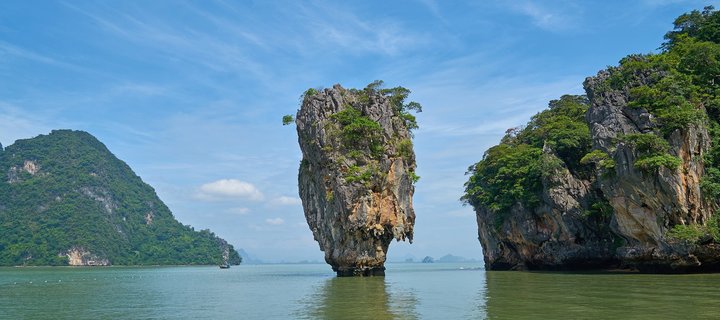 Koh Tapu, or 'Nail Island,' is the most famous landmark in the scenic Phang Nga Bay. This island played a central role in the James Bond film, The Man With the Golden Gun. Since then, the site has been dubbed 'James Bond Island' and thousands of tourists visit it each year. There are copious boat tours from Phuket you can take for a thorough exploration of sparkling Phang Nga Bay.
A photo-op with James Bond Island isn't the only appealing aspect of a Phang Nga Boat tour. These tours often stop at the Muslim fishing village of Koh Panyee for lunch and shopping in the tranquil local community. A large percentage of Koh Panyee is composed of dramatic limestone cliffs, while the village consists of over a hundred huts on stilts over the water's surface.
Nightlife on Bangla Road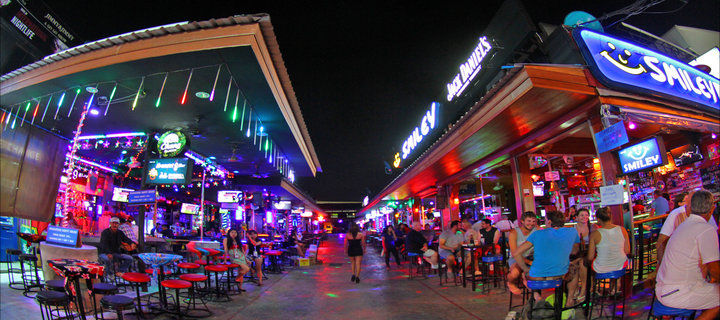 A trip to Phuket wouldn't be complete without spending a little time in lively Patong Beach. For a truly once-in-a-lifetime nightlife adventure, head to Bangla Road after dark and watch as the street comes alive. Cars are prohibited from driving on Bangla Road at night, so the street is transformed into one pulsating festival of bright lights, entertainment, and food & drink!
Most of the many bars and nightclubs on Bangla Road are open-air, meaning that visitors, dancers, and entertainers all congregate outside and neon lights and loud music pervade the whole street. It is important to note that while Bangla Road is vivacious and fascinating, it's definitely not for children or the faint of heart after dark! Nevertheless, it is a party animal's paradise and certainly worth checking out, if not for the nightlife, then at least for the people-watching.
Things to do in Krabi
Island Hopping
The province of Krabi includes several picturesque islands as well as the mainland territory. A great way to spend a day in Krabi is longboat hopping from island to island in the surrounding area. You can book tours with various local companies and travel easily between the islands closest to mainland Krabi, including Koh Yao Noi, Koh Yao Yai, Koh Sriboya, and more!
Alternatively, A 90-minute ferry ride from Klong Jirad Pier just outside Krabi Town will take you to the magnificent Phi Phi Islands. This group of islands is located south of mainland Krabi in the Andaman Sea, and the placid, secluded haven is perfect for snorkelling!
Railay Beaches and Caves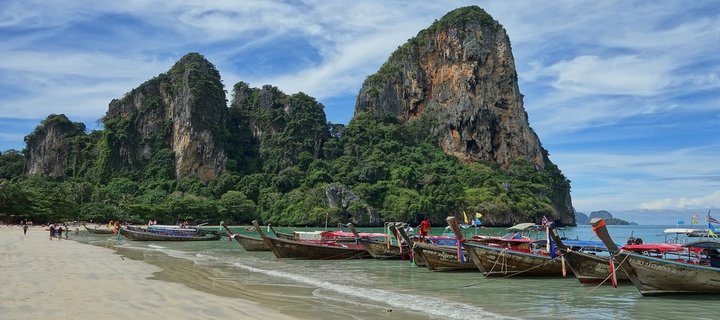 There's a reason that the Railay Peninsula is the most popular beach destination in Krabi — it's breathtakingly beautiful! The peninsula features four main beaches, Railay West, Railay East, Ao Phra Nang, and Tonsai. The peninsula itself is only accessible by boat. Surrounded by jagged limestone cliffs and jungle foliage, any of these beaches are ideal for photography, rock climbing, cave exploring, swimming, or simply sunbathing and taking it all in.
Railay West has the most impressive atmosphere but is probably the most popular of the four. If you're trying to avoid the crowds, head to one of the other three. Tonsai is especially peaceful and often overlooked. It features lots of unique hippie and reggae-inspired bars and restaurants worth exploring. In fact, the Railay Peninsula only became a tourist destination after backpacking hippies in the 70s discovered it! Since then, it has maintained its characteristic chill, laid-back vibe.
Krabi Hot Springs (Klong Thom Hot Springs)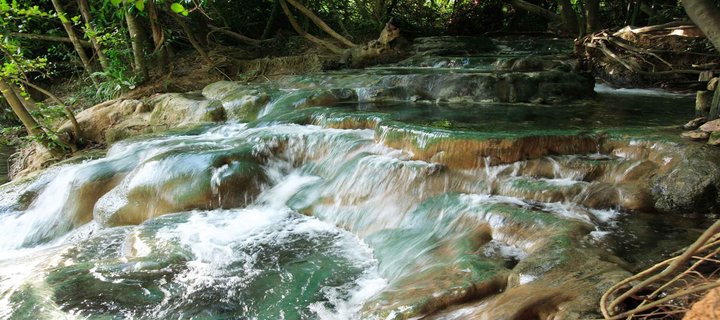 These 'hot tubs' in the Krabi jungle are naturally 30-45 degrees Celsius from warm thermal springs within volcanic chambers underground. Within this same jungle reserve, you'll find the Emerald Pool and Thung Teao Forest Natural Park. Therefore, this whole area is worth the 70 km journey from Krabi Town.
Spend the day hiking around the scenic, untouched jungle land, and then rest in the Klong Thom Hot Springs. The waters possess various natural minerals that heal and rejuvenate the skin, and leave you feeling beyond relaxed!
Krabi Town Night Market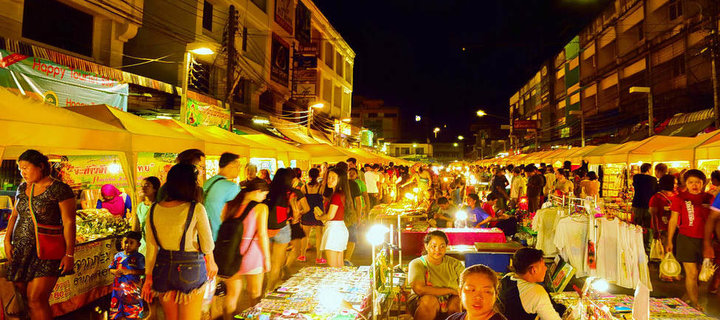 Many Thai towns feature dynamic markets in the evenings, but the Krabi Night Market goes above and beyond. Every Friday, Saturday, and Sunday night, Krabi Town Walking Street (Thanon Khon Dern) lights up as vendors flock to sell their goods and visitors come from far and wide to shop.
The market remains open from 5 PM to 10 PM and allows tourists the opportunity to support local artisans. In the process, you'll get to try authentic Thai cuisine, buy souvenirs right from the craftspeople who made them, and catch a glimpse of real life in Krabi Town.
A trip to Thailand is a dream holiday for many, but it's not as challenging as you'd expect to make it a reality. Click&Go offer flights and hotels in both Phuket and Krabi at competitively low prices for those with a thirst for adventure!