There's no better way to enjoy the season than taking a Christmas holiday to some of the world's finest Christmas markets. If you're trying to decide which to visit this year or simply want some wanderlust inspiration, check out our list of the absolute best Christmas markets in Europe.
Prague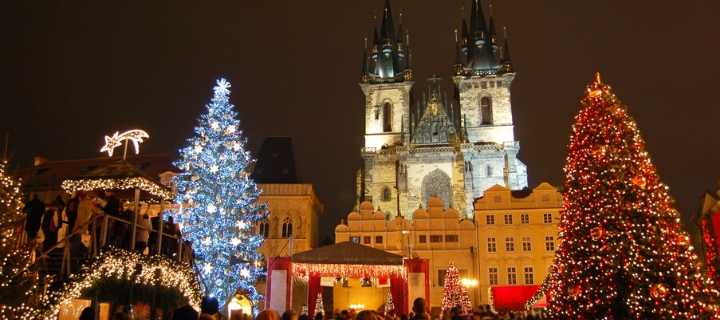 The Christmas markets in Prague are absolutely legendary. The main market which attracts tourists from around the world is located in the Old Market Square beneath the iconic spires of the Church of Our Lady before Týn.
Here you can peruse festive stalls full to the brim with authentic souvenirs and delicious treats. Some traditional Czech foods you can try at the Christmas Market include ham roasted on spits (Pražská Šunka), scrumptious barbequed sausages (klobása), sweet dumplings (sladké knedlíky), and pancakes (palačinky).
The Prague Christmas markets are open every day from 27th November 2021 to 06th January 2022.
Berlin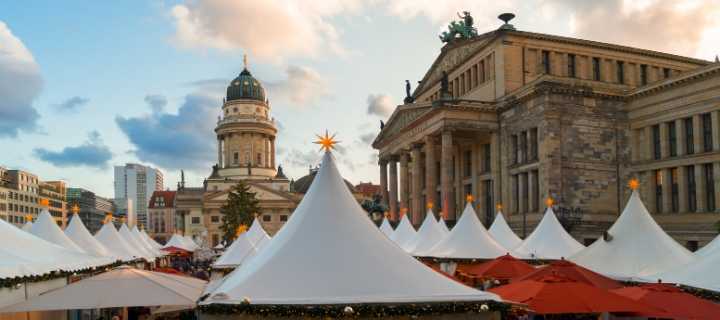 Our list would certainly be incomplete without Germany's largest city. Incredibly, there are more than 70 individual Christmas markets in Berlin. Nevertheless, the historical Gendarmenmarkt Christmas market is one of the best in the world and one you may have heard of before.
This market is like a miniature tent city, with over 1,000 fairy lights adding to the Christmas magic. Here you can wander the many tents selling German goods, sipping mulled wine and enjoy the ambience. Talented artisans from all around the world display their work here, and you can even watch as they make their beautiful creations before your eyes.
This Berlin Christmas market is open from 22th November 2021 to 2nd January 2022.
Vienna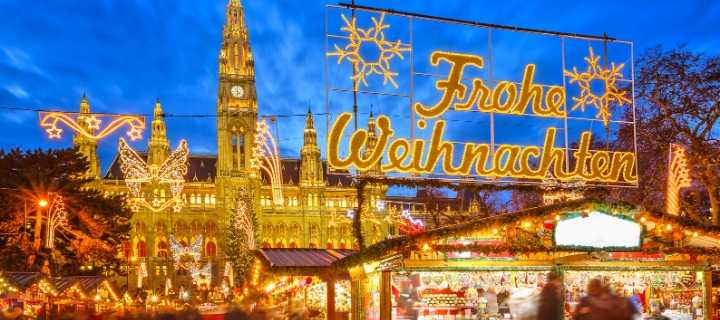 Vienna, Austria's stunning capital city, is home to a number of beautiful Christmas markets. Without a doubt, its most visually amazing market takes place in the City Hall Square. Known as "Vienna Magic of Advent," this market includes Christmas delicacies, a whole host of gifts, Christmas trees, and even a carousel.
Kids will love this market in particular for its Christmas Workshop where they can make a variety of Christmas crafts. Overall, this market is like a Christmas fairytale land with all the nearby trees decorated for the holiday as well as tons of bright, twinkly lights all around!
This Vienna Christmas markets are open from 12th November 2021 to 23rd December 2021.
Budapest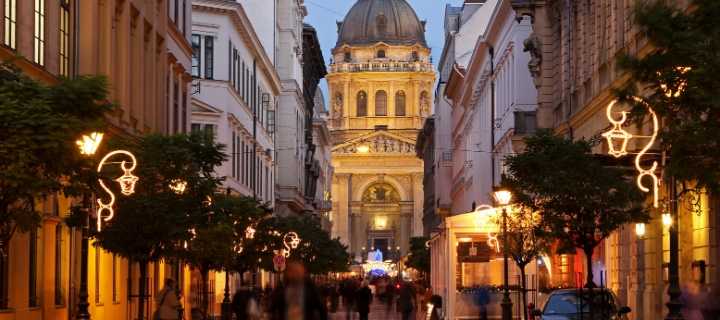 There are two large markets which draw most of the tourism in Budapest each year: Christmas Fair Vorosmarty Square and Christmas Market by Basilica. First, the Christmas Market on Vorosmarty Square is the oldest market, running since 1998, and is located in the very heart of the city. Here you can enjoy loads of food stalls selling traditional dishes as well as handicraft shops and free live music.
Next, be sure to wander the Christmas Market by Budapest Basilica. Here the most famous church in the country acts as a backdrop to the magical market. Marvel at the traditional Hungarian arts of glass blowing, knitting, wood carving, candle making, pottery, and more.
Both of Budapest Christmas markets should run from 19th November 2021 to the 31st December 2021 (to be confirmed).
Krakow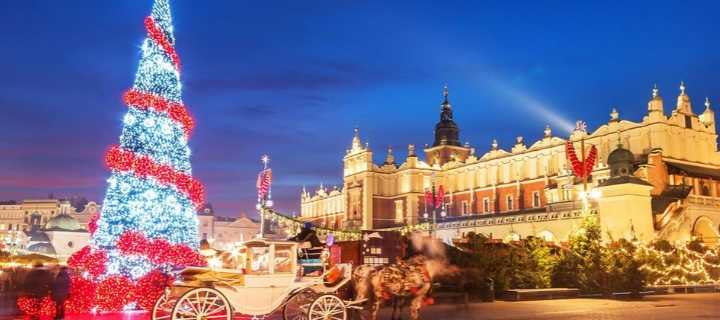 Krakow's magnificent Christmas market takes place every year in the city's main market square, Rynek Glowny, in the heart of the Old Town. Surrounded on all sides by extravagant medieval buildings, this market boasts quite the ambience.
In addition to the fantastic environment, Krakow's market is lined with lovely wooden stalls selling folk art and Christmas ornaments. You can also try some Polish delicacies like pierogis and of course, get some mulled wine which is harvested from huge barrels.
Krakow Christmas market dates for 2021 have not yet been announced. The market is open from the last week in November to the 26th of December. It is sometimes extended through the 7th of January.
Rome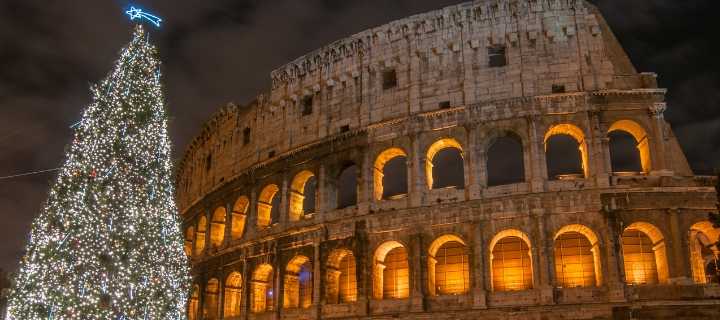 Though you might not see snow here, Rome is an excellent destination for a Christmas holiday. During the months of November and December, Rome's streets come alive with Christmas lights, trees, and decor. The most famous Christmas market in the city takes place in the gorgeous Piazza Navona.
This market includes a carousel and other theme park rides, live performers, and a nativity scene. Of course, you can also enjoy dozens of stalls selling traditional Christmas goods and treats.
This market is traditionally open from early December to the 6th of January.
Lisbon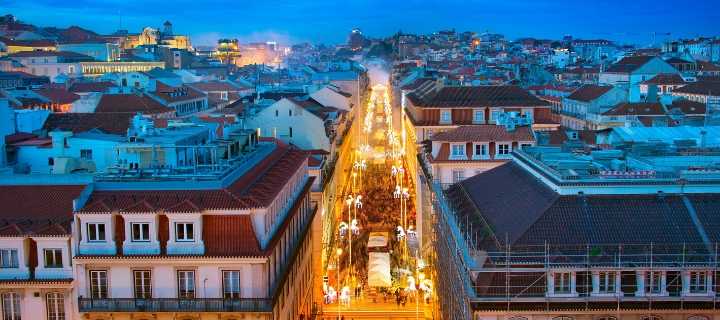 Though it might surprise you, Lisbon is home to quite a few Christmas attractions and is a very popular destination for winter travel. Here you can stroll around the Eduardo VII Park which is transformed into a winter wonderland every December.
Or, plan your trip around the exclusive Campo Pequeno Christmas Market which only occurs for one weekend at the start of December. If you're all about the food, we recommend checking out the Rossio Market where you can enjoy authentic Portuguese treats, like the one of a kind custard tarts, Pasteis de Nata.
The Rossio Christmas market is traditionally open from the end of November to the end of December.
Amsterdam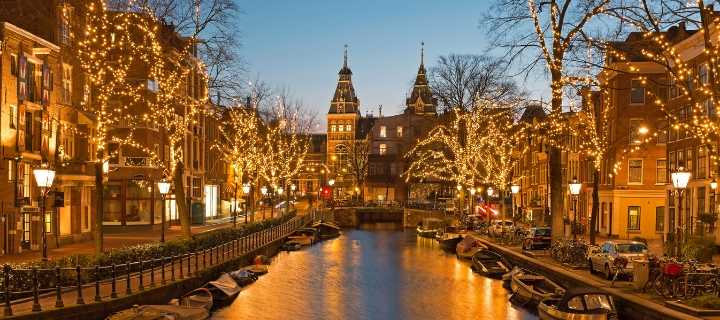 As one of the most diverse cities in the world, it makes sense that Amsterdam would offer a wide variety of different Christmas markets to explore. Each year, the Museumplein in Amsterdam transforms into a magical Christmas Village. Go ice skating, enjoy live performances, and peruse Christmas goods in the many market stalls.
For something a bit more alternative, check out the Funky Xmas Market in Westergas. This monthly market has a fun Christmas edition in early December which highlights the work of local artists, fashion designers, and other creatives.
The Funky market takes place on the 12th of December 2021, while the Ice Village dates are 13th November 2021 to 31st January 2022.
Feeling inspired to embark on your epic Christmas market winter holiday?