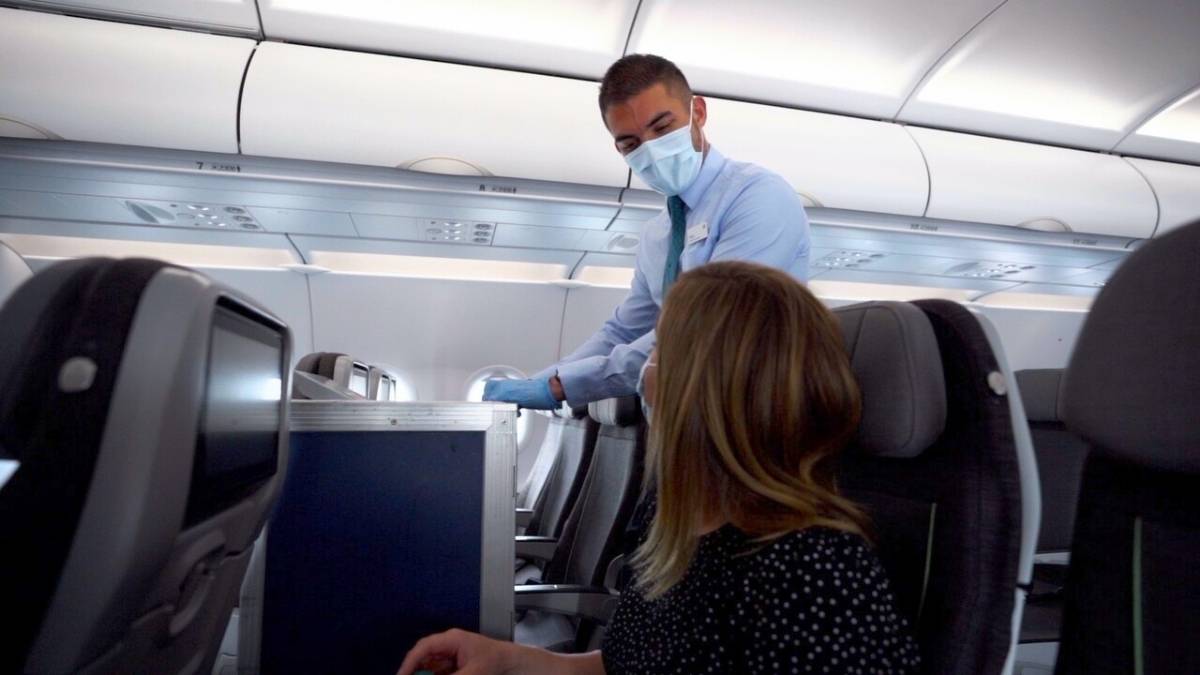 How Safe is it to Fly During COVID-19?
After 6 months of socially distancing, wearing masks and being conscious of time spent in public indoor areas, it's reasonable to be wary of flying. For most, venturing back on public transport has been a feat in itself, but what about airplanes? Are they safer? Is there more risk of catching COVID-19 on a plane than on a train?
Navigating through the Airport
The first part of the flying experience starts at the airport. Globally, wearing a face mask has become a mandatory aspect of traversing through an airport. Staff and travellers alike are required to wear one for the duration of their time in the airport terminals. If you're interacting with airport staff in shops, at the check-in desk or at the boarding gate, they will be behind a plexiglass screen and the experience will be as contactless as possible.
Similarly, enhanced cleaning has become the status quo in all airports. This involves a deeper clean with special cleaning agents to ensure a longer-lasting clean. There will also be more regular cleaning of frequent touchpoints such as security trays, elevators, screens, handles.
Any airport you travel through will be abiding by public health advice to ensure the maximum safety of its staff and people travelling through. You can read about the safety measures Dublin, Cork & Shannon Airports have implemented here.
How clean is the air on an airplane?
The plane is the aspect of travel in a COVID-world that most people would find unnerving. The idea of entering an enclosed space, even for a short-haul flight, is something that feels disconcerting. But did you know, the air on a plane is purer than most indoor buildings?
Thanks to the first-class technology and ventilation systems, the air inside an airplane is cleaner than that of a supermarket, shopping centre, a bus or a train. The air filtration technology uses the same HEPA air filters used to maintain a sterile environment in hospital operating theatres. They remove 99.97% of airborne particles, such as viruses and bacteria, while replacing the cabin air every 3minutes.
Is the transmission of COVID-19 likely on a flight?
Research to date broadly points to no. The chances of COVID-19 being transmitted between passengers is relatively slim. There have been no incidents to date of transmission on a short-haul flight. Between enhanced hospital-grade cleaning, increased awareness of good personal hygiene and mandatory wearing of face masks, onboard safety has increased dramatically since the virus started to spread.
Since the world went into lockdown, the amount of air travel has dramatically decreased so there have been only a small number of studies undertaken on this. So far, there have been very few cases of outbreaks or clusters as a result of flying. Any documented case, such as a woman flying from London to Vietnam at the start of March, are generally on longer haul flights and before the use of face masks became mandatory on flights. 
That said, each individual is responsible for their own safety and ensuring they're doing everything to minimise their own, other passengers or cabin crew's exposure to COVID-19. This includes strictly adhering to the public health advice of washing hands regularly, maintaining good sneeze/cough etiquette and properly wearing face masks/coverings for the duration of the flight and time in the airports.
---