When you picture yourself living La Dolce Vita, you're probably sitting on a sun-dappled hilltop terrace, overlooking the lapping waters of the Mediterranean with a cold drink in one hand and a forkful of pasta in the other, right?
Well whether you realise it or not, your dream avatar is soaking up the subconscious sun in Sorrento, the seaside city of northwest Italy. And here at Click & Go we want to make your Italian dreams a reality by getting you the best deals on Sorrento Holidays.
Named after the mythical sirens that lulled ancient Greek sailors to their deaths, the city is much more welcoming to its modern-day tourists. Our package holidays to Sorrento range in budget with flights landing in nearby Naples, the birthplace of pizza. Whether it's the rich history, the even richer food or simply the stunning scenery, a Sorrento City Break has something for everyone.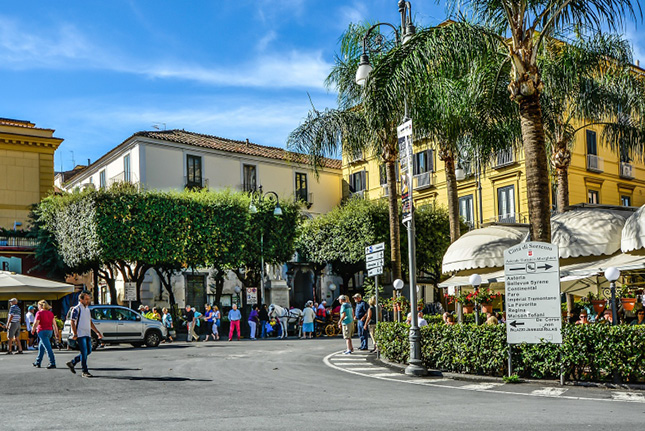 Stroll the picturesque Piazza Tasso and Piazza Della Vittoria, where the Romans built a temple in honour of the God of Love Venus, and take in the energy of the town. Try the native Limoncello and the favourite local dish, Gnocchi Alla Sorrentina. Or even just take in the stunning views of the Island of Procida and the Gulf of Naples. Also visible from the hilltops of Sorrento is Mount Vesuvius, which the more active among you can hike on a clear day.
By choosing one of our cheap holidays to Sorrento, you open up so many possibilities for day trips and unique experiences. Visit the scenic nearby towns of Positano, Amalfi and Ravello. Immerse yourself in history at the volcanic ash preserved city of Pompeii or sail to the isle of Capri, where the magical Blue Grotto awaits.
However you decide to fill your time, we are certain that a last-minute holiday to Sorrento will result in days of living the sweet life and a lifetime of sweet memories.